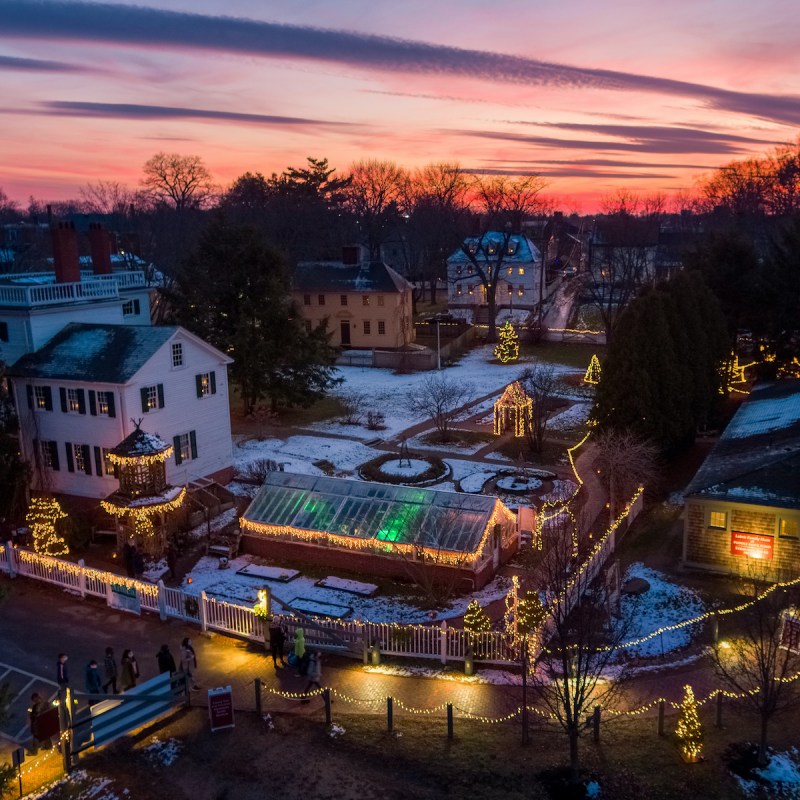 Twinkling lights reflect softly falling snow, setting the stage for a New England-style white Christmas. You will find small-town squares with pine trees festively draped in thousands of lights, fragrant boughs, wreaths adorned with velvety ribbons and trinkets, and the aroma of cinnamon, clove, and nutmeg waft through the air. New England towns' Christmas celebrations are steeped in tradition from decades of coming together to say goodbye to the past year and prepare for the arrival of the promising New Year. These charming towns put on the best Christmas celebrations that are sure to enhance your Christmas spirit.
Whether you desire an old-fashioned celebration; a ride through a riotous collection of colorful lights; elaborately decorated historic mansions; or a scenic, family-friendly locomotive ride, you will love visiting these New England towns. These holiday season standouts are listed in no particular order.
1. Kennebunkport, Maine
The Christmas Prelude in Kennebunkport is scheduled for December 2–12. This 40th anniversary holiday celebration offers guests 10 days of fun, entertaining activities. The celebratory kickoff begins with the annual Dock Square Tree Lighting on December 3.
Other holiday happenings during the celebration include Cape Porpoise lobster trap tree lighting, a hat parade, Christmas caroling at the Franciscan monastery, Santa's arrival by lobster boat, and Pooch Parade. The event is always a fun and festive time.
Pro Tip: A charming seafaring town, you can explore more about where to stay and what to see while you are visiting in our Best Things To Do in Kennebunkport guide.
2. Portsmouth, New Hampshire
The Strawbery Banke Museum presents the Candlelight Stroll Under The Stars, a stunning outdoor lighting experience. Enjoy the illuminated exteriors of the museum's historic buildings where designers have crafted a magical display in a gorgeous, twinkling wonderland. The event is sold out, so check the museum's website to learn more. Stop by Strawbery Banke Museum on one of the first three Saturdays (5 p.m. to 9 p.m.) and Sundays (4 p.m. to 8 p.m.) in December for a delightful holiday stroll. There are opportunities for visitors to explore seasonal and holiday traditions of times past as Strawbery Banke is a living history museum interpreting more than 300+ years of local history. A favorite of the event is the costumed roleplayers outside of the houses or wandering the grounds who are portraying people who once lived in the historic Puddle Dock neighborhood.
On Saturday, December 4, the Illuminated Holiday Parade and Tree Lighting transforms coastal Portsmouth into a twinkling winter fairyland. The tree lighting ceremony in Market Square begins at 5:25 p.m. The parade begins at 6 p.m. and runs along sections of Islington Street.
From December 1 through December 19, The Historic Theater presents The Ogunquit Playhouse's production of Irving Berlin's White Christmas. Enjoying a theater production of this time-honored musical is a wonderful way to savor the Christmas season.
Pro Tip: Coastal New England road trips take on a frosty appeal in the winter. When you visit Portsmouth, consider a short drive up to Bangor or down to Boston for a different perspective of the Atlantic Ocean beaches.
3. Woodstock, Vermont
Experience Christmas at the Billings Farm where you can explore traditional Victorian decorations and traditions with friends and family. Demonstrations at the farm include candle dipping and gingerbread ornament making served up with traditional holiday stories.
Christmas at the Farm is Saturday, December 4, from 10 a.m. to 4 p.m. and is fun for the whole family.
Wassail Weekend at Billings Farm in Woodstock runs from December 10 through the 12th. Festivities begin at 10 a.m. and run throughout the day until 4 p.m. On Sunday, December 12, horse-drawn wagon or sleigh rides are available (conditions permitting). Visit the Dairy Bar for a delicious cider donut and a mug of wassail, a hot mulled cider with spices. Wassailing is a charming English Yuletide tradition where neighbors gather with neighbors toasting a good cider apple harvest in the year to come.
Pro Tip: Visit our Best Things to do and see in Woodstock guide for great tips on where to stay and play in this lovely small town.
4. Sturbridge, Massachusetts
Christmas by Candlelight at Old Sturbridge Village will transport you to Christmas in colonial times. Stroll through the village and enjoy a crisp December evening as you ooh and ahh at the traditional holiday decorations adorning the village homes. Wander through the Christmas Tree Trail where you are surrounded by fragrant pines and twinkling lights. Immerse yourself in the spirit of days gone by with stories passed down from generation to generation, then hop aboard the horse-drawn carryall for a scenic winter ride around the village. Christmas by Candlelight is open beginning Friday, December 3, and running select nights through Thursday, December 30. Be sure to check the Old Sturbridge Village Calendar for specific days and times.
Pro Tip: Old Sturbridge Village is a unique living museum where you can dive deep into the early colonial life.
5. Foxborough, Massachusetts
Gillette Stadium in Foxborough is home to the New England Patriots. It is also home to the Magic of Lights, a drive-through lighting extravaganza. Running from November 13 through January 19, from 5 p.m. to 9:25 p.m., it is guaranteed to amp up your holiday spirit. Traverse the 200-foot-long light tunnel as it envelops you in a twinkling, wonderland environment. As you drive the 1-plus-mile course, you will encounter over 40 different scenes and tableaus of inspirational lighting displays. You will be dreaming of recreating these beauties in your own front yard … maybe next year.
Magic of Lights operates at many venues across New England.
Pro Tip: The cost for this event is per carload, so pack up all your friends and family in the SUV and head over to Foxborough for an inspirational lighting adventure.
6. Newport, Rhode Island
The Gilded Age mansions in Newport are show-stopping at any time of year, but when they are decked out for Christmas, it is a holiday extravaganza. The Breakers, The Elms, and Marble House are adorned with garlands, wreaths, trees, baubles, lights, and copious amounts of silver and gold. The luxurious, jaw-dropping decorations are on display beginning November 20; please check their events calendar for specific days and times.
The Sparkling Lights at the Breakers is a spectacular outdoor walking adventure that traverses The Breakers gardens. The easily navigable pathways provide beautiful lighting displays and tableaus at every turn. With nearly half of the mansion's 13 acres twinkling brightly, you will be surprised and delighted at the ornate displays.
The Newport area mansions are spectacularly dressed in their Christmas trappings. Check our story on the Newport Mansions At Christmas for more information and stunning photos.
Pro Tip: Newport is a lovely spot for a weekend getaway, and we have some great ideas about where to stay, dine, and play that will make your planning easier.
7. Bethlehem, Connecticut
When you are craving a charming, old-fashioned New England Christmas, the Christmas Town Festival will transport you back to a simpler, family-focused Christmas celebration. For 2 days, December 3 and 4, the town is transformed into a celebration of seasonal joy and good cheer.
The mostly free events include a tree lighting, Christmas concerts, fire truck parade, crafters, scavenger hunt, Bell Concert, and Santa arriving on a fire truck.
Each year, a specially designed, unique town ornament is crafted in pewter and is available for sale. The style of these collectible ornaments has changed over the years, but the sentiment remains the same: Christmas is a time to celebrate friends and family. You can purchase ornaments from as far back as 1982, they will give your tree an old-fashioned colonial feel.
Pro Tip: Spending a quiet weekend in this charming small town will impart a sense of the American Dream where simply enjoying life is the key to happiness.
New England Christmas Train Rides
Christmas train rides are a wonderful way to experience a special adventure with the youngsters in your life. Across New England, train depots are gearing up for a North Pole-inspired ride. Copious amounts of hot cocoa are steaming, cookies are baking, stationery for letters to Santa is printed, and elf casting is nearly complete.
We have compiled a list of small towns that celebrate big time when it comes to visiting the North Pole by rail. A train ride through the local scenery is a wonderful way to celebrate the arrival of the Christmas season.
The Essex Steam Train and River Boat in Essex, Connecticut, is a 90-minute train ride filled with sugar cookies, sing-a-longs, and a visit from Santa and Mrs. Claus.
Enjoy breakfast, pizza, or a sunset train ride with Santa on the Belfast and Moosehead Lake Railroad in Unity, Maine.
The Polar Express Train Ride out of Buzzards Bay, Massachusetts, brings the movie to life. Each car has entertaining, costumed conductors and wait staff creating an immersive experience. Wear your jammies and pack your camera for this exciting ride.
The Hobo and Winnipesaukee Scenic Railroad offers the Santa Express Trains in Lincoln, New Hampshire. Enjoy the beautiful Winnipesaukee scenic views while meeting with Santa and Mrs. Claus.
Another Polar Express Train Ride at the Maine Narrow Gauge Railroad Co. & Museum in Portland, Maine, whisks guests off to the North Pole where they can see Santa prepping his sleigh for his Christmas deliveries.
Whether you love a down-home, small-town Christmas; a scenic train ride through the winter landscape; a bustling festival full of high energy; or a ride through a tunnel of lights, you will find many New England towns that put on wonderful Christmas celebrations. Set a date with your friends and family, get away from all the crazy preparation, and simply enjoy each other in the spirit of the season.