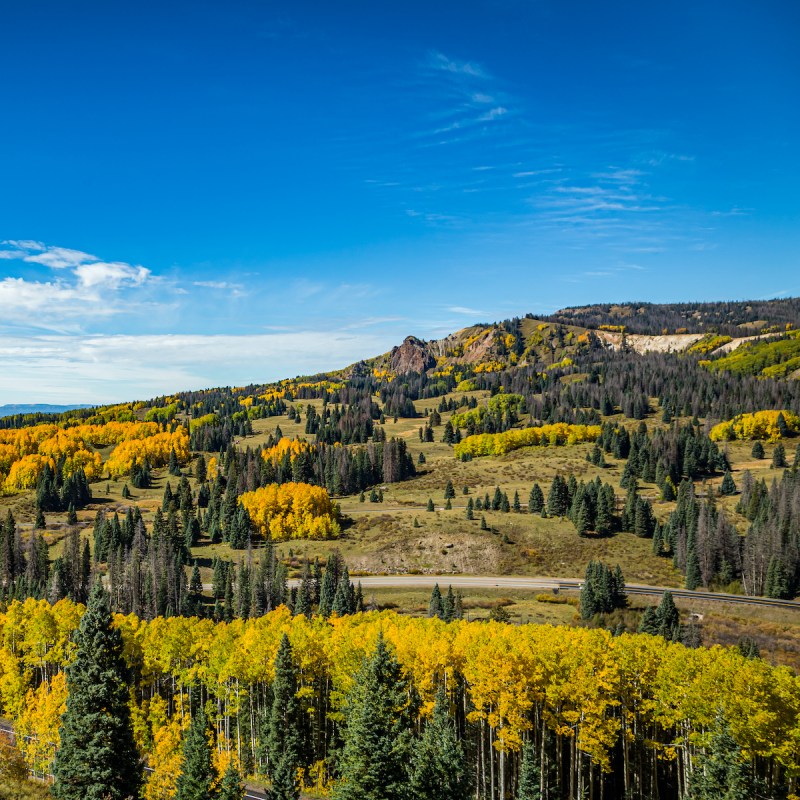 The Village of Chama, aka The Land Of Enchantment, is located in the Rocky Mountains at the most northern tip of New Mexico and is approximately 7 miles from the Colorado State Line. Chama, New Mexico, offers beautiful scenery, panoramic views, natural beauty, and everything you think a mountain village would, including many wildlife species such as elk, deer, bear, fox, bald eagle, and others. My family has visited Chama in the summer for five consecutive years. We've experienced sunshine in Chama and snow on the ground in the mountains of Colorado, all on the same day. It's a true sight to see and experience.
I have flown into both Santa Fe and Albuquerque then taken the drive to Chama, but I've also driven from my home in Texas all the way up there. Either way, this is not some humdrum road trip. Once you enter New Mexico, the highways offer travelers a chance at a spectacular view of the Rocky Mountains. And it's certainly possible to see wildlife on the route.
If you are a lover of nature, mountains, wildlife, scenic views, photography, and outdoor fun, you're going to love spending time in the northern mountains of Chama, New Mexico. I've gathered some favorite attractions of ours and our friends who live there in this list below.
1. Climb Aboard The Friends Of The Cumbres And Toltec Scenic Railroad, Inc.
Chama is home to the picturesque historic Cumbres & Toltec Scenic Railroad. Sources say that it's the longest and highest narrow-gauge railroad in the U.S. It's one of the most well-preserved railroad museums while also holding a spot as a National and State Registered Historic Site; as well as a National Civil Engineering Landmark.
This is a spectacular bucket-list-worthy attraction, in my opinion. We rode it several years ago when our grandson was around 5 years old. He read a map, got to shake hands with the Cumbres & Toltec bear, and saw the amazing views as we did. We made lots of memories with our grandson! The train travels through the Rocky Mountains of New Mexico and the lower part of Colorado through the San Juan Mountains. Not only will you and your family enjoy a smooth ride, whistles, and laughter, but you'll also get the chance to cast your eyes on the beautiful scenery that only wildlife gets to enjoy. And who knows, you may even see a black bear or two. We didn't see anything on our ride a couple of years ago, but we know they're out there.
If you want to explore more historic railroads, be sure to check out these 11 Beautiful Vintage Train Rides In The U.S.
2. Edward Sargent Wildlife Management Area
Located just north of Chama in Rio Arriba County, extended into Colorado, is Edward Sargent Wildlife Management Area — a wildlife area for hunters. But when it's not hunting season, there are many outdoor activities you can do here, such as fishing, hiking, biking trails, camping, horseback riding (bring your own horse), and more. But what's free are the incredible views you'll see.
Elk and deer roam these grounds as well as other wildlife, so bring your binoculars. I've been told the above photo is a kit fox native to New Mexico, but the red fox and the swift fox also call this area home. Hunting is a huge recreation activity in these parts of New Mexico, so when it's hunting season, certain areas are closed to wildlife viewing and other outdoor activities, so be sure to read ahead before you go. Fishing does require a license.
3. Visit Tierra Wools
For something different, perhaps take a morning or an afternoon to visit Tierra Wools for a peek at their weaving workshop, gallery, and gift shop. All the products are handmade and dyed. Surround yourself in the mountains and linger as long as you'd like. And, if you're so inclined, you may want to sign up for one of their weaving classes or take one-on-one instructions in spinning, dyeing, and weaving for an hour or more.
4. Heron Lake State Park
Heron Lake State Park is located south of town and is an excellent lake for sailboats and all types of paddle craft because of its no-wake lake. It's a great place for camping, fishing, hiking, and boating. The Visitor Center has maps of the hiking trails and the primitive campsites. Anywhere I can see a wild bear, I'm all in. I love watching wildlife, and seeing a black bear in the wild is my favorite. It's not ever certain, but since black bears, elk, bald eagles, and other wildlife such as these roam this area, oftentimes visitors see them here.
5. El Vado Lake State Park
Quiet coves, Kokanee salmon, and birdwatching are just a few reasons why El Vado Lake State Park is so popular with the locals. And a 5.5-mile scenic trail along the Rio Chama that connects El Vado Lake to Heron Lake is another reason. It's home to many bald eagles and osprey. And it's a great lake for boating and water skiing. I hear the fishing ain't bad either!
6. Echo Amphitheater
Abiquiu, New Mexico, is somewhat of a hidden gem located between Santa Fe and Chama. However, the small town has quite a bit of excitement going on. The Echo Amphitheater is located in the Carson National Forest in Abiquiu, right off the west side of U.S. 84, just 44 minutes from Chama. It's a large natural amphitheater with concrete hiking trails leading up to Echo Canyon. The trail ascends at a moderately easy pace, but if I remember correctly, I was worn out by the time I got to the canyon. I think that's because there are steep stairs before arriving at Echo Canyon. Wear good shoes and take your time. Snakes like rocks, so stay on the trail and off the rocks — restrooms are on-site. Locals who go here to hike and have picnics find it to be a favorite pastime. And, yes, by all means, let your kids yell as loud as they can! It's the only place I let mine.
Pro Tip: The amphitheater is literally located right off the highway, and the sign is easy to miss. Be sure to watch for the sign.
7. Pick Your Own Lavender
About an hour's drive south of Chama in the beautiful Chama River Valley of Abiquiu is the picturesque and charming Purple Adobe Lavender Farm. They have fields and fields of lavender where you can pick your own at certain times of the year. A charming lavender shop with homemade bath and body products and gifts is located on the property. On my last visit, I bought one of the owner's books to make my own lavender products at home, and she was there to sign it. This is one place I try not to miss when I'm headed into Chama.
Pro Tip: Fields of lavender are in full bloom in June, July, and August, and would make the best time to go. Be sure to see when they offer pick-your-own-lavender.
8. Ghost Ranch Education And Retreat Center
Ghost Ranch lies in the heart of the lower Chama Valley, about 45 minutes from the town of Chama and 65 miles northwest of Santa Fe. It nourishes the mind, body, and soul through its historic, inspiring southwest landscape and the various retreats. Explore hiking trails, take up horseback riding, or rent a kayak or canoe — which are just a few of the outdoor activities available. The ranch welcomes tours, day visits, overnight stays, as well as extended stays. Plan on several hours here to take advantage of all that is offered. Nature doesn't get any better than this.
Pro Tip: The Ghost Ranch is located 3 miles from the Echo Amphitheater. You could spend all day in Abiquiu visiting all three places.
9. Take A Day Trip To Pagosa Springs, Colorado
Just under an hour's drive north of Chama into Colorado is a full day of bliss waiting for you in Pagosa Springs. If time allows, this will make a great little side trip to relax in the hot springs or tube down the San Juan River. If your travels take you here during the summer, check out How To Spend A Perfect Summer Day In Pagosa Springs.
Pro Tip: My friends who live there are from Texas. It took only one time for them to visit Chama to realize this is where they want to spend the rest of their life. They packed up and moved over 20 years ago. And the locals I've met say they don't need to go anywhere else to experience the outdoors — it's right in their backyard!
If you wish to see what the rest of New Mexico has to offer, head south and check out these 7 Charming Small Towns To Visit In Southern New Mexico.