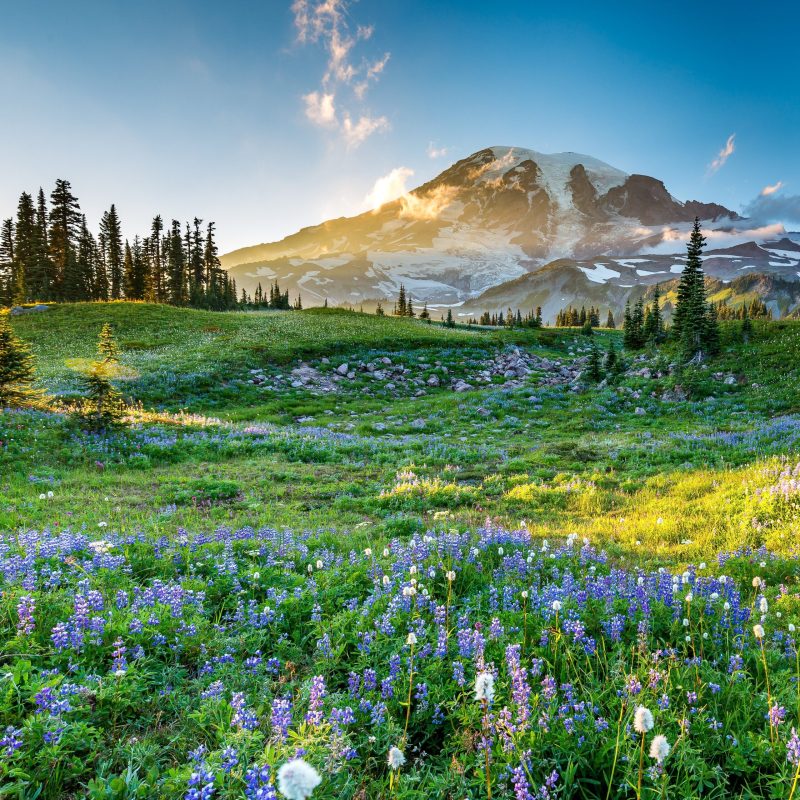 From the Space Needle to Pike Place Market, there are plenty of incredible places to visit within Seattle's city limits. You'd be forgiven for spending your entire vacation within the Emerald City's bustling metropolitan area, but the surrounding area also has much to offer visitors.
Here are some of the best spots within driving distance of Seattle.
1. Sol Duc Valley
A trip to the Sol Duc Valley in the northwestern region of Olympic National Park will entail a bit of time in the car, but for nature lovers, the experience is certainly worth the drive.
Stop by the Sol Duc Hot Springs Resort, a retreat nestled among snowy peaks and old-growth evergreen trees, and choose between three mineral pools and one freshwater pool, each with a different temperature. The temperatures change each season, but the resort's website provides all the information you'll need to make an appropriate choice. You don't have to book an overnight stay to use the pools, but you will need to pay an admission fee. Admission costs $15 for adults and $11 for seniors. There's also a $25 park entrance fee.
While you're out, hike up to Sol Duc Falls, one of the region's most breathtaking natural wonders. Drive south on Olympic Hot Springs Road past the resort for about 13 miles to find the trailhead. The hike is about 1.6 miles on mostly flat ground, with some handrails along the way.
To get to the Sol Duc Hot Springs Resort, take Highway 101 onto the peninsula and travel about 30 miles west of Port Angeles, Washington. Turn onto Sol Duc Hot Springs Road and travel south into the park for about 12 miles. The trip from Seattle will take you about 3.5 hours, so plan accordingly.
2. Skagit Valley
Named for the indigenous people who once inhabited the area, Skagit Valley includes more than 93,000 acres of active farmland, including gorgeous fields of tulips that bloom in the spring.
Visit in April to enjoy the Skagit Valley Tulip Festival, which features art, music, and plenty of special events. As the festival's website notes, the tulips bloom on their own schedule, but if you're fortunate enough to visit during the bloom, you'll enjoy a truly unforgettable experience. Even if you miss the bloom, the region's enchanting small towns will keep you occupied.
Skagit Valley is also one of the best regions in the nation for birding; the shoreline is home to more than 600 great blue heron nests, and you can take a guided tour to get up close and personal with the area's unique wildlife. Whether you explore the valley on horseback, on a bicycle, by car, or on foot, you'll leave with a greater appreciation of the Seattle area's serene landscape.
To get to Skagit Valley, you'll travel about an hour north of Seattle toward the Skagit and Padilla Bays.
3. Tacoma
Less than an hour south of Seattle on the Puget Sound is Tacoma, Washington. While Tacoma is significantly smaller than its neighbor to the north, it has plenty to offer vacationers.
If you appreciate contemporary art, you'll want to stop by the Museum of Glass, which features colorful pieces by Tacoma native Dale Chihuly. While you're out, check out the classic cars at America's Car Museum, and then grab a burger and a shake from Frisko Freeze, a Tacoma staple since the 1950s.
Wright Park is a great spot for an afternoon walk or picnic, and there's a free botanical garden located in the park. Be sure to take your time and enjoy.
Traveling to Tacoma takes about 40 minutes via Highway 5. You can also take a Sounder train.
4. Leavenworth
You'll feel like you've stepped back in time when visiting Leavenworth, Washington, a Bavarian-style town located about 2 hours and 30 minutes east of Seattle in the Cascades.
Despite its old-town charm, Leavenworth is a fairly recent invention. It wasn't until the 1960s that officials decided to make the town a German-style wonderland in order to attract tourists. Visit today, and you'll find high-end spas, outdoor theater productions, wineries, restaurants, museums, and an assortment of pristine parks, campgrounds, and hiking trails.
Take a horse-drawn carriage through the heart of the city, or if you're looking for something slightly more active, head to the nearby Lake Wenatchee for boating and water sports.
To reach Leavenworth from Seattle, take Highway 522 and then Highway 2 east through the mountains for 118 miles. It's a nice drive and a great way to experience the mountains.
5. Vashon Island
Located about an hour from Seattle's city center, Vashon Island in Puget Sound is only accessible by ferry (you can find the schedules here). Make the trip to enjoy the beautiful beaches and parks, or head into town for shopping, dining, art galleries, and wineries.
One of the most popular destinations on the island is Point Robinson, a shoreline park and marine conservatory. You'll also find a historic lighthouse on the shoreline — it has guided sea vessels since 1885. If you're not sure where to begin, consider starting your visit with a guided or self-guided tour.
6. Snoqualmie Falls
With its 270-foot drop, Snoqualmie Falls is one of the most impressive waterfalls in North America. It's not short on amenities, either. The landmark is located in a 2-acre park that includes an observation deck and the beautiful Salish Lodge posted right above the drop.
Don't be surprised if Snoqualmie looks familiar. Fans of Twin Peaks — both the influential original from the '90s and the 2017 continuation — will forever associate the majestic waterfall with the first notes of the show's haunting, baritone-guitar-driven theme song.
You can even take a Twin Peaks-themed tour of the surrounding Snoqualmie Valley. It includes a stop at Twede's Café (the show's iconic Double R Diner) and a less comforting visit to Ronette's Bridge.
Even if you've never heard of Twin Peaks, though, the waterfall is worth a visit just for the view. It isn't far from Seattle, either — just 29 miles by car. You can be there in less time than it would take to watch a single episode of Twin Peaks.
7. Bainbridge Island
You don't have to travel far from Seattle to get a taste of island life. Bainbridge Island, which is known as the Nantucket of the Pacific Northwest, is a charming outpost on Puget Sound that's ideal for a quiet escape from the hustle and bustle of the city.
Odds are you'll recognize the wild beauty of the surroundings, especially if you're a Grey's Anatomy fan. But the island is full of pleasant surprises.
While you're there, you can shop at the boutiques and clothiers along Winslow Way and enjoy Japanese, Indian, Mexican, or classic American cuisine (and, of course, lots of very good coffee!). If you decide to stay longer than a day, you can book a relaxing stay at one of the island's many inns and guesthouses.
Don't get back on the ferry without checking out the island's famous gardens at Bloedel Reserve. This 150-acre park blends sculpted plant life with natural geography to create a gorgeous landscape.
Bainbridge Island is astoundingly close to downtown Seattle. Ferries depart from the city's waterfront on a regular schedule, and the trip across the Sound is only 35 minutes long. Otherwise, you can drive over the Tacoma Narrows Bridge, which connects Tacoma with the island's northern Kitsap Peninsula; this trip will take longer, about 3 hours.
8. Mount Rainier National Park
One of the first national parks established in the United States, Mount Rainier National Park is an ideal destination for a day trip, though you may want to spend more than a day there — there's quite a bit to see. You'll travel about 95 miles to get there; drivers of private, noncommercial vehicles pay a fee of $30, which grants admission to every passenger. If you're visiting on foot, plan on paying $15 per person.
Start your journey at the Paradise Jackson Visitor Center, where wildflowers bloom in stunning displays in July and August. The trails in this part of the park provide jaw-dropping views of the Nisqually Glacier and Mount Rainier. After getting your bearings, head to Sunrise, the highest point that can be reached by vehicle at Mount Rainier National Park. It features two excellent trails with magnificent views of the Emmons Glacier.
Most vacationers head to Mount Rainier in the summer, but winter visits can be just as fulfilling, if slightly more physically taxing. Winter recreational activities include sledding, skiing, snowmobiling, and ranger-led snowshoe walks. Just be sure to check the forecast if you're headed to Mount Rainier in the winter — while the park is open year-round, it closes during extreme weather.
Mount Rainier National Park is an excellent spot for camping, though if you go that route, you'll need to pay a modest $20 campground fee per night. If you'd prefer not to camp, consider the National Park Inn and Paradise Inn, both of which are located on-site.
Planning a trip to Seattle? Skip these overrated attractions and make time for these awesome things to do instead.