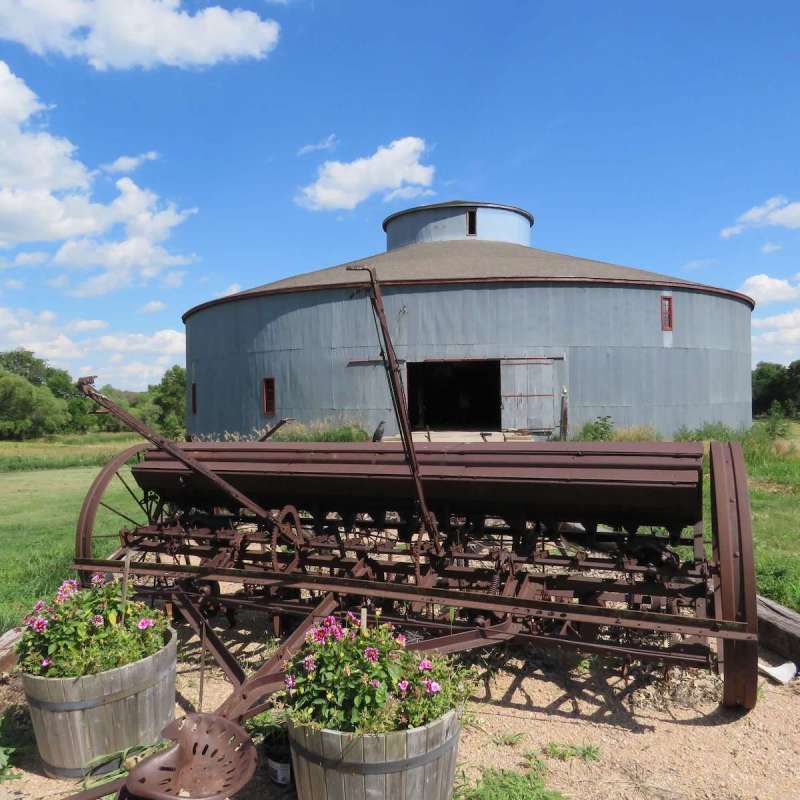 Nebraskans have long been proud of a state motto that's been used for years: "The Good Life." You'll find it on state welcome signs, t-shirts, and other tourism-related souvenirs. When the state's tourism commission announces a new slogan, several people continue to lobby for old trusty.
So, what makes Nebraska the Good Life? It's a feeling that once people visit, they fall in love with the state and its communities. The best way to explore Nebraska is to get off the interstate and visit its towns, which are often home to unique attractions.
Here are nine quaint towns you need to visit that help tell the Nebraska story.
Ashland
Located midway between Omaha and Lincoln, Ashland offers a mix of small-town life with major tourist attractions. The world-class Strategic Air Command & Aerospace Museum explores the Cold War and includes impressive aircraft exhibits, from World War II to the 1990s. The museum is home to a vintage B-25, the SR-71 reconnaissance jet, a Soviet MiG jet, and more.
Stay inside your vehicle as you travel through the Lee Simmons Conservation and Wildlife Park, watching elk and bison herds roam inches from you. The park has viewing areas where you can walk and take in the sights of the bison — and birds, such as sandhill cranes, swans, and pelicans. Mahoney State Park also offers outdoor activities, such as hiking, fishing, boating, and horseback riding.
But to get a true feel for Ashland, head downtown. With classic storefronts, Ashland's main street offers a picturesque view. Boutiques and small shops provide a diverse shopping experience, from Salt Creek Mercantile's home decor accessories to Postscript for stationery, greeting cards, and gifts.
Valentine
Outdoor enthusiasts love the Valentine area. Whether you hike the area at Smith Falls State Park — site of the state's tallest waterfall — or Fort Niobrara National Wildlife Refuge, you'll enjoy the natural scenery with a chance of wildlife viewing. The area is also perfect for kayaking, canoeing, camping, and fishing. The Cowboy Trail, with its iconic wooden bridge along an abandoned rail line, rates as one of the most popular bike and walking trails in Nebraska.
Valentine proudly embraces its role as Nebraska's Heart City. Hearts dot the sidewalks in front of downtown stores. You can even take a selfie in front of a Valentine heart. Bring an envelope to the downtown post office for a postmark you can't get anywhere else in the world. Talk about a true souvenir.
Tekamah
One of my favorite towns in the state (I grew up in towns within 20 minutes of here), Tekamah is home to Master's Hand boutique. Starting with homemade candles, the venture has grown into a giant on the prairie, offering home decor, clothing accessories, and handmade chocolates and fudge. They added a restaurant featuring breakfast and lunch options, including "world-famous" cinnamon rolls. The store also sponsors seasonal festivals that attract thousands of people from a three-state region.
While Master's Hand alone is worth the trip, a visit to Silver Hills Vineyard and Winery adds to your experience. Raising grapes in the middle of corn country may be a challenge, but it pays off with outstanding white and red wines. While it doesn't brew beer, you'll have a variety of brews to choose from at Chatterbox Taproom. Featuring burgers and more on its menu, Chatterbox is an excellent place to relax and enjoy a good meal.
Tekamah is also home to the Burt County Museum, with exhibits chronicling the area's history. Located in a former mansion, a visit offers an impressive look into the county's past. The town also celebrates its most famous resident with the Hoot Gibson Memorial Rodeo each June. The three-day event honors the one-time rodeo champion and early 1900s movie star.
Nebraska City
Since this is home to the founding of Arbor Day, you may think there are only trees to see. While there's more to see in Nebraska City, a stop at Arbor Day Farm is a must. A popular spot during the fall for apple picking, Arbor Day Farm is a year-round attraction, thanks to Treetop Village. With an obstacle course that takes you high above the trees, adventurers of all ages navigate rope ladders and tightropes safely, as netting protects you from falling.
If you prefer your feet firmly on the ground, visiting Arbor Lodge State Historical Park offers an opportunity to tour a 52-room mansion built around a four-room cabin. When J. Sterling Morton settled in Nebraska City, he constructed the cabin. Then, as the family grew, he and his wife added on to it. Eldest son Joy, who founded Morton Salt, completed the mansion, designed to resemble the White House in Washington, DC. Arbor Lodge anchors a state park, which includes a botanical garden and several trees.
A walk along Central Avenue offers a look at the area's history through a series of murals. Covering about a nine-block area, historical murals highlight Morton Salt, Woolworth's, and Argo corn starch. A downtown park includes a series of murals exploring the city's history as well as locals' military service.
Red Cloud
Red Cloud is the hometown of Pulitzer Prize–winning author Willa Cather, and visitors can enjoy a tour of locations around town that inspired characters for her books. Guided tours of the city, including Cather's childhood home, are offered by the Willa Cather Foundation. The tour also features the Opera House and bank.
Take a walk through history with a visit to the Starke Barn, a three-level round barn built in 1902. Named to the National Register of Historic Places, the barn is one of the largest and oldest in the United States. You can tour the barn 1–4 p.m. on the first and third Friday of each month, or by appointment.
With more than 600 acres of prairie grass, flowers, and plants, the Willa Cather Memorial Prairie is the perfect spot for bird watching or golden sunsets.
Enjoy a cup of coffee while you shop for boutique-style and handmade gifts at the Corner Nook. Vintage collectors love checking out Pine Tree Antiques, where you'll find a variety of classic wares to take home.
David City
David City's historic downtown includes an opportunity to appreciate buildings that are more than 100 years old, such as the Thorpe Opera House. The city is home to the nation's lone agriculture art center, the Bone Creek Museum of Agrarian Art. Focusing on local artist Dale Nichols's work painting the rural landscape, the museum also showcases contemporary agrarian artists.
For more than 15 years, Jisa's Farmstead Cheese in nearby Brainard has been producing cheese for Nebraska stores and restaurants. Originally a dairy operation, the Jisa farm — founded in 1946 — welcomes visitors to their cheese market.
Pro tip: For a truly Nebraskan experience, order a runza sandwich (bierock) or burger at Runza's indoor drive-thru restaurant.
Crofton
A stay at the Historic Hotel Argo Bed and Breakfast combines history with pop culture. The Argo is considered the most haunted hotel in Nebraska. It has experienced a variety of lives, including serving as a hotel for train passengers and a medical clinic, giving rise to stories of ghosts haunting the halls. It was also the childhood summertime home of actress Leslie Brooks, who has a suite named after her.
Only a few minutes' drive from town, outdoor enthusiasts enjoy spending the day at Lewis and Clark State Recreation Area near the South Dakota border. Gavins Point Dam was built to help manage the Missouri River, creating the 35-mile long lake. Boating, skiing, fishing, and swimming are popular activities at the lake.
Antique collectors enjoy exploring Jeanne's Antiques for the perfect antique, from stained glass to vintage china. Located a mile east of town, the antique store has been a Crofton staple for more than five decades.
Niobrara
As the ancestral home of the Ponca (Unsi) people, Niobrara is home to the tribe's cultural museum and education trail. Visitors learn the history of the Native American tribe, which was forcibly relocated to Oklahoma in the 1870s but returned during the 1990s. A visit to the tribal museum features a headdress and other pieces repatriated from the Smithsonian Museum. The education trail includes an earth lodge, powwow grounds, and placards with tribal information, all leading to a statue of Chief Standing Bear. The chief won the first civil rights case involving Native Americans in 1879, when a court publicly acknowledged that Native Americans were legally people.
Nature enthusiasts enjoy trekking the trails at Niobrara State Park. Overlooking the confluence of the Niobrara and Missouri Rivers, the state park offers boating, fishing, swimming, and horseback riding.
Taylor
Located in the heart of Nebraska's Sandhills, people in the village of Taylor like to joke they doubled its population when the Taylor Villagers were introduced. The public art project features more than 150 wooden cutouts resembling people from the 1890s to 1920s. Painted in black and white, the pieces are located around town. Attracting visitors from Nebraska and other states, the project has helped with increasing tourism beyond the annual Loup County Fair.
Longtime homebrewers added to Taylor's attractions when they opened Bootleg Brewers in 2015. With a 20-barrel system, Bootleg provides beer for its taproom as well as outlets around the state.