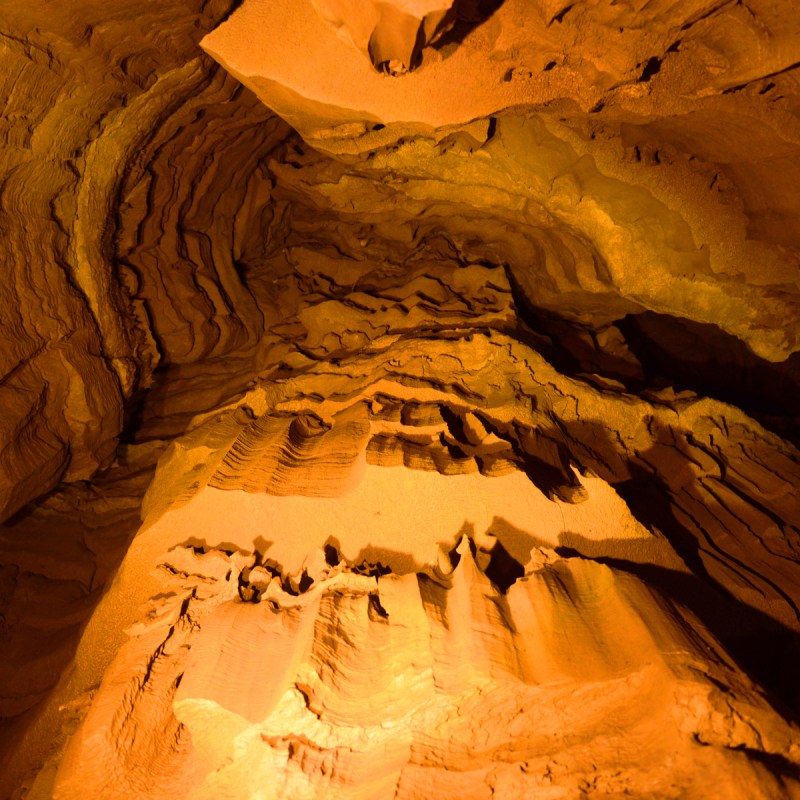 Mammoth Cave National Park is home to the world's longest-known cave system. Now even more of the cave has been physically visited and surveyed.
"Mapping and exploration by the Cave Research Foundation has revealed 8 new miles to the Mammoth Cave system, making the total count 420 known miles of passages!" Mammoth Cave National Park announced. "When it comes to discoveries in Mammoth Cave, there truly is no end in sight!"
Why The Cave Is Mammoth
"Mammoth Cave was created by the natural process of limestone erosion, known as karst topography," the U.S. Department of Interior explains. "During this process, rain and rivers slowly dissolve and shape soft limestone, creating a vast system of caves. Underground rivers are still carving new passages today. Beyond their scientific and recreational value, karst aquifers like Mammoth Cave provide drinking water for approximately 40 percent of the U.S. population."
Mammoth Cave National Park, which is less than 100 miles from Louisville, Kentucky, received its official designation as the world's longest cave system in 1969. At the time, there were 65 miles of surveyed passageways.
Although the cave is now known for its 420 miles of documented passages, park officials estimate there could be as much as another 600 miles in its system, the U.S. Department of Interior notes.
Continual Exploring
Members of the Cave Research Foundation (CRF), a local, non-profit group founded in 1957, "spend hours crawling, climbing, and rappelling through cave passageways, following leads through sometimes very tight openings to document and map Mammoth Cave," the National Park Service explains. Members of the group have volunteered thousands of hours of work surveying the cave over the past 60 years.
"The Cave Research Foundation is fundamentally the reason that Mammoth Cave is recognized as the world's longest cave," Dr. Rick Toomey, Mammoth Cave National Park's resource management specialist said. "Without CRF exploration and mapping, Mammoth Cave would potentially still be a 44-mile-long cave system."
Know Before You Go
Mammoth Cave is known for its extensive labyrinth of underground cave passages, so naturally, the park offers a variety of cave tours for visitors of all abilities and interests. "From a 2.5-mile, 2.5-hour dirt trail hike to see an underground river, to a 0.25-mile, 1.25-hour walk to see hundreds of dripstone formations, there's a tour that's right for everyone," the park's rangers explain.
Keep in mind, however, that cave tours are popular and often sell out. Purchasing cave tour tickets in advance ensures you can get the tour you want, on the day you want, and at the time you want, rangers explain.
You can learn about all of the different tours here. When you're ready, you can purchase tickets for cave tours here.
The national park also has more than 85 miles of hiking, biking, and equestrian trails through forested rolling hills. And while many people don't know it, Mammoth Cave National Park is home to more than 30 miles of the Green and Nolin rivers, which are perfect for paddling or fishing.
If you're planning a trip to Mammoth Cave National Park, be sure to read: