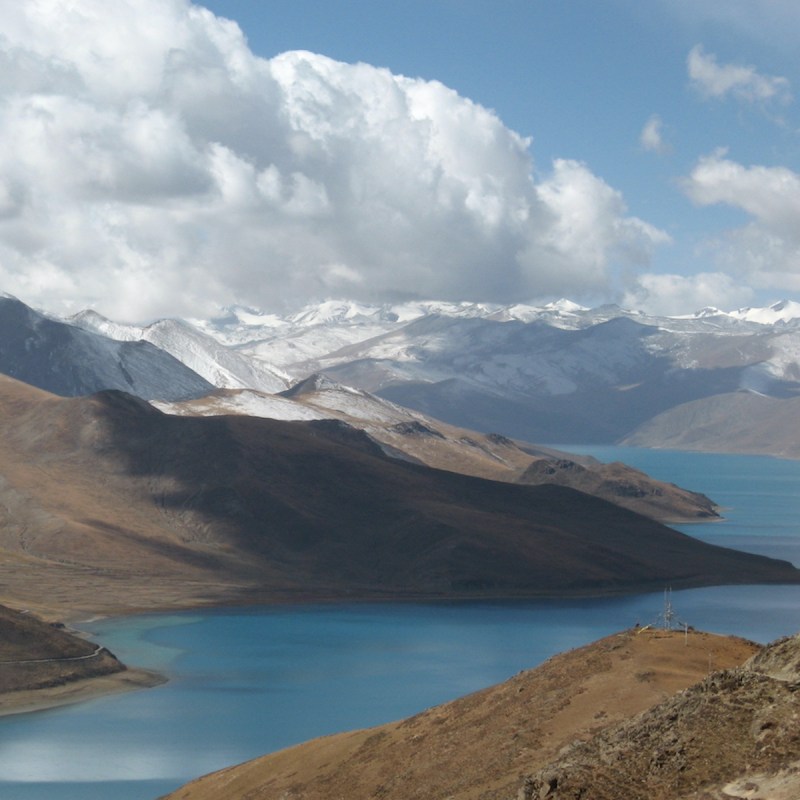 It's imperative to feel comfortable and safe while traveling.
Medjet
provides premier air medical transport, travel security, and crisis response memberships, providing peace of mind for an affordable price.
Monks, monasteries, and mountains. Tibet is one of the most unique places you will ever visit. Known as the "Roof of the World," the "Third Pole," or the "Land of Snows," Tibet is one of the most intriguing and mysterious places in the world. This massive, land is home to Buddhist Monasteries, historical sites, vast snow-capped Himalayan Mountains, hairy yaks, beautiful landscapes, and wonderful people.
Planning a trip to Tibet can be a little daunting, given its remote location and political situation, not to mention the permits you need and the stringent government travel requirements. But with a few tips and hints for planning and traveling in Tibet, you can make the trip to the Roof of the World one of the most amazing journeys of your life.
1. Where Is Tibet?
A lot of people seem to confuse Tibet with Nepal, perhaps because both are Himalayan countries, they share a border and share the summit of Mount Everest. On a map, Tibet is in the heart of Asia between mainland China and India. The vast, high-altitude Tibetan plateau borders Nepal, Bhutan, Burma, mainland China and Xinjiang (East Turkestan).
2. Is Tibet Open To Tourists, And Can I Enter With A Chinese Visa?
Tibet is generally open to foreign travelers except in February and March each year. To enter what China calls the Tibet Autonomous Region, you will need both a Chinese visa and a special Tibet permit. Tibet travel permits are issued by the Chinese government, but only through a certified Tibet travel agency.
3. Can I Travel Independently In Tibet?
Like it or not, the short answer is no, you cannot travel in Tibet on your own (unless you are a Chinese or Hong Kong national). You must be part of a pre-arranged tour and you must travel with a certified Tibet travel agency representative. You will have to book a tour with a Tibetan travel agency, that will then arrange all your travel inside Tibet, including permits, accommodation, entry to attractions, in fact pretty much everything, making it much easier to plan your trip. The good news is that your "organized tour" can actually be a private tour — just you, or you and your choice of traveling companions.
4. Is It Safe To Travel In Tibet?
Tibetans are a friendly people, and major crime is not common. Tibet is a safe place, probably safer than many other countries around the world. A few minor incidents do occur, such as pickpockets and minor thefts, and you can find a few scams, which are generally easy to avoid. But bearing in mind that you will always be accompanied by your guide, there's not much that can go wrong, even solo female travelers can feel safe in Tibet.
5. Will I Get Altitude Sickness?
With an average elevation of 14,750 feet, altitude sickness is a common complaint when traveling to Tibet, though it normally passes in a day or two. The main symptoms of altitude sickness include headaches, nausea, dizziness, vomiting, lack of appetite, and insomnia. The good news is that there are basic steps you can take to prevent altitude sickness from ruining your trip. I'd recommend resting for a couple of days when you arrive in Lhasa, allowing your body to adapt and also asking your doctor if you are a candidate for Diamox, (the most effective medication for altitude sickness).
6. When Is The Best Time To Visit Tibet?
The main season for travel to Tibet is from April to October when the weather is at its best for trekking, sightseeing, and generally traveling around. Given its location on a high plateau, Tibet experiences low temperatures and frost most of the year. Summer is the only time when temperatures get to around 70 degrees Fahrenheit during the day. As a bonus, oxygen content is higher in the summer, making it easier to acclimatize. Spring and fall are also good times, if you're looking to beat the summer crowds, but expect chilly nighttime temps. Winter is characterized by freezing temperatures.
It's important to take into account that entry permits are not given to foreigners from February to March (this is the time of some sensitive anniversaries, particularly the 2008 rebellion that caused all these travel restrictions in the first place). I'd also suggest avoiding Chinese national holidays during the first weeks of May and October when Chinese tourists swarm Tibet.
7. How Can I Get To Tibet?
The most common way to get to Lhasa, Tibet, is by train or airplane. Flights depart daily from several cities in mainland China, as well as from Kathmandu in Nepal. Trains run regularly from several major cities in China. The best way to travel to Tibet, and adjust to the altitude, is to take the train from Xining to Lhasa. It's a 21-hour-long trip, but it's a scenic journey on the world's highest railway.
For those starting in Nepal, you can fly or travel overland with your guide and driver. Traveling overland can put you at a higher risk of getting altitude sickness, so flying tends to be the better option. Bear in mind, if coming from Nepal you will have a different and stricter kind of visa, a "Tibet Group Visa," that does not allow travel onward into mainland China.
8. What Are The Best Places To Visit In Tibet?
Tibet has so much to see, from its magnificent natural scenery to its mysterious religious culture. You won't be able to see everything on your first trip, so let me point you in the direction of some of the unmissable places you should have on your itinerary.
Tibet's capital city of Lhasa is one of the most fascinating cities in the world. This is a city in a time warp, stuck between the modern world and ancient traditions. The city revolves around Barkhor Square, at the center of which is the Jokhang Monastery, Tibet's most sacred temple. It is here you will see pilgrims murmuring prayers as they complete their journeys of devotion, prostrating themselves in front of the temple or circling around it in a clockwise direction.
There is nothing quite like seeing the golden-roofed Potala Palace, the former residence of the Dalai Lama, rising above the city center. This is the largest and most complete ancient palace building complex in Tibet, containing 13 stories and 1,000 rooms. Building commenced in the 7th century, and reconstruction was undertaken by the 5th Dalai Lama in 1645. This is a holy place for Tibetan Buddhists and attracts thousands of visitors and pilgrims annually.
You should also visit the "Three Great Tibetan Monasteries," Drepung, Sera, and Ganden, which lie on the outskirts of Lhasa. Drepung is a complex of many temples and prayer halls, while Sera is famous for daily (3 p.m.) traditional debates among the monks. Ganden, at an altitude of 12,000 feet on Wangbori Mountain makes for a great hike (though you can drive). You are quite likely to see vultures, the sacred birds of Tibet, on a visit here.
Yamdrok Lake is a freshwater lake about 60 miles south of Lhasa. The lake is regarded as one of the three holy lakes in Tibet. This beautiful lake is over 44 miles long and looks a little like a coiling scorpion. It's a main stop along the route from Lhasa and Nepal, and you can usually find local Tibetans waiting here with their yaks and mastiffs, offering tourists an opportunity for a particularly scenic selfie.
Tashilhunpo Monastery, on Mt. Nyima near Shigatse, Tibet's second-largest city, is definitely worth a visit. Covering an area of 37 acres, the monastery has 57 halls, 3,600 rooms and can hold 2,000 worshipers.
Mt Everest, the highest mountain in the world, straddles the Nepal and Tibet border, and it's easily accessible from the Tibetan side. Private vehicles are no longer allowed at Everest Base Camp (EBC) on the Tibetan side, instead, there is an eco-bus service. Similarly, camping is no longer permitted at the former base camp, instead, travelers can stay in a tented camp near the Rongbuk Monastery, which at over 17,000 feet above sea level, is the highest monastery in the world. Hikers can choose to trek the route from Tingri to EBC, a distance of 43 miles over four days.
Mount Kailash, in Tibet's far west, is a sacred mountain, recognized as the "center of the world" by Tibetan Buddhism, Hinduism, Bon, and Jainism followers. The mountain attracts a continuous stream of pilgrims, both Hindus from nearby India, and Buddhists, who come here to perform a Kora, the ritual circumnavigation of the mountain. Pilgrims believe they can erase the sins from a previous life by doing one Kora, avoid the pain of reincarnation by doing additional Koras, and can turn into a Buddha by doing 100 Koras. Aside from any religious significance, Mt. Kailash is worth a visit. Situated at the southern foot of Mt. Kailash, Lake Manasarovar, a sacred freshwater lake, is another pilgrimage destination, revered both in India and Tibet.
9. What Kind Of Food Do They Eat In Tibet?
Tibetan food and drink, like the country's culture and religion, has its own unique character. The most common dishes reflect what plants and animals are able to survive at an average altitude of 16,000 feet. The daily diet of most Tibetans includes tsampa, butter tea, yak meat, and mutton.
The traditional staple food of Tibet is tsampa, a flour made of roasted highland barley and Tibetans eat it three times a day. Tibetans consume copious amounts of tea, both salted butter tea, and sweet milk tea, they also eat a lot of yak-related meat and dairy products. Yak meat is quite lean, mild, and beef-like and not as weird as it may sound. It's a common misconception that Tibetans are vegetarians, but yak, beef, mutton, and goat are all consumed. Fish, though, are not popular or common.
Tibet has so much to see and do, from stunning mountain landscapes to fascinating religion, culture, and customs. You could find yourself in a prayer hall full of chanting monks, experiencing an unforgettable mountain trek, or perhaps making the epic Tibet – Nepal overland journey, along some of the world's wildest roads. The experiences are limitless.
Tibet is an exotic destination, and there are myriad things to discover: