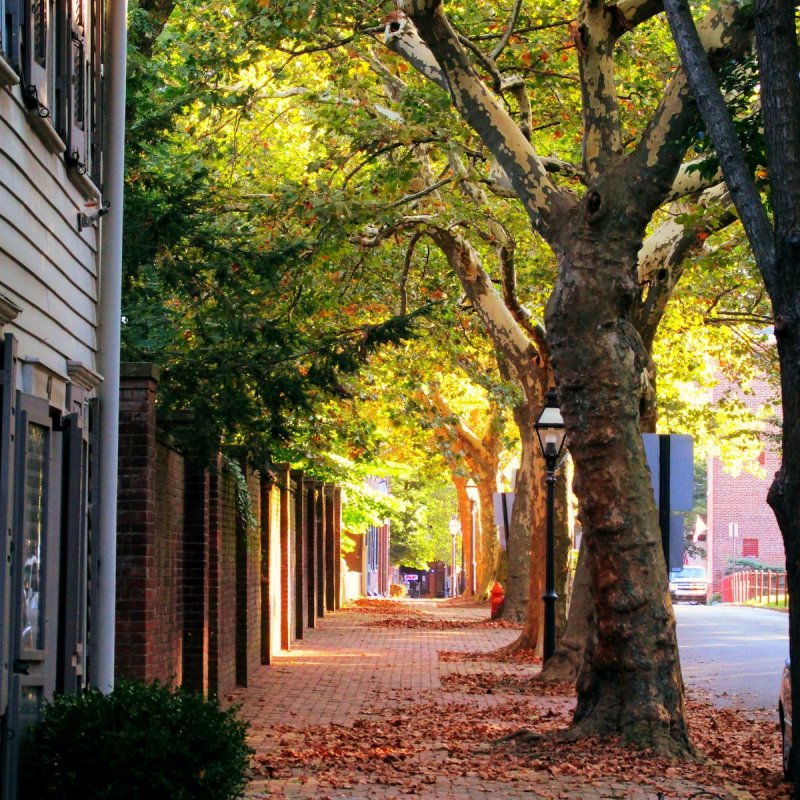 When I first wandered down Delaware Street in historic New Castle in early 2020, I thought that I was stepping into Brigadoon, that mythical village in the Scottish Highlands that comes alive every hundred years. New Castle, however, is perhaps the most purely American place — with four centuries of U.S. history. Today 21st-century inhabitants actually live and work in the town's stunningly preserved buildings — the real estate office, for example, was built in 1738, and the local tavern was originally built in 1674.
Here you can explore history by wandering the 20-odd square blocks of streets lined with restaurants, cafes, and historic homes and gardens. You cannot fail to be impressed by the beauty of the many well-preserved Georgian, Federal, and Victorian-era buildings dating from the early 17th to the early 19th centuries. But you will not be the only ones who will revel in the town's charms; New Castle has been named to numerous top 10 lists of most beautiful small towns in the United States.
How long should you schedule to explore New Castle? You can easily spend a pleasant weekend wandering the town and visiting the sites. You can also get a good idea of the town and its history on a morning or an afternoon's walk, with a break for coffee or a meal (or, in good weather, a picnic in Battery Park). If you need a wheelchair or mobility aids, you should be aware that while all the streets are flat, some are cobblestoned.
Pro Tip: Different societies and organizations are in charge of different sites in historic New Castle. Check with the appropriate ones listed below to make sure that the buildings and other places you want to see are open when you will be there:
Read House and Gardens: Delaware Historical Society (302) 322-8411
New Castle Courthouse: Division of Historical and Cultural Affairs, State of Delaware (302) 323-4453
Visitor Center, Amstel House, Dutch House, Old Library, and Events: New Castle Historical Society (302) 322-2794
General Information: Visit Delaware (866-284-7483)
1. Take A Guided Tour
During the summer months, guided walking tours of Historic New Castle's architectural gems are available on Thursday evenings at 7 p.m. Reservations are required and can be made through the New Castle Historical Society. There is also a self-guided audio tour of the New Castle Historic District that begins at the Amstel House, downloadable here.
2. Visit Battery Park
New Castle's Battery Park is on the Delaware waterfront. It is named for its artillery fortification against enemy ships in the 17th and 18th centuries. This historic park was where William Penn landed when he first came to America on October 27, 1682 (noted on a marker at the site; also check out a statue of Penn on the New Castle Commons a few blocks away). The docks became a major center of trade in the New World, and when the water level in the Delaware River is low, you can still see the remnants of port facilities from hundreds of years ago.
Pro Tip: A walking and bicycling trail begins in Battery Park and extends about 1.5 miles southwest along the Delaware River on a levee between the marsh and the river. The entire trip is about three miles. Read on for another, and newer, walking and bicycling route that runs north from New Castle to the Riverwalk in nearby Wilmington, too.
The Frenchtown Railroad Ticket Office in Battery Park was built in 1832 and moved to the park in the 1950s. The railroad was once a major reason for the growth of New Castle before the Civil War.
3. Experience Packet Alley And The Strand
Packet Alley runs from The Strand to the Delaware River. In 1933, a historical marker was placed at the intersection. Some famous folks during the 1830s and '40s were passengers in the stagecoaches and riverboats loading and unloading here, including President Andrew Jackson and Davy Crockett.
The Strand is only one block long, but it is arguably the grandest street in historic New Castle and has been for hundreds of years. A great fire swept the street in 1824, but some notable townhouses from the 18th century thankfully did survive.
On the Strand stands the Read House and Gardens, a National Historic Landmark. The house was built in the last years of the 18th century and is an imposing example of Federal period architecture. Visit the formal gardens, which were laid out in the 1840s. The Read House is open Thursday through Sunday, from 11 a.m. to 4 p.m.
4. Visit The Courthouse
Built in 1732, the New Castle Court House served as Delaware's first court and state capitol and was the meeting place for Delaware's colonial assembly until 1777. Learn about touring the Court House here. The museum is open Wednesday through Saturday, from 10 a.m. to 4 p.m. and tours are on the hour. On Sundays, the tours are at 1:30, 2:30, and 3:30 p.m.
5. Unwind In The New Castle Green
The New Castle Green was planned in 1655 by Dutch Governor Petrus Stuyvesant as a gathering and marketplace for townsfolk. Today this peaceful spot (which used to be the site of the town's gallows and jailhouse) is surrounded by some of New Castle's most iconic and historic buildings.
6. See New Castle's Historic Houses
The Dutch House is the oldest house in New Castle. It was built between 1690 and 1700 and is filled with period furniture. Just a few houses from the Dutch House is the Old Library Museum, open for special exhibitions. The charming hexagonal library was originally built in 1892 (as opposed to the "new" one at 5th and Delaware Streets). 
The Amstel House is an early Georgian mansion that was built in the 1730s. It is widely considered the First Grand Mansion of Delaware. Listed on the National Register of Historic Places, the house marked the town's first formal preservation effort in 1931. Amstel House is also a stop on the popular haunted house tour that takes place in October. The Amstel House and the Dutch House are open for tours Wednesday through Saturday from 11 a.m. to 4 p.m., and for special events.
7. Appreciate New Castle's Churches (And A Striking Cemetery)
Founded in 1657 as a Dutch Reformed, or Calvinist, house of worship, the New Castle Presbyterian Church was one of seven to organize the first Presbytery in America in 1706. The church was restored after World War II in its original style.
Immanuel Episcopal Church on the Green is one of the oldest Episcopal parishes in the United States. It was founded in 1689, and work on the church was not completed until 1708. Don't miss the cemetery — the stones tell stories of the lives of some early settlers in the new country.
8. Keep Up With Your Exercise Regimen
Run, walk, jog, or bike on the long-awaited 8-mile Jack A. Markell Trail that connects downtown New Castle to the Wilmington Riverfront. The off-road path is paved and mostly flat, with one stretch of boardwalk through a marsh near Wilmington.
9. See (Or Sail) On A Replica Ship
The Kalmar Nyckel, usually moored at the Wilmington Riverfront, is a full-scale replica of a 17th-century, three-masted, square-rigged, gun-armed merchant ship. The ship provides sailings from May until October, with day sails, pirate sails, and a Halloween Ghost Ship sail. Check for dockings in New Castle.
10. Check Out These Special Events In Historic New Castle
Depending on when you visit, you might get to enjoy one or more of New Castle's special events, which include
A Day in Old New Castle (hosted in spring)
Separation Day (celebrates the 245th year of independence from Pennsylvania and the British Crown and is hosted in June)
Hauntings in History: Ghostly Walking Tours of Old New Castle
For additional info plus specific dates and times for any of these events, reach out to the New Castle Historical Society.
11. Eat Well
Jessop's Tavern, housed in a building that is almost 350 years old, offers colonial-era comfort food with daily specials as well as microbrews. Try the shepherd's pie, and choose from the mind-numbing list of Belgian beers.
The charming Mercury Café and Teahouse offers vegetarian (and vegan) food, with terrific salads and a sublime grilled cheese. Locals and visitors celebrate the exotic teas, coffees, and creative mixed drinks served by Dwayne, the friendly host.
Zollie's Jazz Cucina offers tasty southern and Caribbean fusion dishes like blackened catfish Hoppin John, Cuban mojo chicken, or seafood gumbo served up by chef Marc-Antony Williams and accompanied by regularly scheduled jazz.
The Booth House Tavern has six dining rooms and is housed in a red-brick historic building on Delaware Street. Sipping a cocktail on the patio behind the restaurant in the early evening is a perfect way to end a day of touring the sites.
Nora Lee's French Quarter Bistro specializes in Cajun New Orleans food, including crawfish bisque, chicken sausage gumbo, and jambalaya salad.
Just on the outskirts of town is the old-school Italian restaurant Porto-Fino Pizza, and a 5-minute drive further is Ioannoni's Specialty Sandwiches, a go-to place for carnivores who crave giant subs.
12. Shop New Castle
Opera House Art & Antiques on Delaware Street is a great place to wander and peruse some unique items at fair prices — from furniture and steampunk jewelry to original paintings, crafts, restored trunks, and more. If you're lucky, you'll meet up with Rodney, who can fill you in on art events, exhibits, and framing.
An 8-minute drive from the historic section of town via Delaware Street (or a 45-minute walk) is the famous Farmers Market in New Castle. There's an Amish section with soft pretzels, meats, and even chocolate-covered bacon (Note: The Amish section is closed on Sundays, but most other shops are open.)
13. Stay In Town
Terry House Bed and Breakfast is in a circa-1860 Federal townhouse on Delaware Street, with gardens adjoining Battery Park on the Delaware River. Children over the age of 10 are welcome.
Apartments in the David Finney Inn on Delaware Street are available on Airbnb.
For a blowout, stay at the elegant Hotel du Pont in Wilmington, a 1913 landmark one mile from the Amtrak station and just 6.5 miles from historic New Castle.
Pro Tips
History will come alive as you imagine the early inhabitants of historic New Castle, but for those that need more inspiration, check out the New Castle Community History and Archaeology Program's online Portraits of the Rich and Powerful in New Castle History. Note: Not everyone was rich and powerful, of course.
Getting To New Castle
Driving from New York City via I-95 and over the Delaware Memorial Bridge takes about two hours. The Acela train zips through New Jersey from Penn Station in New York City to the Wilmington Amtrak station, also in about two hours. From there you can take a taxi or Uber to New Castle — it's about a 10-minute ride.
Explore Nearby Sites
Since Delaware is such a small state, it doesn't take long to reach other places of interest within 30 minutes, including Riverfront Wilmington; Brandywine Zoo; Delaware Art Museum; Winterthur Museum, Garden, and Library; Hagley Museum; Nemours Mansion and Gardens; and Longwood Gardens (just over the border in Pennsylvania).
Check days and hours of operation before you go, and also consider our other Delaware content: