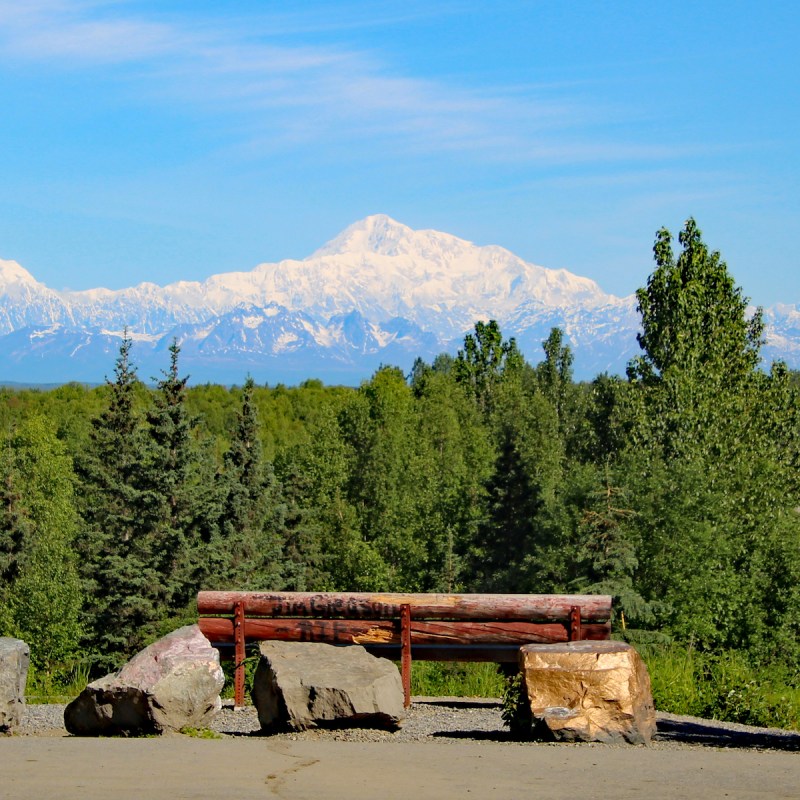 Talkeetna (tal-keet-na) is a town rich in history. It's situated about 2 hours north of Anchorage, and 2 1/2 hours south of Denali State Park Visitors Center and has long been known as a miner, trapper, and climber town. 
Mountain climbers have flocked to Talkeetna from around the world in hopes to reach the summit of Denali, the highest point on the North American continent and the third highest point of the Seven Summits, which are the highest mountains on each of the seven continents. 
Miners and trappers have used Talkeetna as their focal point living in small cabins scattered through the rugged wilderness. They would make the trip to "town" (Talkeetna) a few times a year to barter or sell their wares and replenish their caches (pantries). 
Today, Talkeetna is one of the cutest bohemian and artistic towns in central Alaska. To get to Talkeetna, you can either drive or take the train from Anchorage. If you plan on taking the train from Anchorage to Denali National Park, Talkeetna will be one of the very quick stops you make on the way. The Alaska Railroad does offer day trips from Anchorage to Talkeetna, and you will see some amazing countryside.
Moose On Parade
Several summers ago an event was held in Talkeetna called  "Moose on Parade". It was a fundraising event that helped subsidize the Denali Arts Council, the Talkeetna Historical Society, and the Talkeetna Chamber of Commerce. The cut-out wooden puzzle moose were elaborately decorated and then auctioned to the highest bidder.  Some of the moose from that event along with new additions can still be found in front of several businesses along Main Street. Finding the moose, which range in size from approximately 3-feet to about 8" (what I call 'mini-moose'), felt like a scavenger hunt of sorts. Not only does this brighten the streets, but the moose make fun photo opportunities.
West Rib Pub Bar And Grill
The Pub, as the locals call it, is not your average burger joint. Named after one of the famed routes to the summit of Denali, the pub was one of the featured stops of Food Network's Man v. Food with host Casey Webb. The challenge: Could Casey eat the entire Seward's Folly?
Seward's Folly consists of:
2 pounds of caribou
half a pound of smoked ham
12 strips of bacon
6 ounces of swiss cheese
6 ounces of American cheese
1 pound of fries
Let me tell you, that is a lot of food. My party of seven (including three teenage boys) ordered it just to see how much of a challenge it was. We left with a to-go box. But if you do happen to eat the entire meal by yourself in under an hour, you get a free t-shirt.
The Pub also offers typical bar-type appetizers and American grill dishes such as beef and veggie burgers and seafood entrees. Top off your meal with a microbrew that is brewed exclusively in Alaska.
Pro Tip: Try the caribou burger or caribou chili for a taste of local fare.
Talkeetna ATV Tours
Talkeetna ATV Tours is a unique Alaska tour and one of the best ways to see a part of Talkeetna that many will not. It is owned and operated by a Talkeetna old-timer whose family arrived in Talkeetna in 1959. You will see the family's original remote cabin that they built by hand and hear the amazing adventure of how that family arrived in Talkeetna and what it was like to grow up in the wilderness at that time. Other activities include target practice, gold panning, and the opportunity to drive your own ATV. Due to the nature of the tour and riding on ATVs, this tour may not be appropriate for wheelchair users or people with back conditions.
Kahiltna Birchworks
Located on the Talkeetna Spur Road, which is the only road into and out from Talkeetna, Kahiltna is one of the few birch syrup producers in the world. They're an Alaska cottage industry business that provides goods-from-the-woods, which is a similar philosophy to farm-to-table and grain-to-glass.
Kahiltna Birchworks taps 11,000 paper white birch trees each spring to produce this rare gourmet syrup. Birch trees do not produce the large amount of sap that maple trees do; therefore it is very difficult to create the rare syrup. It takes 110 gallons of birch sap to create 1 gallon of birch syrup. In comparison, it only takes about 40 gallons of maple sap to make 1 gallon of maple syrup.
Don't miss stopping by Kahiltna on your way to Talkeetna — you will drive right by it. Stop in and try some of their birch syrup products, ice cream, and birch water. The gift shop also sells locally-roasted coffee, pottery, and wooden bowls created by local artisans that make wonderful additions to your kitchen (at least they did to mine).
Pro Tip: Plan to take a tour of the birch syrup-making process. It will give you a new appreciation for the amount of work that goes into making a bottle of syrup.
Aurora Dora
The Aurora Borealis, also known as the Northern Lights,  which can be seen in most northern skies at some point during the cold winter nights, is one of the many Alaskan sights sought after by visitors and locals alike. 
A shop in downtown Talkeetna I would highly recommend you stop by is Aurora Dora Photography, which happens to be located next to the iconic "Welcome to Downtown Talkeetna" sign. Aurora Dora has been capturing the breathtaking and graceful northern lights since 2001 when she arrived in Talkeetna from Brazil. Her work has been featured and used by NASA and The Washington Post, among other publications. Taking home one of her pieces is high on the "my trip to Alaska" memorabilia list for many visitors, and locals even collect her art.
Stop in and chat; she has a story about each shoot. She also offers small workshops that will teach you how to photograph the northern lights.
Nagley's Grocery
I know what you are thinking: Why on earth is a grocery store on the list of places to check out? Located in the heart of downtown, Nagley's is not just a grocery store, it is also a mini-museum and one of the oldest buildings in Talkeetna. Built in 1917 by Horace Nagley, the mercantile offered supplies to the boom of railroad workers who were connecting the railway between Anchorage and Fairbanks.
The store sells a small, diverse selection of grocery goods in addition to ice and one of life's necessities when camping: s'mores ingredients. But what they sell is not the reason to check them out. Make your way to the second floor via the stairs to get a glimpse of what life was like in Talkeetna at the turn of the century.
Talkeetna Historical Society Museum
The building that houses Talkeetna's vast memories was the original schoolhouse built in 1936 before Alaska became a state. The one-room school taught multiple grades from elementary to high school. In 1974, the schoolhouse was transformed into the museum that displays the region's European and native history. You will also learn about the trappers, aviators, explorers, gold seekers, and adventurers who dared to create a life in the rugged Alaskan wilderness.
Glacier Tours
Talkeetna is the best location to book a tour to view some of Alaska and the world's most iconic mountain glaciers. Denali National Park is home to these glaciers, and the only way to truly see them is by plane. On these scenic flights, you will fly over the immense ice fields of just a few of over 40 named glaciers. One of the most popular glaciers to land on is Ruth Glacier, which is also one of the longest glaciers at more than 30 miles long. Two of the best tour companies to take you on a glacier tour are K2 Aviation and Talkeetna Air Taxi. You will need a National Park Pass ($15) for the tour. If you have an America The Beautiful National Parks and Federal Recreational Lands Pass you will not need to purchase an additional pass.
Alaska is an immense state with a multitude of environments and ecosystems that are vastly different from each other. There are oceans, mountains, plains, lakes, and forests, each with its own habitat and wildlife. Talkeetna is one of Alaska's most adorable and welcoming small towns with plenty of activities for adventure for all skill levels that you will encounter on your way to Denali National Park, a vast, rugged terrain that is unlike any other place on earth. It is definitely a town that needs to be starred on your map as a place you can't miss on your way to Denali National Park.