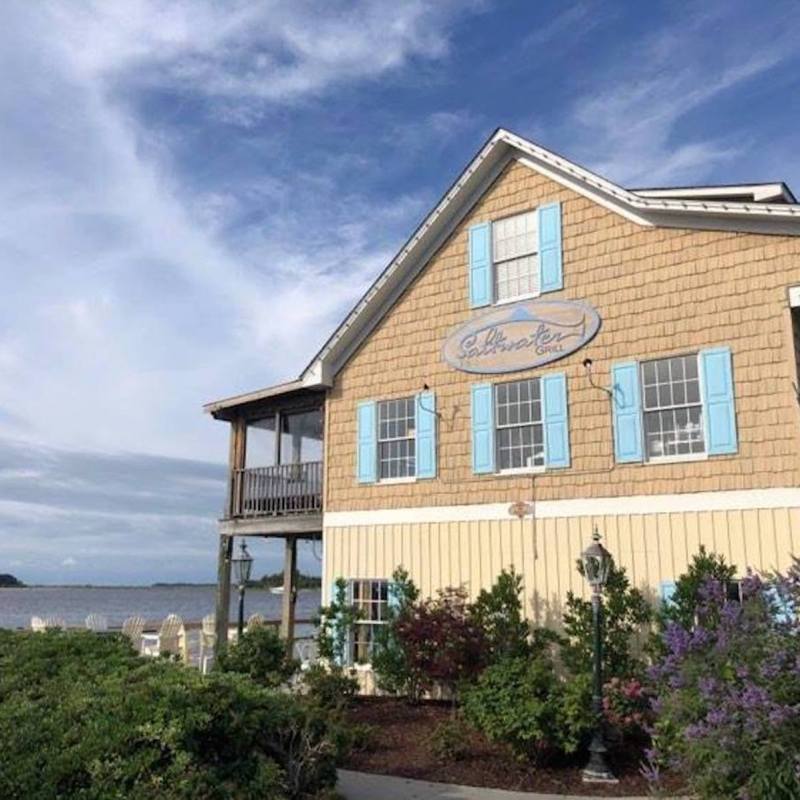 Swansboro is one of the most scenic destinations on the East Coast. When you add in its southern charm and hospitality — plus affordability — that makes Swansboro a vacation destination like no other. The small community is bordered by both the White Oak River and IntraCoastal Waterway, with the Outer Banks's Crystal Coast and Atlantic Ocean just mere minutes away. The drive north from Wilmington, North Carolina, is less than an hour and a half and it's less than two and a half hours from Fayetteville and the state capital Raleigh.
Known as the "Friendly City by the Sea," the picturesque seaside village of Swansboro (Swannsborough c. 1783) is like something out of a novel. As a matter of fact, Nicholas Sparks's The Guardian takes place in Swansboro. With its easy-going, laid-back vibe, Swansboro has also earned a spot on Matador Network's list of "coolest towns in America that you should visit in 2021" and "Top Dock Spots from North Carolina to Florida" in AAA's GO Magazine.
Surrounded by so much water, it makes sense that early maritime history is based on commercial fishing, shipbuilding, and privateering. Today, popular activities in Swansboro include beach-going, fishing, boating, and kayaking. But you'll also find golf, hiking, biking, and camping — plus shopping, history, the arts, a plethora of great restaurants, and much more.
We found it difficult to decide what to do first in Swansboro and wished we'd had more time to explore. Here are just some of the wonderful things that you can experience in the charming, and historic, Swansboro, North Carolina.
Visit Jacksonville, NC and Only in Onslow Tourism provided hosted experiences during our visit. All opinions are my own.
1. Discover Wanderlust (Self-Guided Walking Tour)
Envision life as it once was in this quiet, seaside village. Short narrow streets make ambling around town a real joy. Many of Swansboro's historic homes and buildings are well preserved. The downtown district includes a picturesque waterfront, an eclectic mix of quaint shops and restaurants, and green spaces to sit and unwind.
Along with the waterfront and downtown business district, be sure to stroll through some of the nearby historic neighborhoods. Cute well-kept homes and other buildings are marked with a "swan" plaque noting the original family (or business) and the year it was built. Many are listed on North Carolina's historic registry.
Pro Tip: You may want to make your first stop at the Swansboro Heritage Center (in the old Emmerton School) for information or download a walking-tour map.
2. Play On The Water
Surrounded by water, it's no wonder that water sports enthusiasts of all kinds flock to Swansboro. I can't think of a more fun place to canoe, kayak, or stand-up paddleboard. Bring your own or rent from several outfits including Swansboro Paddle Boarding, Barrier Island Kayaks, or Paddle NC, just to name a few. Many offer guided tours or you can head out and explore on your own, for a few hours or the whole day.
3. Reel In The Big One
Boaters and anglers will enjoy cruising up and down the Intracoastal Waterway and the White Oak River. Whether you are going to drop a line or just cruise, there are several marinas with public docks, boats, and equipment rentals. Local fishing charters offer inshore, near shore, and deep water excursions. Places like Friendly City Fishing, Pogies, and Nancy Lee Fishing Charters, plus others, all offer full and half-day charters.
Drawing spectators and anglers of all ages, Swansboro is host to several fishing tournaments including the Memorial Day King Mackerel Blue Water Tournament, the Hook & Bones Redfish Tournament, and the Speckled Trout Tournament.
4. Enjoy A Scenic Boat Tour
Let someone else do the navigating and enjoy the ride. Spend the day or just a few hours sightseeing, bird-watching, and exploring on a guided tour through the backwaters, marshes, and inlets of the Carolina Coast. There are several experiences to choose from. Lady Swan Tours offers a variety of private and public tours on boats with plenty of space, a shaded top, padded seats, and an onboard restroom. They are fully accessible.
Enjoy watching the sunset out on the open water on a 34-foot sailboat at Swansboro By Sail.
Or get off the beaten path and experience one of the best boating experiences anywhere with Marsh Cruises. Captain Darryl Marsh guides passengers on an up-close-and-personal boating, sightseeing, shelling, and ecological experience. Glide through the scenic waterways and marshes, stop at secluded beaches on Bear Island for exclusive shelling, and hunt for shark teeth at Shark Tooth Beach. You never know what you'll find or see, even dolphins!
Pro Tip: Bring binoculars, a camera, sunscreen, and water.
5. Explore Hammocks Beach State Park
However you choose to enjoy the outdoors, Hammocks Beach State Park has got outdoor enthusiasts covered. Here you can find wooded hiking trails (easy to moderate), relaxing green spaces, picnic areas, and a waterfront gazebo. The Welcome Center offers information, area history, and exhibits showcasing nature's wildlife.
What makes Hammocks Beach State Park so special? The 1,500–acre park comprises both a mainland park and four islands — Dudley, Huggins, Jones, and Bear Island — accessible only by boat. On Bear Island, visitors will revel in four miles of unspoiled, pristine, white-sand beaches and crystal-clear blue waters, hunt for seashells and sand dollars, and go fishing. You can also lounge on a blanket under an umbrella and enjoy a picnic. And at night, bring your gear and camp under the splendor of the star-lit sky.
The park offers daily passenger ferry rides to Bear Island. Canoeists and kayakers may reach Bear Island and explore the marsh by way of designated canoe trails. Bring your own or rent at the park. And for the state park connoisseur, be sure to check out some of the North Carolina Coast's best state parks.
Pro Tip: The park ferry is seasonal and weather (lightning) dependent. Be sure to check Bear Island's current information page prior to visiting. Pets are not allowed on the ferry.
6. Shopping Adventures
The waterfront downtown is a shopper's delight. Stroll and peruse dozens of quaint shops, galleries, and eclectic boutiques housed in historic buildings. Find beachy home décor in shops like Coastal Farmhouse and Salt Marsh Cottage. Gifts and souvenirs can be found at Gray Dolphin Gifts and Quilt Cottage — and you can find nautical treasures and antiques at Poor Man's Hole.
Other unique boutiques include Silver Line Jewelry and Art Gallery, The Mercantile, The Lighthouse Boutique, and Lovely's Boutique, located on the second floor of the oldest brick building in Onslow County. You will be delighted by all the shops and boutiques in Swansboro.
7. Satisfy Your Sweet Tooth
Candy Edventure is the "Sweetest Spot in Swansboro." It's more than just a candy store. Inside you'll discover a fun environment with an old-fashioned soda fountain counter, home-made fudge, ice cream, and popcorn, plus a host of your favorite childhood sweets. Be sure to try the new ice cream nachos!
For a completely different but still sweet environment, try Sweet Edventure Dessert and Martini Bar just down the street. They serve specialty desserts along with shakes and sundaes. They also offer a full martini and coffee menu — all in an upscale but casual atmosphere.
8. Release Your Inner Foodie
In a seaside village like Swansboro, seafood is abundant. Nestled in and among the waterfront shops, you'll find dozens of terrific eateries — all with different characteristics and charm, making it difficult to choose.
I recommend the signature shrimp and grits with watermelon salsa (and the drinks) at The Boro Restaurant and Bar, the lobster ravioli at Riverside Steak and Seafood, and the fresh fish, gourmet salads, and fantastic waterfront views at the Saltwater Grill. If you are in town for breakfast, you'll want to stop in at Yana's Ye Olde Restaurant. Be sure to add their famous homemade, fresh-fruit fritters to your order.
9. Watch The Water (And Boats) Go By
After a morning of exploring or shopping, grab a snack or refreshing drink and take a break. There are several short boardwalks (with benches) and small parks all along the waterfront. Downtown, just outside Bake Bottle & Brew and Willy Nilly's Warehouse — both located in a charming, renovated two story waterfront house — is plenty of seating with what some say is the best view in town. The Church Street Gazebo is right next door.
Within walking distance of downtown are several little parks. Just south of downtown, Ward's Shore Park is a flat, grassy park with picnic tables right on the water's edge. Bicentennial Park is on the White Oak River and offers greenspace, walkways, picnic tables, fishing, and restrooms. Riverview Park has just that — sweeping, panoramic views of the river from elevated boardwalks stretching out over the marsh, covered observation decks, and picnic tables.
10. Honor The Fallen In Nearby Jacksonville
Jacksonville is home to U.S. Marine Corps Base Camp Lejeune, just 20 miles inland from Swansboro. A visit to the Lejeune Memorial Gardens and Freedom Fountain is more than worth the drive. Here, you will feel freedom. The Gardens is a beautiful 27-acre park with moving memorials honoring our military and paying tribute to some of our nation's greatest heroes. These memorials include the second largest Vietnam Memorial in the nation, with every single name etched in glass, the 9/11 beam brought on a fire truck from NYC to the Lejeune Marines, the "They Came In Peace" Beirut Memorial, and the newest memorial honoring the historic Montford Point Marines.
11. Take Part In Festivals
The Friendly City by the Sea is host to a wide variety of major events throughout the year. The Arts by the Sea Festival (early June) is very popular, as is the October Mullet Festival, which began in 1954 and is the oldest festival on the Crystal Coast.
Swanfest, a summer concert series, happens every week at the Olde Towne Square Pavilion. Swansboro by Candlelight (holiday shopping), and the Christmas Flotilla both happen in December. Then there's the annual Oyster Roast and Pig Cook-Off, Fourth of July Fireworks, and Military Appreciation Day.
There is so much fun to be had and memories to be made. The toughest thing to do in Swansboro is deciding what to do first — or to do nothing at all.