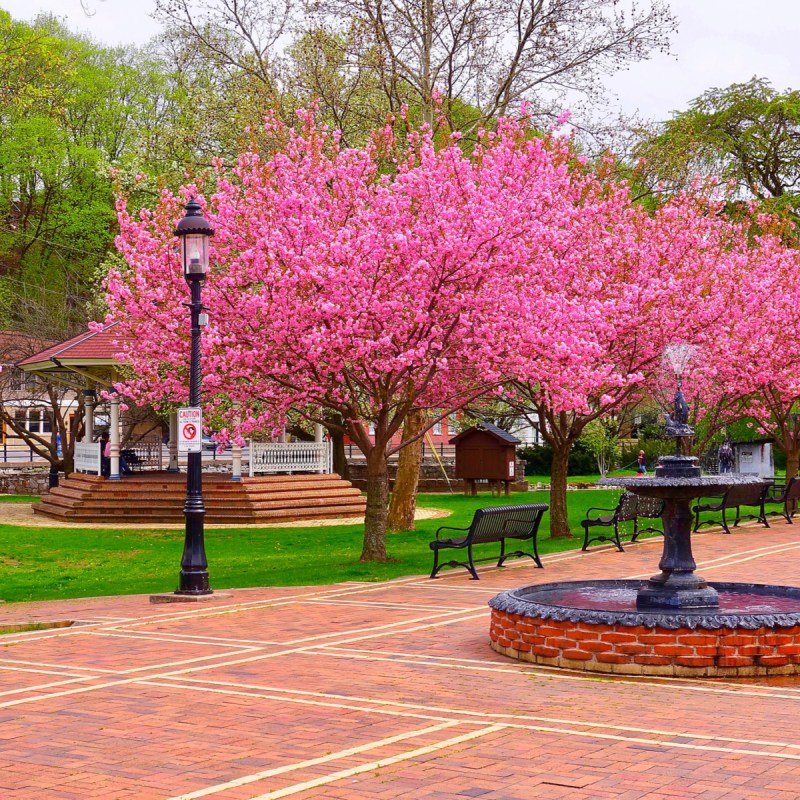 Historic Bellefonte is a small town full of Victorian charm. Nestled in the Nittany Valley in Pennsylvania, just minutes from Penn State University, Bellefonte is a three to four-hour drive from New York City, Baltimore, Philadelphia, D.C., and Pittsburgh.
The former home of seven governors, Bellefonte is full of history, unique shops, locally owned eateries, and beautiful bed and breakfasts in a picturesque location.
Riffles and Runs B & B provided a hosted stay and the meals and tours were hosted by the owners. All opinions are my own.
Things To Do In Bellefonte
Whether you are a stamp collector, artist, angler, history buff, shopper, or park enthusiast, there is plenty to do and see in this quaint town. Let's look at some of our favorite places and experiences that keep people coming back to Bellefonte.
Train Station
The Bellefonte Railroad Passenger Station, built in 1889, now serves as a visitor center and houses the Bellefonte Historical Railroad Society and the Bellefonte Chamber of Commerce. It is a great place to start your visit to get information about the town, maps, and events.
Historical Walking Tour With Matt Maris Of Local Historia
Local Historia offers walking tours throughout Bellefonte with guide Matt Maris. The tours give a fantastic overview of the town and its history dating back to 1795.
We covered most of the town during our tour, including the courthouse built in the 1800s. Matt has a wealth of knowledge and provides amazing details of events.
Bellefonte Art Museum
Housed in a historic 1810 building, the Linn House, currently The Bellefonte Art Museum, is thought to be part of the Underground Railroad. There are five galleries, a children's creativity center, and a permanent exhibit, A Journey to Freedom, highlighting the important role the Linn House played in helping slaves find freedom.
I enjoyed the 24/7 display window outside the building that provides a visual art experience without entering the museum. The theme was An Upcycled Whimsical World, an installation that used old furniture wrapped in moss and other colorful surprises.
American Philatelic Society Tour
The national headquarters of the American Philatelic Society is a combination stamp museum and library housed in the former 19th-century Match Factory, now on the National Historic Register of Historic Places. It also houses a historic post office and other exhibits. The American Philatelic Society is open for research and tours.
Centre County Library And Historical Museum
People from all over the nation visit this library for genealogical research. The Centre County Library and Historical Museum houses more than 4,000 items covering our history from Native American times through the Civil War and the 1900s.
Talleyrand Park
Charming Talleyrand Park is a beautiful place for an afternoon stroll or evening picnic. It has paved walking trails, fountains, a gazebo, Spring Creek, ducks, a playground, picnic tables, flower gardens, and more. It is located near the downtown area.
Spring Creek
Bring your rod to fish the globally-acclaimed fly fishing stream in Central Pennsylvania. Spring Creek is one of the most sought-after wild brown trout streams in the state. The creek flows right through Talleyrand Park.
Jabebo Studio
Imagine recycling cereal boxes into colorful science and nature-related jewelry. That is precisely what happens at Jabebo Studio. Old cereal boxes are transformed into jewelry that is sold across the U.S. and Canada.
I was fortunate to visit during an open house, tour the facility, and see how the jewelry and other products were made. Parts of the cereal boxes not used for jewelry are recycled into a paper mache-type mush and other products are created from it as well.
Axemann Craft-Brewery & Taproom
Home of Blue Stripe beer, Axemann Brewery brews and serves locally crafted beers in the former Titan Metal Company, where blue-collar workers consistently toiled from just after World War I until the last shift in 2011.
Axemann Brewery has utilized the factory's charm and created a unique space to imbibe and eat in its taproom. When we visited, we tried several of the craft brews. In the end, the Blue Stripe was still my favorite.
Shop
There are dozens of unique locally-owned shops, such as Helen Foxx & Co., CO2 Boutique, Victorian House Antiques, Tussey Mountain Outfitters, and more. Art a la Carte was one of my favorites.
Big Spring Spirits Distillery
Taking advantage of the renowned water from Bellefonte's spring, Big Spring Spirits is the county's first new wave distillery making vodka, rum, and whiskey. They also have a tasting room and patio on the lawn of Talleyrand Park and serve charcuterie boards and other snacks to go with your drinks in a relaxed atmosphere.
Good Intent Cider
A family-owned and operated cidery located in the heart of Pennsylvania apple country, Good Intent Cider adds no water and very little sweetness to its ciders. If I had to choose, the Happy Valley Blend concoction was my favorite. According to the owners, as many as 34 varieties of apples are used in the making of the cider.
Restaurants In Bellefonte
The fabulous foodie scene in Bellefonte was a pleasant surprise. So many unique and delicious restaurants to choose from. Our favorites were…
URBN Flavourhaus Cafe
URBN Flavourhaus offers scrumptious American comfort foods using only the finest products.
I had a fantastic meal, but the homemade desserts had me returning during our visit. Talk about delicious! The baked goods are made from scratch using simple old-fashioned recipes.
The Governors' Pub
Enjoy a touch of history with your casual dining experience. A friendly, small-town pub atmosphere and eclectic comfort food make the Governors' Pub the perfect place for lunch or a quiet, intimate dinner. The pub is family-friendly, with outdoor seating available.
State Burger Co.
A fun place to eat, State Burger Co., gives an ingredients checklist as you enter to order your burger. You select the meat, type of roll, cheese, toppings, condiments, and sides on the list. What a variety of things to add to your sandwich, everything from pineapple, pickled beets, marshmallow fluff, and grape jelly to brown gravy and mango habanero.
They also serve fantastic milkshakes and delightful desserts.
Bonfatto's Italian Market & Corner Cafe
Open seven days a week, Bonfatto's serves delicious pasta, salads, panini, and its famous Bonanza subs. I enjoyed a smoked turkey breast sub when I visited, and all the ingredients were fresh.
Red Horse Tavern
Tickle your taste buds and take them on an unforgettable journey at Red Horse Tavern! High-quality ingredients, a unique menu, great atmosphere, and friendly service make this a popular restaurant. It is an excellent place for a celebration or date night.
Places to Stay in Bellefonte
Bellefonte is known for its luxurious Victorian bed and breakfasts. When I visited, I was able to tour most of them.
Riffles And Runs
Located in the center of Bellefonte, Riffles and Runs is a classic Victorian bed and breakfast inn. My room at Riffles and Runs was nicely furnished, with a very comfortable bed. Breakfast was home cooked and was served in a sunny dining room that contained many period antiques. The home is in a quiet location and within walking distance of just about everything in town. Our hosts were friendly and welcoming.
Bellefonte B&B
Nestled in downtown Bellefonte, the Bellefonte Bed & Breakfast is steps away from many restaurants, local shops, Talleyrand Park, and more. Each bedroom includes an ensuite bath, a king-sized bed, desk, and more. There are several common guest areas, a beautiful outdoor courtyard, and a full-service breakfast is served daily.
Our Fair Lady
Enjoy warm hospitality, a rich historic atmosphere, and quality comfort at Our Fair Lady. A 19th- century home, this B&B is perfect for a weekend getaway in the heart of Bellefonte.
A daily wine and cheese hour provides time to relax and connect. Each guestroom offers a quiet retreat with a gourmet breakfast served each morning.
Reynolds Mansion
Built in 1884, the Reynolds Mansion is a luxurious bed and breakfast. Similar to a boutique hotel, the Reynolds Mansion has well-appointed private guestrooms and has been named to the National Historic Register. Each of the eight guestrooms is spacious and uniquely decorated with a private ensuite bath.
Don't forget to visit the Snuggery, where you can enjoy chocolates and a complimentary glass of brandy. A delicious three-course gourmet breakfast is served each morning.
Carriage House Suites At Reynolds Mansion
Its industrial-chic style, which includes exposed ductwork, brick walls, and an original stone fireplace combined with luxurious decor, makes the Carriage House Suites the perfect weekend getaway. With exceptional amenities, including an oversized jetted tub, you can't help but enjoy your stay.
The Inn At Gamble Mill
This historic building is receiving a renovation and new life along the Bellefonte Riverwalk. A boutique hotel offering 16 elegant guestrooms and modern suites, a local boutique, a fresh from the farm eatery, event space, and a tavern.
The stone wall near the rear dates back to 1786, so the Gamble Mill has seen a lot of history. When we visited, the interior renovation was still under construction, but WOW, we could tell this place will be amazing.
Pro Tip: Seasonal events and festivals are held in Talleyrand Park and Bellefonte throughout the year, including the Big Spring Festival, Taste of Bellefonte, and many more. Check the calendar of events to see what special events might be happening when you plan to visit.
Pennsylvania is one of the original 13 colonies and its towns and cities are filled with American history: