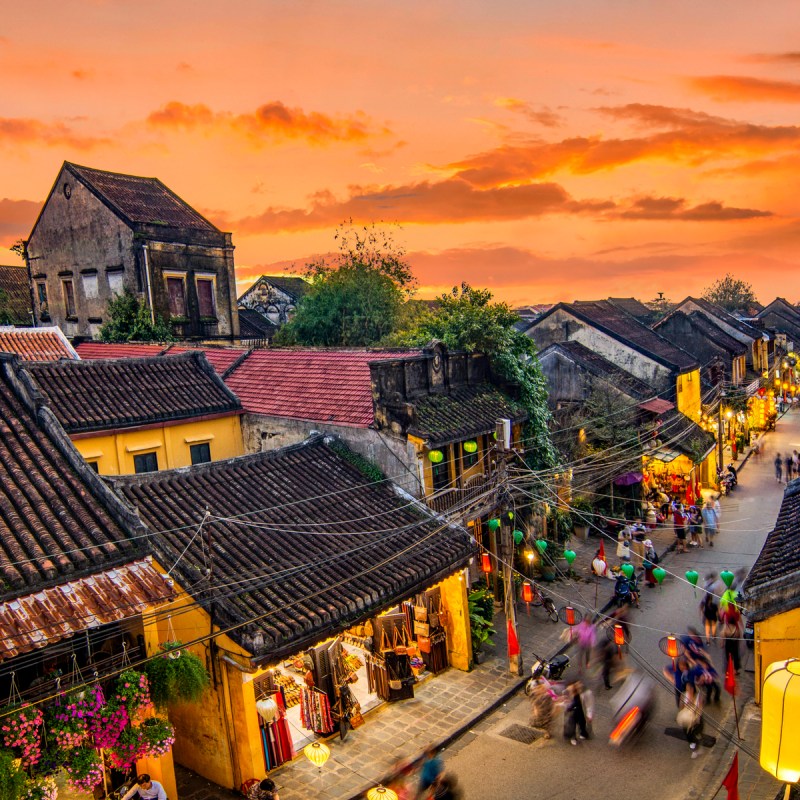 If you're thinking of relocating to Vietnam, you're not alone. The country is hugely popular with travelers, and for good reason. The cost of living is low, the expat community is strong, and new residents can choose from vibrant cities, pretty seaside towns, and quiet countryside communities.
Those who relocate will undoubtedly be attracted by Vietnam's fast-growing economy (in the second quarter of 2021 alone, it rose by 6.6 percent). And when it comes to healthcare, Vietnam has a lot to brag about. For instance, according to the World Health Organization, over 97 percent of Vietnamese children are immunized, one of the highest rates in the world. Additionally, life expectancy rates are steadily improving and the country's healthcare system is making great strides. However, there is still significant room for improvement. If you're planning to relocate, you'll want to keep the following points in mind.
Vietnam Is Moving Towards Universal Healthcare
Vietnam is moving towards a system of universal healthcare. Under the country's Master Plan for Universal Coverage, Vietnam's moving steadily towards having 100 percent of the population covered by health insurance. In 2019, nearly 88 percent of the population was covered. Additionally, under this plan, out-of-pocket patient costs will eventually be slashed in half. Supporting all these developments is an ambitious project to modernize electronic health records.
There's Plenty Of Room For Improvement
But despite this progress, Vietnam's healthcare system still struggles by many measures. At present, it ranks 160th out of 191 countries on the World Health Organization's list of the most efficient healthcare systems. The Lancet is more optimistic, awarding Vietnam's healthcare system 60 points out of 100.
Standards Vary At Public Facilities
Expats and visitors in Vietnam can use public facilities like hospitals and clinics. However, since they're not covered by the national health insurance program, they have to pay upfront for their visits.
It's hard to say what to expect at a public healthcare facility because so much depends on location. In major cities like Hanoi, public hospitals are usually modern and maintain acceptable standards of care. However, in rural areas, clinics struggle to receive adequate funding. As such, only the most basic of care is available.
Public facilities – both urban and rural – struggle with cramped conditions and a lack of up-to-date diagnostic equipment. Sometimes an influx of patients means that hospitals and clinics are crowded to a dangerous level. At its worst level, admitted patients may be forced to share hospital beds. Tragically, in 2014, an outbreak of measles that killed more than 120 children was linked to bed-sharing in a crowded pediatric ward.
In general, those using public facilities should anticipate long waits, a total lack of privacy and comfortable amenities, and possible communication problems unless they're fluent in Vietnamese.
Private Facilities Are Very Popular Among Expats
With the exception of those circumstances in which public facilities are the only available option, most expats and travelers in Vietnam opt for care in private facilities. While they're often too costly for local residents, most expats find that private services are quite affordable compared to prices in other countries. In general, private patients can expect to see clean, comfortable facilities, a reasonable standard of privacy (though private rooms aren't always available), multilingual staff, and modern diagnostic equipment.
However, it's important to realize that "private care" means different things in different countries. In many countries, private hospitals offer luxurious patient rooms, a huge roster of specialists and technicians, and state-of-the-art care. For the most part, this won't be your experience in Vietnam. However, you can be confident that your wait times will be shorter, your communication experience will be less frustrating, and your surroundings will be more comfortable than they would be in a public setting.
The Rural-Urban Divide Is Problematic
Like many countries, there is a serious division in the standards of care between rural Vietnam and urban Vietnam. Rural healthcare facilities are limited and, where they do exist, they're very basic, as this article demonstrates. As such, patients who can manage to visit cities like Hanoi and Ho Chi Minh City do so in order to take advantage of the superior care at the urban hospitals. However, these hospitals were built to serve a local population and, with the rural influx, they easily exceed their capacity. Urban hospitals then lobby for more resources and funding, which leaves the rural centers receiving less. It's a frustrating cycle for everyone involved.
Pharmacies Both Help And Hinder
Many pharmacists in Vietnam speak English or French (especially in cities) and can be a valuable resource when treating minor maladies. If you're bothered by something relatively simple, like a cold or bug bites, you can usually bypass going to a medical clinic and instead ask the pharmacist for a recommendation. However, it's worth noting that prescription medication in Vietnam could well be expired or even counterfeit. Inspect packaging seals and dates carefully and ask your prescribing doctor or consulate for a recommendation to a reliable pharmacy.
Female travelers will be happy to hear that large pharmacies, especially those in cities, are usually well-stocked with products like menstruation supplies and birth control. This article has some helpful information from female expats about health-related topics, from finding condoms (best to pay extra for international brands) to visiting the gynecologist (happily, an efficient and comfortable experience).
Costs Are Low
Vietnam's healthcare costs are considerably lower than most other countries. In public facilities, it can cost as little as a few dollars to see a doctor. (And for local residents, the government subsidizes 80 percent of hospital fees for those below the poverty line. Working-class farmers and fishers also qualify for a 30 percent subsidy.)
Even private facilities are affordable, with many visits for minor maladies ringing in at less than $100. However, whether you're going private or public, you can expect to pay upfront for your care. You'll be given receipts and paperwork to submit to your insurance company for reimbursement. As you can imagine, this can be a chaotic experience if you're in the middle of a medical emergency! One way to help prepare for such an eventuality is to chat with some new expat friends once you get settled in. Ask them about their experiences in going to the doctor for both emergency and non-emergency care. Inquire about what it was like for them and if there is anything they wish they knew in advance about how the local hospital operates, especially when it comes to payments.
There's A Secret Payment System You Should Know About
You might be wondering how doctors and nurses manage to get by when hospital fees are so low. The answer is "appreciation envelopes". Appreciation envelopes are a long-standing practice in Vietnam to provide cash gifts to doctors and nurses to demonstrate appreciation for their services. The amounts (anywhere from $5 to $25) sound small, but they're significant expenses for many Vietnamese residents. While the practice of giving appreciation envelopes is essentially voluntary, the donations are basically bribes to expedite care, to receive quicker referrals to specialists, and so forth. As such, there have been campaigns to stop the envelope system but until the overall healthcare system improves, the need to grease palms will continue.
As an expat or traveler making occasional medical visits, you won't be expected to know about the appreciation envelopes. At least, not at first. But long term residents who make multiple visits (especially in public facilities) might feel a subtle pressure to contribute. This is another good question to pose to your local expat circle of friends. What is the culture at the local clinic or hospital and when are you expected to give? The more you know in advance, the more comfortable you will feel about navigating this tricky practice.