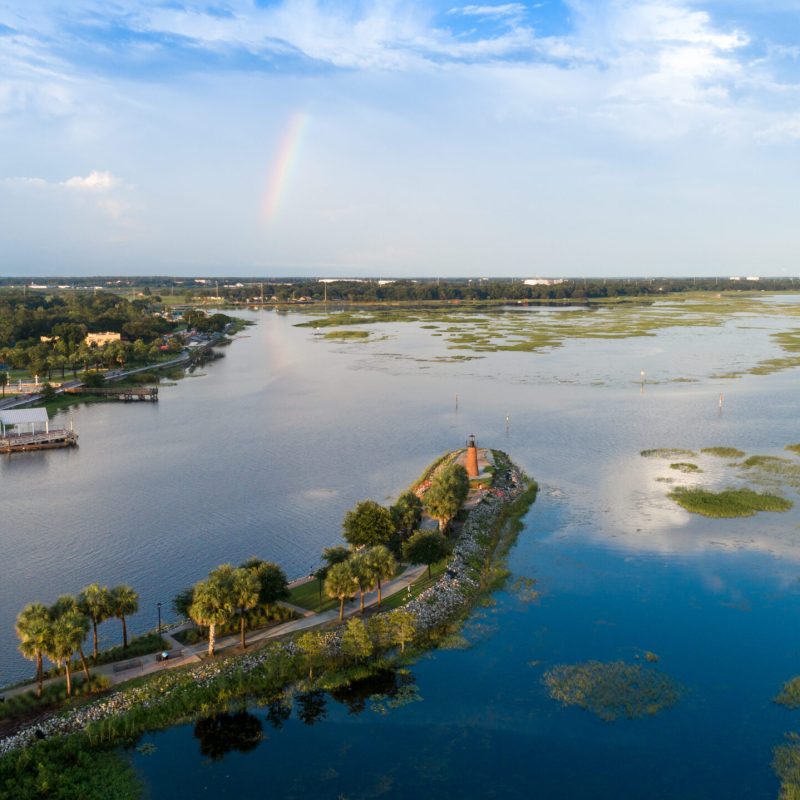 Kissimmee, Florida, is close to the Florida city that many know and love — Orlando, the city of theme parks. But Kissimmee offers visitors the sublime balance of relaxation, excitement, and wow moments.
Kissimmee offers an ideal way to end your Florida vacation. Its proximity to Orlando International Airport gives travelers the flexibility of multiple airlines and domestic and international gateways. Kissimmee's historic downtown is a short 22-minute drive from the airport, yet it feels miles away.
1. Sunset Walk Promenade
The Sunset Walk Promenade is a destination in and of itself. This expansive outdoor entertainment district is home to a profusion of tasty bites, multiple dining options from casual and laid-back, to upscale fine dining. Throw in a large selection of shops for retail therapy, and the Promenade is the perfect recipe for an evening of fun.
Pro Tip: Plan your visit to the Promenade. Head to The Sunset Walk Promenade's website, where you can see a listing of all the shops, dining options, and activities. From there, you can plan the places your group wants to experience.
2. Disney Springs
Disney Springs is another shopping and entertainment destination, and honestly, it is one of our very favorite destinations. There are so many shops, sweets, and dining options, and activities that you'll want to plan a whole day's visit.
Florida is known for its extensive collection of freshwater springs — about 1,000 dot the Sunshine State. These springs have served many purposes: a home for Spanish missions, steamboat landings, crop irrigation reservoirs, and gristmills.
Settlers began to flock to the warm tropical state of Florida and settled around the springs.
Natural springs like Silver Springs, Green Cove Springs, and De Leon Springs spawned growing towns. Freshwater springs have been natural water parks for locals and visitors alike for decades, and this is the heart of the entire story of Disney Springs.
The backstory developed by the Disney Imagineers for Disney Springs is fascinating. Disney Springs's story is created around Florida cattle ranchers Martin and Clara Sinclair, who discovered the natural source of the springs and settled there in 1850.
The Disney Springs storyline dovetails that of many of Florida's small towns from the 1900s. As the town of Disney Springs continued to grow over the years, four distinct districts were developed: Town Center, The Landing, Marketplace, and West Side. Each of the four districts reflects the function and period of development.
For example, Town Center has Mediterranean revival design elements, including Spanish tile roofs, tree-lined streets, and shell and stone pavement. The design elements were inspired by Addison Mizer in the Miami area and Henry Flagler in St. Augustine.
While visiting Disney Springs, stop into the LEGO store and Build-a-Bear — the kids will adore these stops! Of course, a stop for a selfie with the dragon is a must for the whole family! For a different perspective, check out the vintage amphicars and take a spin across the lake.
Pro Tip: Be sure to plan a culinary adventure at Paddlefish, and imbibe in a delightful cocktail on the rooftop overlooking the waterfront. It's an experience not to be missed!
3. Maverick Balloon Adventures
To see the world from high in the sky is an experience you will not soon forget — it's truly a once-in-a-lifetime experience. The views are breathtaking as you float on the whim of the wind.
Maverick Balloon Adventures offers sunrise balloon rides over the Kissimmee/Orlando Area. During your ride, you'll have unique photo opportunities, both above and below you.
You'll begin your adventure about an hour before sunrise and have the opportunity to assist in the setup of your balloon. Following your fantastic ride, you'll celebrate with a toast of mimosa (champagne and orange juice).
Imagine soaring from the treetops to 2,500 feet! It is such an exciting experience that it will have you craving more.
Pro Tip: Dress for the outside temperature. We wore T-shirts with light jackets and jeans. Do not wear flip-flops or open-toed shoes. We wore sunglasses but made sure to have them secured. Bring a wrist strap for cameras.
4. Pioneer Village At Shingle Creek (Osceola Historical Society)
Experience the pioneer life in Florida at the Pioneer Village. The village tells the story of Osceola County's early settlers. You'll see original pioneer homes, a general store, a blacksmith shop, an original citrus packing plant, and a schoolhouse.
5. Bok Tower Gardens
Bok Tower Gardens is a must when visiting Kissimmee. Centrally located between Tampa and Orlando, Bok Tower Gardens was created by Frederick Law Olmstead, Jr., a famous landscape architect. You'll want to plan your visit to Bok Tower Gardens for 3-4 hours to include the Gardens, the Singing Tower, Hammock Hollow Children's Garden (hint: it's not just for kids!), and Pinewood Estate (as of this writing, Pinewood Estate is closed due to COVID-19).
With a myriad of paved and mulched paths meandering through the gardens, you'll find serene spots to take in the natural beauty of the beautiful wild gardens. Within Bok Tower Gardens, there are over 126 bird species, making the gardens a bird lover's paradise. Bok Tower Gardens is a designated site on the Great Florida Birding Trail.
The 205-foot Singing Tower is a central attraction at Bok Tower. Don't miss the spectacular reflecting pool! Inspired by Aesop's Fables, reliefs set in the marble depict "The Tortoise and the Hare" and "Fox and the Stork."
Seven levels make up the Singing Tower. The levels are the Founder's Room, Chao Research Center Archives, Storage & Mechanical Equipment, Maintenance Workshop, Anton Brees Carillon Library, Carillonneur's Office & Studio, Carillon Bells & Playing Cabinet.
The tower took 2 years to complete, with construction beginning in 1927. On February 1, 1929, President Calvin Coolidge dedicated the Tower and Sanctuary "for visitation by the American people."
Pro Tip: Visitors are required to wear face coverings in all interior spaces at Bok Tower Gardens.
6. Boggy Creek Airboat Adventures
When you think of the Everglades in Florida, your mind automatically wanders to the Everglades down by Miami. But the headwaters of the Everglades begins in Orlando. We've taken lots of airboat tours throughout the Sunshine State, and our favorites remain the off-the-beaten-path tours like Boggy Creek Airboat Adventures.
During your airboat adventure, you'll explore the wilderness of the Central Florida Everglades. You'll see alligators, turtles, birds, and more wildlife in their natural habitat as you fly through the wetlands. And if you've never been on an airboat, well, hang on because it is one of the most exhilarating, adrenaline-filled water adventures you'll experience!
Kissimmee Vacation Rentals
Kissimmee is known as the Vacation Home Capital of the World, making it an ideal getaway destination for exploring all of Central Florida. Airbnb regularly lists Kissimmee among the top destinations for US travel.
A vacation rental home is perfect for couples, families, and friends traveling together. And Kissimmee offers so many options, from the extreme to the romantic and cozy. Vacation rental homes let you enjoy home cooking and a chance to sit by the pool and chill after a long day of exploring.
VHC Hospitality is the largest vacation home management company in Florida and offers stellar rentals from condos to houses to mansions. Imagine renting a 15 suite home for 30 — this is just one of the vacation homes available through VHC hospitality in the Kissimmee area!
I have an extended family of 92, and we get together every couple of years. It's such a struggle to find enough vacation homes. But with the selection of homes with VHC, it will be a breeze to plan our next get-together, and with far fewer homes!
Reunion Resort & Golf Club sits on 2,300 acres and is one of the most sought-after destinations. The resort is a fantastic choice for multigenerational travel — there is something for everyone. Reunion Resort & Golf Club features a waterpark, 10 pools, six dining options, three signature golf courses, a spa, and a salon. There are also tennis courts, pickleball courts, bike rentals, and mini-golf.
For vacation homes, they offer two choices: villas for smaller families and vacation homes that offer up to 14 bedrooms, many with private pools.
Magic Village Views is a perfect hybrid between a hotel stay and a vacation rental home. Located in an elegant gated community, you'll have a choice of three or four-bedroom villas, each fully furnished. The luxury villas include a complete kitchen, washer, dryer, and outdoor living space with barbecue grills.
I love that you get all the privacy and security of home and all the amenities of a hotel stay, including housekeeping, fitness center, tennis courts, volleyball courts, and of course, a gorgeous resort pool.
These are just a few of the many things to experience during a visit to Kissimmee. Once you've discovered one of Florida's overlooked gem destinations, you'll want to come back again and again. That is our benchmark for the perfect vacation choice — one that sinks deep in our souls and calls us back to revisit time and time again.
While you stay and play in Kissimmee, know that Orlando and its mega attractions are nearby. For more: