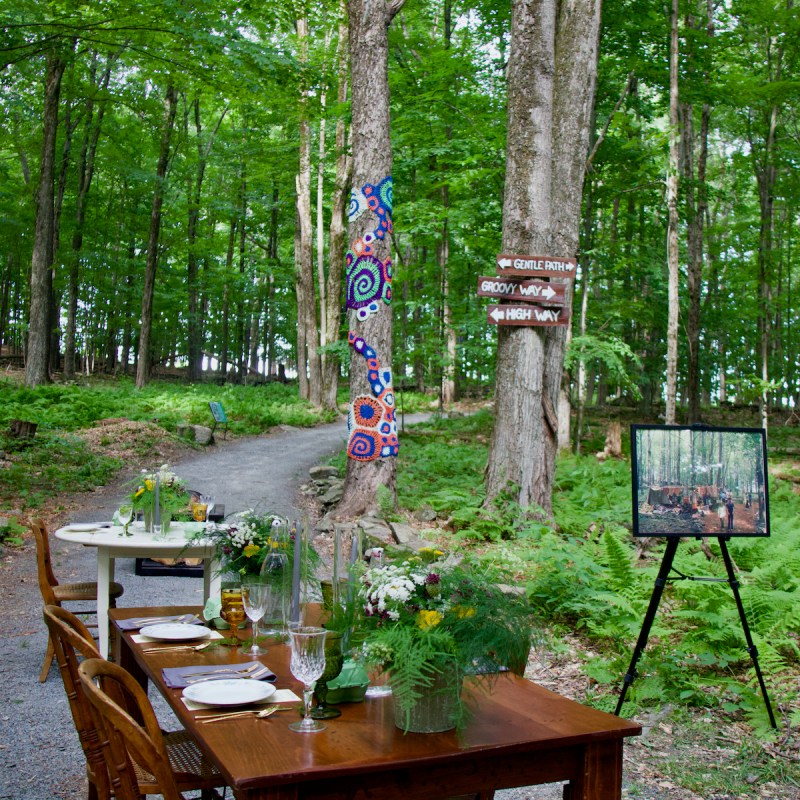 Imagine a five-star, farm-to-table dinner in the woods. Or perhaps on an alpaca farm. Or, in a field of lavender. Maybe you want to experience a meal by a top female chef using sustainable, locally sourced ingredients. Or you just want a unique dining experience somewhere in the Catskills. Well, you can have all of that and more at one of the Farmhouse Project's Terrain & Table dinners.
We were recently invited to experience a Terrain & Table dinner on the Bindy Bazaar Trail at the Bethel Woods Center for the Arts. During the famous 1969 Woodstock Festival, the Bindy Bazaar Trail was a marketplace that connected different areas of the festival grounds. Now, Bindy Bazaar is part of Bethel Woods Center. Picture fine dining by candlelight with gold plated cutlery, beautiful crockery, and fresh-picked flowers — at a rustic table placed in the middle of a hiking trail in the woods at a historic location surrounded by a Carol Hummel site-specific art installation.
The Origins Of The Farmhouse Project
The Farmhouse Project was started by Shawn Lang and Kris Prepelica. These two former New York City residents (a designer and an oncologist) moved up to the Catskills seven years ago. In addition to renovating a 200+-year-old farmhouse, they have been working on sustainable community projects. They created Terrain & Table as an immersive dining experience that features locally sourced, sustainable food served on farms, wineries, and trails. They bring their joy of food, the Catskills, and creating community together in everything they do. This year, they are featuring women chefs at all of their dinners.
Explore The Catskills Region In A New Way
Dining in the woods or on a farm is a great way to have an intimate experience of the Catskills. Terrain & Table locations include Saratoga Springs, Roscoe, Stone Ridge, and Bloomingburg. Each is a destination unto itself. Spend the day exploring and then have a wonderful dining experience in the evening. You can plan a weekend getaway around a dinner. Just make sure to book well in advance because the dinners sell out fast. 
Experience Farm-To-Table Dining At The Source
We love supporting local farms and businesses. How much closer to the source can you get than a trail in the woods or on a farm or orchard? At Terrain & Table, local farms provide unique, fresh ingredients for each dinner. Our dinner was sourced from Mountain Sweet Berry, White Stag, Willow Whisp, Lucky Dog, and Ronnybrook Farms. The ingredients don't travel far. Wherever you are eating is where the food comes from. The farms, the season, and everything local influence the evening.
Enjoy The Creativity Of Top Women Chefs 
This year, Kris and Shawn are featuring top women chefs at each dinner. At our dinner, Chef Camille Rodriguez from Chef to Market prepared a four-course dinner in a tent in the woods with only a grill for cooking. It was truly a tour de force — simple, fresh ingredients, locally sourced plus a chef's imagination. Up next is chef Cheryl Perry, author of For the Love of Pie. She will be followed by private chef Lizzy Singh-Brar, a former Chopped contestant. After that, you have a chance to sample the creations of Early Bird Cookery chefs Amy Miller and Dayna Halprin. The season ends with Melissa D'Elia, former owner of Down To Earth, one of the first organic vegan restaurants in New Jersey. She's been featured on NPR's All Things Considered, Viceland's Bong Appetit, and Vice's Munchies Cookbook.
Be Surprised By The Menu
We met Kris, Shawn, and Executive Chef Rodriguez during the cocktail hour and tried to get them to tell us the menu for the evening. We asked and we asked. No go. We had to wait to see what was served at the table. It was worth the surprise. The menu is determined on the day of the dinner, with available ingredients shaping what appears on your plate. 
Imbibe Cocktails Before Dinner
We listened to a folk duo (we were in Woodstock, after all) while we sipped cocktails and wine. As we enjoyed the music and made new friends, the waitstaff passed by with delicate hors d'oeuvres — grilled oysters on the shell, duck liver meatballs, mashed fava beans on toasted focaccia, and grilled peaches with ricotta and vinaigrette. It was a magical start to the evening.
After cocktails, we proceeded up the trail to our tables, with candlelight guiding the way in the dusk of the evening. Fire pits were interspersed amongst the tables, warming the night and adding a soft element to the experience.
Come Hungry After A Day Of Exploring 
It is best to come hungry to a Terrain & Table dinner. The courses are many and the servings are large. Factor in the hors d'oeuvres from the cocktail hour, and you will be hard-pressed to find room in your stomach for dessert. 
Our four-course meal started with an artichoke salad, shavings of which were hidden in a bed of arugula generously sprinkled with sliced almonds tossed with parmigiana Reggiano and mint. We loved the second course, which was a delicate corn risotto, made with basil and mascarpone. The corn kernels were just the right amount of sweetness and crunch. The main course was a smoked Berkshire pork chop, a very generous portion atop a tomato bread sauce and soaked chard with pine nuts and sultana raisins. The salt in the pork was nicely balanced by the tomato bread sauce. The pork was perfectly smoked yet able to retain its juiciness. Dessert was a reimagined s'mores parfait with marshmallows, graham crackers, and a delightful chocolate pudding served in a drinking glass. 
The Journey Is Part Of The Fun
On your way to dinner, you are likely to find yourself on a picturesque one-lane road somewhere in Upstate New York. The drive will be scenic and full of country stores, antique shops, and scenic views. If you leave enough time, you'll be able to stop anywhere that strikes your fancy. 
Allow Yourself To Unwind
Take a moment to savor the food, the scenery, and the tranquility. As we ate, we heard woodpeckers and birds, saw fireflies, and heard the sounds of the night as the sun set. This was in sharp contrast to the many fine dinners in the new outside dining areas in New York City, where we hear cars honking, traffic, and the conversations of passersby. It's been a tough year and enjoying the moment is important. 
Pro Tips
Table & Terrain dinners are scheduled throughout the spring, summer, and fall at different countryside locations within the Catskills. Upcoming destinations include an alpaca farm, a lavender farm, an orchard, a horse-breeding farm, and a winery. Book early. Dinners sell out quickly. 
Many people dress up for the dinners, though casual attire is also welcome. However you decide to dress, wear comfortable shoes. Our dinner took place on a hiking trail.
Since you will be outdoors, insect repellent, sunscreen, and a hat will come in handy.
Keep in mind that the Catskills can be cool at night. Make sure to bring a sweater, or in the fall, a jacket.
Dinners take place rain or shine. In the event of bad weather, the dinner will take place in a tent.
The chefs can accommodate dietary restrictions. Make sure to let them know what you need when you register.
Terrain & Table is a splurge and is pricey — on par with a five-star restaurant in New York City.
The Catskills is a large region, so make sure you check travel distances and times. Many of the roads are local and one lane each way, so it can take longer to travel than you expect.
Accessibility can be a challenge at Terrain & Table since the dinners are on trails, at farms, and outdoors. Best to contact them directly to ask about accessibility for the particular location.
Be prepared to spend at least three hours at cocktails and dinner. Remember, the chef and her team are cooking outside without all the benefits of a professionally stocked kitchen and a large staff. It takes time to prepare and transport the food. It is worth the wait.
Our most important tip: Go and indulge yourself with a new experience, new people, and a moment of joy.