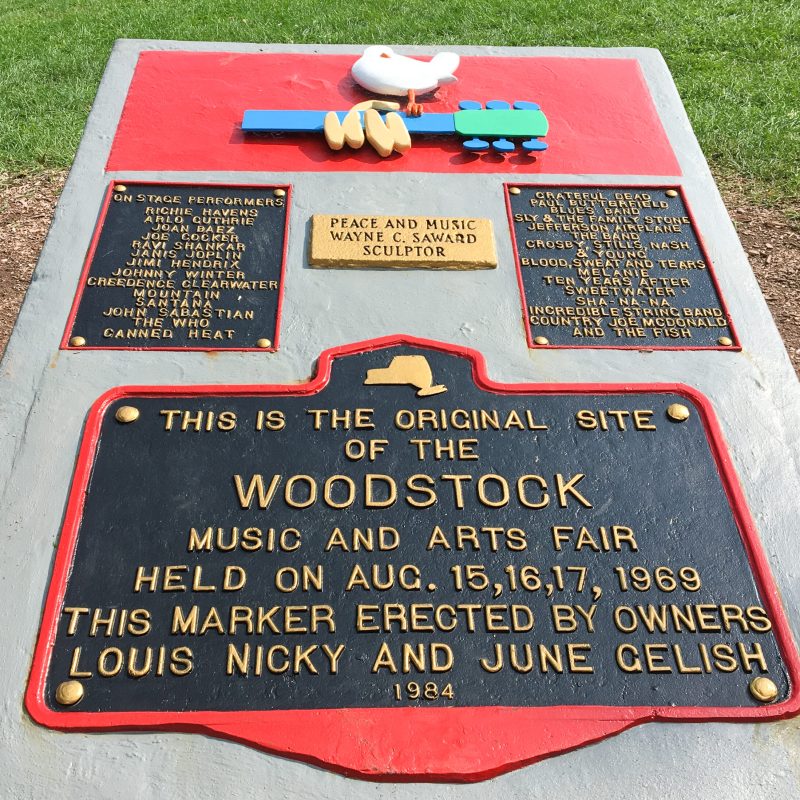 From the backdrop of Dirty Dancing to the setting of Rip Van Winkle, New York's Catskills region has experienced many moments in the spotlight, but few are as memorable as the Woodstock Music Festival of 1969. Memories of Woodstock, which kicked off on August 15, 1969, are bringing travelers back to the Catskills in droves this summer as the scenic region celebrates the iconic festival's 50th anniversary.
If you're ready to relive the epic music festival, or you're simply planning a trip to this scenic Upstate New York area, this list of 10 places to visit in the Catskills for a Woodstock weekend getaway will help you make the most of your time in this scenic region. But, before you hit the road on this Woodstock adventure, here's a piece of Catskills trivia to keep in mind: While there is a town called Woodstock in the Catskills, it's not where the music festival actually took place. The organizers attempted to host the event there — hence the name — but they couldn't settle on a spot. They wound up hosting it on a private farm in Bethel, New York, located in the Catskills's Sullivan County.
With that in mind, it's time to get planning. Here are 10 things to do and see in the Catskills for the perfect Woodstock anniversary weekend getaway!
1. Attend Concerts By Former Woodstock Performers
Woodstock's 50th-anniversary weekend will be filled with concerts that pay homage to the original festival, including performances by Woodstock legend Santana and rock 'n' roll icon Ringo Starr. The Bethel Woods Center for the Arts, a museum, cultural center, and concert venue at the site of the original festival, is hosting this impressive lineup of Woodstock weekend concerts. Ringo Starr and His All-Star Band will play August 16, Santana (with The Doobie Brothers) will take the stage August 17, and John Fogerty (known for hits like "Bad Moon Rising") with Tedeschi Trucks Band and Grace Potter will cap off the festivities on Sunday, August 18.
2. Walk The Woodstock Grounds
While exploring the Catskills's Sullivan County, home of the Bethel festival grounds, take some time to walk around the original site of Woodstock. The Bethel Woods Center for the Arts has numerous monuments recognizing this moment in history, including the main monument at 236 Hurd Road, which offers the best view of the original stage site.
3. Visit A Woodstock-Themed Museum
While Woodstock was all about live music — not museums — the Museum at Bethel Woods is the best way to go back in time before kicking off a festive Woodstock weekend. The museum's main exhibit takes guests back to the '60s, presenting details surrounding the history of the festival and information about key milestones from the decade, including Neil Armstrong's first walk on the moon.
A 2019 special exhibit, "We are Golden: Reflections on the 50th Anniversary of the Woodstock Festival and Aspirations for a Peaceful Future," looks back at the hopes and dreams of the youth in 1969, and how similar sentiments are still being expressed today.
4. Attend A Catskills Porchfest
The inaugural Callicoon Porchfest will kick off August 16 with art and music that'll keep the Woodstock spirit alive. This free event will take place across stoops, homes, and venues in the tiny riverside town of Callicoon, New York. The festivities begin with a pub crawl on August 16, followed by live and local music, poetry, and art exhibits — not to mention local bites and brews — all weekend long.
5. See 50 Massive And Colorful Doves
To commemorate Woodstock's central theme of peace, the Sullivan Catskills Visitors Association (SCVA) launched Dove Trail in 2019. This collection of 50 doves posted throughout Sullivan County celebrates Woodstock's 50th anniversary. Local artists decorated these five-foot-tall fiberglass dove statues using 1960s color palettes.
The Dove Trail starts at the Bethel Woods Center for the Arts and takes visitors through local galleries, restaurants, shops, and town centers.
6. Enjoy '60s-Themed Bites And Booze
Four miles from the original site of Woodstock, Benji and Jake's is going all out with its '60s-themed menu. This family-owned pizza joint is serving a variety of Woodstock pies, including the Back on the Bus white pie, a Summer of Love pizza with artichoke-heart puree sauce, an avocado-topped Green Dream pizza, and its Peace Out pie, which comes with an assortment of toppings arranged in a peace sign.
The commemorative menu doesn't stop with pizza. Benji and Jake's is also serving Woodstock-themed cocktails like the Woodstock Nation and Summer of Love, which are made with local liquor from Prohibition Distillery and Catskill Provisions according to the SCVA.
7. Rough It Woodstock-Style At A Four-Day Festival
To go all out with Woodstock anniversary weekend festivities, grab tickets to the Yasgur Road Reunion, a four-day music festival (August 15 to 18) on the original homestead of Max Yasgur (the Woodstock icon who let festival coordinators use his Bethel farm). The Yasgur Road Reunion has a lineup chock-full of musical acts including Pink Talking Fish, The Breakfast, Tony Vacca and World Rhythms, and Melvin Seals and JGB. Festival-goers can buy one of two types of tickets: One that includes camping and one without.
8. Drink A Summer Of '69 Coffee
Java Love Bethel draws locals and visitors with its scenic views across nearby White Lake and its farm-fresh breakfast menu, not to mention local, sustainable coffee that's roasted onsite. Like many Sullivan County establishments, Java Love Bethel — which is just one mile from the original site of Woodstock — is getting in on the anniversary fun by offering its popular Summer of '69 blend. Stop by for a cup-to-go, or grab a few bags as souvenirs.
9. Drink A Collector's Edition Brew
Craft beer abounds, not just throughout the Catskills, but right in the heart of Sullivan County. Roscoe Beer Company, a dog-friendly brewery and taproom, is serving a commemorative Peace, Love, and Ale brew with subtle malt notes and a hop finish. Peace, Love, and Ale collector cans are for sale at the brewery and at the Bethel Woods Center for the Arts, according to the SCVA.
10. Enjoy The Area's Natural Wonders
While Woodstock is the focus of Sullivan County's August 16 to 18 weekend, you've hardly experienced a trip to the Catskills without some time enjoying the great outdoors. Bethel and its surrounding area is as scenic as they come, with spots like Lake Superior State Park, which offers beaches, fishing, volleyball, boat rentals, and swimming.
The Upper Delaware Scenic and Recreational River, just 15 miles from Bethel, is also a popular spot for nature lovers and photographers. It's home to natural wonders including Darbytown Falls (which is right across the border in Pennsylvania), hiking trails, a self-guided museum, and a river park.
Where To Stay For A Woodstock Weekend Getaway In The Catskills
Villa Roma Resort
Villa Roma Resort is one of the area's most luxurious getaways, with spacious rooms, an indoor pool and sauna, and an adults-only hot tub with a waterfall. The resort offers shuttle service to and from Bethel Woods Center for the Arts (a 16-minute ride away). To get guests in the festival spirit, Villa Roma Resort is hosting weekly Woodstock-themed events all summer, which means special drinks, '60s dance parties, dress-up competitions, live music, and more.
Catskill Mountains Resort
Come for the Bethel Woods package (a courtyard room for $149 per night), stay for the mountain views at this upscale getaway. The Catskill Mountains Resort pairs luxury accommodations with cozy, casual digs. It has an onsite pool and nearby hiking and biking trails, and is a 25 minute drive from Bethel.
Burn Brae Mansion
For a slightly smaller — and spookier — stay, book a room at the Burn Brae Mansion. According to the mansion's website, these accommodations have been the site of many ghost-hunting expeditions and paranormal investigations. Ghosts or not, Burn Brae Mansion's 20 wooded acres make for a quiet and relaxing weekend away and are situated just 25 minutes outside Bethel as well.
Getting To Sullivan County
Bethel is less than a three-hour drive from New York City's main airports. While often pricier, flights into Stewart Airport or Sullivan County International Airport mean less drive time. Given that the Catskills region is spread across 700,000 acres, it's best to rent a car for the weekend.
Sullivan County is only the beginning of the many things to do, see, and experience across the Catskills. To dive deeper into all this region has to offer, we've compiled a comprehensive list of tips for planning a multigenerational road trip through the Catskills.