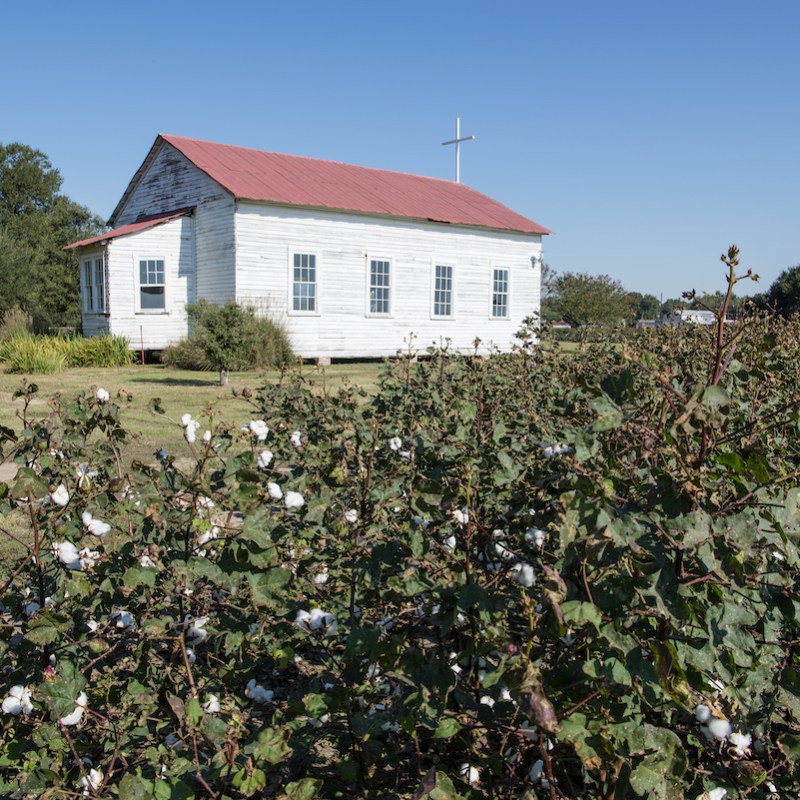 Louisiana has a special vibe. It never outgrew its European roots, which makes for some delightful places to visit unlike anywhere else in the country. Since I'm originally from Louisiana, I might be a bit prejudiced about it, but here are a few special small cities in Louisiana so you can judge for yourself. I visited these towns on press trips, but all opinions are my own.
1. Ferriday
Since I came of age listening to Jerry Lee Lewis (aka "The Killer"), famous for pounding on a piano and belting out his special songs, I jumped at the chance to visit his hometown of Ferriday. When I entered Delta Music Museum, the town's three most famous residents were there to greet me. Mickey Gilley and Jimmy Swaggart stood by the piano as Jerry Lee Lewis pounded the keys. Well, they were actually life-sized mannequins, but you get the feeling. It's also the Delta Music Hall of Fame.
I was fascinated by all the posters and memorabilia about many musicians that had a connection not just to Louisiana, but to the Mississippi Delta. Fats Domino is one of New Orleans' favorite musicians. The museum documents his induction into the hall of fame. Louisiana politics has always been a strange mishmash. Governor Jimmy Davis is remembered more for his musical contributions than his political ones. A gold record for his most famous song, "You Are My Sunshine," along with a photo of his beloved horse, Sunshine, is on display. In case you didn't know: it's Louisiana's state song.
There is an exhibit honoring Irma Thomas, crowned "Musical Queen of New Orleans" in 1989. At 80 years old, she's still performing. Newer singers like the Neville Brothers are represented. No music lover should miss this place.
A short distance away, there's another site with a foot in the past and present, Frogmore Plantation. Frogmore is a working cotton plantation offering a glimpse into history in a unique way. At their 1800s plantation church, musicians Gwen, Bobby, and Willie, sang us the history of Frogmore in songs of the era.
Lynette Tanner, co-owner, led us on a visit to the preserved enslaved labor cabins where we listened to recordings made by former enslaved laborers. The tour includes handling a real cotton-picking sack. Judging by the size of that thing, it would have taken me days to fill.
2. Alexandria/Pineville
Pineville is home to one of Louisiana's best-kept secrets, the Louisiana Maneuvers Military Museum. The museum, housed in a replica WWII barracks, is filled with little-known history and some events that led the Army to decide it needed a maneuvers training site.
The planes, tanks, and guns are displayed outside. When we stepped inside, curator Captain Richard Moran, showed us around. Displays are not only about our own fighters. There are uniforms and artifacts from the Nazis and the Japanese, including a tattered part of a flag that flew over Hiroshima.
Pro Tip: You must have a driver's license or an official ID to enter as it is housed on a military base, Camp Beauregard.
Kent Plantation House tour takes you through one of the oldest standing structures in Louisiana. It's an authentic Creole plantation house built around 1796. We visited the main house, outbuildings, and family cemetery.
The River Oaks Square Arts Center is a contemporary art gallery that also houses several artists in residence. The art is not just paintings; you'll find sculpture, crafts, woodworking, and more. Be sure to tour the Bolton Home as well as the Studio Annex building. The house, built around 1899, is a Queen Anne Revival, which is often found in Louisiana.
You'll find good dining in Alexandria. Embers is a casual restaurant specializing in pizzas and burgers set in an elegant historic building. I had The Butcher Pizza, heaped with delicious meats, cheeses, and sauce.
3. Natchitoches
Melrose Plantation is unusual as it was owned by African-Americans. The tour is detailed and the guide knowledgeable. We walked through history by learning about a young enslaved woman, Marie Thérèse Coincoin, owned by Louis Juchereau de St. Denis, the founder of Natchitoches, who caught the eye of Claude Thomas Pierre Metoyer. Metoyer eventually bought her. They had ten children together. Metoyer freed her and gave her a yearly allowance and a parcel of land. A smart businesswoman, Coincoin acquired more land and enslaved laborers. Her descendants owned Melrose Plantation from 1796 until 1847.
The last private owner Carmelite (Cammie) Garrett Henry, bought historic cabins and brought them to Melrose as residences for writers and artists she befriended. One visiting artist left some paint and old brushes behind. This launched the career of a black cook named Clementine Hunter. She became a prominent folk artist and the first African-American given an exhibit in the New Orleans Museum of Art.
I'm not a big sports fan, but the Louisiana Sports Hall of Fame and Northwest Louisiana History Museum fascinated me. There's so much more there than the sports located on the first floor. Walk up the uniquely designed stairs and you find Louisiana history in well-arranged exhibits.
We dined at two great restaurants. Lasyone's Meat Pie Restaurant is famous for its meat pies, crawfish pies, and other Cajun and Creole favorites. The recipes were handed down through Chef Angela Lasyone's family. Merci Beaucoup leans more toward Cajun foods like chicken and sausage gumbo and crawfish etouffee. Visit the Cane River Brewing Company located in a refurbished cotton gin building, have a cold brew, and see it made.
Pro Tip: Take the Cane River Walking Tour, where a knowledge guide walks you through Cane River National Heritage Area's unique blend of merged cultures: American Indian, French, Spanish, African, and Creole.
4. Marksville
Marksville is home to the Tunica Biloxi Native American Tribe. A visit to Tunica Biloxi Cultural Center and Museum teaches about their culture. If you're feeling brave, visit their casino and try your luck. The casino has an RV park as well as a hotel.
Avoyelles Courthouse was featured in the movie, Twelve Years a Slave, as the place where justice defeated hatred. Solomon Northup regained his freedom here in 1853.
Broken Wheel Brewery/Fresh Catch Bistreaux lets you combine dining and beer. The bistro offers Cajun specials, and you can tour the brewery and sample the beer.
5. Lake Charles
Lake Charles, known as "no man's land" because of indeterminate borders of the Louisiana Purchase, was open to pirates like Jean Lafitte who roamed at will.
Take a self-guided tour of the Charpentier Historic District, 40 blocks of historic homes and buildings, showcasing Victorian architecture from the late 1800s to the early 1900s.
Creole Nature Trail Adventure Point is Lake Charles's visitor center. You'll find more than just information and brochures here. Its interactive exhibits include Zydeco and Cajun music instruments, an exhibit that lets you smell Cajun cooking, and a boardwalk where you might spot a sunning alligator or wading birds. It's the starting point for the Creole Nature Trail to Holly Beach and Wetlands Walkway overlooking the Sabine National Wildlife Refuge. You'll see alligators and over 400 bird species.
Mardi Gras Museum of Imperial Calcasieu has the largest collection of Mardi Gras costumes in the South.
For a look at Lake Charles history, visit the Imperial Calcasieu Museum, home of the over 375-year-old Sallier Oak.
Try your luck at L'Auberge Casino. The lazy river pool area is amazing.
The Bekery is the perfect start for breakfast. Enjoy croissants, muffins, scones, cookies, brownies, cakes, or quiche, all handmade.
Have lunch at Restaurant Calla, a modern tapas restaurant, or mix Cajun with Mexican at Tia Juanita's Fish Camp.
For a frozen dessert, head over to Boombox, where the hand-made frozen pops and ice cream are named for 80s music.
For stronger drinks, tour Bayou Rum Distillery. Besides rum, they have a coffee shop, Cafe du Bayou, in a 1903 farmhouse. If you are more of a beer person, tour Crying Eagle Brewery and sample some of the best pizza ever in its two-story taproom.
6. Shreveport/Bossier City
A must-see is Shreveport Municipal Auditorium, former home of The Louisiana Hayride, the show that gave Elvis Presley his start. It introduced another great star in 1948 when Hank Williams sang "Lovesick Blues."
Pioneer Heritage Center takes you back to Shreveport/Bossier City's early days. It's located at the Louisiana State University campus in Shreveport.
If you're feeling lucky, Shreveport had a lot of casinos: Boomtown Casino & Hotel, Eldorado Resort Casino Shreveport, Harrah's Louisiana Downs, Horseshoe Bossier City Hotel And Casino, Margaritaville Resort Casino, and Sam's Town Casino and Hotel Shreveport. The Downs Casino has horse racing and Margaritaville has some talented stilt-walker entertainers.
To quench your thirst, as well as have a history lesson and some live music, visit Great Raft Brewers, the first brewery in Shreveport since Prohibition. The name refers to the 100-mile-long river logjam in the 1830s. The engineer who broke it up, Henry Shreve, gave Shreveport its name.
Pro Tip: Mardi Gras is big in both Lake Charles and Shreveport.