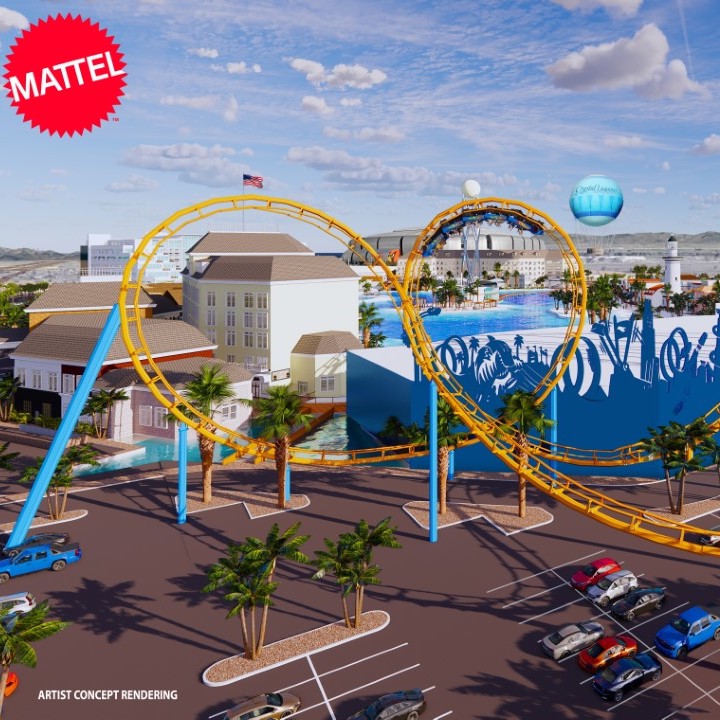 Famed toy manufacturing company Mattel announced the company's next endeavor during a groundbreaking ceremony earlier this month: Mattel Adventure Park.
Set to open in Glendale, Arizona, the theme park will be Mattel's first-ever destination experience and will feature some of its most well-known characters and toys. Planned attractions include a Hot Wheels roller coaster, go-karts, and a Thomas & Friends indoor park, which will include an incredible life-sized Thomas the Tank Engine passenger train. Amenities will include dining and retail opportunities throughout the park.
The Mattel Adventure Park is opening in combination with another much-anticipated Glendale-based park: Crystal Lagoons Island Resort. This separate, beach-themed resort will feature an 11-acre lagoon and seven themed islands, allowing visitors year-round access to the beach experience. It will also include a massive balloon to take visitors 400 feet up in the air, a 4D theater, and a fly theater along the lines of the Soarin' Around the World experience at Disney's California Adventure.
Crystal Lagoons will also include the construction of two hotels with a combined 650 rooms.
The special partnership between the two companies was announced during the resort's groundbreaking ceremony this month.
"Mattel shares our vision and sets the platinum standard for the concept of play," Mark Cornell, President of Attractions & Entertainment for Crystal Lagoons Island Resort, said in a release. "We are thrilled to create the country's first Mattel Adventure Park in Glendale."
Together, Mattel and Crystal Lagoons Island Resort will execute a world wholly inspired by the iconic toy brands from Mattel. The park will serve as an immersive experience for families and a new way to enjoy the already beloved toy brands.
While the park has only announced Hot Wheels and Thomas & Friends attractions so far, Mattel is the company behind other well-known products and brands such as Barbie, American Girl, Little People, Monster High, and Polly Pockets. More attraction announcements should be expected throughout the park's construction.
"We are delighted for Glendale to be the flagship location for this resort that will bring technology and globally established partners to create a one-of-a-kind environment," Glendale City Manager Kevin Phelps said. He hopes to see Glendale transform into a premier destination for both residents and tourists around the globe, and believes that the Crystal Lagoons and Mattel Adventure Park will help establish the city as a thriving sports and entertainment destination.
Glendale is already the home for both the NFL's Arizona Cardinals and the NHL's Arizona Coyotes.
Developers are aiming for an October 2022 opening for the parks, allowing them to be in full swing just in time for the Super Bowl to be held in Glendale in February 2023.
Local officials are thrilled with the development, which Glendale City Councilwoman Joyce Clark called the most significant project in the city since the Arizona Cardinals stadium was built in 2006.
"It's going to be second to none in the state," Mayor Jerry Weiers told USA Today.