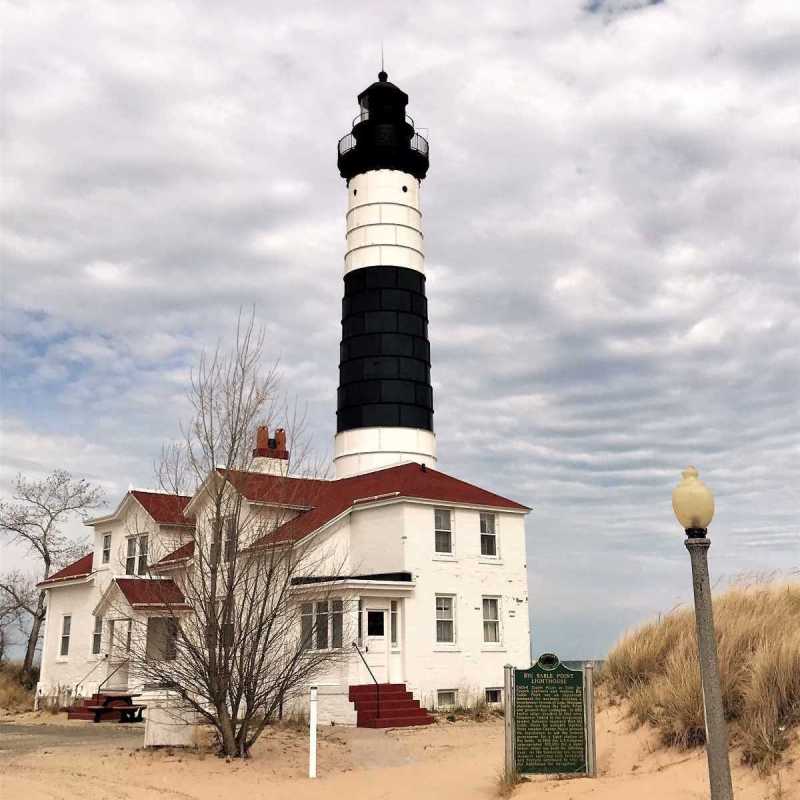 Situated on Lake Michigan's shores, Ludington offers a genuine Michigan "Up North" experience. That means you'll find water, woods, and a welcoming atmosphere. Since Ludington is just 95 miles north of Michigan's second-largest city, Grand Rapids, you'll have a shorter drive before starting your long weekend in quaint Ludington, Michigan.
Things To Do In Ludington
With 28 miles of Lake Michigan shoreline, several inland lakes, and three rivers, water is Ludington's theme. Outdoor experiences include boating, kayaking, canoeing, swimming, and fishing. History buffs will find the Port of Ludington Maritime Museum and the Lumber Heritage Trails fun discoveries. At the same time, art lovers will appreciate a journey on the Barn Quilt Trail and Sculpture Trail through Waterfront Park.
Note: Pure Ludington hosted my visit to Ludington, Michigan. The opinions are mine based on my experience.
Take A Trip On The SS Badger
With Lake Michigan separating Wisconsin and Michigan, visitors from the west who prefer to drive may think they need to enter through the Upper Peninsula or go around the lake and arrive from the south through Indiana. An alternative is a trip across Lake Michigan on the SS Badger, a car ferry that travels from Manitowoc, Wisconsin, to Ludington, Michigan. The 60-mile trip takes about four hours one way, and Ludington becomes your Michigan entry point. A journey across Lake Michigan on the SS Badger is an adventure on its own; with the ship offering many entertainment options, the time will fly. The sailing season begins in late May.
If you're already in Ludington, watching the SS Badger come into port around 7 p.m. each evening is a favorite with locals. Then have a picnic dinner at Stearns Park Beach and stay until sunset, where locals advise it's the best free entertainment in town. You'll be able to capture stunning sunsets over Lake Michigan.
Visit Ludington State Park
The 5,300-acre park features year-round activities. Summer brings 21.5 miles of hiking trails, while winter offers 10 miles of cross-country ski trails. With so much to do at Ludington State Park, you might be tempted to spend the entire weekend here. Be sure to explore the historic Lake Michigan Beach House built by the Civilian Conservation Corps (CCC). For stunning views, check out the Sable River Outlet to Lake Michigan just south of the guardhouse. To make hiking easier, the Big Sable River features a paved path. Check out the less populated Hamlin Lake Beach. At Hamlin Dam, you'll find signs telling its history, a paved river path, and a lower-level boardwalk. Hike the two-mile Lost Lake, Island Lake Trail, where hiking counterclockwise avoids some hills, and you'll see the inner lakes adjacent to Hamlin Lake.
Explore The Lighthouses
Built in 1867, the Big Sable Point Lighthouse, accessed through Ludington State Park, requires a 1.8-mile walk to visit. But don't worry; on scheduled days throughout the summer, they offer bus rides to the lighthouse. Climb the 112-foot, black-and-white striped tower, tour the original keeper's quarters, and explore the dunes.
The Ludington North Breakwater Light is a 10-minute drive from the Big Sable Point Lighthouse. The North Breakwater Light is a one-mile round trip walk to the light where you can take a tour, climb the tower, and visit their gift shop. If you're not up to the walk, enjoy the vibrant green tower light from Stearns Park Beach.
Discover The Port Of Ludington Maritime Museum
The former US Coast Guard Station is home to the Port of Ludington Maritime Museum, on the National Register of Historic Places. The museum includes interactive exhibits that are fun for all ages. You can simulate being a crew member on a Lake Michigan car ferry.
The new permanent Armistice Day Exhibit memorializes November 11, 1940. The Armistice Day Storm killed 154 people on Lake Michigan. It caused devastating effects, sinking three freighters between Big and Little Sable Points, consuming fishing boats, and damaging steamships. I spent time exploring the sunken freighters through video and learned how the National Weather Service changed its processes after the storm.
Explore The Waterfront Sculpture Park
The 5.2-acre Waterfront Sculpture Park features nine sculptures that tell the story of Ludington's history. As you enjoy the art in this walkable park, you'll also see stunning views of Pere Marquette Lake. If you brought the grandkids, the park has a modern play structure where they can blow off some steam.
Experience Downtown Shopping
To remember your trip, take home a souvenir from one of the downtown shops. Todd and Brad Reed Gallery features award-winning outdoor photography from this father and son team. Gordy's Skate Company is a great place to buy Ludington T-shirts and sweatshirts. If you want a sweet reminder, visit Kilwins chocolates for that quintessential northern Michigan fudge (although it's so tempting, it may not make it home).
Best Restaurants In Ludington
Ludington restaurants feature regional American fare and international cuisine. You'll find everything from Japanese fusion dishes to Southern specialties like shrimp and grits and Southern fried chicken. Of course, you'll want to try some of Michigan's bounty in the whitefish or Traverse City cherries.
Blu Moon Bistro
Located in downtown Ludington, The Blu Moon offers American, French, and Japanese fusion fare. If you're feeling like sushi, this is the place to go. They have an in-house sushi kitchen. Landlubbers will enjoy the Yankee Pot Roast. One of their signature dishes, the full-flavored Michigan apple cider-braised Angus beef, is fork-tender from hours of braising. Mashed potatoes covered in pan gravy accompany the dish. The chef also features several vegan options like the baked vegetable ratatouille.
In addition to their indoor dining room, they have two outdoor dining spaces available Memorial Day through Labor Day. The open-air rooftop deck and a pet-friendly sidewalk café are great places to dine and enjoy the northern Michigan fresh air.
House Of Flavors
Besides the fact that we love ice cream, we liked House of Flavors because it's just plain fun. The sign assures you, "This is a happy place. If you're crabby, go home." The 1950s retro-style décor with black and white floor tiles and 45 rpm records adds to the fun atmosphere. While their ice cream menu features 40 different flavors daily, you'll want to have lunch or dinner before you dig into one of their super-sized ice cream treats. To entice you to eat something healthy, the window at the front of the restaurant displays turkey roasting on the rotisserie that they use to create a roast turkey dinner with all the trimmings, or for a variety of turkey sandwiches for lunch.
Table 14
Table 14, located downtown, is an upscale Southern-inspired restaurant. The chef-owner lived for a time in Charleston, South Carolina, and he's brought that Southern cuisine to Ludington. You'll find fried chicken, fried green tomatoes, shrimp and grits, and Charleston crab cake sandwiches on the menu. I tried a special chorizo-crusted Bay of Fundy salmon accompanied by parmesan risotto and asparagus, then finished with a lemon pepper aioli. If you'd like to try a Michigan fish, give the pan-seared whitefish a try.
Best Hotels In Ludington
Ludington offers a wide variety of overnight accommodations, from luxury bed and breakfasts to camping. No matter your preference, you'll find just the right place to rest your head.
Cartier Mansion Bed And Breakfast
Located within walking distance of downtown and Stearns Beach, Cartier Mansion Bed and Breakfast is on the National Register of Historic Places. In 1905, Warren Cartier, a Ludington lumber baron, moved his wife Kate and three sons into the newly built neoclassical style home. Each room showcases a different type of wood, resulting in a stunning property. You'll find chocolates on your nightstand and a three-course breakfast served in the morning. And if you have a snack attack in the middle of the night, no worries. The complimentary guest service beverage and snack station is nearby.
They've just renovated the early 20th-century Cartier Mansion's Carriage House into four family-friendly, small dog-friendly suites. What makes the Carriage House Suites special? Two of these suites are ADA accessible, which is rare in historic properties. They've retained elements of the original horse stalls, resulting in a beautiful equestrian theme.
Nader's Motel & Suites
Nader's Motel & Suites is a family-owned motel that's within walking distance of Stearns Park Beach and is only three miles from Ludington State Park. With kitchenette suites available that sleep six, they have two double beds, a sofa sleeper, and a full kitchen. Their standard rooms feature mini-fridges, microwaves, and coffee makers. While the beach is across the street, they also have a pool for fun in the sun. You'll find yard games, grills, and picnic tables if you wish to have a cookout during your stay.
Ludington State Park Campground
Ludington State Park Campground is the perfect place if you prefer camping to hotels for your overnight accommodations. This Michigan State Park, situated between Lake Michigan and Lake Hamlin, has three campgrounds and seven miles of Lake Michigan shoreline. Those who enjoy something a little less rustic might prefer to rent one of the three mini-cabins at the park. Each cabin sleeps five. You'll need Michigan's Recreation Passport to enter, which you can purchase at the campground when you arrive.
Pro Tip: Those who have difficulty walking on sandy beaches but still want to enjoy the Lake Michigan shoreline can reserve one of the beach wheelchairs at Ludington State Park.
For more ideas on planning your Michigan beach vacation, check out these TravelAwaits articles: