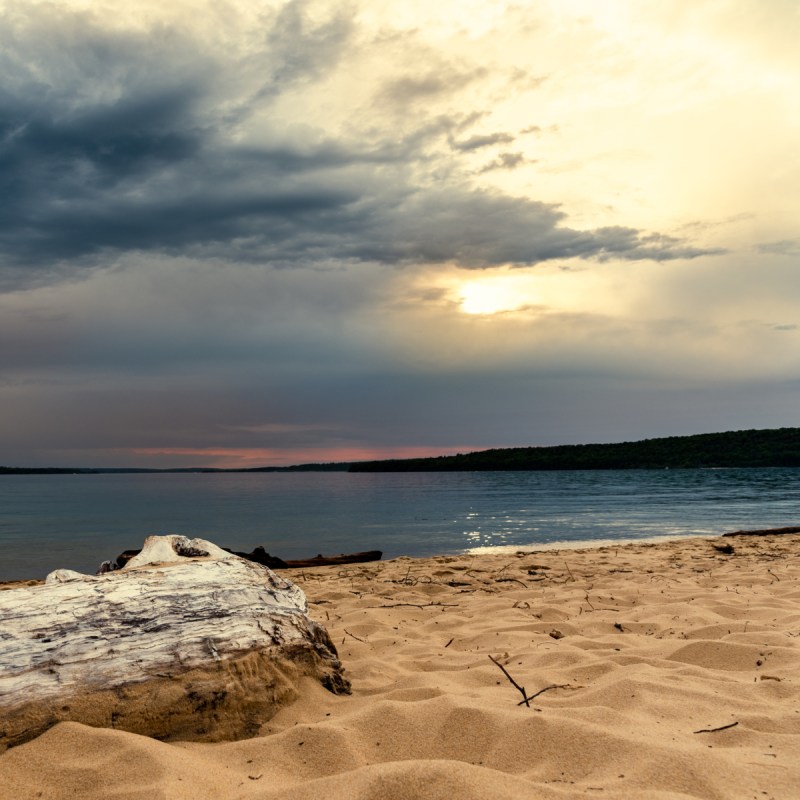 The Great Lakes surround both of Michigan's peninsulas, and Michigan has the most freshwater coastline of any state in the United States. It is only second to Alaska in the total miles of shoreline. No matter where you are in Michigan, one of the Great Lakes is within 85 miles. Add to that more than 11,000 inland lakes, and you're never more than six miles from a body of water. That means Michigan has a lot of beaches to choose from. 
The best time to visit Michigan's shores is during summer, when the weather is warm. If you plan to go swimming, it takes significantly warmer weather for the Great Lakes' water to heat up.
Choosing just nine beaches in Michigan is especially difficult because we have so many. I selected a variety throughout the state, both on the Great Lakes and inland lakes. No matter if you're looking for a secluded niche or a party atmosphere, you'll find just the beach you're looking for in Michigan.
1. Munising: Sand Point Beach
Located four miles northeast of Munising, on Lake Superior and the Pictured Rocks National Shoreline, Sand Point Beach features white sand and crystal-clear water. The beach is largely undeveloped, so you'll find the beach relatively uncrowded. We enjoy watching the beautiful Great Lakes sunsets at Sand Point Beach.
Pro Tip: If you want to view the entire Pictured Rocks National Shoreline, the Pictured Rocks Cruises departing from the Michigan City Dock in Munising are a great way to do that. It's 32 miles round trip, and the cruise that includes Spray Falls takes just over two hours.
2. Petoskey: Petoskey State Park
Situated on the north end of Little Traverse Bay on Lake Michigan, Petoskey State Park sits on 303 acres and offers one mile of beautiful beach that's a mix of sand and stones. My family of rockhounds has found this to be one of Michigan's best places to search for the Petoskey stone, the Michigan state stone. Petoskey stones are fossilized coral that predates humans by millions of years. If you aren't up for the hunt, local gift shops feature the stone smoothed and polished.
Pro Tip: Wet Petoskey stones are easier to spot than dry ones, so take along a spray water bottle to spot the rocks more easily.
3. Charlevoix: Lake Charlevoix Beaches
Charlevoix, located between Lake Charlevoix and Lake Michigan, features beaches on both the great lake an inland lake. The water on Lake Charlevoix is warmer than the water in Lake Michigan, so you may prefer to try either Ferry Beach or Depot Beach on Lake Charlevoix.
Ferry Beach is a sandy beach with a swimming area. Add to your water play with stand-up paddle boarding rentals and a boat launch for those who enjoy boating. This beach features a picnic pavilion, concessions, and restrooms.
Depot Beach, named for the historic train depot on the property, is a reminder of a bygone era when visitors arrived by train. The park has a sandy beach with a covered pavilion, picnic areas, and grills. The park also offers a playground, volleyball net, and restrooms.
Pro Tip: If you prefer upscale hotels over camping, the newly redesigned Hotel Earl in downtown Charlevoix makes the perfect place to rest your head after a day at the beach. Many of the original features designed by the hotel's namesake and original architect, Earl Young, are still in place, including the stunning stone fireplace. These authentic details add to the original charm of this luxury boutique hotel.
4. Ludington: Stearns Park Beach And Ludington State Park Beach
Centrally located within walking distance of downtown, publications consistently rate Stearns Park Beach as one of the top beaches in Michigan. Stearns Park Beach features a half-mile of sugar-sand beach along Lake Michigan's shoreline. This free city beach offers many amenities, like water sport rentals, sand volleyball courts, a bathhouse, food concessions, picnic tables, and grills. Adjacent to the beach, you'll find a mini-golf course, shuffleboard courts, and a skate park. Another fun thing to do here is exploring the walkable pier to see the Ludington North Breakwater Light, a historic lighthouse voted one of the top 10 lighthouses in the United States.
It was just too difficult to choose which beach was the best in Ludington, so I didn't. Ludington State Park Beach is a bit calmer than Stearns. While you'll need to drive to this beach if you're staying downtown, Ludington State Park Beach has seven miles of Lake Michigan coastline fringed by grassy dunes. If you prefer a more spacious beach with a restroom and concessions nearby, you'll want to check out the expansive Lake Michigan beach area past the state park check-in booth.
Pro Tip: On the fourth Thursday of the summer months, take a blanket to Stearns Park Beach and hang out for an evening of free entertainment. Sunset Beach Bonfires offers music, bonfires, and sunsets.
5. Mears: Silver Lake Sand Dunes
With 2,000 acres of dunes that include a 450-acre scramble area, Silver Lake Dunes offers the best dune off-roading in Michigan. You can take your own off-road vehicle (ORV) with the proper permits or rent a dune buggy or ORV for a day on the dunes. If you're a bit hesitant about cruising the dunes by driving yourself, try a 40-minute tour with Mac Wood's Dune Rides so that you can sit back and enjoy the ride.
Pro Tip: Silver Lake Sand Dunes open season is April 1 through October 31. Open season is when ORVs are allowed on the dunes.
6. Grand Haven: Grand Haven City Beach
Grand Haven City Beach sits between Grand Haven State Park beach and a beachside restaurant called The Noto's at the Bilmar. This sandy beach along Lake Michigan has limited free parking and no entrance fee. It's an excellent beach for dog owners who want to walk Rover.
Grand Haven sponsors an annual Sand Sculpture Contest at Grand Haven City Beach. For 40 years, this event has offered locals and tourists opportunities to create everything from sophisticated sandcastles to slippery swimmers and sharks. But rest assured, you won't find any sharks in the Great Lakes.
Pro Tip: Memorial Day through Labor Day, dogs are welcome on a leash before 11:00 a.m. and after 5:00 p.m. The rest of the year, they're allowed on a leash anytime.
7. Holland: Holland State Park Beach
Located on the Lake Michigan coastline, Holland State Park features sugar-sand beaches perfect for building detailed sandcastles. Be sure to finish the day at the beach by watching the flaming orange-yellow sunset over Lake Michigan.
Holland State Park includes lots of Great Lakes nautical fun. The lighthouse, affectionately known as Big Red, is Michigan's most photographed lighthouse. Sometimes during the summer, you can take a tour of Big Red. If you want to add Great Lakes fishing to your vacation fun, the beach boat launches make that possible too.
Pro Tip: Visitors to Michigan state parks need a Recreation Passport; you can buy one at the park for a fee. This passport will get you into more than 100 Michigan state parks.
8. Saugatuck: Oval Beach
Located on Opal Drive off Perryman Street, Oval Beach, ranked as one of the top 25 beaches globally, features soft silvery sands. MTV rated this Lake Michigan beach as one of the top five beaches in the nation, so it should be on your bucket list. Oval Beach offers many amenities, such as restrooms, a concession stand, grills and picnic tables, and playgrounds.
For those who enjoy an active lifestyle, one way to reach Oval Beach is via Mount Baldhead. First, start in Saugatuck and cross the Kalamazoo River by a historic hand-pulled ferry. Then climb the 302 wooden steps to the top of Mount Baldy, where you can see the towns of Douglas and Saugatuck. Finally, descend to the beach with grassy sand. Entering in this manner solves any issues with parking capacity or fees. 
Pro Tip: Be aware that the parking lot may reach capacity during the summer months, and you may need to wait for parking. You can also hike, bike, or walk in, which will save you the parking fee (around $6).
9. St. Joseph: Silver Beach
Located at the St. Joseph River entrance, Silver Beach County Park features a wide beach on Lake Michigan. Of the park's 2,450 feet of Lake Michigan shoreline, they have about 1,600 feet for a public swimming area. The star attraction at Silver Beach is the carousel, with its two chariots and 48 unique figures. Choose your favorite figure and ride with the music under 1,000 twinkle lights. Explore some of the local shops or take a walk on the pier.
Sitting about 200 yards off Lake Michigan's beach, Silver Beach Pizza in St. Joseph offers pizza fashioned from dough that's made from scratch daily. Favorite pizzas include the Carousel, a nod to the carousel over the tracks, and the Garlic Greek. Your grandkids will adore that the train stops at the adjoining train station.
Silver Beach is in a county park, not a Michigan State Park. The Michigan State Park Recreation Passport will not provide admission to Silver Beach; you will need to pay the associated county park fees.
Pro Tip: Don't confuse Silver Lake State Park and Silver Beach, as they are at opposite ends of the state. Silver Lake State Park is in Mears, to the north, while Silver Beach is in St. Joseph, to the south.
Related Reading: