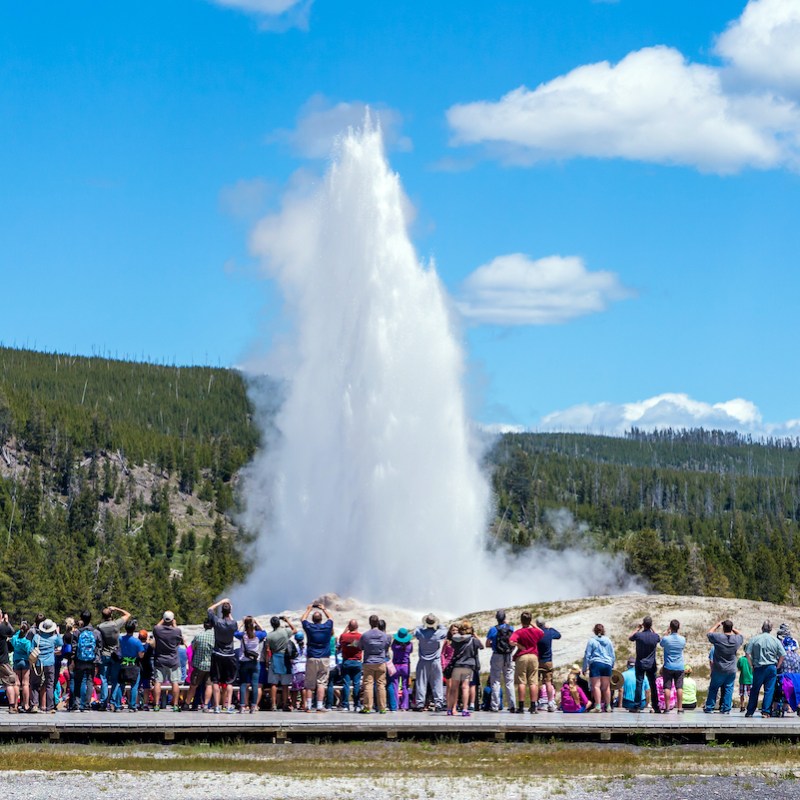 Yellowstone National Park drew record crowds this spring.
A record-breaking number of people already visited the park in April. Then, in May, more than 483,000 people visited Yellowstone. That number is 11 percent higher than in May 2019 — making May 2021 the park's most-visited May ever, the National Park Service (NPS) announced. 
These numbers aren't surprising to Yellowstone Superintendent Cam Sholly. Indeed, Sholly knew what was coming, based on increasing vaccination numbers, easing of COVID-19 restrictions, and last year's attendance at the park.
"I predicted a record season, and I think we're on track for that," Sholly told the Billings Gazette.
Pandemic Restrictions
Yellowstone National Park typically opens to vehicles sometime in late April or early May. Last year, however, due to the COVID-19 pandemic, the park was closed from late March through most of May. The park's two Wyoming entrances opened for the summer season May 18, and its Montana entrances didn't open until June 1.
Then tourism rebounded. In fact, Yellowstone had its second-busiest August, and busiest September and October on record. The park finished 2020 with 3.8 million recreation visits, down only five percent from 2019.
An Even Busier Summer
As people travel again, national parks are appealing because visiting them is something that can be done outside and, for the most part, allows a chance to maintain distance between other visitors. As the weather has gotten warmer and the school year has ended, attendance at national parks has grown quickly — with no signs of slowing.
"Summer is Yellowstone's busiest season," the NPS explains. "Millions of people visit the park in June, July, and August. If you plan to travel to Yellowstone this summer, plan ahead, expect crowding, recreate responsibly, and take the Yellowstone Pledge to protect yourself and the park."
So what exactly does "plan ahead" mean? Here are some factors to keep in mind if you do plan to visit Yellowstone this summer.
First, most camping and lodging at Yellowstone has already been reserved through the summer. "If you don't have a reservation, the nearest campsite or hotel room may be hours away," NPS points out.
Next, given that hundreds of thousands of people visit Yellowstone during summer, you should expect crowds and delays. Park management explains that "high visitation and road construction on the bridge leading into and out of the Old Faithful Area may result in delays into and out of the area."
And finally, park management asks visitors to "be patient and flexible."
Know Before You Go
Even though COVID-19 restrictions have been relaxed, remember that Yellowstone is a national park and follows NPS guidelines. If you are not yet fully vaccinated, you must wear a mask in all common areas in buildings owned, rented, or leased by the NPS, such as park visitor centers, gift shops, and restaurants. You will also need to wear a mask outdoors when physical distancing of six feet is not possible. If you are fully vaccinated, wearing a mask and physically distancing are not required indoors or outdoors unless otherwise posted.