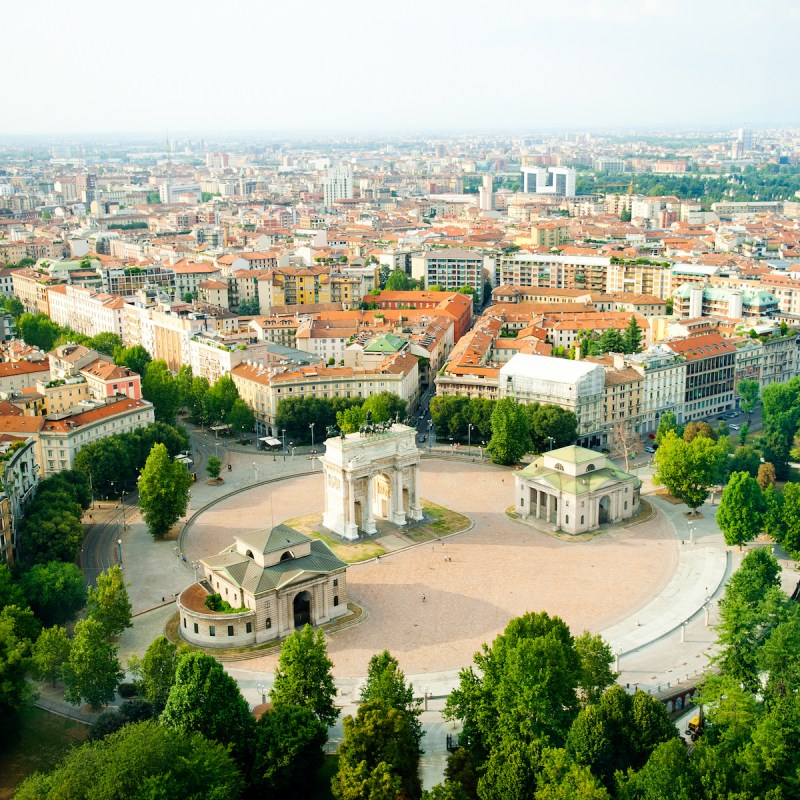 It was a travel conference that first drew my attention to Trento, Italy. Once I googled Trento, I knew I wanted to visit, and the possibilities for a trip through Northern Italy blossomed. Northern Italy leaves an indelible mark whether it be with its mountain ranges, glistening lakes, rolling vineyards, beautiful cities and towns, or its superstar, Venice. Along with the landscapes, the Italian cuisine in Northern Italy is outstanding. Pasta shares the menu with risotto, polenta, and cheesy cream sauces. And … you're in Italy, so the gelato is to die for.
I chose to do this itinerary through Northern Italy by train and one bus. I love train travel in Europe and find that the experience of relaxing on the train, watching the scenery zip by, and observing locals trumps reading road maps. Perhaps that is because I have been dreadfully lost more than once on the backroads of Italy! Regardless of the mode of transportation you choose, this itinerary is breathtaking, inspiring, and won't soon be forgotten.
Pro Tip
Before boarding the trains in Italy, you need to validate your train ticket. Head to the platform and put your ticket in the yellow machine. If you purchased your ticket online, sometimes you are required to print it at the station and then validate it. Other tickets, usually for the high-speed, long-distance trains, allow you to board with just the confirmation code. Check before you go!
This itinerary can be done in one week, but it can be adjusted for a longer trip.
Day 1 (And Part Of Day 2): Milan
Italy's fashion and design center city is bustling and lively! Be sure to visit the Duomo di Milano, the largest church in Italy, with its mixture of architectural styles. Walk through Galleria Emanuele and then turn around and walk through it again. At least that's what I did! Walk through once to admire the architecture of this stunning covered shopping arcade with its enormous glass dome and frescoes. Walk through again to gawk at the high end fashion on display in the store windows. Be sure to book your ticket well in advance to see Leonardo da Vinci's masterpiece, The Last Supper. This article written by Richard Nahem has a thorough guide to Milan.
Pro Tips:
Looking for a delicious meal to kick off this itinerary? Make a reservation at La Vecchia Guardia at Via della Commenda 21. The evening I was there, the dining room was full of locals lingering over an exquisite meal. I'll be heading right back there on my next trip to Milan.
Watch for pickpockets at the train stations. A savvy traveler friend of mine just narrowly avoided being robbed.
Day 2 And Day 3: Verona
Verona, known for the setting of Romeo and Juliet, is a fabulous town to explore. The entire historic center is a UNESCO World Heritage Site. The Verona Arena is a preserved open-air Roman arena that is over 2,000 years old. Book a ticket for the Opera Festival that takes place in June each year. It is an unforgettable experience. The Torre dei Lamberti, the Lamberti Tower, is a historical monument that stands at 275 feet. Climb the 368 steps or take the transparent elevator to the top for 360-degree views over the city and surrounding countryside.
The thing about Verona is that it is the perfect place to wander. Follow the narrow cobblestone streets and see where you end up. There are piazzas perfect for sitting and savoring a glass of Valpolicella or your favorite flavor of gelato. You'll have to decide if you want to do the most touristy thing in Verona in a small courtyard teeming with people. Do you want to stand on Juliet's balcony or rub the breast of her bronze statue?
Verona's castle and fortress, Castelvecchio, was built in the 1350s. Its seven towers are landmarks of Verona's skyline. Be sure to stroll over Ponte Pietra the cobblestone footbridge crossing the Adige River. A bridge has existed here since 100 B.C. It has had to be rebuilt several times over the centuries.
Pro Tips
If you plan on entering sites and museums, purchase the Verona Card for discounted entrance fees. The Verona Card can be purchased at the Tourist Office in Piazza Bra. And if you'd like to spend a weekend in Verona, here's more.
Day 4: Trento
Trento is the furthest north that this itinerary takes you. Trento is in the Trentino-Alto/Sudtirol region, which borders Austria and Switzerland. Until after WWI, Trento was part of Austria. Trento is well off the tourist trail. It is a popular destination for locals and used as a gateway to the Dolomite Mountains.
The town of Trento is a delight to wander through. Against the stunning backdrop of the Dolomites, Trento's medieval center is full of captivating cobbled streets, Neptune fountains, surprising frescoes, and a castle. One of my favorite things to do was visit the Buonconsiglio Castle which watches over the city. Be sure to enter the Eagle Tower with a guide to see the ancient frescoes from the late 14th century. The Cycle of the Months frescoes depict both nobility and peasants partaking in monthly activities. I loved the scene of the snowball fight, reminding me that humans have always enjoyed a good game with those frozen spheres!
If you love views, take the ancient funicular, the Trento-Sardagna, up the mountain for incredible vistas. The pitch is not for the faint of heart. Also, find your way to the Gorge of Ponte Alto and watch the Adige River rushing beneath the platform. Take your time in Trento and soak up the views.
Pro Tips
Ristorante al Vo on Vicolo al Vo is a family-run restaurant that is a real find. The Italian food is outstanding along with the ambience and the service.
Trentodoc is sparkling white and rose wine made only from Trentino grapes. Made by a winemaking process that has been handed down through the generations, be sure to sample a Trentodoc while in Trento!
Trento truly is a gateway to the Dolomite Mountains. If you are visiting in the summer, allow time for some hiking in the mountains. Winter visitors can enjoy the marvelous ski reputation that the Dolomites have.
Day 5 Day Trip From Trento: Lake Garda
An itinerary through Northern Italy just has to include a visit to at least one of the glorious lakes. Lake Garda, Italy's largest lake, is easily accessible from Trento as a day trip. Take the bus from Trento to Riva del Garda and be awestruck by the setting. The lake glistens, the blowing wind invites windsurfers, and the mountain peaks loom over Riva del Garda. The town itself is delightful, with its cheerfully colored facades and contrasting wooden shutters. Riva del Garda is a photographer's dream. Stroll the boutique-lined streets of Riva del Garda, and climb the 13th-century clock tower, Torre Apponale, for amazing views. You'll definitely want to hop on a ferry and visit one of the other towns on Lake Garda. Head to Limone and wander its picturesque historic center. It is hard to leave Lake Garda. If time allows, plan for a longer stay.
Pro Tip
The bus station in Trento is right by the train station. Purchase your bus ticket a day in advance and take the earliest bus so that you have a full day at Lake Garda. The bus trip is one hour and twenty minutes.
Days 6 And 7: Venice
Arriving in Venice by train is something I will never forget. The first time, I was twenty years old and couldn't believe that there were no roads in front of the station. Many years later, I walked out of the station to be met once again by a floating transportation system. Hop on a vaporetto (water bus) to begin your stay in this magical city.
Venice can be crowded and hot, but it never ceases to amaze. Venice's highlights, such as the Piazza San Marco, the Doge's Palace, and the Rialto Bridge, should be visited early in the day. Then get off the beaten path and wander the tiny streets in authentic neighborhoods, such as Castello and Cannaregio. Slow down. Saunter to the rhythm of the canals and board a gondola for an unforgettable journey.
Pro Tips
Traveling on the vaporetti can be very expensive. Decide, before buying your first ticket, if you want a one-, two-, three-, or seven-day pass. A pass will save you money traveling around Venice.
Osteria Al Mariner is tucked away on a narrow street facing a canal in the Cannaregio district of Venice. Give yourself time to wander in this delightful neighborhood, and then vie for a table by the canal. Don't expect English service, but anticipate an outstanding meal. Find it at 30121 Fondamenta dei Ormesini 2679, Venice.