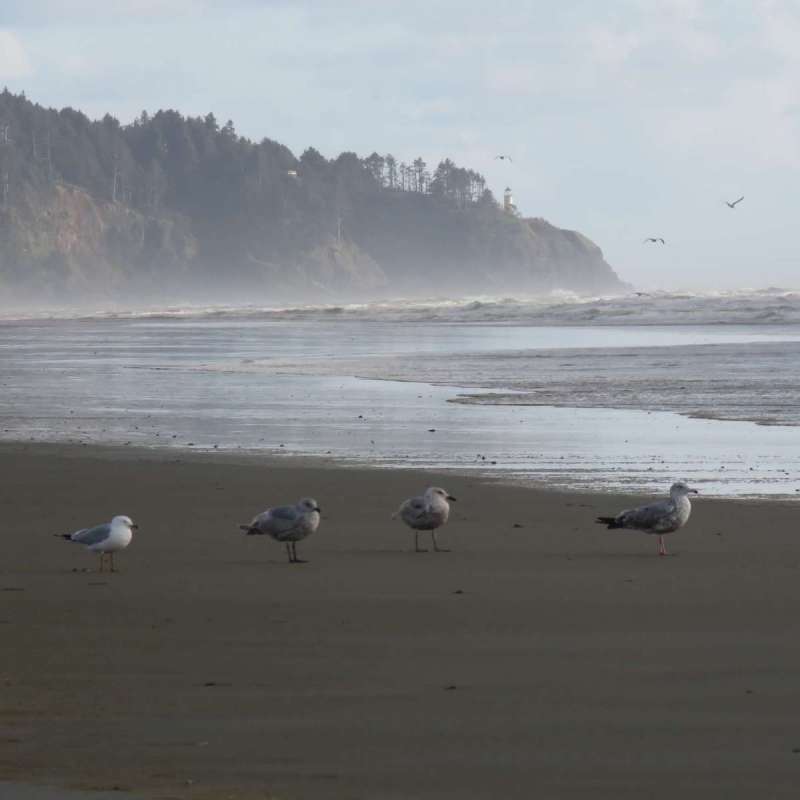 Too often, people consider visiting Seattle as having experienced Washington. But, honestly, between wine country and the Spokane Valley east of the Cascade Mountains, the volcanoes and mountains that split the state, along with the urban areas in the west, Washington has a lot to offer visitors. But, if you want to experience Washington beach life, a trip to Long Beach is in order.
Things To Do In Long Beach
Home to the so-called world's longest beach, Long Beach also includes tourist attractions, great food, and unique accommodations. Here's what to expect when visiting the Long Beach peninsula.
Walk The World's Longest Beach
At 28 miles long, not only is Long Beach considered the world's longest sandy beach, but it offers plenty of space to enjoy a walk alongside the Pacific Ocean. While the ocean's strong waves don't embrace swimmers, the area includes beautiful views of both the water and the shoreline. Whether you're a shoes-off, barefoot-in-the-sand kind of person or someone who prefers a boardwalk for your strolls, Long Beach accommodates both preferences.
While strolling along the beach, you may find hardcore surfers taking on the waves, as the Pacific Ocean creates some monster waves near Long Beach. With water averaging about 50 degrees Fahrenheit and home to rip tides, swimming isn't recommended in the area. However, as the waves crash against the rocks along the coast, the sights and sounds offer an impressive visit. At about a quarter-mile long, the boardwalk takes you along sand dunes and tall grass, creating a magnificent view.
You'll find a sculpture of a gray whale alongside the fossil of an actual one that washed ashore decades ago. Explore the 8.5-mile-long Discovery Trail, which traces the Lewis and Clark expedition that visited the area in 1805 and is commemorated with a statue of Second Lt. William Clark next to a giant sturgeon, which he came upon during his investigation of the area.
Dig For Clams On Long Beach
People can dig for razor clams on designated days October through April. Purchase a clam license, grab a shovel and bucket, and you can scour Long Beach for the delectable treats. Diggers look for a "clam show," dimples in the sand, holes, or hour-glass depressions that indicate a clam has found itself a spot in the sand. Clam diggers are allowed a maximum of 15 razor clams per day. It's almost as much fun watching people roam Long Beach searching for clams as it is digging for them.
Fly A Kite And Visit The Museum
You're likely to find people flying giant, colorful kites on Long Beach. The wind direction and speed are perfect for a day of kite flying on the beach. The city hosts an international kite festival each August, with kites reaching as high as 200 feet. Since starting in 1996, the weeklong celebration has averaged about 100,000 attendees. The area loves its kites so much, the World Kite Museum celebrates the history and artistry of the aerial sport, with about 1,500 exhibits highlighting different styles of kites, including antique kites as well as pop culture ones. The museum is also home to the kite Hall of Fame, recognizing significant contributions from kite flyers across the globe.
Editor's Note: Love kites? Don't miss The Best Things To Do In Seaside, Oregon, which has its own kite-flying culture, too.
Explore Quirky And World's Largest Attractions
Downtown Long Beach is a tourists' haven. With quirky souvenir shops, such as Marsh's Free Museum, which is a mix of oddities — including the elusive Sasquatch — and souvenirs. While at Marsh's, get a picture with Jake the Alligator Man. Alongside the souvenir shops, you'll find some of the world's largest attractions, all within walking distance of each other. Stand inside the world's largest frying pan, which stretches 14 feet wide. Once the largest, it's been surpassed by a pan one foot wider in North Carolina. Regardless, it makes for a fun photo setting. The world's longest chopsticks stretch 30 feet long. You can also check out the world's largest razor clam sculpture, which is about 5 feet tall. It's also known to squirt water every hour or so.
Catch A Whale Sighting
Gray whales pass through the Long Beach area twice a year, en route to their winter home and then again as they head north to the arctic. The best times for whale watching are December-February as they migrate south. They have a quick trip south, as the northern migration runs March to April. The best viewing area is North Head Lighthouse or the Lewis and Clark Interpretive Center at Cape Disappointment State Park. The lighthouse is located on a cliff that overlooks the confluence of the Columbia River and the Pacific Ocean. Bring binoculars; you'll need them to scout the ocean, searching for the water rising from the whales' blow holes, offering a magical view.
For more information, check out our 7 Tips For Whale Watching Along The Oregon Coast.
Become An Explorer At The Lewis And Clark Interpretive Center
Lewis and Clark's Corps of Discovery reached the Pacific Ocean near Cape Disappointment, and their story is told through a series of displays and interactive exhibits at the Lewis and Clark Interpretive Center at Cape Disappointment State Park. Located on a cliff near the mouth of the Columbia River, the interpretive center includes a look at shipwrecks in the area as well as the role of the U.S. Coast Guard. Also located at the state park are the remains of Fort Canby, which was built in 1863, during the Civil War, and served as a United States military outpost until 1947. You can explore the fort's concrete rooms, sentry lookouts, and artillery positions.
Captivated by forts? Consider these 31 Fantastic Experiences At Five Historic Forts In The Pacific Northwest.
Best Restaurants In Long Beach
From fast food to gourmet dinners, Long Beach's culinary scene offers something for everyone. Chefs challenge themselves to create special dishes that will taunt your taste buds and leave your palate wanting more. Since several restaurants create seasonal entrees, their menus change often, so what you loved during your spring visit may be replaced with an even tastier dish the next time you're in town.
The Lost Roo
With a casual setting, you can enjoy watching sports during your meal, check out the kangaroo decor, or just appreciate the camaraderie of your dining party at The Lost Roo. With appetizers such as feta bruschetta to whet your appetite, your experience at The Lost Roo will be enhanced with a seasonal menu that can include dishes such as the Roo Burger featuring Tillamook cheese and the Columbia River steelhead fish plate. The Lost Roo is a short 5-minute drive from the beach.
Serious Pizza
Located in Ilwaco, about a 10-minute drive south of Long Beach, Serious Pizza features Neapolitan-style pizza with a perfect crust. With a variety of pizzas, ranging from meat styles to vegetarian and vegan, including gluten-free dough, your pie will be ready after just a few minutes in a wood-fired brick oven. Serious Pizza's menu also includes appetizers, calzones, salads, and, at lunchtime, a selection of sandwiches.
The DEPOT Restaurant
Classic, chef-inspired plates await your tasting at The DEPOT Restaurant. Located in a former Seaview railroad depot, the upscale yet casual eatery offers a unique menu that can range from oysters to succulent duck. Kick off your dining experience with a small plate such as the Oyster 'Scargot, starring local wild oysters broiled in garlic lime butter and served with a French baguette. The entrees are so appealing you may have difficulty settling on a choice. However, the Southern Comfort Pork is an excellent option. Featuring a pork shoulder slow braised in Southern Comfort Barbecue Sauce and served on a bed of mashed yams sweetened with brown sugar, the dish melts in your mouth. You'll want to leave room for dessert, which features daily creations such as homemade brownies and apple cobbler.
Best Hotels In Long Beach
Whether you're a traditional hotel traveler or you prefer the bed and breakfast inn experience, the Long Beach area has a variety of accommodation options.
Shelburne Hotel
Located in Seaview, about a two-minute drive from the Seaview Approach to Long Beach, the Shelburne Hotel is the oldest operating hotel in Washington, having opened in 1896. With 15 guest rooms and suites, the Shelburne Hotel offers an intimate stay, with each room offering unique decor. Kick off your day with coffee and tea in the lobby each morning. The hotel looks like an old house and features a beautiful landscape behind a white picket fence. You can enjoy breakfast, lunch, and dinner at the hotel's pub.
Long Beach Airbnbs & Vrbos
With a great selection to offer, a Long Beach Airbnb or Vrbo may be a great option. I've become a fan of Airbnb over the past few years. You can reserve a house, apartment, condo, or even just a room. Whatever fits your needs. The Long Beach peninsula has an outstanding list of Airbnb and Vrbo vacation rentals, such as Seagrass. Practically on the beach, it's only a 5-minute walk to Long Beach on a private access path. With a main house and a garage apartment, Seagrass can handle parties from a couple to up to about a dozen people. The main house has four bedrooms, while the apartment above the garage has one bedroom. There are plenty of bathrooms to handle a large group. As with most Airbnbs, Seagrass is well-organized with labels, so you'll know where to put items after you've used them. The house also has a game room with a pool table, ping pong table, dartboard, and corn hole. Bring your own food and drink, and you may not have to leave the property during your visit!