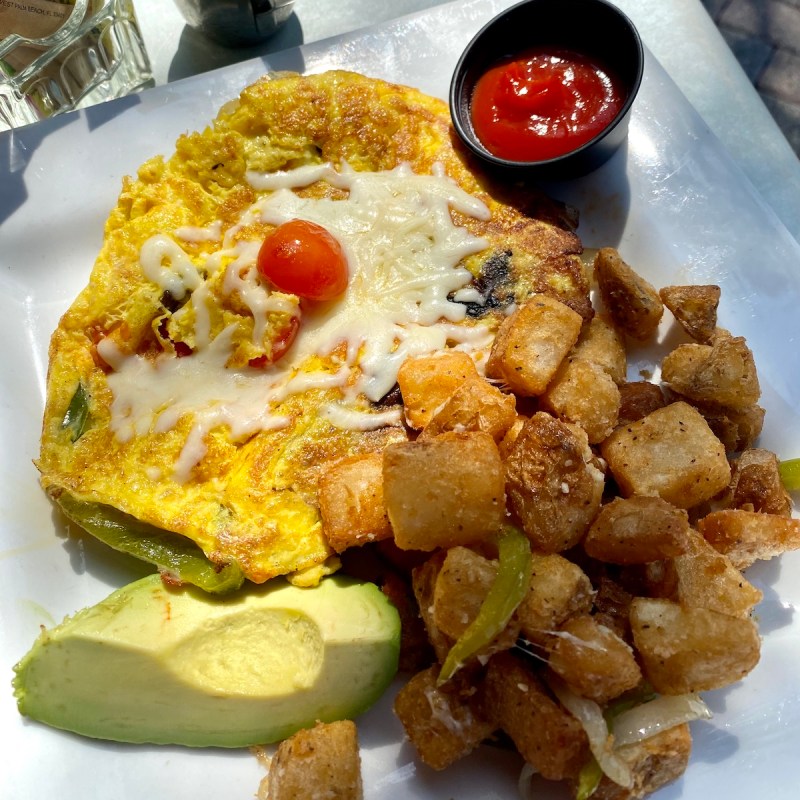 The beautiful Florida cities of Delray Beach and Boca Raton have a lot of great brunch spots where you can relax with a midmorning meal. We recently visited the area and had plenty of good food. It's easy to try places in both cities because they're literally right next to each other, with Boca Raton just south of Delray.
This time we stayed in Delray, right off of Atlantic Avenue, the main drag running through downtown Delray Beach. And it's very popular. There were tons of people out and about, and many of them had their dogs in tow. I had no idea that Delray was such a dog-friendly town. Next time, I'll bring my own adorable goldendoodle!
I highly recommend the area for its walkability. There is so much to do in the area that you really don't need a car. And if you get tired of walking, the city of Delray offers free rides in the downtown area via the Freebee app, which is super easy to use. We didn't rent a car, so most of the restaurants we went to were located near Atlantic Avenue.
These were some of our favorite brunch spots, in no particular order.
1. Vic & Angelo's
Vic & Angelo's is a very nice, very popular Italian restaurant located right on Atlantic Avenue. A highlight of our experience was the fantastic outdoor seating area. It was a charming setup and a great spot for relaxing and watching people walk up and down the avenue.
The restaurant serves brunch on Saturdays and Sundays and offers bottomless mimosas, Bloody Marys, and bellinis all afternoon. You'll find regular brunch fare and also dishes with an Italian twist, like eggs Florentine. If you're looking for authentic Italian cuisine in an upscale environment, you'll like Vic & Angelo's.
2. Over The Bridge Café
Over The Bridge Café is another hot spot on Atlantic Avenue, right next to the Atlantic Avenue Bridge. It's a tiny restaurant that doesn't have any indoor seating. That's okay, because there are quite a few tables outside in the very quaint courtyard just off the kitchen. I liked the vibe of the courtyard; it was super casual. When we got there on a Sunday around 11 a.m., it was busy. I was glad we had made a reservation. In fact, I'd suggest making a reservation for any restaurant you want to go to in the area. They are all very busy, and without a reservation, you'll have to wait.
For brunch, I opted for the Good Morning Wakeup, which was basically an egg white and fresh veggie omelet served in a wrap. I wanted something healthy, and this was it. My mom ordered the All-American Breakfast, your typical breakfast combo with eggs, bacon, sausage, toast, and fruit. I tried the chicken sausage, and it was very good. My mom mentioned that the fruit was delicious and very fresh.
Once again, we saw bottomless drinks on the menu and lots of people enjoying mimosas. And there were at least three dogs enjoying breakfast while we were there.
If you're looking for a casual, affordable, dog-friendly spot, you'll like Over The Bridge.
Pro Tip: Over The Bridge even has a "Bones Appetit" menu featuring dog-friendly meatloaf and breakfast cookies. So if you're traveling with your pooch, this is the place!
3. Louie Bossi's
Located in Boca Raton near Mizner Park, Louie Bossi's is an upscale restaurant that does Italian fare the old-school way. The restaurant is open for lunch and dinner seven days a week and serves brunch on Saturdays and Sundays. Louie Bossi's is somewhat of a legend in Boca Raton. I asked several people for restaurant recommendations, and everyone told me that Louie Bossi's is not to be missed.
The restaurant serves the brunch food that you'd expect, including scrambled eggs on avocado toast, French toast, and yummy breakfast meats. But they also offer Italian specialties like paninis, pizza, and fabulous prosciutto. Everything here is made on the premises, so you know it's fresh. While I didn't try their pizza, it got rave reviews from those who did. Some say it's the best pizza in Boca. The next time I visit, I will have to give it a try.
Louie Bossi's also serves up bottomless mimosas and Bloody Marys for brunch.
The Boca Raton restaurant is located next to the Hyatt Place, and there is basically no parking available, so it's worth it to pay a little extra for the valet parking. Especially when you leave stuffed, you'll be glad not to have a long walk to your car!
Pro Tip: Get a table on their gorgeous patio. You'll feel like you're in the Italian countryside at this fabulous outdoor spot!
4. The Office
On another weekend day, we enjoyed a casual outdoor brunch at The Office, located on Atlantic Avenue. The Office is a hot spot at night and serves breakfast as well. We didn't have a reservation, but we were able to get a table immediately. We had been at the Green Market Farmers Market just down the street and decided to grab some breakfast afterward. I think we got lucky with the immediate seating, because this place is just as much a bar as it is a restaurant, and some people might not know they serve brunch. In fact, when I looked online, The Office doesn't even mention brunch.
We sat at a table outside, and our very attentive waiter came over almost immediately. We both ordered pretty typical breakfast options — omelets and scrambled eggs. We wanted somewhere to stop for a quick, inexpensive brunch, and The Office fit the bill.
5. Park Tavern
Park Tavern is located just across the street from The Office, and we spotted it while walking along Atlantic Avenue. The restaurant specializes in drinks and also serves what I'd call elevated bar food. They have a very large outdoor dining area, where we were seated. That's the awesome thing about Delray — almost every restaurant has outdoor seating, which I really enjoy. At least in the months before the weather gets too hot, it's nice to be able to dine al fresco.
When we were there, Park Tavern was offering a number of interesting $5 brunch cocktails, including a blueberry mule and a spicy vodka cocktail. The vodka cocktail was made with green-chili-infused vodka, something that, even though I love spice, I'd never heard of. And, like most of the other places we went to, Park Tavern also had the unlimited mimosas and Bloody Marys. I'd definitely say the bottomless brunch drinks are a thing in Delray Beach!
The food at Park Tavern was definitely higher-end and a little unexpected, because I thought it'd be more basic breakfast fare. But they had great and unusual options like smoked salmon Benedict, breakfast tacos, smoked pastrami hash, shrimp and grits, and a grilled breakfast pizza.
6. Gary Rack's Farmhouse Kitchen
Gary Rack's Farmhouse Kitchen bills itself as a farm-to-fork restaurant, and their menu reflects their focus on fresh foods. They offer a large selection of veggie-centric dishes, and I'm a total vegetable lover, so the menu really appealed to me. I also liked the fact that they don't cook with butter, cream, or excess fat. It just goes to show that healthy food can be just as satisfying as the more unhealthy foods that seem to be everywhere.
Some of Gary Rack's intriguing brunch dishes include kale salads, an avocado Caesar salad, and the FHK Morning, which features cage-free eggs, chicken sausage, and roasted root hash. If you're a carnivore, they've got you covered with plenty of meat-centered menu items like chicken and waffles and steak and eggs.
Brunch is served on Saturdays and Sundays. There are locations in both Delray Beach and Boca Raton.
More on Delray Beach and Boca Raton: