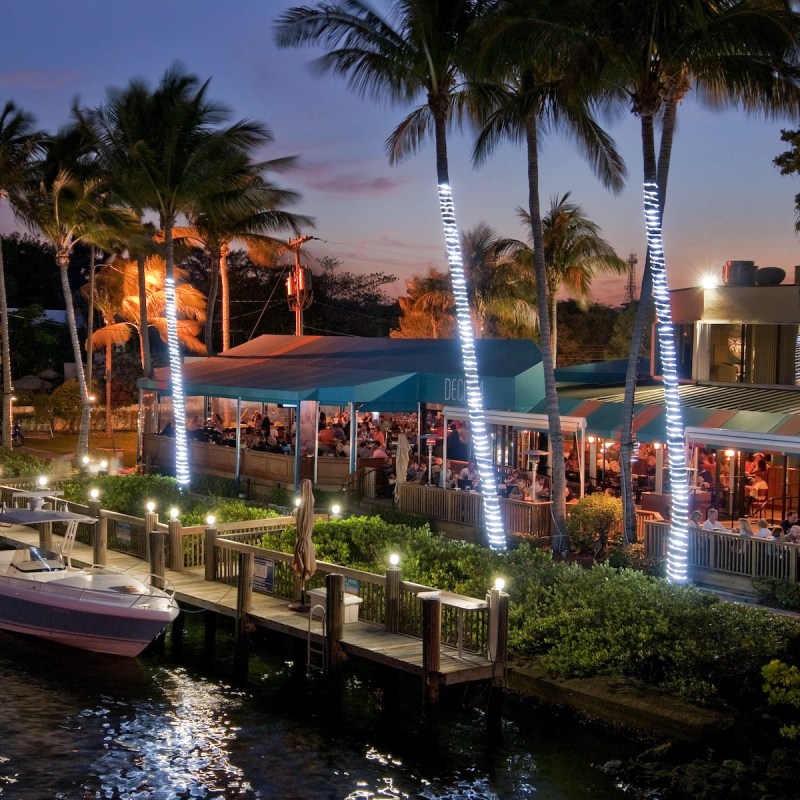 Delray Beach is a southeast Florida coastal town located north of Fort Lauderdale and Boca Raton. It's one of our new favorite places to hang out because it has a fun, young vibe and there's always a lot going on.
The place to be in Delray Beach is Atlantic Ave. This hotspot downtown near the beach is full of shopping and plenty of restaurants and bars. When we were visiting recently, Atlantic Ave. was hopping. And with the recent nice weather, outdoor dining spots are filling up super quickly. So if you're looking to eat at a specific restaurant at a certain time, your best bet is to call ahead to see if your place takes reservations.
Here's our list, in no particular order, of some of our favorite outdoor dining spots to try in Delray Beach.
Caffe Luna Rosa
On our first full day in Delray Beach, we decided to go to Caffe Luna Rosa and try breakfast at this award-winning restaurant. We stopped in for a late morning meal and really enjoyed dining al fresco while catching the ocean breeze. Here at Caffe Luna Rosa, the whole front of the restaurant is open, so you can sit outside on the sidewalk or you can get a table further back in the enclosed portion of the restaurant. So you have options. They've managed to combine authentic Italian cuisine and decor with a beachy feel that totally works!
We grabbed a table outside in the morning sun and settled in. The breakfast here was delicious. My omelet was perfectly prepared and came with a side of extremely fresh fruit. Even though it was only late morning and not yet 5 o'clock, we decided to order mimosas! What the heck, isn't that what vacations are for?! There's nothing better than knowing you can have a drink at 10 a.m. if you want to because you have no obligations for the rest of the day — other than hitting the beach!
We finished up our mimosa while people-watching on this busy corner. The cafe is directly across State Road A1A from Delray Beach, so there is a lot of activity on this corner, with many people walking around the area — some out for morning strolls, some heading to the beach, and some walking up Atlantic for more shopping. There are people around here all the time — day or night — so it's a perfect spot for people-watching!
I really love this cute little place! And there are many others who like Luna Rosa, because it was super busy when we stopped in. Every time we walked by, the restaurant was full. It's a very popular place. And it's no wonder. They've won all kinds of awards — everything from Best Oceanfront Dining to Best Italian to Best Outdoor Dining. Their Italian specialties looked incredible. Next time, we'll have dinner and wine!
Pro Tip: Breakfast is less crowded than dinner here, so your chances of getting a table outside are better!
Johnnie Brown's
Our first experience at Johnnie Brown's was on a weekday a little after the lunch rush. The place was pretty empty, so we actually debated about whether we should try it for lunch. We decided to take our chances because we were really hungry, and we settled in at a table by the entrance. You should know that there really is no door, per se, because the entire restaurant and bar are outside.
I've been on a salad kick, so I continued the trend here with an order of the chicken cobb salad. The cobb salad here is a winner. It was super fresh and so big I couldn't finish it all.
My son had ribs on his mind, so he ordered the half rack plus the BBQ sliders. He's a growing boy! The half rack came with fries and coleslaw. I thought he ordered way too much food, but somehow he demolished all of it. I tried the ribs and they were really good. Another top-notch lunch item we had was their sweet potato fries. Sometimes sweet potato fries can be limp and not too flavorful. That wasn't the case with these sweet potato fries. They were some of the best that I've had anywhere.
Another evening during our recent trip, we were walking around Atlantic Ave. looking to have a drink somewhere. We happened to be right by Johnnie Brown's and heard live music, so decided to head in to check out the band.
The evening vibe at Johnnie Brown's was great, especially with the live band. And it's apparent that the evening is when they make their money, as it was packed with almost no open tables to be found. Luckily, we grabbed one of the last tables. We started off with a couple of drinks, then ordered their special Shipwreck Platter that was full of all kinds of tasty things, like wings, sliders, coconut shrimp, corn fritters, and fries. And it was served in a very large boat that was totally unexpected and fun!
Deck 84
We love outdoor dining pretty much anywhere, but there's really nothing better than having dinner by the water! So waterfront restaurants were definitely on our list for places to explore while we were in Delray Beach. We happened to drive by Deck 84 a few times while driving over the Atlantic Avenue bridge, so we decided to give it a try.
Located right on the Intracoastal Waterway, the location is fantastic for watching the boats in the Intracoastal. You can even arrive by boat because they have a large dock just for that purpose. And if you've been fishing, you can actually bring in your catch and they'll cook it up for you! Talk about fresh fish!
I love the ambiance of Deck 84. They have a really large deck (obviously!) that is perfect for having a drink while catching the breeze off the water and simply relaxing.
We had a lot going on during the day, so we didn't get to Deck 84 until later on a Friday night, so the outside area was full. While we could have waited a short time for a table, we opted to eat inside the restaurant. I wasn't starving, so I went with an appetizer. The smoked fish dip was very tasty! My son, starving as usual, went for the Prime Deck Burger. The burger is huge and comes topped with bacon, cheese, and a fried egg. He devoured it in record time, so I know it was good!
I noticed they also have happy hour on weekdays from 3 to 6 p.m. Their happy hour specials include truffle fries, a five-layer hummus dip, and lots of specials on wine. And they also have a weekend brunch on Saturdays and Sundays.
If you're looking for a casual waterfront place with indoor and outdoor dining options, live music on weekends, and super fresh food, check out Deck 84. We really enjoyed our dinner!
Pro Tip: On weekend afternoons, they have live music on the dock, which is a super way to spend an afternoon.
Bostons On The Beach
Another great option for outdoor dining in Delray Beach is Bostons on the Beach. Bostons is a very popular, casual oceanfront restaurant and is known to be a place to go for a good time.
Bostons on the Beach is the perfect place to have a drink. If you're feeling like an adult beverage, Bostons has a selection of fun cocktails served by the pitcher. With names like Sandbar Mai Tai and Teenie Bikini, these drinks deserve to be sampled.
In terms of food, the menu is seafood centered and has selections like ahi tuna poke, crackling calamari, and mahi-mahi sandwiches. There are also a few non-seafood selections like the chicken sandwich, the Hot Stuff Sandwich, and the A1A Burger.
Pro Tip: Bostons also has a large collection of frozen concoctions, like our favorite, the Classic Rumrunner.
Sloan's
If you like ice cream, you've got to get to Sloan's in Delray Beach. Not only is the ice cream delicious, the ice cream shop is one of the most adorably decorated shops I've ever been to. It's done up in hot pink and so quaint and inviting that I'm betting you will hang around just to enjoy the ambiance as we did. And if you have kids, they will go crazy in the place!
In addition to ice cream, Sloan's has all kinds of treats, like cookies, brownies, and a wide array of candies. I had some of the chocolate fudge (in addition to my ice cream), and oh my goodness was it good. My friend is a Spanish peanut fanatic, so she ordered Carol's Spectacular Spanish Peanut ice cream. She ate every single bite!
Sloan's has outdoor seating right in front along Atlantic Ave., so you can lick your ice cream cones while you check out all the action along the avenue. It's one of my new favorites, and I'll be back next time I'm in Delray Beach!
Related Reading: