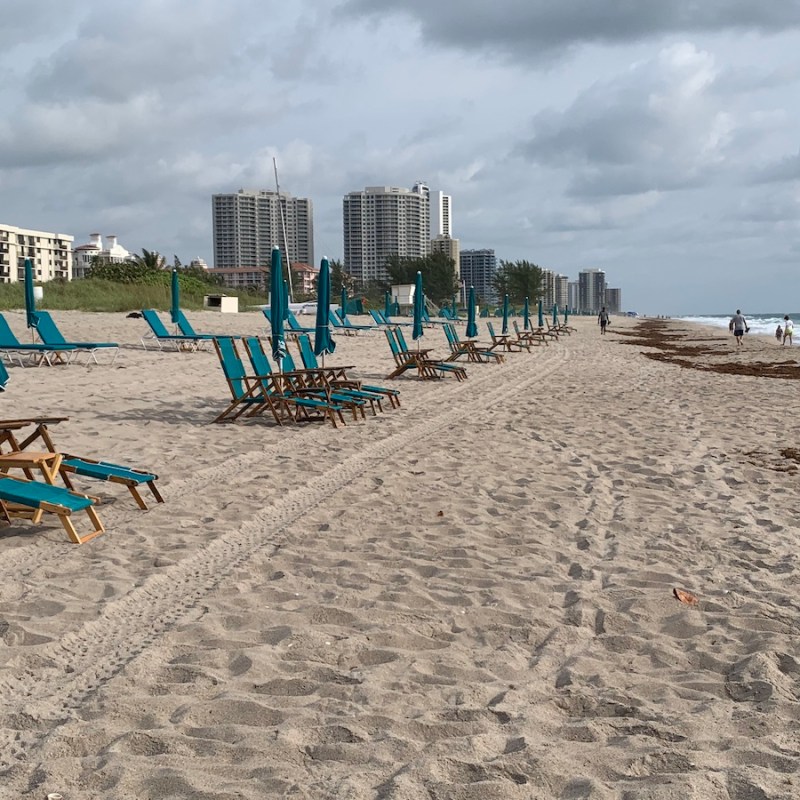 Brilliant sunshine, long sandy beaches, and pineapple-kissed pina coladas are quintessential coastal Florida. High-rise condominiums and luxurious resorts line the beaches for miles, evoking dreams of turquoise waters, coconut-scented sunscreen, and lazy summer days. When you live anywhere but Florida, you dream of palm-tree-lined beaches where you can grab a chair and sit for days on end. Now is the time for a Florida road trip to make your fun-in-the-sun summer vacation a reality.
Head up the coast on Route 1 for an iconic Florida road trip. When you can, slip off to Route A1A and find yourself up close and personal with the local beaches, spectacular seaside homes, tiki-hut-inspired bars, and fabulous seafood shacks.
Some information in this piece was obtained during a sponsored press trip, but all recommendations are my own.
1. Miami
No place says Florida like Miami. There is more to Miami than the sensational beach culture, though; Miami is a foodie mecca, an international banking center, an outdoor adventure playground, and a place where the rich and famous come out to enjoy life.
The beaches, of course, are gorgeous and filled with sunbathers of all ages. Canals run through the city, affording boat access even to the banking and legal center in the Brickell neighborhood. Brickell is dominated by gleaming businesses, spectacular world-class hotels, and fine-dining restaurants; it is the perfect place to begin your road trip.
A stay at the Kimpton EPIC Hotel, with its approachable opulence and central Brickell location, is a vacationer's dream. Gorgeous suites and a 16th-floor infinity pool with cabanas, a large deck, and a view that goes on for days will make your stay a truly epic adventure. On the lobby level, you will find Zuma, an internationally renowned Japanese restaurant. You won't want to leave the hotel, but if you do, it's a quick ride to Miami Beach. Enjoy some rowdy adventures, and then head back to this tranquil oasis of elegance.
Don't forget to swing by Little Havana for some authentic Cuban cuisine. After you have tasted your way up and down Calle Ocho, finish your visit with a decadent frozen treat from Azucar Ice Cream Company. Their specialty flavor options will make your dessert decision difficult.
Pro Tip: Driving in Miami can be crazy, so use a ride-share service when you set out for the evening. Without worrying about traffic or parking, you can enjoy all the nightlife the city has to offer.
2. Miami Beach
South Beach is synonymous with Miami Beach. However, there are other beach options to explore. The Miami Beach Walk is a 10-mile stretch of paths, parks, and boardwalks that begins on the southern tip of South Beach and ends in Bal Harbour. Along the way, walkers are treated to beautiful sandy vistas, fun beachy bars, and art-deco architecture.
The dining options run the gastronomic gamut. The Osteria Morini serves classic Italian cuisine in a chic space that reflects the Miami vibe. Begin with the Battilardo, an appetizer board with mouthwatering items like 24-month-aged prosciutto di Parma, 32-month-aged Parmigiano Reggiano, and fegatini (duck liver mousse). It's a tough act to follow, but the selections get better and better. Give the branzino, tagliatelle, or any of the other delectable options a try.
Pro Tip: South Beach is hip and happening; however, there are plenty of perfect spots in the sand. For a quieter experience, try one of the other city beaches, where you can spread out as you soak up the sun.
3. Aventura
North of Miami is the city of Aventura. Shoppers will love the Aventura Mall, home to classic stores, trendy new boutiques, fun restaurants, a large food court, and a farmers market. Be sure to remember where you park — there are five parking garages attached to the mall! When you finish your shopping expedition, making your way back to your car can be an adventure.
The JW Marriott Miami Turnberry Resort & Spa is the perfect place to stop for a relaxing getaway on your coastal drive. If you golf, you will love playing on either of their two courses. And if your grandkids are along for the ride, they will be excited to spend the day at the resort's Tidal Cove Waterpark. Whether they're floating down the lazy river or zipping along in the inner tubes, the kiddos will adore the spectacular pool area.
4. Fort Lauderdale
In Fort Lauderdale, the beaches are wide, sandy, and lined with high-rise hotels and condominiums. Relax in the sand or enjoy your favorite water-centric adventure.
Jump on a floating tiki bar with a group of your besties for a fun cruising experience on the canals of Fort Lauderdale. Cruisin Tikis will take you out and about on the water for a unique experience complete with adult beverages. This joyride is one of those once-in-a-vacation adventures that will fill you with giggles and make great memories.
5. Pompano Beach
Just north of Fort Lauderdale, Pompano Beach is a quieter neighbor that offers great stays, wonderful restaurants, and fishing, golfing, and boating opportunities.
Pompano Beach is also home to the Goodyear Blimp Base. The base does not offer regular tours, but you can request one by email if you're a true blimp enthusiast.
6. Wakodahatchee Wetlands, Delray Beach
The Wakodahatchee Wetlands provide migratory and local birds a safe haven to nest. As the seasons change, you will encounter different species at different stages in their life cycles. Walk along the boardwalk and view an assortment of birds in their natural habitat. Bring your camera, your binoculars, and your sense of wonder. Admission to the wetlands is free. Wakodahatchee is a wonderful place to stretch your legs and enjoy the beauty of Florida's avian population.
7. Palm Beach Shores And Palm Beach Gardens
Hundreds of beach chairs and umbrellas line the Palm Beach Shores sands. It is the perfect place to plant your weary bod and soak up the rejuvenating Florida sunshine. With its high-rises and sprawling beaches, gorgeous Palm Beach Shores will wash your cares away.
The PGA National Resort & Spa in nearby Palm Beach Gardens is a golfer's paradise. The resort boasts five courses featuring open fairways, beautiful water features, and challenging sand traps that will test your skills. Finish the day at the 91st hole to recap your game. A stay-and-play golf package at the PGA National will put you at the heart of the golf world of the Palm Beach area.
8. Riviera Beach
Not only are the beaches in Riviera Beach gorgeous, but an after-dinner stroll along the harbor is a romantic way to cap off a perfect Florida beach day.
Grab a fun, vacation-inspired cocktail and a small plate to share at Rafiki Tiki while you watch the moon rise over the harbor.
9. Coral Cove Park, Jupiter
The Jupiter area, including the village of Tequesta, is a stunning location with inlets, beaches, and luxury homes. Coral Cove Park offers a beautiful beach where you can canoe, kayak, fish, snorkel, or simply enjoy the unforgettable scenery and weather that the coast of Florida offers residents and visitors.
10. Hobe Sound
Another beautiful spot on a road trip from Miami to Vero Beach is Hobe Sound. Nature lovers will be enchanted by Jonathan Dickinson State Park. It's the perfect place for an overnight camping stop or a picnic lunch.
Blowing Rocks Preserve is another gorgeous place to stop. The preserve is a perfect example of a limestone-studded beach, is home to a sea-turtle preserve, and boasts intriguing mangrove forests.
11. Vero Beach
The beach towns along Florida's east coast are consistently beautiful, and Vero Beach is no exception. Home to an assortment of beaches, Vero Beach is a great place to swim, enjoy water activities, and soak up the soul-warming Florida sunshine.
Stop at the McKee Botanical Garden, where you can explore tranquil lily ponds. Wander through the Stickwork sculpture exhibit, a three-dimensional, nature-focused art installation. This is not your average botanical garden!
More Florida road trips: