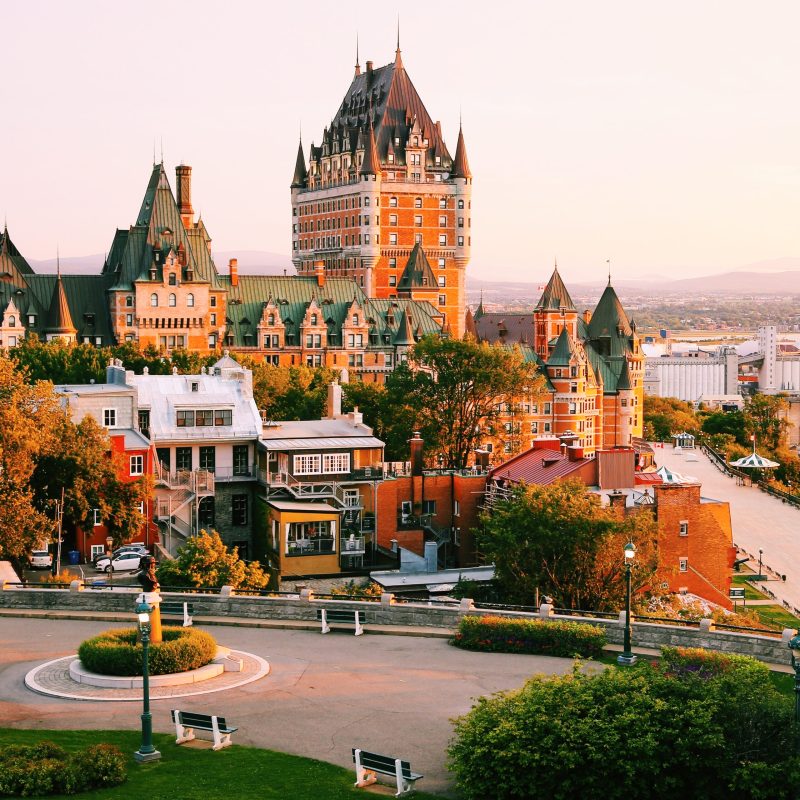 Quebec City is a city of legends. It's one of the oldest cities in North America, and it's the only walled city in North America outside of Mexico. Those walls contain an old town that is often described as one of the most romantic and picturesque in the world. Capping off the splendor is the world's most-photographed hotel, the Fairmont Le Chateau Frontenac, a majestic building worthy of Cinderella.
If your weekend getaway in Quebec City consisted of nothing more than wandering around and soaking up the sights, it would be time well spent. However, the city has thriving art, history, food, and shopping scenes, all waiting to be explored.
Here are the best things to do on a weekend getaway in Quebec City.
Try Some Maple Syrup At Delices Erable & Cie
A combination of a maple museum and sweet boutique, Delices Erable & Cie is a cooperative whose members tap more than seven million maple trees across Canada each year. Its mission has always been to promote maple products, and visitors to its center in old Quebec City can learn all about the maple manufacturing process and — best of all — indulge in samples.
Maple isn't the only product the shop features. It recently added cranberries and honey to its roster! It claims that its dried cranberries are the best you'll ever try, thanks to a longer, slower drying process.
People-Watch In The Quartier Petit Champlain
When people imagine Quebec City, chances are they are thinking of the Quartier Petit Champlain. This sweet neighborhood is oozing with charm. Anywhere else it might look a bit over the top, but in Quebec City, it's just right. The cobblestone streets are lined with cute shops, fun cafes with outdoor patios, and tons of photo opportunities.
Learn About The Battles That Shaped Canada
There was a time when Quebec City was decidedly less about charm and more about power. Some of the most important battles in North American history were fought here and visiting this attraction is one of the most enticing outdoor attractions in Montreal.
Today, the Plains of Abraham is a beautiful field with a great view, but in September of 1759, it was the site of the Battle of Quebec, during which the French lost Quebec City to the British.
At the Citadelle, visitors can see the result of the British conquest of the city. The Citadelle is the largest British fortress in North America. It took 30 years to build — from 1820 to 1850 — and was designed to defend Quebec City from the French forces. Today, visitors can check out the onsite Musee Royal 22e Regiment, which pays tribute to one of Canada's best-known military regiments.
If military history is your thing, you should also check out the small Musee du Fort at the foot of the Chateau Frontenac. It showcases the military history of Quebec City with a 400-foot model of the city (as it existed in 1750) and a light-and-sound show covering the six sieges the city has faced.
Get "Swept Away" At Montmorency Falls
Quebec City isn't just an incredible destination for history and charm — it's also home to some amazing natural features. Just 15 minutes from downtown, Montmorency Falls is a spectacular display of the power of water.
You can view the falls from a suspension bridge at the very top or from a gondola that runs between Ile d'Orleans and Quebec City. If you're feeling adventurous — and I mean really adventurous! — you can also see the falls via a zip line that brings you very close to the action.
A year-round destination, Montmorency Falls is the site of ultimate adventure for thrill-seeking ice climbers in winter. There's really nothing like it!
Experience Hands-On History At The Musee De La Civilisation
The hands-on Musee de la Civilisation covers a mix of current, historic, and international topics and is fun for the whole family. The This Is Our Story exhibit was created in partnership with 11 indigenous communities as a way of celebrating their cultures. On weekends, the museum hosts special costume workshops designed just for kids.
It's the perfect place to visit during a particularly hot or chilly day, and you'll never look at Quebec City quite the same way again.
Eating In Quebec City
Some of Canada's oldest restaurants are located in Quebec City, but the food scene is anything but old-fashioned. Local cheese, produce, and game are all popular menu items, and overall, dining in Quebec City is relaxed and affordable.
Here are some of the best places to eat in town.
Fromagerie Des Grondines
Fromagerie des Grondines is an amazing cheese store that also carries a wide variety of local products. It makes a decadent gourmet grilled cheese sandwich that you have to put on your Quebec City foodie list.
1608
This chic bar within the Chateau Frontenac is the perfect place to go for martinis and desserts like creme brulee.
Chez Ashton
Rumored to be the birthplace of poutine — the beloved Canadian dish of hot French fries, gravy, and cheese curds — Chez Ashton has several locations in Quebec City.
Hobbit Bistro
This stylish bistro has amazing combinations at very affordable prices. Dishes like duck breast with hazelnut and lavender sauce, creamy orgetto and delicata squash, and mackerel escabeche with tomato and red pepper sauce, confit potatoes, and lemon sour cream ring in at under $20.
Le Lapin Saute
The spot to go for a memorable night or a romantic meal, Le Lapin Saute serves up its signature item, rabbit, as well as local cheese fondue, boar shepherd's pie, and duck confit lasagna. Make reservations in advance.
Creperie Le Billig
Traditional buckwheat crepes have been enjoyed in Quebec City for centuries. At Creperie Le Billig, just outside the walls of the old town, you can get multiple varieties, but the most popular remains the classic ham and cheese.
Shopping In Quebec City
Without a doubt, you'll find Quebec City's most popular shopping street with ease. Rue du Tresor, a small alley in the heart of the old town, is home to numerous artists selling prints, magnets, and other artistic souvenirs. Just follow the crowds and you'll stumble upon the alley! While the vendors are certainly out to connect with tourists, there is genuine talent here, and some pieces are priced accordingly.
A bit farther afield, keep an eye out for these tempting shops.
Coeur De Loup
Quebec City is home to stylish people and stylish shops. Coeur de Loup is a fantastic spot to soak up some of that local flair. This women's clothing store features lines made entirely in Quebec and offers on-site tailoring.
La Planque Jeux Video
Get your geek on at the best video-game store in town. Collectors will love La Planque Jeux Video's cool video-game themed decor and knickknacks.
Cassis Monna & Filles
Located on the nearby Ile d'Orleans, Cassis Monna & Filles is a fun purple shop dedicated to all things blackcurrant. You'll find blackcurrant mustard, compotes, jellies, granola, and — best of all — delicious liquor!
La Boutique De Noel De Quebec
Quebec City is especially magical during Christmastime, when the entire city seems to glow and twinkle. But you can take home a piece of the holiday spirit any time of year at La Boutique de Noel de Quebec. This year-round Christmas shop is the perfect place to find a gift for that hard-to-figure-out person — or simply a special souvenir for yourself.
La Folle Fourchette
One of the most beloved cooking stores in Quebec City, La Folle Fourchette is the place to go for stylish, high-end cooking and kitchen supplies, as well as unique cookbooks. Browsing here is a serious temptation — don't say we didn't warn you about overloading your suitcase! The shop also offers cooking classes and demonstrations.
Rituels
Everyone deserves some pampering now and then, even the guys! Located in the Quartier Petit Champlain, Rituels sells sleek, modern shaving sets, skincare products, and grooming products for men.
Boutique Jupon Presse
This sweet shop specializes in clothing, jewelry, and accessories with a distinctly feminine flair. It's the kind of place where you can pick up a gold silk dressing robe, a velvet sweater, or some dainty, stackable rings.