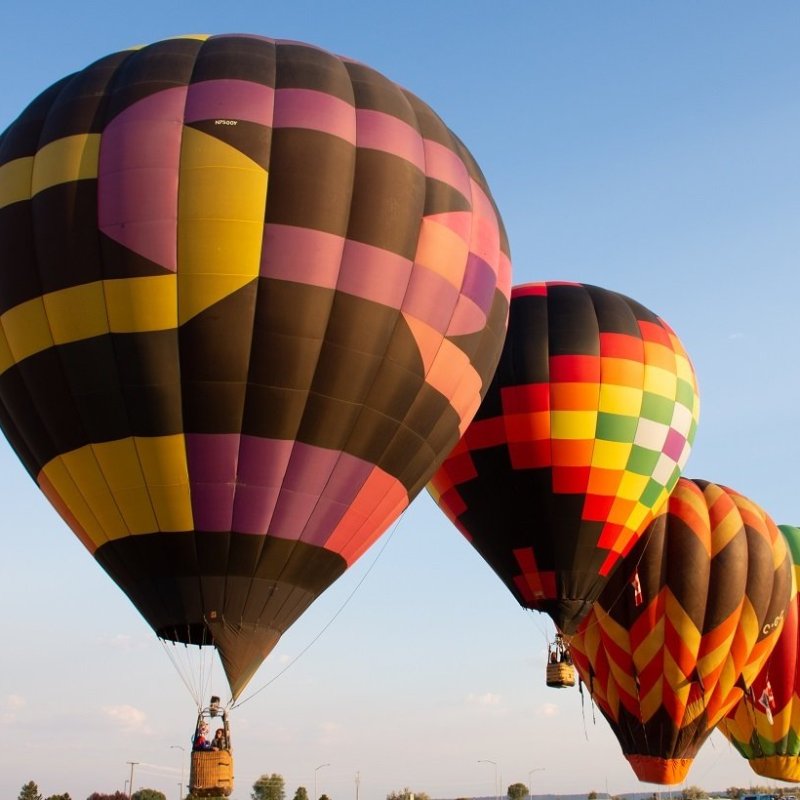 According to author A. A. Milne, "Nobody can be uncheered with a balloon." My first hot air balloon ride was a gift from my mother-in-law. She had a knack for giving her son and me great birthday gifts since our birthdays were two weeks apart. One year, our gift was a behind-the-scenes tour of Cape May zoo that included petting snow leopard cubs and feeding lemurs.
The following year, in 1993, it was a balloon ride over rural New Jersey. At dawn, we glided over farmland, spotted deer and fox, drifted over streams and hardwood forests. Yes, my mother-in-law had done it again. Choosing the gift of an experience I would never forget. It was simply magical.
I am preaching to the choir when it comes to adding experiences rather than objects to your life. As travelers, we seek to do just that every time we set out on a new adventure. If you're ready to see the world from the vantage point of a hot air balloon and lose any uncheery feelings you might have, here are 11 things to know before your first time:
1. It Could Be Love At First Flight
It happens so gradually, you might not even realize you've started floating above the landscape until you see the shadow of your balloon moving below. You quietly drift along, getting a view of the world below as the birds do. The quiet is only interrupted as the pilot ignites the burner and sends more hot air into the balloon. ·
From this vantage point, you'll have the opportunity to see the big picture — a hardwood forest's canopy of autumn leaves, a lion hunting an ibex, or an ancient city's labyrinthine passageways and inner courtyards where children play soccer and women hang laundry.
2. It's Worth Every Penny
Balloon ride costs vary based on the length of the ride, the popularity of the destination, and whether or not a champagne toast or breakfast are included with the excursion. The average cost of a flight in the U.S. is $175 to $300 per person.
A flight over Napa Valley will start at $250 for a 45- to 60-minute ride with up to 12 passengers in the basket. A flight over New Jersey's Hunterdon County and the Delaware River is $175 per person for four passengers.
For hot air balloon rides over the more exotic Valley of the Kings in Luxor, Egypt, the prices are less expensive, starting around $85 per person. In contrast, a hot air balloon safari over the Masai Mara in Kenya starts at $420 for an hour-long flight.
3. Safety Is A Priority
On my first hot air balloon ride, I didn't think much about having a will, advanced directives, or having up-to-date beneficiaries on my 401K. I knew most of the student loan debt would be forgiven with an untimely death.
I thought more about safety on the two subsequent hot air balloon flights. But the risk/benefit ratio strongly favored climbing aboard — both construction and government oversight make ballooning a very safe mode of transportation.
Today, the balloon is made from ripstop nylon and the basket reinforced with metal, all in the interest of safety.
In the U.S., the Federal Aviation Administration (FAA) governs both the pilots and the hot air balloons. Pilots are licensed and equipment is inspected at regular intervals. For international ballooning, review the hot air balloon company's credentials and the country's requirements for licensing pilots.
4. The Weather Must Be Perfect
In the interest of safety, pilots cancel flights if the weather isn't perfect for flying. A storm, windy conditions (over 8 to 10 miles per hour), low-lying clouds, fog, or anything that hampers visibility mean your balloon flight will be canceled.
When you research a balloon company, look over their cancellation policy. Will they only reschedule your flight, or will they offer a refund if you aren't able to reschedule?
5. It's A Dawn Or Dusk Adventure
Often the best ballooning conditions occur several hours after dawn or before dusk because winds are calmer at those times.
A sunrise balloon flight will have you out of bed early. You'll arrive at the launch site in time to watch the balloons being inflated at sunrise.
Pro Tip: When planning your day, prepare for a 3 to 4-hour outing.
6. You Need To Consider Your Health
Most tour companies caution against flying if you have back or neck trouble. It isn't the flying but the landing that can aggravate your spine, as the landing can be abrupt. Anyone with a history of spine fractures or pinched nerves should check with their physician before booking a flight.
If you're traveling with family, be aware pregnant women can't fly, and some companies don't allow children under eight. Reputable hot air balloon companies list their restrictions on their websites.
Anyone weighing over 264 pounds may have to buy a second ticket.
When it comes to ADA compliance, most balloons are not wheelchair accessible. However, BlastValve.com lists 15 U.S.-based hot air balloon companies with wheelchair-accessible baskets.
Pro Tip: Most ballooning websites mention you have to be able to get yourself in the basket. I'm short and have always had help getting over the basket sides that are about 4 feet high. There are little toe holds on the outside of some baskets to help you climb aboard.
7. Standing Room Only
Prepare to get cozy with your fellow travelers. Commercial hot air balloons usually carry six to eight people, including the pilot. You'll be standing (except for the ADA-compliant balloons) for the entire voyage.
Pro Tip: Limit what you carry on. There is no room to place your belongings at your feet in a fully-loaded basket.
8. What To Wear
Wear comfortable clothes geared for ground temperature. Layers work best. Every time the pilot activates the giant blow torch, the temperature in the basket rises, so it's not as cold as you might expect, given the altitude.
9. Leave Your Dramamine At Home
Everyone has been on a plane that hits turbulence and has experienced the sickening feeling of a plane that drops and bounces and makes you wish you'd driven instead.
Hot air balloons ascend without you even being aware you're airborne. Elevation changes are gradual and smooth, and you'll be so mesmerized by the view you'll scarcely notice the balloon is moving.
10. Camera Tips
On a balloon flight over the Masai Mara, two fellow passengers were so focused on getting photos and videoing the trip, they forgot to look at the scenery. I love to get the perfect shot, too, but there is no possibility of darting from side to side to get your pictures. Be patient. As you glide over the landscape, scenes will unfold beneath you that are breathtaking no matter what side of the basket you're standing on.
That said, no picture can capture the experience. I hope you'll put the camera down and take the time to appreciate the quiet, unobstructed view as you float over some of the most beautiful places on earth.
Pro Tip: A photographer's vest works well to keep lenses handy. A large camera bag or backpack isn't practical in the limited space.
11. What Goes Up Must Come Down
Laws of physics dictate that what goes up must come down. In the case of a hot air balloon that isn't equipped with landing gear, the transition between being airborne and grounded can be abrupt.
Brace yourself for landing. The basket may land upright. It may hop or bounce. And it may come to rest on its side so you'll just slither out of the basket.
Since hot air balloons aren't steered, the landing place is "to be determined." Rest assured, trackers keep an eye on the balloons. If a traditional champagne breakfast is included in your outing, they'll either transport you by car or move the feast.
Pro Tip: If you get the chance to see the Albuquerque International Balloon Fiesta held in October, you can learn the history of ballooning (beginning in the 1700s) at the Anderson-Abruzzo International Balloon Museum while you're there.
Related Reading: