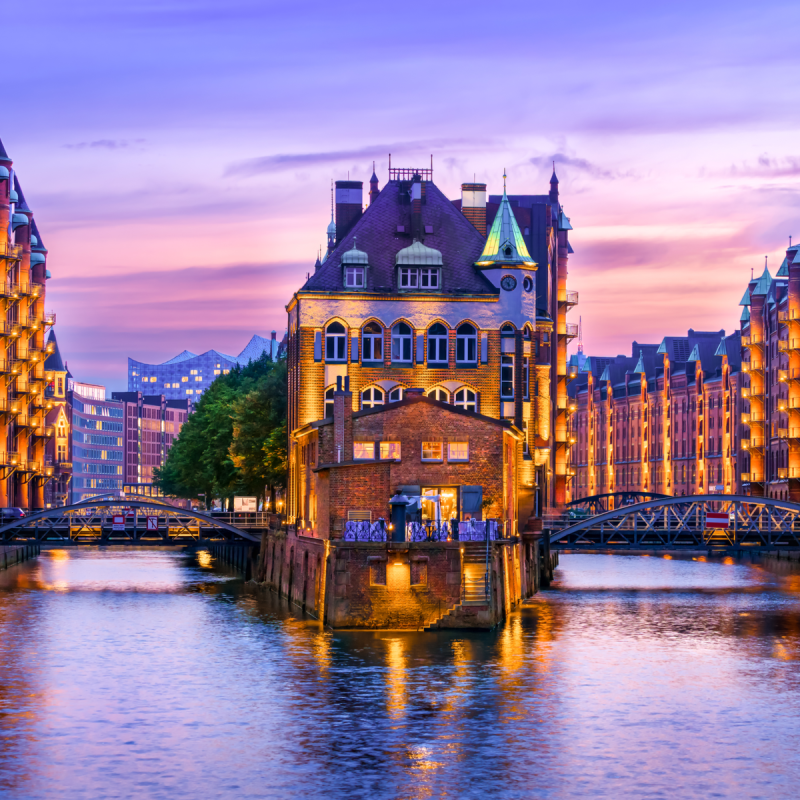 May is probably the best month of the year, don't you agree? Warm enough to sit outside on cafe terraces, cool enough to walk around exploring a city without breaking into a sweat. Trees decked in young, fresh green leaves, flowers still popping up everywhere, and people smiling at the sunshine. It's quite simply a perfect month to travel to Europe and enjoy city life.
While probably every single European city is lovely to visit in May, some have a little something extra to offer. This is my selection of favorites for you to sample and plan for.
1. Hamburg, Germany
Hamburg, my hometown, is a great city to visit year-round. Hamburg has beautiful architecture; great river and lake walks; more bridges than Amsterdam, Venice, and Stockholm together, each with a photogenic view of the city and its many swans; a huge biannual fairground fest; the Dom; and plenty of good shopping, restaurants, and cafes. But, if you had to choose one reason and one time to visit, choose the first weekend in May. The world's biggest harbor festival, the Hamburger Hafengeburtstag, the Hamburg Harbor's birthday, is a spectacle not to be missed.
The river Elbe fills with historic tall ships, cruise ships, sailing and motorboats, fire-ships, tugboats, basically anything that floats. There is barely a drop of water visible between the boats. Ship parades, music events, the aforementioned funfair, fireworks, food stalls, and much more all get crammed into one weekend, and it couldn't be more spectacular.
Pro Tip: Book early and get yourself a room with a view in the Hotel Hafen Hamburg, or at least a table on the terrace for a meal with the best view in town.
2. Bath, UK
After my hometown comes the city where I got married. Beautiful Bath is even more beautiful in May. The parks are alive and the pedestrianized streets filled with chairs and tables to sit out with a Jane Austen novel at the ready, enjoying the historic surroundings. While that would generally be enough to relish Bath to the fullest, the Bath Festival is the cherry on top. Ten days are crammed full of classical and other concerts, debates on culture and arts, and all sorts of events taking over many historic buildings and outdoor locations, making the most out of Bath's architectural marvels.
Pro Tip: Book yourself lunch at The Hive Restaurant right by the fabulous Pulteney Bridge, a UNESCO World Heritage site overlooking the Avon weir. The food is good, too.
3. Coopers Hill, Gloucester, UK
While you are in Bath in May, take the opportunity to visit one of the world's weirdest festivals: the annual Cheese Rolling Festival in Gloucestershire, some 37 miles north of Bath. Seriously silly and dangerous to join, but fun to watch: Every year, a gigantic wheel of Double Gloucester cheese is rolled down a very steep, 1:2 gradient hill, and a bunch of contestants, taking this very seriously indeed, try to catch it. First across the line, wins. The festival, which is now made up of four races, is said to have started in the 15th century, I am guessing by someone who dropped their cheese, tried to catch it, and thought he'd bring some friends along to join in the fun, and attracts lots of people cheering on those chasing the cheese.
Pro Tip: Rent a car and take the country roads, not the motorway, between Bath and Gloucester, as this is part of the Cotswolds, and you stumble across one village (or pub) more inviting than the next as you go.
4. Florence, Italy
Italy, even northern Italy, is simply too hot to enjoy in summer, and yet the crowds get unsurmountable and take the fun out of la dolce vita. Florence especially gets very crowded, and the queues for the Uffizi simply mind-bogglingly long. Come early in May, though, and you can enjoy the gorgeous gardens in bloom, such as the Rose Garden with its panoramic views across Florence, and take in the historic flag-throwing event, the Trofeo Marzocco, that takes place each May 1 on the Piazza della Signoria. May 1 is also Labor Day, which means many businesses are closed and people are enjoying a day off work, but generally, the crowds are more local than touristy.
Pro Tip: On the first Sunday in May, in fact, every month, a lovely antique market takes place in the small town of Fiesole on Florence's doorstep. Great for some unusual souvenirs.
5. London, UK
London from late spring to early summer is perfect for strolling through the lanes, enjoying feeding the squirrels in the parks, and hanging around the Thames soaking up sun rays. But there is one event that makes a May visit even more interesting: The Chelsea Flower Show. Even if you are not normally keen on groomed parks and organized flowers, this is the best of the best, in England at least. Royals and international celebrities flock there, having flowers named after them, and the sheer size and selection of blooms are amazing regardless of if you have a green thumb.
Schedule in at least 2 or 3 hours if you are not extraordinarily fond of flowers. If you are, then plan to spend the day. You might even bump into the Queen.
Pro Tip: If, after all that nature, you could do with some contemporary art, the Saatchi Gallery is only steps away from the Royal Hospital Chelsea grounds.
6. Palma, Mallorca
Mallorca is one of the best-loved islands for Europeans. Especially the Germans and the English flock there. But don't let that put you off, as the crowds tend to come in summer, and in May, you will have perfect balmy temperatures of 72.5-degree Fahrenheit highs and 59-degree lows with little rain. You can also enjoy the capital Palma on foot without breaking a sweat. Palma is a lovely old city full of history, a great marina where you can marvel at the royal family's stunning yacht, and cobbled lanes full of boutiques selling sunny outfits and typically Spanish home decor items. It is also a great place to rent a car and enjoy the truly varied countryside of the largest Balearic island. Head for the mountains and enjoy the vistas.
Pro Tip: The Palma Vela sailing regatta sets off from Palma on April 28, racing around Palma Bay for 8 days, culminating in a grand finale on May 7. The regatta is accompanied by various events taking place around the Palma Marina.
7. Riga, Latvia
Riga is one of my favorite Baltic state capitals. It is perfectly walkable and historic and has superb restaurants and beer gardens, plus a daily fresh produce market located in a set of the most enormous hangars, designed to hold zeppelins, you have ever seen.
In May, the ancient city has emerged from its winter hibernation but its pubs, bars, and streets aren't yet overrun with stag and hen (or bachelor and bachelorette) party revelers. In May, you can meander through the streets and explore without too much of a crowd and sit by the City Canal or take a boat ride, looking out for the ever-elusive beavers that reportedly live there.
Pro Tip: On May 4, Latvia celebrates the Day of the Restoration of Latvian Independence, with military parades held across the country. But this is a normal working day, and shops, museums, and restaurants remain open.
8. Bratislava, Slovakia
Bratislava is a delightful little capital city. It has a medieval part dotted with a selection of statues depicting weird and wonderful characters, from paparazzi to a man emerging from a manhole, and several other art trails. Outside the old town, there is an opera house, small but in grand style, a castle on a hill overlooking the town, plus a somewhat sci-fi and appropriately-named UFO viewing tower on the bridge across the Danube, with toilets offering spectacular views. In May, you don't get the crowds, nor those stag parties that also have reached the area by now, and the temperatures are perfect even for climbing the castle hill.
Pro Tip: In late May, food stalls take over the streets of Bratislava, with the Slovakia Food Festival taking place. Do not forget to try the Lokse pancakes.
9. Girona, Spain
Girona, roughly halfway between Barcelona and the Pyrenees, is a superb but often overlooked city on the river Onya, a little reminiscent of Bilbao. In May, the temperatures are perfect for scaling and walking along the medieval city walls, as any later in the summer, it gets too hot. Equally, you can walk across the bridge, Pont de les Peixateries Velles, a Gustave Eiffel construction, and meander through the medieval streets spotting filming locations for Game of Thrones.
Pro Tip: In mid-May, the Girona Flower Festival takes place, showcasing art, kitsch, and many flowers across the city.
10. Madrid, Spain
Madrid doesn't need many reasons to be on anybody's travel itinerary, but in May, the city pulls out all the stops for the Fiesta de San Isidro, Madrid's largest traditional festival. Celebrating the city's patron saint San Isidro, the fiesta starts off with a procession of Giants and Bigheads, and continues during the week with countless music events, stalls, theater, and dance; basically, a great big, fun Spanish fiesta that ought not to be missed.
Pro Tip: In Spain, one fiesta rarely turns up alone, and on May 2, Dos de Mayo is celebrated in and around Plaza Dos de Mayo. Celebrating Madrid's win against Napoleon's armies in the early 1800s, there are military parades, concerts, sports events, and food and drink. 
11. Venice, Italy
You might have missed Carnivale this year, but Venice is always a good idea, especially in spring. And in April, there is another reason to pop over to the canal city: The Venice Biennale. In 2023, its focus on architecture will be one of the world's most important art festivals. Opening in late April and continuing until late November, more than 200 artists from around the globe showcase their work at the Biennale. There are often additional exhibitions throughout the city at stunning locations such as the Gallerie dell'Accademia.
Pro Tip: Even a watery city like Venice has its spring blossoms, and during early May, many walled gardens showcase wisteria blooms creeping over the walls. They are especially spectacular in the Royal Gardens.
For the most incredible European destinations: