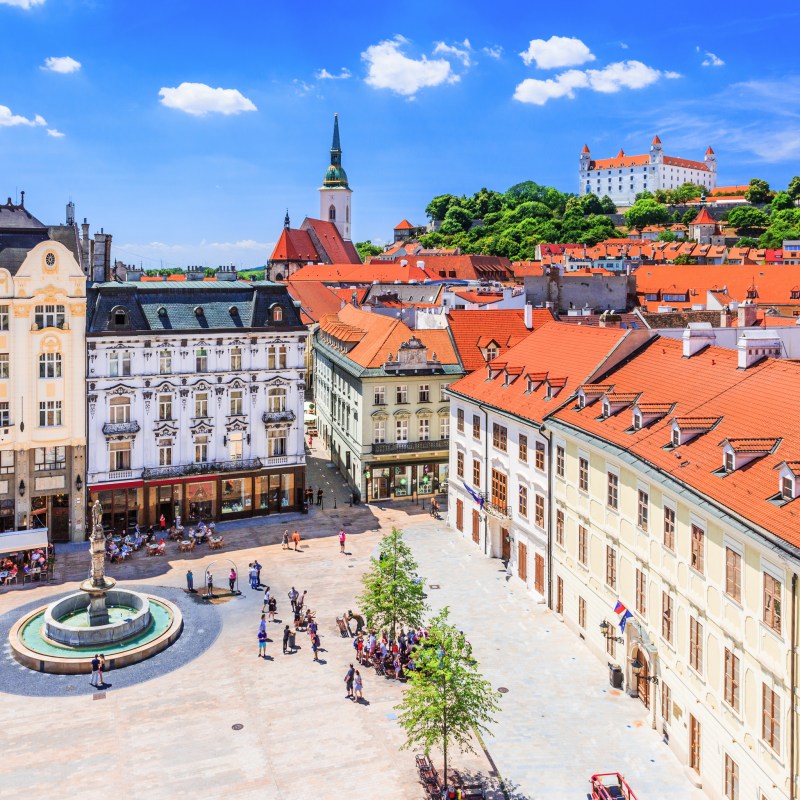 Poor Bratislava often gets overlooked. Its next door neighbor, Vienna, is far flashier. Its position on the Danube River is nice enough, but it can't hold a candle to Budapest. And then there is their historical rival, Prague, to whom Bratislava had to play second fiddle when their respective countries were unified as Czechoslovakia. And all that is a shame, for Slovakia's capital city is filled with charm, history, yummy food, and a lighthearted, easygoing attitude that makes a 24-hour trip a mini vacation in itself. And it's remarkably affordable too. Here are 8 gotta-check-them-out attractions that should be on everyone's Bratislava bucket list.
Staré Mesto (Old Town)
With all due respect to other neighborhoods. Staré Mesto is THE place you want to be in Bratislava, especially on a 24-hour visit. It's delightfully walkable, with a lively street scene that includes busking musicians, locals chatting it up at cafes, and cute shops. If you need a pick me up while exploring, Urban House (Laurinska 14) serves hipster cafe staples like avocado toast, flat whites, and gourmet lemonades. Before you say "that doesn't sound like traditional Slovak food to me!" – it really is. Or, at least it is in trendy, student-friendly Bratislava in 2019.
Hviezdoslavovo Namestie.
This is the place to see and be seen in Bratislava. This plaza at the end of the main pedestrian street has plenty of bars and restaurants and is home to the Slovak National Theatre. A stop to look around Hviezdoslavovo Namestie is included on the excellent English language tours offered by the tourism board. Tours are offered every day at 2:00 pm. They also organize a long list of specialty tours, including a tour just for joggers, a craft beer tour, and – at the top of my wish list – a tour for people with a sweet tooth!
Public Art
While wandering on your own or participating in a city tour, you'll be sure to see a few of Bratislava's famous pieces of public art. The city is well known for its whimsical, irreverent sculptures, including the beloved "Cumil", who pops up from a sewer hole to peer at the pedestrians. Another, Schone Naci, depicts a legendary local ladies' man who was constantly doffing his top hat. While on your quest to see as many sculptures as possible, be sure to stop for some ice cream. Bratislava has a fantastic ice cream scene. The combination of Italian gelato and Hungarian style chimney cake cones makes for a delicious combination.
Most SNP
The Most SNP ("most" means bridge in Slovak) is a bridge over the Danube River, topped by a UFO. No, really! It's a combination of viewing platform and restaurant whose unfortunate presentation of Soviet modernism makes it look exactly like little green men have landed. Thanks to the "UFO", Bratislava has one of Europe's most unique skylines. So much of the city is charming and quaint, making the vestiges of Soviet occupation stand out all the more.
It's a neat place to check out and enjoy a drink but be prepared to pay some decided non-socialist prices. A more value-focused dinner choice would be Cafe Verne, on Hviezdoslavovo Namestie. They offer the standard roster of Eastern European dishes (beef goulash, chicken paprikash) but are a cut above their neighbors in terms of quality and cost.
Slovak National Gallery
What do you get when you mix Soviet brutalism and a 200+-year-old mansion? A rather unforgettable mix of hosts for the Slovak National Gallery, which hosts religious iconography, modern photography, landscapes, and gothic portraits. The side by side buildings, with their clashing styles, is a good hint of what's to come on the inside. Slovak art can't easily be defined by any one style. Even if you're not totally convinced that Slovak art is your thing, the free admission should be enough to tempt you.
Bratislava Castle
Admittedly, it's not quite as old as the average castle in Europe. What you see today is a 1950s rebuild after a fire in 1811 left the castle in ruins. It's also not quite as much fun to explore. There are plenty of administrative offices and not a whole lot of charm. However, it does contain a good museum and the grounds offer fantastic views. And the local residents are very proud of it – if possible, find a new friend to bring along and benefit from their insider's opinions.
The Museum of Clocks
Totally random and unexpected, it's not the kind of showstopping museum where time stands still (<— get it?) but for 2.30 Euros you can't go wrong. Who doesn't love really old clocks in a really narrow building? The price of admission is worth it just to check out the vintage herringbone pattern parquet floor.
St Martin's Cathedral
11 Austro-Hungarian monarchs and 7 royal wives were crowned in this comparatively humble church, highlighting Bratislava's geopolitical importance. A church has been on this site since 1221, with the occasional hiccup and interruption over the years (like being rebuilt as part of the city's walls). While it's protected as a national cultural monument, it's suffering due in large part to its position directly next to a highway on-ramp and restoration efforts are underway to preserve it.
Photo Credit: Flickr / decadenull_