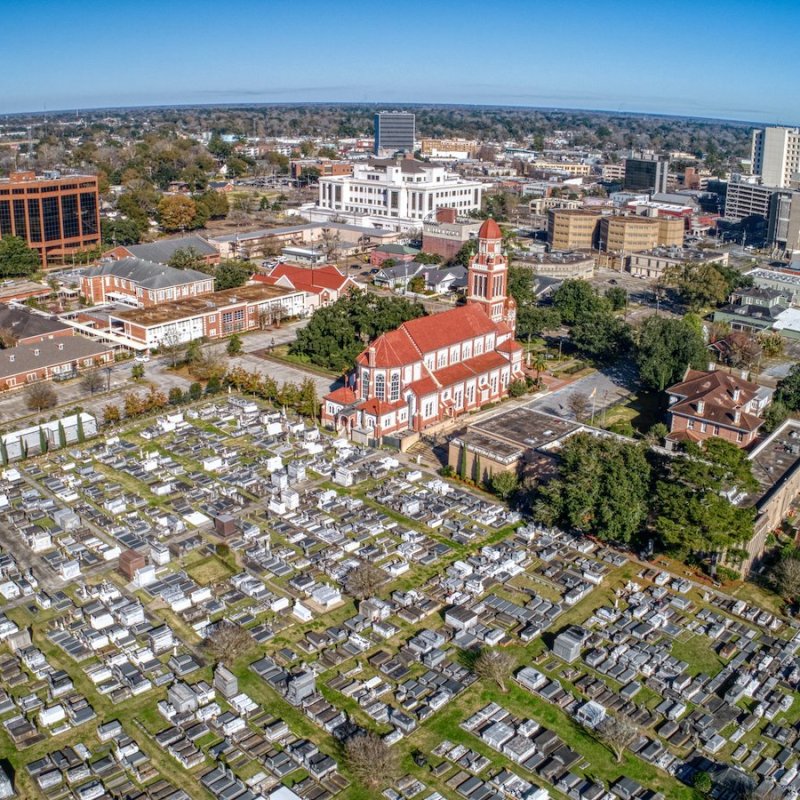 Certain things lend to a sense of happiness, and Lafayette, Louisiana, has just the right combination of friendly people, comforting food, mild weather, and an outdoor playground to earn its label as the happiest city in the U.S.
Any season is a great time to visit, with mild winters and sunny summers creating plenty of opportunities to get outdoors and enjoy the sunshine.
The French culture will have you feeling as if you stepped outside the U.S. Feel like a true Acadian as you immerse yourself in the Cajun Zydeco and Swamp Pop music, visit historic cultural sites, or savor specialties such as boudin, gumbo, or other Cajun dishes.
With so much to be happy about, it's easy to spend a perfect day in historic Lafayette.
Things To Do In Lafayette
Lafayette has an easy-going vibe mixed with a deep cultural influence. The best way to experience the Acadian lifestyle is through sampling the delicious foods, visiting museums and historic locations to learn about the area and its people, and taking in the outdoor scenery that's so unique to southern Louisiana.
Downtown Lafayette
It's easy to explore the walkable downtown area with galleries, shopping, restaurants, and more. Designed in the 1800s, downtown Lafayette features culture and the arts as well as a vibrant nightlife.
Shop the hundreds of retail stores, or discover the arts scene and historic culture with stops at the Benoit Gallery, local art gallery Cite des Arts, the Alexandre Mouton House Museum, the Acadiana Center for the Arts, and much more.
Cypress Lake
The wildlife and scenery in Lafayette is unique to the South. At Cypress Lake, you can view not only alligators, turtles, and more, but the swampland and cypress trees that are unique to South Louisiana. For those who aren't accustomed to seeing alligators, it's an eerie feeling to see the swamp-like lake and its inhabitants at this prehistoric bison wallow located on the University of Louisiana at Lafayette campus.
Bayou Vermilion Paddle Trail
A boat, kayak, or canoe ride on the Bayou Vermilion Paddle Trail is an opportunity to see historical areas while enjoying a day on the water in Bayou Country. The trail is nearly 10 miles long and makes for a perfect day (or a few hours, depending on the route you pick) to see the natural beauty of the Vermilion River. Choose one of the two 9.6-mile routes, or go for the shorter option of a 6.6-mile roundtrip ride that takes about 3.5 hours.
Pro Tip. Download the Bayou Vermilion Paddle Trail app to navigate the route as well as learn more about the history and offerings of the area.
Ancient Oaks Tour
View the live oaks, part of southern Louisiana history and heritage, on an Ancient Oaks Tour. The Live Oak Society started in 1934, when Dr. Edwin Lewis Stephens, the first president of Southwestern Louisiana Industrial Institute (now the University of Louisiana at Lafayette), proposed an organization dedicated to identifying and preserving the numerous ancient oaks in the state. Stephens "recognized the deeper truth of this Southern icon — the live oak symbolically reflects the most distinctive characteristics of the cultures and people that settled this rich alluvial area: strength of character, forbearance, longevity, and a hearty nature," Lafayette Travel explains.
Today, more than a thousand oaks in the Lafayette area are listed on the Live Oak Society's roster.
Vermilionville Historic Village
A truly immersive experience waits at the Vermilionville Historic Village. The village contains homes, gardens, and collections that represent the cultures of the majority of the Atakapa region until the end of the 1800s. This group includes Native Americans, Acadians, Creoles, and people of African descent.
The houses you'll see represent the people, each from a different time period and socio-economic class. Visit the Broussard house, built in 1790, which is the largest and oldest house to see how a wealthy Acadian rancher lived. Other homes represent various trades. For example, the Beau Bassin house showcases the home of a textile artist and has demonstrations of cotton spinning and weaving. You'll see costumed actors recreating everyday living throughout the village.
While there, visit the Healer's Garden to see the plants used for medicinal purposes in Acadiana.
The homes are filled with artifacts and furnishings, allowing a peek into the 1765-1890 lifestyles. Plus view the natural history collection at the science exhibit, located in a watershed near the banks of the Bayou Vermilion. You can really immerse yourself while listening to live music, taking a cooking class, dance lesson, or boat tour.
Pro Tip: For more about Lafayette's history, visit Lafayette's historic landmarks.
Biking And Hiking
BikeLafayette is a non-profit organization designed to educate and create community through events. While you can always rent a bike and explore on your own, joining one of their events, such as Women Crush Wednesdays, gives women a chance to explore as a group and get something to eat after.
Or if you visit in April, take a Cycle Zydeco tour. This four-day festival on wheels tours for four days to experience bicycling flat roads with stops for live music and great food. It's a way to experience Zydeco each night, whether camping or staying in a hotel, and traveling by bike during the day.
Learn about Lafayette's Historic Azalea Trail here.
Mardi Gras
Then, of course, there's Mardi Gras. The Lafayette version is tamer compared to what you might find in New Orleans, making it a perfect celebration for families.
I remember, during a visit to Lafayette, getting up early to visit a bar at 6 a.m. There was live music, children and adults dancing, and pure joy like I've never seen before — especially at that hour of the morning. My sister Mary and her husband, Jerry, lived in Louisiana for years. Mary says of Lafayette, "It was my favorite place to see the Mardi Gras Children's Parade. All children's parades are wonderful, but there was something about the way their streets are laid out that make it a happy place. We considered retiring there because of its location to the coast, but also because it's such a culturally rich place."
Best Restaurants In Lafayette
Southern Louisiana cuisine is distinct to the culture of the area, reckoning back to the late 1700s. The food reflects the joi de vivre — joy of life — that the area is known for. Get ready to imbibe in gumbo, boudin, po'boys, crawfish, BBQ and smoked meats, and fried chicken. The food is rich and hearty, and many dishes, such as boudin or crawfish, can be messy, but oh so much fun to try. Snoballs are another local favorite, so be sure and grab a grown-up version with alcohol at one of the drive-thru daiquiri shacks.
Hideaway On Lee
Dine inside a home that was converted into a restaurant and music venue to give visitors the feel of a Louisiana house dance. The Hideaway on Lee opened in 2020 with a spacious outdoor patio, live music, and plenty of nostalgia, such as the ice cream floats, egg cream seltzers, and even a spiked seltzer.
Try the poutine with hand-cut fries topped with cheddar cheese curds and homemade gravy.
Don's Seafood
For dinner in a historic restaurant, try Don's Seafood, open since 1934. Enjoy traditional Cajun dishes such as chicken and sausage gumbo or even blackened alligator. As a seafood lover, there are so many local catches to try, but I'd have to say my favorite is the Half Catfish and Half Red Beans, a fried catfish served with red beans and rice and hushpuppies. Still, it's a tough decision between the crawfish etouffee, the charbroiled oysters, or the shrimp and grits. Or try it all with the seafood platter, which includes stuffed crab, stuffed shrimp, fried catfish, fried oysters, shrimp etouffee, french fries, and coleslaw. Mon Dieu.
Poor Boy Riverside Inn
Another historic location is the Poor Boy Riverside Inn, open since 1932 and still family owned and operated. Enjoy Cajun specialties, their homemade bread pudding, and Louisiana's official sandwich, the po'boy. For a rich and savory meal, try the Redfish Extravaganza, a choice of redfish, tilapia, flounder, or catfish stuffed with crabmeat stuffing and then topped with more crab meat, crawfish, and mushrooms sauteed in sweet cream butter.
Multiple Selections On The Cajun Boudin Trail
If you've never tried boudin — a meat and rice concoction that's stuffed into casings — try the Cajun Boudin Trail. There you can sample it in various incarnations, whether held in hand and sucked straight from the casing, sliced, or breaded and deep-fried as boudin balls.
These stops along the Cajun Boudin Trail will give you a taste of this unique Acadian food specialty.
Pro Tip: If you'd like to stay a night or more, stay at Clarion Pointe, a charming hotel located amongst some of Louisiana's oldest oak trees. It's an upscale hotel that's close to the downtown area. Enjoy an outdoor heated pool and a hot tub. The rooms have refrigerators and microwaves, making it convenient to save all the scrumptious Cajun leftovers to eat later.