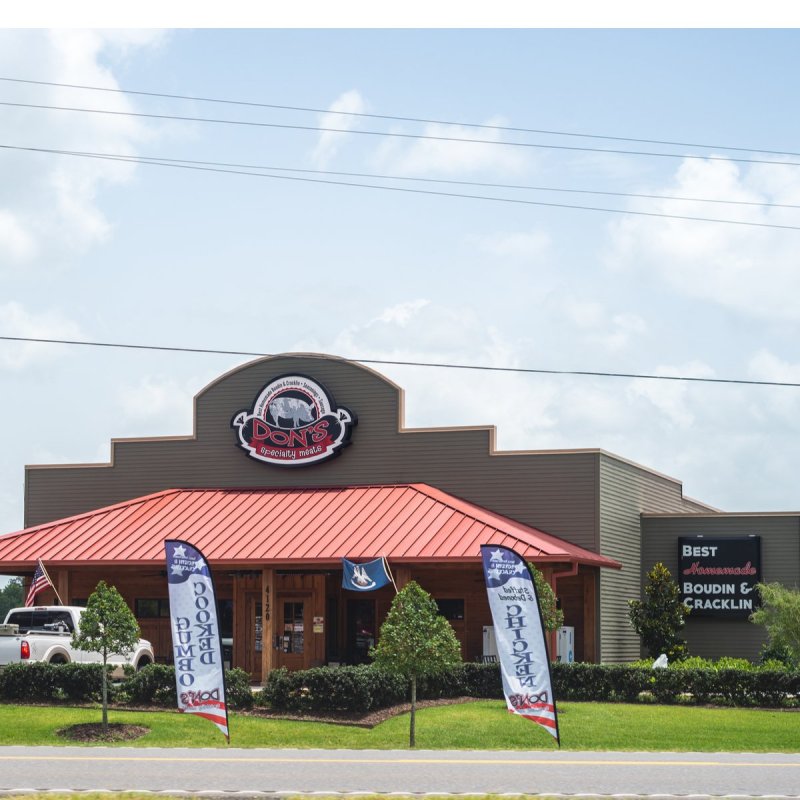 I first tasted boudin during a visit to see my sister, who lived in Louisiana at the time. There are variations, but at its most basic, boudin is a combination of pork, rice, and seasonings ground together and stuffed into a pork casing that is then steamed to eat on the spot. The classic way to eat this bayou staple is straight from the casing; just place it in your mouth and suck out the filling, like squeezing toothpaste out of a tube. After sampling a variety of boudin, we returned home to Kansas City and asked my sister to ship us more. So when I was invited to Lake Charles, Louisiana, on a press visit, I knew I wanted to try more of this favorite Cajun snack food.
When Acadians settled in southwest Louisiana, they brought along their Cajun culture and traditions, including boudin. The food originated from the boucherie, a Cajun event where friends and families gathered to slaughter a pig for the winter and found ways to utilize the whole hog. It's a local obsession, and you'll find boudin in restaurants, grocery stores, butcher shops, gas stations, and convenience shops. To help boundin-seekers on their journey, there's a Cajun Boudin Trail highlighting some of the best stops in the state.
Below, I'll lay out a boudin trail that starts in Vinton and heads east to Lafayette Parish, with stops in between. This is a combination of the Southwest Louisiana Boudin Trail and the Cajun Boudin Trail. There are too many places to mention them all, so I've broken this list down by city and the particular type of boudin the venue sells. Because there isn't just one type of boudin: There's boudin blanc, boudin rouge, crawfish boudin, shrimp boudin, hot boudin, mild boudin, and smoked boudin.
Boudin blanc is what you'll find at most stores — a traditional pork and rice dressing, like dirty rice. When the pork blood is included in the mix, the result is boudin rouge. The smoked, hot, and mild versions reflect the level of spice and flavor. In crawfish or shrimp boudin, seafood replaces the pork in the filling.
Although the recipe typically consists of pork, rice, and seasonings, each cook tweaks the recipe with unique flavors and ingredients — many add liver, heart, gizzard, peppers, or onion to the mix. There are also a myriad of ways to serve boudin. In addition to eating it right from the casing as a snack, it's great sliced, grilled, fried, and served in creole, gumbo, or etouffe recipes, plus many chefs get creative with innovative incarnations such as boudin balls, stuffed mushrooms, boudin dip, and even using boudin as stuffing inside of turkeys.
Vinton
Start the boudin trail in the small town of Vinton, at Stop 1, Market Basket #26. This grocery store has a smokehouse preparing regular and smoked boudin. Their recipe for both sausage and boudin starts with top-quality pork shoulders. They cook and steam the rice so it has the perfect texture for boudin. The smoked jalapeno boudin is hot and savory.
While you're in Vinton, be sure to try the boudin at Stop 2, Comeaux's Restaurant. They serve fresh boudin, cracklins (whereas pork rinds are pork skin, cracklins include the skin and a layer of fat beneath it), and sausage made in house. At least one reviewer claims Comeaux's serves the "best boudin balls ever."
Sulphur
Head east 13 miles to the city of Sulphur, where you'll find Stop 3, B&O Kitchen and Grocery. In addition to boudin, they serve cracklins, beef jerky, pork tasso, hog head cheese, turduckens, and other Cajun specialties.
Lake Charles
Another 10 miles east and you'll be in Lake Charles, where Hackett's Cajun Kitchen, Stop 4, serves a multitude of boudin flavors including spicy, crawfish, jalapeno, smoked regular, smoked jalapeno, shrimp, gator, and boudin balls. In business for 28 years, Hackett's has been voted best boudin, best plate lunches, and best cracklins for several years running by both The Times and Lagniappe Magazine.
Also in Lake Charles, Stop 5, Lebleu's Landing, serves Cajun cuisine and has a full-service meat market with a viewing area where you can watch as they make boudin. There's a variety of specialty products for sale as well as plenty of flavors of boudin. In the restaurant, order the boudin mild or spicy, or try one of the deep-fried boudin balls — boudin filling shaped into balls, rolled in their secret breading, and then fried crispy — or the award-winning bacon-wrapped boudin.
Lake Charles is filled with boudin restaurants and markets, so get some boudin to go at Stop 6, Sonnier's Boudin, a full-service meat market that serves meats, boudin, and sausage.
Moss Bluff
Head north from Lake Charles to find Peto's Meat Market, Stop 7, in Moss Bluff. They serve what's been voted the best boudin for eight years in a row by Lagniappe Magazine. Try it steamed or smoked. One reviewer says he drives from Texas every three months to stock up on cracklins and boudin from Peto's Meat Market.
Iowa
At Stop 8, In-Laws Cajun Specialities, about 16 miles from Moss Bluff, you'll find authentic boudin, cracklins, sausage, barbecue, and specialty meats. In addition to regular boudin, regular smoked boudin, smoked pepper jack boudin, plus boudin balls, pepper jack boudin balls, and pepper jack boudin rolls, they serve a delicious crawfish boudin roll. Another creative way they serve boudin is by placing the filling on puff pastry that is rolled, baked, and cut into fluffy, flaky pinwheels.
Duson
Go east to visit Duson, home to Stop 9, Mike's Country Corner. Considered by many to have the best boudin balls in the state, the filling is a closely guarded boudin recipe. For something out of the ordinary, try the boudin pie, a pastry pie crust filled with boudin and topped with creamy sweet potatoes and crunchy pecans.
Lafayette
In business for more than 50 years, Guidroz Food Center, Stop 10, boasts "boudin with an attitude." One reviewer on Facebook says the pepper jack boudin balls are the best ever. Another says that Guidroz is the best-kept boudin secret, and that they truly do have attitude as she can only handle the spiciness of the mild boudin!
Also in Lafayette, Stop 11, Johnson's Boucaniere, whose name comes from the Cajun French word meaning smokehouse, is a bustling business in the center of the city. In the 1940s, the Johnson family became famous for their smoked sausages and boudin. In addition to boudin, the restaurant is known for its smoked pulled pork and brisket sandwiches.
Alexander's Specialty Meats, Stop 12, is a Louisiana family tradition that serves boudin and other meats and sausages. Other home-style specialties are popular too. One reviewer on Facebook said the chicken stew, Cowboy Stew (beef tripe, heart, and kidney), and oxtail strew are all delicious and to visit Alexander's for food like grandma used to make.
Lafayette celebrates its boudin heritage each year with the Boudin & Bacon Cook-Off, Stop 13, held in October where the top boudiniers come together to show off their skills. Some of the festivities include sampling the boudin and bacon entries followed by a poll for People's Choice, a boudin-ball-eating contest billed as the only one in the state, live music, a boudin and bacon eating contest, plus a sampling of a 225-pound pig stuffed with bacon and cooked in a Cajun microwave (a cypress roasting box designed to cook large pieces of meat).
Scott
Our suggested boudin trail ends five miles further east in Scott. First up: Billy's Homemade Boudin and Cracklins, Stop 14. For a warm and savory lunch, try Billy's Boudin Pistolette, a stuffed bread pocket sandwich. Or opt for the pepper jack boudin balls — crispy breaded and fried coating surrounds boudin filling with pepper jack cheese in the center.
At Don's Specialty Meats, Stop 15, you can try what's been voted best boudin in Acadiana for nine years. Don's serves homemade boudin links, balls, burritos, pistolettes, tots, seafood, and sampler packs. Between their two locations, Don's sells more than 700,000 pounds of boudin each year. The boudin tater tots and burritos are just two of their unique boudin-serving incarnations. Their pistolette contains homemade pork boudin stuffed in a fresh pistolette bread that's served either baked or fried.
Take To The Boudin Trail!
Venture throughout Southwestern Louisiana and Lafayette Parish to find award-winning boudin and wonderful varieties of ways to serve it. To learn about more places along the trail, see the Southwest Louisiana Boudin Trail's downloadable brochure, or check out the Lafayette Parish Cajun Boudin Trail.
Also read up on the best places to try local cuisine in New Orleans.