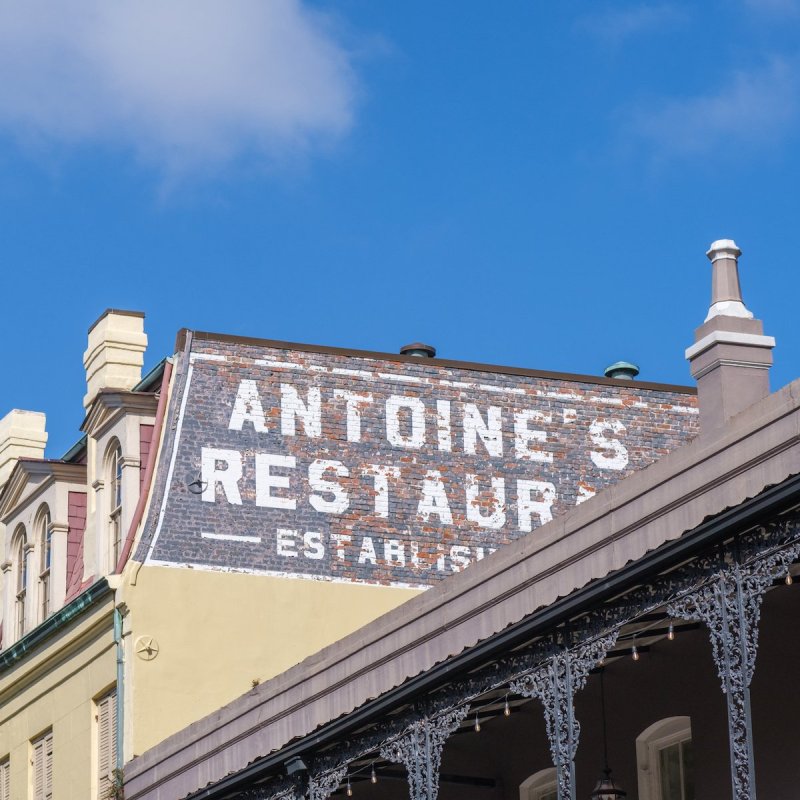 If you're from New Orleans or have visited the city, you know Antoine's. After all, it's more than "just" a restaurant. Owned and operated by the same family since 1840, Antoine's is the oldest family-run restaurant in the U.S. More than that, Antoine's is both a historic and culinary landmark. Let's take a look at what makes Antoine's so special.
Humble Origins
Antoine's is nationally famous, boasting a who's who of people who have dined there. That list includes Bob Hope and Bing Crosby, every U.S. president from Herbert Hoover to George W. Bush, and even Pope John Paul II.
But it wasn't always that way. In 1840 — 21 years before the Civil War — a French immigrant named Antoine Alciatore arrived in New Orleans. First, he opened a "pension," or boarding house and restaurant, the History of Antoine's explains. After his fiancee joined him and they were married, they began to build the restaurant together.
The restaurant became so popular that it outgrew its small building, so Antoine moved to a larger building in 1868, and Antoine's has been at that same location on St. Louis Street ever since.
Famous Dishes
In 1874, Antoine — who was in poor health — left the restaurant in his wife's hands and returned to his native France so he could die and be buried there. What happened next is the stuff of legends.
Antoine's wife managed the restaurant, and under her tutelage, their son Jules learned how to cook for six years. Jules then traveled to France, where he further trained at culinary schools in Paris and Marseilles.
Eventually, Jules returned home to Antoine's. Working alongside local cooks, he created what has become iconic, sauce-based French-Creole dishes, a Wall Street Journal article explains.
Even if you're not from New Orleans, you surely have heard of Jules' — and Antoine's — most-famous dish: Oysters Rockefeller. That dish was named, appropriately enough, after the richness of its sauce. Other signature dishes include eggs Sardou, filet Marchand de Vin, and chicken Rochambeau.
A Historic Landmark
When a restaurant has been run by one family since 1840 and has been in the same building since 1868, you would imagine it has a fair amount of historical significance. It is indeed the case that Antoine's has a large presence in the city. And it's equally famous for its 15 dining rooms.
The Large Annex, the first room added to the restaurant, is adorned with photos of notable guests who have dined there – including George Patton, Franklin D. Roosevelt, Pope John Paul II, and Bill Clinton, reports Atlas Obscura. Then there are the Proteus Room, Rex Room, and 12th Night Revelers' Room — all named after historic New Orleans Mardi Gras krewes. Meanwhile, the 1840 Room resembles the room of a wealthy 19th-century home.
Another room, appealing especially to anyone interested in history, is the so-called Mystery Room. During Prohibition, the room was used by those who wished to drink privately.
"Back then, patrons accessed the room through a door in the ladies' restroom, and received their alcohol in a coffee cup," Atlas Obscura reports. "If anyone asked what they were drinking, the standard answer was 'It's a mystery to me,' hence the name of the room."
Know Before You Go
Today, Antoine's is managed by Rick Blount, Antoine's great-great-grandson. After being closed due to COVID-19 restrictions, Antoine's is now open for lunch and dinner on Fridays and Saturdays, and brunch on Sundays.
Keep in mind that Antoine's dress code is business casual, requiring collared shirts for men. While jackets are preferred, they are not required. Finally, wearing flip-flops, t-shirts, and athletic shorts isn't allowed.
Once you've tried Antoine's, get your fill of more delicious New Orleans and Louisiana fare with