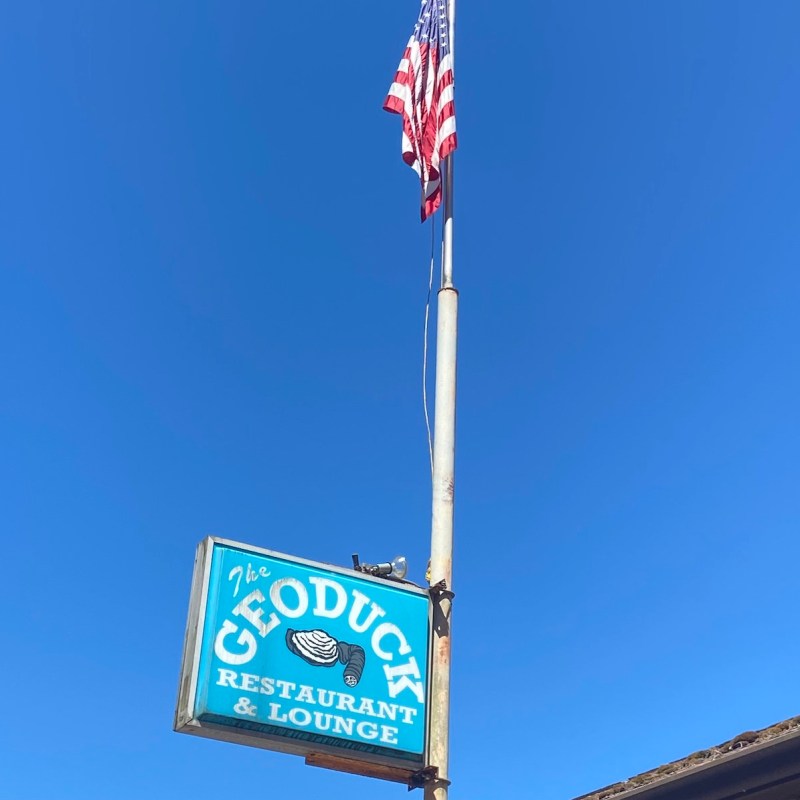 The Olympic Peninsula is known for its stunning marine and mountain views, Victorian architecture, marine life, and history. There is another adventure to discover here: the culinary scene.
One of our favorite road trips is to follow Washington Highway 101 up the Hood Canal to Port Townsend and Sequim. To get there: Arriving from the south, head up Interstate 5 to Olympia, then head west on Highway 8 about 5 miles to Highway 101. Arriving from the north, Port Townsend is a short ferry ride from Seattle or across the Hood Canal Bridge from Poulsbo and Tacoma.
Washington State's Olympic Peninsula, acclaimed for its fantastic array of culinary dishes, features the bounty from the sea and farm-to-table offerings. Any time of the year is great for a visit. Of course, some times are rainier than others, but we take that in stride! You don't even have to visit all these restaurants in one visit. We stopped at these sites over two weekends.
Here are eight culinary stops for you to enjoy.
1. Geoduck Restaurant And Lounge, Brinnon
The Geoduck Restaurant and Lounge (pronounced "gooey-duck") is the spot for a lively atmosphere, good food, games, and fabulous views of Hood Canal in a relaxed, friendly setting. Entering the premise, you first notice the boat hanging from the ceiling, then the games tables, sports memorabilia, and local souvenirs. The Geoduck has been a Brinnon institution since 1968. Esquire Magazine has recognized the restaurant for its Big Burger Dip and as a Best Bar.
The extensive menu includes homemade clam chowder, great burgers, delicious sandwiches, fish and chips, steaks, and a variety of seafood dishes, including tuna, oysters, prawns, and salmon. Locals recommend the Captain Platter: An incredible meal of cod, grilled oysters, prawns, popcorn shrimp, and clam strips. For lunch, we enjoyed the classic grilled Reuben: pastrami piled high, topped with sauerkraut and Swiss Cheese, smothered in 1000 Island Dressing, served on dark rye bread. Sandwich servings are very generous. You might wish to share.
Both inside and outside seating are available. Games and entertainment include pool tables, video games, and live entertainment. During Seahawk games, look for game specials and happy hours. There is a large selection of locally crafted beers.
Watch for the local elk herd either along the highway or relaxing in the field. Remember wildlife safety and do not approach the herd.
2. Hama Hama Oyster Saloon, Farm, And Farm Store, Lilliwaup
Hama Hama is a fifth-generation family-run oyster farm established in 1922. The complex features several components: the Oyster Farm, the Oyster Saloon, the Farm Store, and a Take-out Seafood Window.
Oyster Saloon: The food menu includes chillers (raw), cooked grillers, steamer clams, oyster bread pudding, and smoked salmon chowder. We enjoyed the cooked grillers with the delicious Hog Island chipotle butter and bread for dunking. The drink menu includes locally sourced craft beer, cider, and wine.
Newly added are 13 A-shaped dining shelters large enough for four people, a picnic table, and a propane heater. Reservations are required.
The Farm Store: The Farm store sells various seafood, including fresh oysters, fresh manila steamer clams, and purple savory steamer clams, house-smoked oysters, house-smoked salmon, and live and cooked crab (when available).
Check out their website for links to recipes and helpful hints such as how to steam clams. You may also order online.
U-Pick and U-Dig: Several days each year in the early spring, Hama Hama opens their beach to the public. Because it is a private farm, you don't need a Washington State Shellfish License, but you need a farm day ticket. Check this link for more information.
Pro Tip: We love to explore and learn more about the culture, history, and activities of the area between restaurants. One recent find is the Olympic National Forest Office in the Hood Canal Visitor Center. Stop in for informative brochures as well as the "Connect to Olympic National Park Audio Tour." One can download 10 files that detail different hikes/journeys through the national park. There are 10 choices, including Hurricane Ridge, Lake Crescent, Hoh, and Quinault.
3. Elevated Ice Cream And Candy Shop, Port Townsend
Are you looking for a mid-afternoon picker-upper? Head to Elevated Ice Cream and Candy Shop, an old-fashioned ice cream parlor. All ice creams, sherbets, and Italian Ices are prepared on the premises. Also available are desserts, espresso beverages, chocolates, and specialty candies in the attached candy shop.
Pro Tip: The mint chocolate chip ice cream is a winner in my books!
4. Dockside Grill, John Wayne Marina, Sequim
From Port Townsend, we headed west about 40 minutes to the Dockside Grill at the John Wayne Marina just this side of the town of Sequim (pronounced "Skwim"). The John Wayne Marina (yes, that John Wayne!) is a gift from the legendary actor's estate as Mr. Wayne often visited here aboard his family yacht, The Wild Goose. The complex is a full-scale marina with boat launching, permanent and guest moorage, fuel facilities, laundry and shower facilities, public beach access, picnic areas, banquet facility, and a delightful restaurant, the Dockside Grill.
The fine-dining restaurant menu includes appetizers, soups, salads, pasta, poultry, beef, pork, and seafood dishes. Seafood is the creme de la creme with halibut, salmon, Dungeness Crab, Bouillabaisse, and oysters offered. We shared Oyster Rockefeller and fish tacos and then finished with the decadent brownie. We highly recommend all three.
Overlooking Pitship Point in Sequim Bay, both indoor and outdoor seating is available.
5. That Takes the Cake, Sequim
Locals recommend That Takes the Cake in Sequim to satisfy your sweet tooth and for an afternoon picker-upper. Featured are cupcakes, wedding cakes, and specialty cakes. Besides being delightfully delicious, the creations are artistically designed. Their wedding cakes have been featured in Seattle Metropolitan Bride and Groom Magazine. Spend time gazing at the artistry of the cupcakes and cakes, and then enjoy a treat or two!
6. Howell's Sandwich Shop, Port Townsend
Stop for lunch at Howell's Sandwich Shop who claims to have "craft beer and damn good sandwiches!" I can vouch for the sandwiches!
The menu includes both traditional and signature sammies, salads, and small plates. All sammies and salads include a drink and a side dish. You can choose from sammies such as The SEARS Tower, Classic Reuben, Da Cuban, Calumet Avenue Melt, or my favorite "Birds the Word." Turkey, bacon, Havarti cheese, cranberry sauce, and mayonnaise are topped on a Pane d'Amore Baguette. We paired it with coleslaw. Servings are very generous. You might want to share.
Both inside and outside seating is available. We chose outside and thoroughly enjoyed the views of the bay, Olympic Mountains, and the ferry at the dock.
7. The Fireside Restaurant, Port Ludlow
Located inside the Port Ludlow Resort, the Fireside Restaurant is acclaimed for its award-winning farm-to-food seasonal ingredients and its wine program. Wine Spectator, Pacific Northwest Magazine, and Washington State Wine Awards all awarded the program in 2018.
The Fireside Restaurant is part of a complex with a world-class inn, championship golf course, and 300-slip marina located on the shore of Ludlow Bay. From Port Townsend, we followed Highways 20 and 19 for approximately 18 miles to Port Ludlow. You can also access Port Ludlow across the Hood Canal Bridge from Poulsbo and Tacoma.
Featuring both inside and outside seating, the restaurant had beautiful views of the marina. Upon entering the restaurant, highlighted on the bulletin board are the locally sourced farm-to-table partners and the wine, cider, and spirits partners.
Open for breakfast, lunch, and dinner, take-out is also available. The menu includes some of the Chef's signature dishes like clam chowder and Neah Bay King Salmon with mustard sauce. The dinner menu changes regularly to take advantage of the seasonal ingredients available. You will find Salish Sea Fresh Catch, chicken dishes, flat iron steak, New Bedford scallops, pan-seared rockfish, and pork tenderloin.
We particularly enjoyed the Autumn Harvest Salad. Mixed greens are teamed with braised cabbage, roasted farm squash, sun-dried Rainier cherries, Mystery Bay goat cheese, toasted pumpkin seeds, finished with a delightful butter-maple vinaigrette. We enjoyed the different flavors of this green salad, especially the roasted squash and goat cheese.
We paired the salad with a Reuben: shaved corned beef, braised local cabbage, Gruyere cheese, and Russian Dressing in rye bread.
8. Taylor Shellfish Farms, Shelton
On the way home, stop at Taylor Shellfish Farms for tide-to-table goodness — shellfish just harvested from the beach. Taylor's is the place to stop to purchase fresh seafood to prepare at home. Since 1890, the family has been shellfish farming and pride themselves on their dedication to the community, employees, and the environment.
The complex consists of the Shellfish Market and the processing facility. The market sells fresh clams, oysters, geoduck, and an assortment of frozen and smoked seafood. There are also a variety of meal kits available. Check their website for shellfish recipes and to order online.
We enjoyed the geoduck chowder at the outside picnic area. There we met some friends from the Tacoma area who had come over to shop at Taylor's and enjoyed a tray of fresh oysters. Taylors will also shuck the oysters for you if you prefer.
With visions of culinary delights dancing in your head, this is an ideal time to start planning for your culinary journey through Washington State's Olympic Peninsula. With bountiful year-round seafood and the many farm-to-folk dishes, there is something for everyone.
Pro Tips
Although only 71 miles from Shelton to Port Townsend along WA highway 101, the narrow two-lane road has lots of slowdowns for small towns and intense curves. There are minimal passing opportunities. So plan to spend about 2 to 3 hours on this stretch of the road. Take time to enjoy all the beauty of the Hood Canal as the road hugs the water. Then, there will be times when you pass into the Olympic National Forest. Watch for Sitka Spruce, Douglas Fir, western hemlock, and western red cedar. The entire drive is a delight!
Ready to learn more about the Washington area? Consider