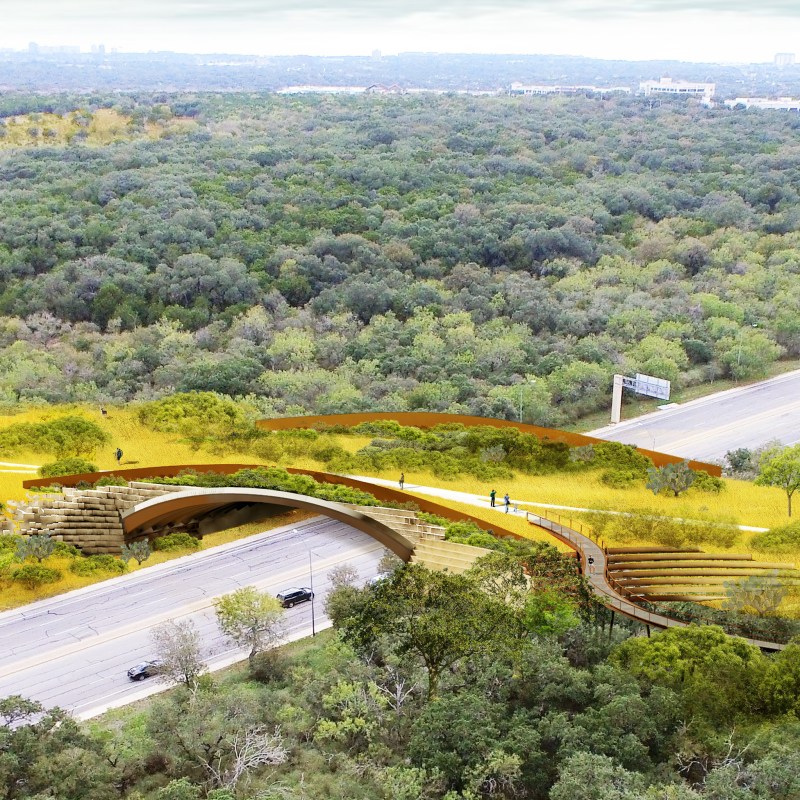 Phil Hardberger Park in San Antonio, Texas, has always had a significant problem: The heavily wooded 330-acre park is split into two halves by the Wurzbach Parkway. Consequently, animals wander onto the highway as they move throughout the park — and some are struck by traffic.
Now, however, the park has a new land bridge so wildlife — and people too — can safely cross the parkway.
Named after San Antonio philanthropist Robert L.B. Tobin, the Robert L.B. Tobin Land Bridge is 150 feet long by 150 feet wide — making it the largest wildlife crossing in the U.S. Since the bridge opened in December, park officials say they have seen wildlife including deer and raccoons use it to cross the highway.
A Troublesome Divide
Phil Hardberger Park is named after former San Antonio Mayor Phil Hardberger, who served from 2005 to 2009 and played a key role in developing the park. When the park was being planned more than 10 years ago, officials knew a problem would eventually arise.
"When the land was being purchased by the city to create the park, we knew that Wurzbach Parkway was going to be built through it," Denise Gross, executive director at the Phil Hardberger Park Conservancy, said in a Texas Highways article.
When the highway was built, it split the park into two sections. The east side of the park has 2.84 miles of trail for hikers, walkers, and bikers, while the west side of the park has another 3.64 miles of trail, an Austin Chronicle article explains. Each side of the park also has its own education center, picnic areas, playgrounds, and dog parks.
The Need For A Safe Crossing
While a highway bisecting the park is inconvenient for visitors, it also has been the cause of dangerous accidents.
"We've had some accidents between cars and deer especially, and some of the smaller animals as well," former mayor Hardberger said in a KSAT news article. "Even though you do put up barriers, [animals] still get across or start to get across [the highway]. Right now, it's six lanes of highway, but Texas Department of Transportation says Wurzbach Parkway will eventually be eight lanes."
While wildlife-vehicle accidents are dangerous to humans, and can result in expensive damage to vehicles, they are almost always fatal to wildlife.
"Over the most recently reported 15-year period, wildlife-vehicle collisions have increased by 50 percent, with an estimated one to two million large animals killed by motorists every year," Rob Ament, Western Transportation Institute road ecology program manager, said in a National Geographic article. "You can get reductions of 85 to 95 percent [using] crossings and fencing that guide animals under or over highways."
More Than A Simple Bridge
The Robert L.B. Tobin Land Bridge, which was funded through a combination of private donations and a City of San Antonio bond, was designed to appear as if it is a trail on a small hill. The park explains that the bridge was landscaped using native plants and trees such as live oaks, mountain laurels, prickly pear cactuses, and persimmons. It also features an eight-foot-tall sound-dampening wall so wildlife — and people — won't even realize the highway is below.
"While visitors will undoubtedly enjoy the abundant flora and fauna as it blooms over time, wildlife such as whitetail deer, coyotes, armadillos, and ring-tailed cats will benefit from the shelter and food, not to mention the safe passage away from vehicles," the Texas Highways article notes.
Although the ADA-accessible trail does have a slight incline, it is graded to be ADA compliant. There also are two wildlife viewing blinds designed by local artists Cade Bradshaw and Ashley Mireles. The blinds are positioned at various heights so they accommodate all guests.
Know Before You Go
Robert L.B. Tobin Land Bridge visitors should know that while there are three major parking areas, the distance from the parking areas to the bridge is a little over a half-mile each way. While bikes are allowed on the trail, riders must dismount and walk their bikes across the bridge to ensure trail safety.
Finally, although the land bridge is outside, in response to the COVID pandemic, Phil Hardberger Park requires visitors to maintain a distance of at least eight feet from people who don't live in their household. It also urges people who are sick to stay home. More info about the park, including hours of operation and a map, may be found here. For more San Antonio (and Texas) inspiration, consider: