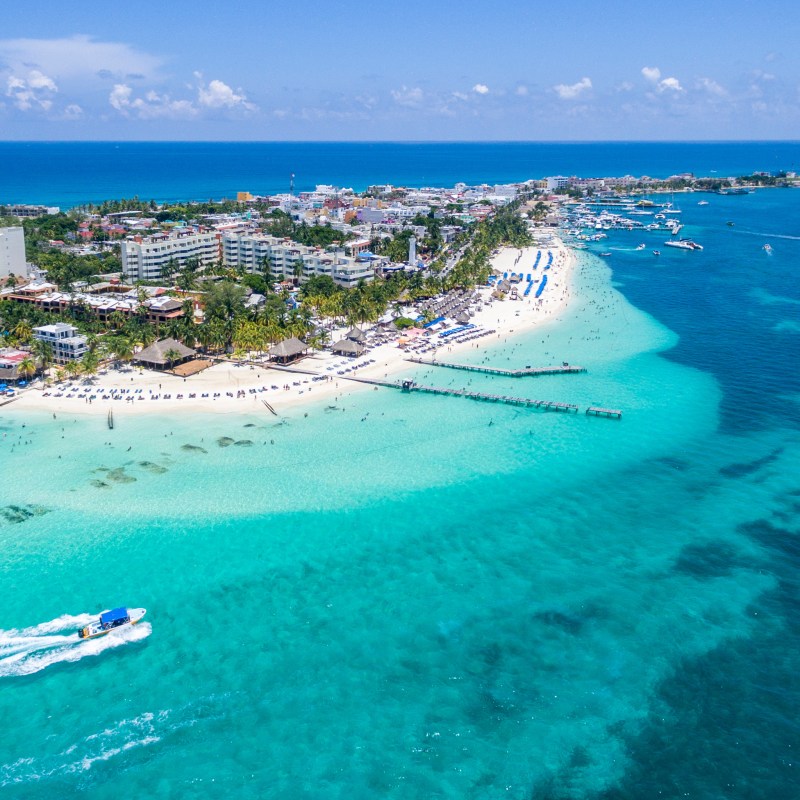 Isla Mujeres, situated 20 minutes by ferry off the coast of Cancun, might just be the perfect mix of everything the Mexican Caribbean is famous for.
The sea is a vivid turquoise, the beaches are a glowing white, and the sun drenches it all in radiant light. And, from the world-famous beach at the island's north point to the gorgeous sea cliffs at its south end, Isla Mujeres offers an assortment of the fun resorts, restaurants, and bars that have become synonymous with Mexico's Caribbean.
Owing to its proximity to the major tourist draw of Cancun in the Mexican state of Quintana Roo, Isla Mujeres is a popular day-trip destination. Still, the island has retained a charming atmosphere that sets it apart from busier tourist spots in the region.
Because Isla Mujeres is a small island — about four miles long by less than a half-mile wide — it is wonderfully accessible and can easily be explored on foot, bicycle, or golf cart.
Along the way, visitors can enjoy several natural parks, stellar souvenir shopping, fascinating Mayan culture, and world-class beach relaxation. From my first glimpse of the island's blue-green waters on a recent press trip sponsored by the Quintana Roo Tourism Board, I was smitten with beautiful Isla Mujeres.
Here are nine fantastic things to experience on Isla Mujeres.
1. Relax On Lovely Playa Norte
Playa Norte (North Beach) is perhaps Isla Mujeres's best-known feature. With its spit of sugar-white sand and ring of shallow aquamarine water bordered by palm trees, Playa Norte has consistently been listed as one of the most beautiful beaches in the world. It is considered a must-see when visiting Isla Mujeres.
Playa Norte runs along the west side of the northern section of Isla Mujeres. Swimming, wading, and snorkeling are all popular activities, as is lazing away the day under a colorful umbrella.
Many beach clubs, restaurants, and bars are located in the area. For a choice that boasts exceptional sunsets every night, along with beachy cocktails and fresh fish Mexican-fusion cuisine, check out the Green Demon Beach Club, located on the northern tip of Isla Mujeres.
Although you can walk from the main ferry pier to the beach in about 10 minutes, many visitors opt to rent golf carts from the assortment of outfitters located near the main ferry pier. The carts provide convenient transportation for exploring the entire island.
2. Stroll The Windswept Malecon Seawall
For another side of Isla Mujeres, head to the eastern shore of the island where the Malecon offers magnificent views of waves crashing into the rocks along the white-washed seawall.
I loved this section of Isla Mujeres for the huge ocean vistas, warm sea breezes, and relatively uncrowded conditions. It can't be beaten as a spot for a morning walk. The rocky coast along the Malecon is also said to be a good place to search for sea glass, although you'll need to navigate a rough rocky wall to get to the water.
3. Savor The Mayan Culture At Punta Sur
As the story goes, Isla Mujeres's name (translated as Island of Women) dates back to the 1500s, when a Spanish explorer named it after the numerous statues of Ixchel, a Mayan goddess, that existed on the island's southern point, Punta Sur.
Today, Punta Sur is a notable destination for its Mayan culture as well as its natural beauty. Located on the highest peak of the island at about 65 feet above sea level, Punta Sur features carved cliffs with breathtaking views of the Caribbean Sea, Cancun, and the bay of Isla Mujeres.
The southern point is also known as the first place in Mexico to experience the sun's rays each morning. It is home to an outdoor sculpture park with 23 pieces done by artists from around the world. The site can be explored on foot or by bicycle, and the walk comes to an end in front of the Temple of Ixchel –the Mayan goddess of love, the moon, and fertility.
For a luxurious taste of the area near Punta Sur, head to the Zama Beach Club, a trendy beach club that provides its guests with entertainment, beaches, and contemporary Mexican fare such as Mayan octopus tacos, Yucatan-style ceviche, and squash carpaccio served with lime vinaigrette.
4. Shop For Mayan Crafts
Isla Mujeres' main street of Avenida Rueda Medina and the small streets that branch out from it are lined with quirky shops and stalls that offer everything from authentic Mayan masks crafted with obsidian and quartz symbols to tote bags decorated with Dia de los Muertos designs and colorful beach clothing.
Or for those looking for culinary souvenirs, try the spicy Mexican chile sauces, sea salts, and Mexican candy that are available at the various supermarkets and souvenir shops.
5. Sample The Mexican Cuisine
While Isla Mujeres has a wide selection of restaurants offering international cuisine, many others focus on local fare that centers on seafood and the catch-of-the-day. If it's available, locals recommend that visitors try the Tikin-Xic dish featuring a fish prepared whole, marinated, and cooked in a banana leaf.
For Mexican-inspired dishes including Mayan- and Veracruz-style chicken, fajitas, tacos, ceviche, and tortas, check out the Tres Mentiras Bar, located just steps from the beach and featuring live music and cocktails such as margaritas, mojitos, and pina coladas.
Or for a cozy atmosphere and a wide selection of breakfast, lunch, brunch choices, and cocktails, wines, and beer, try North Garden Caffe Bar and Grill. Another option is to stroll through the downtown area and sample the tacos, tortas, and fixings that are often available at street-food stands.
Pro Tip: Most of the establishments on the island are cash-only, so it's best to plan ahead and have a supply of Mexican pesos on hand.
6. Snorkel At Garrafon Natural Reef Park
Zip-lining, kayaking, and snorkeling are all available at the Garrafon Park, a natural adventure park located near Punta Sur.
The reef has calm waves, so visitors are able to take in the beauty of the Caribbean at a leisurely pace. Famous for the colorful fish found in the coral reef, the park is known as a good spot for family fun.
7. Explore The Lighthouse At El Farito
A natural park that is located about a mile from Isla Mujeres, El Farito is a reef popular for snorkeling and admiring marine life.
It also features a picturesque lighthouse located in the middle of the reef. El Farito is known as a drift snorkel area, where snorkelers can ride the current and take in the variety of sea life below.
8. Day Trip To Isla Contoy
For Isla Mujeres visitors in search of a more isolated island experience, the nearby Isla Contoy offers the perfect day trip. The uninhabited island is known for its lush plant life, as well as for having the most diverse bird sanctuary in the Mexican Caribbean. The island boasts more than 150 migrating and resident bird species, the most common of which are frigate birds, brown pelicans, and double-crested cormorants.
Located about 18 miles north of Isla Mujeres, Isla Contoy has been protected by the Mexican government since the 1960s, and it was declared a national park in the late 1990s.
Pro Tip: Isla Contoy allows only 200 visitors per day and is available to visitors through a limited number of tour companies. Among the companies offering tours is Asterix, which provides all-day excursions from Cancun, including a stop at Isla Mujeres, snorkeling at the Ixlache Reef, a guided tour of Isla Contoy, and a buffet lunch that features roasted fresh fish. Isla Contoy is a sunscreen-free zone for the health of the coral reef, so visitors should remember to bring hats, sun-resistant rash guards, and shade umbrellas.
9. Dive At Manchones Reef
Located about 10 minutes from Isla Mujeres, Manchones Reef is home to many species of fish and coral formations. At 50 feet deep and more than a mile wide, the reef is a popular spot for divers of all levels.
Along with its natural features, the reef features the Cross of the Bay, a bronze cross that weighs almost a ton and stands 40 feet deep. The cross pays tribute to all of the men and women who have lost their lives in the sea. It is a not-to-be-missed sight for snorkelers and divers in the area.
Pro Tips
Isla Mujeres enjoys a tropical climate, with temperatures in the 80-to-90-degree range year around. Winter months have the best weather, with temperatures in the low 80s and relatively low humidity. Known as the high season on Isla Mujeres, the winter months of January through March come with accompanying higher hotel rates. Summer months are typically hot and humid with average high temperatures in the low 90s, and they tend to have the best deals on accommodations.
Ferries to Isla Mujeres are available at a number of locations in Cancun through services such as Ultramar. Transfers are also available from the Cancun International Airport to Isla Mujeres via services such as BestDay.
Just a ferry ride away is Riviera Maya — a gorgeous destination with a bounty of pretty shoreline. Consider the best things to do once you're there!