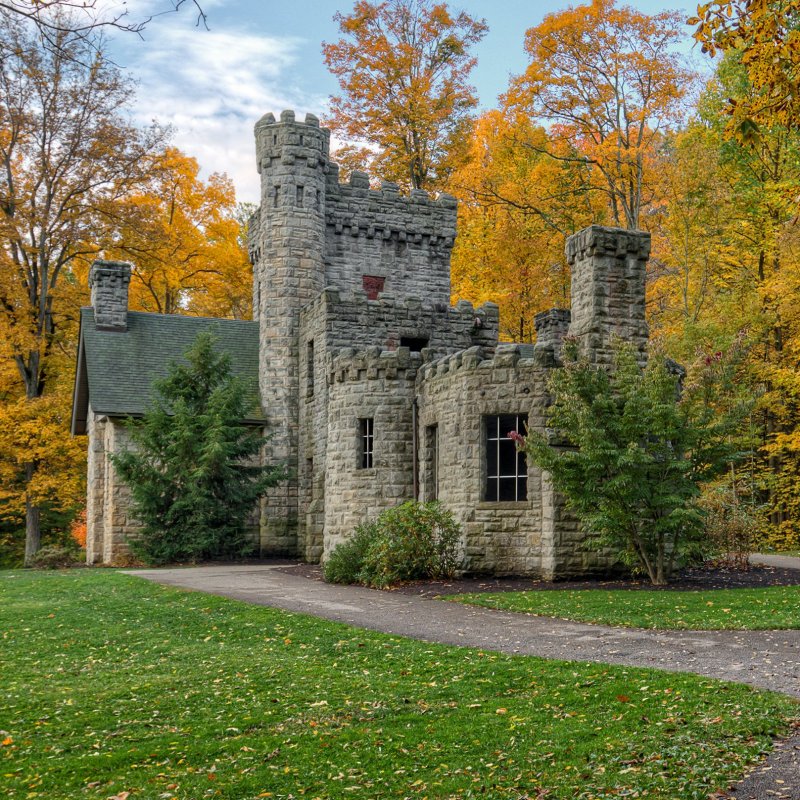 You don't need to travel to Downton Abbey or London, or even along the Rhine River in Germany to visit unique castles. Instead of booking a flight across the Atlantic Ocean, hop in your car and travel the Midwest to take in magnificent castles, some resembling European homes and some offering a fun visit. And the neat thing is, there's no one to curtsy or bow to nor speak the Queen's English. Here is a look at nine castles that call the Midwest home.
1. Loveland Castle Museum Chateau LaRoche
As you drive along the curvy road to Chateau LaRoche — better known as Loveland Castle — in Loveland, Ohio, you'll feel like you're visiting an old castle in rural England. And there's good reason for it, as Harry Andrews, the castle's creator, started building it in 1929, following his time in Europe while serving during World War I. He took his time constructing the castle, searching for the perfect stones to create the authentic European-inspired castle. Open to the public since 1980, the Loveland Castle Museum Chateau LaRoche offers an interesting self-guided tour, including the gardens. Loveland Castle is "protected" by the Knights of the Golden Trail, a legacy from the boy scout he led in his youth. The knights also serve as guides as you take in the picturesque architecture, including four types of towers.
Pro Tip: Serving diners over three floors, Tano Bistro enjoys serving a menu that features locally sourced ingredients that ensure fresh, healthy options.
2. Bettendorf Castle
Resembling castles you'd find in Luxembourg, Bettendorf Castle served as a reminder of home for Theodore "Teddy" Bettendorf, who emigrated from the European country in 1931. In building his dream castle, Bettendorf used stones found in area farm fields, quarries, and lakes. Taking nearly 40 years to construct, the 10-room Bettendorf Castle overlooks the town of Fox River Grove, about an hour northwest of Chicago. The castle resembles something you might expect to see on a game board about gnomes or maybe in a cartoon, with its colorful cone-style roofs on each turret. Bettendorf Castle hosts guided tours seasonally from May through November.
Pro Tip: Featuring authentic Mexican fare, El Sombrero is an excellent choice for dinner. Diners travel from Chicago to enjoy entrees, such as the taco combination, enchiladas, and flautas.
3. Coronado Heights
"A castle on the plains," Coronado Heights near Lindsborg, Kansas, is actually a shelter built during the 1930s as part of the Works Progress Administration projects during the Great Depression. Named as one of the "Eight Wonders of Kansas," the castle includes a turret, where visitors can view the Smoky Hills valley from about 300 feet above. Popular for sightseeing and picnics, you can enjoy a meal comfortably at the stone table on the first floor. Coronado Heights is located a few miles outside of town. The castle is named for Francisco Vasquez de Coronado, a Spanish conquistador whose travels are believed to have reached central Kansas in 1541.
Pro Tip: Enjoy a world-famous sandwich at downtown Lindsborg's Ol Stuga Bar and Grill. The Brent Nelson earned a spot as a finalist for the best sandwich in the country by Good Morning America.
4. Stronghold Camp And Retreat Center
Built as Stronghold Castle about 90 years ago, the Tudor-style mansion has 10 bedrooms and eight bathrooms. Overlooking the Rock River in Oregon, Illinois, Stronghold features a European theme, with its architecture and grounds design. The Strong family sold the property to the Presbyterian Church in the 1960s, which turned it into a retreat. However, public tours are available, so you can appreciate the castle's history and design.
Pro Tip: Don't let the name fool you, Blackhawk Steak Pit offers excellent steaks, cooked to your preference. Kick off your dining experience with an order of fried alligator tails, featuring nuggets served with garlic and olive oil. Entrees include steak, salmon, grouper, and fresh seafood.
5. Glamorgan Castle
An American original, Glamorgan Castle in Alliance, Ohio, was built for Colonel William Henry Morgan in 1904 for about $400,000. The 40-room castle was built with blue and white marble brought in from Vermont. The castle included a domed skylight, two bowling alleys, and a billiard room. Morgan owned 100 patents during his career, including one for lighting used in the castle. Today, Glamorgan Castle is open for public tours while also serving as the local school district's administrative offices. A high school also exists on the castle's 58 acres.
Pro Tip: Grab a delicious dinner at Polinori's Palm Garden Inn, featuring an Italian menu. Among diners' favorites is the spaghetti and meatballs.
6. Squire's Castle
Not many city parks can claim to be home to a castle, but Cleveland's Metroparks Squire's Castle is a must-see when in the area. Located in Willoughby Hills, Squire's Castle was actually built to serve as the gatekeeper's residence for a much larger home for Feargus B. Squire and his family. But, after having issues obtaining material for the larger manor, Squire abandoned his plans, and the family used the gatekeeper's home as a weekend retreat. He later sold the home. It was obtained by the Metroparks board in 1925. The city removed the upper floor and filled in the basement. Today, you can visit the castle shell, built in Romanesque Revival style, along with its wooded backdrop. The picturesque castle is perfect for picnicking, exploring, and photo ops. Oh, rumor has it that the castle and the surrounding area is haunted.
Pro Tip: Known for its thin-crust pizza, The Original Mario Fazio's is an excellent choice for dinner following a day at the castle. Besides outstanding pizza, Mario's also features entrée salads and pasta dishes.
7. Nichols Hall
Resembling a castle, Nichols Gymnasium opened in 1911 on the campus of Kansas State University in Manhattan. Later replaced as the college's gymnasium, the building was nearly gutted during a fire in 1968. Students saved the building from being razed, and it now serves as the hub for communication studies and theater. With an interior resembling a castle, you may believe you've been transported to Europe without leaving the plains. The building was renamed Nichols Hall in honor of a former school president.
Pro Tip: Enjoy a casual meal and craft beer at Tallgrass Tap House in historic downtown Manhattan. With delectable bites such as barbecue shrimp to kick things off, you'll enjoy sandwiches, salads, and entrees, such as a Cubano featuring roasted pork shoulder, or miso salmon, with marinated salmon, grilled asparagus, and cashew scallion sauce.
8. Mars Cheese Castle
Don't be surprised to see the masses attack Mars Cheese Castle, because, well, who wouldn't for cheese. Mars Cheese Castle is the place to go for cheese in southern Wisconsin. The Kenosha castle-style store is home to massive amounts of cheese — cheese blocks, slices, logs, cubes, and, of course, curds. You'll also find artisan cheeses. After all, Wisconsin is the home of cheese curds. You'll be like a kid in a candy shop when it comes to choosing the cheese you want to take home. Of course, you'll probably want to grab some fresh sausage to enjoy with the cheese, along with specialty bread, crackers, and drinks. As you explore the nearly 65-year-old Mars Cheese Castle, check out a few souvenirs to remember your visit because cheese can last only so long.
Pro Tip: While in Kenosha, enjoy an authentic Italian dinner at Villa D'Carlo, near the lakefront. Starting out at Carl's Pizza in 1957, the eatery has grown into one of the best Italian restaurants in the Midwest. Besides its famous thin-crust pizza, you can enjoy Italian specialties such as homemade lasagna and chicken parmesan with spaghetti.
9. Joslyn Castle
Built in 1903, George and Sarah Joslyn wanted a new mansion built for them on the then-outskirts of Omaha, Nebraska. Calling their 35-room mansion Lynnhurst, locals, upon seeing it resembled a Scottish castle, nicknamed it Joslyn Castle. The name stuck. The Joslyns built the Scottish baronial-style mansion on a hilltop on more than 5 acres. With dark mahogany wood used for its staircase, bookshelves, and more, Joslyn Castle is an architectural marvel. Gold trim adorns upstairs bedrooms, while you'll also find stained-glass windows throughout the castle. George Joslyn died in 1916, while Sarah lived in the mansion until 1940, passing away at the age of 88. Joslyn Castle was home to one of the first arboretums in Nebraska and continues to have one of the most beautiful gardens in the Midwest.
Pro Tip: Following your visit to Joslyn Castle, enjoy dinner at Jams Midtown, with its impressive menu featuring red chili cornmeal-breaded onion rings, whiskey steak cobb salad, short rib tacos, and the Jams Burger, made with ground beef brisket.
Related Articles: