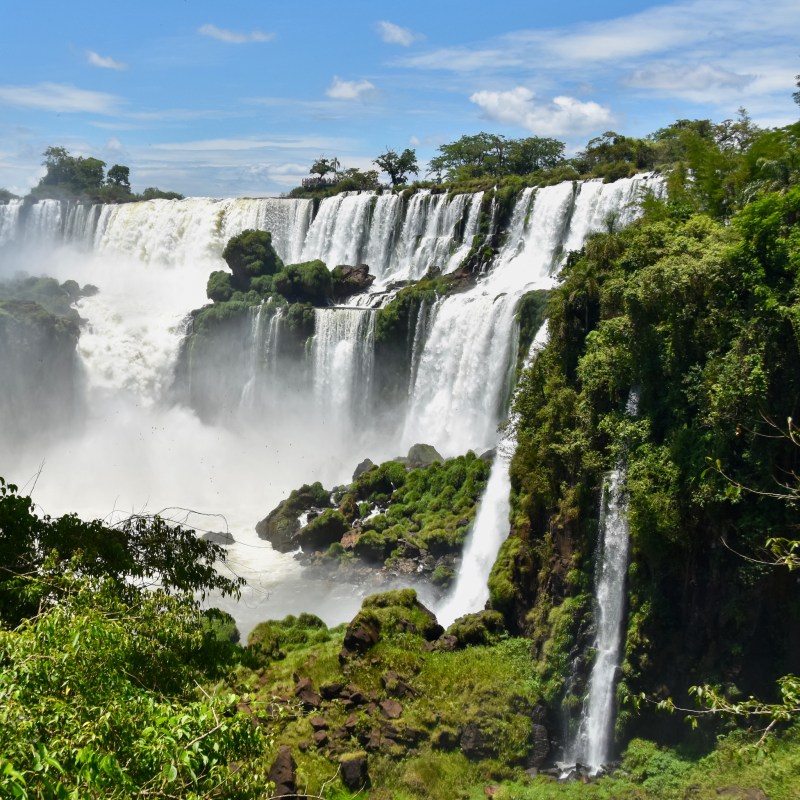 Brazil is a country of superlatives. The world's fifth-largest country, it makes up nearly 50 percent of the South American continent and has 4,000 airports. Its main river, the Amazon, is the world's largest by volume, growing up to 30 miles wide during the rainy season. Brazil has 21 UNESCO World Heritage sites and is one of the most bio-diverse countries in the world, with some four million plant and animal species, and new ones being discovered nearly daily. Its 3,287,597 square miles encompass cities, beaches, mountains, plains, forests, and every other habitat you could possibly think of.
Even if you lived in Brazil for 10 lifetimes and explored ceaselessly, you'd never see it all. What you can do though, is to try and see some of the most beautiful spots spread across the vastness. As beauty is in the eye of the beholder, and the definition of beauty varies greatly, I have chosen a mix of a little bit of every kind of beauty for you to pick and choose to visit next time you get down to Brazil.
A few I have managed to see myself already; others have been wholeheartedly recommended by those in the know and are still on my list. From natural wonders to man-made marvels, there is something for everybody, you just need to know where to look.
1. Iguazu Falls
The largest waterfall system in the world, the Iguazu Falls are a sight to behold. Stretched across three countries, the main falls are between Argentina and Brazil. On average, around 1,500 cubic meters of water flows down the falls every second. I visited during the rainy season between November and March, when the water flow peaked at 13,000 cubic meters per second. Reportedly, that is enough to fill five Olympic swimming pools in just one second. It was breathtaking. You can fly into Foz do Iguacu (IGU) airport from most Brazilian cities and stay on the Brazilian side and take easy taxi trips across to the Argentinian side to make sure you get to see the various sides of the falls.
Pro Tip: Splash out and stay at the Belmond Hotel des Cataratas. It is a beautiful hotel steps away from the falls, with many of the impressive side falls such as the Devil's Throat, the steepest of the falls, within easy walking distance. If you choose wisely, you don't even have to leave your room to see the sun set over Iguazu.
2. Rio De Janeiro
Once the capital of Brazil, Rio de Janeiro is bursting with beautiful sights. The natural setting of the city alone is worth its entry on this list: With mountain peaks hemmed by white beaches and bays studded with islands, you do not need much more. But add sights such as Christ the Redeemer, Sugarloaf Mountain, and the famous beaches of Ipanema and Copacabana, and you have a city that is only rivaled by Sydney, Australia, when it comes to the perfect merging of natural beauty with manmade enhancements.
Pro Tip: Stay alongside one of the beaches to have the view right in front of you for an easy beauty fix. Try the Othon Palace hotel on Copacabana Beach for a medium-budget hotel with views just as good as the more expensive ones.
3. Lencois Maranhenses National Park
Did you know that Brazil has a desert landscape? Lencois Maranhenses National Park on the northern Atlantic coast of Brazil is an incredible scene of endless white dunes, and the Portuguese name lencois, translated as "bedsheets," is very apt indeed. What makes this sight even more beautiful is that between May and September the rain filters through the sand and forms pools of crystal-clear lakes in the white dunes, looking utterly otherworldly. You can explore the area on foot, by horse, 4WD tours, or flight for the best views.
Pro Tip: There are no hotels or airports nearby, and you will have to stay in Sao Luis some three to four hours' drive away. All hotels there can arrange for a pickup and day tours to this ethereal area.
4. Paraty, Costa Verde
Roughly halfway between Sao Paulo and Rio de Janeiro lies Costa Verde, the green coast. Beaches and bays, coves, and islands, all with the lush vegetation reaching right down to the ocean, create a verdant beauty, and finding a secluded spot is guaranteed. Along the coast, the pretty and colorful town of Paraty has a colonial history going back to the Portuguese settling here in the 16th century. They made Paraty into the then main shipping port for gold.
Pro Tip: The best way to explore Costa Verde is by driving between Sao Paulo and Rio and taking your time along the way to stop off regularly for a swim. Stay a night or two in Paraty in a cozy guest house such as Casa Mar with views across the coast.
5. Pantanal, Mato Grosso Do Sul
The Pantanal is the world's largest inland wetland area encompassing some 81,000 square miles, a UNESCO world heritage region, and perfect for eco-tourism because of its diverse habitats and nature reserves. Lying on the western edge of Brazil and spilling over to Bolivia and Paraguay, this beautiful region possesses the highest concentration of wildlife in South America and lends itself to being explored by boat. Fly into Corumba and then hop on a river cruise for three nights to get the most out of the trip.
Pro Tip: If you are an animal lover this is for you: There are some 475 species of birds, plus alligators, tapirs, capybaras, even jaguars, and more.
6. Mount Roraima
This, the highest tepuis, or table-mountain, in the world, expands across three countries: Brazil, Venezuela, and Guyana. It is 9,219 feet high, yet the summit is completely flat, rising high above the clouds with a sheer cliff face that was explored back in 1595 by English explorer Sir Walter Raleigh. It inspired Sir Arthur Canon Doyle to write The Lost World, which was made into a film in 1960. It really is an awe-inspiring sight and another long-forgotten world up there seems very feasible.
Pro Tip: This is trekking country, and you're best exploring this unique place as part of an organized tour.
7. The Amazon Basin
Whether you would call the Amazon beautiful in the strictest sense, I don't know, but stunning and magnificent, for sure. The Amazon Basin covers some 2.7 million square miles, 60 percent of which is in Brazil. So, exploring the Amazon Basin is not easy, or quick. The only, and most convenient way to travel, is by river cruise of which there are many, and you can mix and match with extra excursions for more adventure added on. You will see the imposing river, many animals, and little villages along the route, and can discover the true beauty of the Amazon, which lies in its biodiversity and nearly overwhelming nature.
Pro Tip: Just outside of the city of Manaus the Meeting of Waters is a sight not to miss: The sandy-colored Amazon and the darker colored water of the Rio Negro meet, but the waters don't mix, leaving a distinct border easily visible.