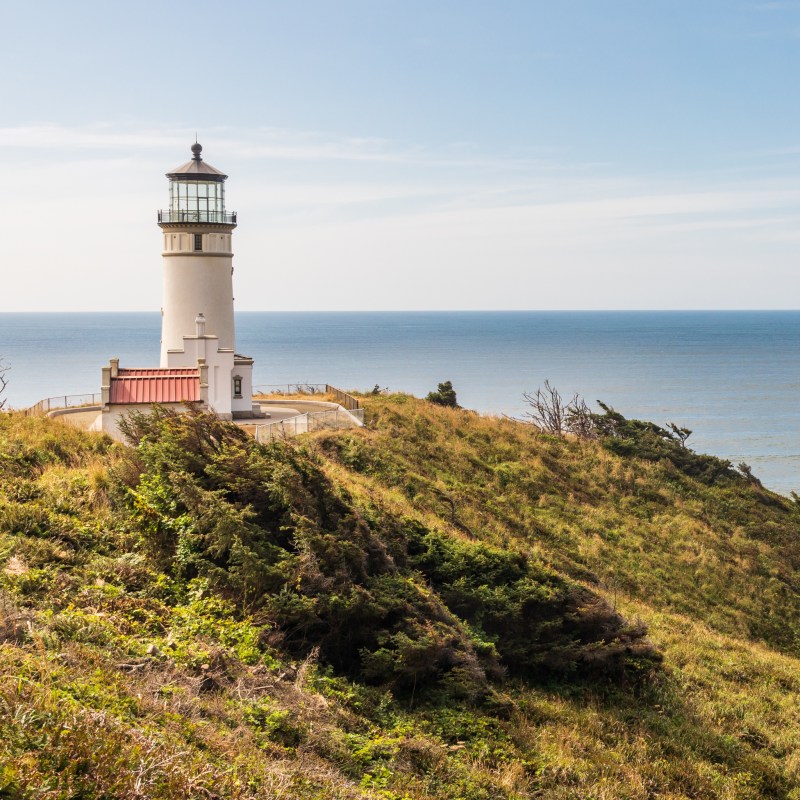 What is it about lighthouses that is so appealing? To me, they have always had a sense of mystery and evoke my imagination. Who lived there? What kind of life did one live while taking care of a lighthouse? Here in the Pacific Northwest, many lighthouses sit unattainable, perched on island rocks with waves crashing about. Although there are many you can't visit, there are quite a few with lodging. What the accommodations may lack in amenities (some of these stays are quite rustic) is more than made up for by the stunning coastal views.
1. Point No Point Lighthouse
Point No Point Lighthouse is in Hansville, Washington, on the northern tip of the Kitsap Peninsula. This quaint area is relatively unknown and is a true hidden gem. The "town" consists of a market and cafe with a few other small businesses. Its location provides stunning panoramic views of just about everything you'd want to see, including Mount Rainier, Mount Baker, the Seattle skyline, and the Puget Sound islands. Near the shipping channel with the cruise ships passing right by the point. The Point No Point Lighthouse is the oldest on the Puget Sound and is located adjacent to a nature preserve. Bald Eagles are often seen in the area, as are many other waterfowl.
There are two options for accommodations. Residence 1 has two bedrooms and one bath with a fully equipped kitchen. This is a duplex, and the other half is the national office of the U.S. Lighthouse Society. Residence 2 is the Historic Keeper John Maggs House. It is one bedroom and one bath. There are no lighthouse duties when you stay here. Although Hansville is a pretty small community, you are just a short drive from shopping and restaurants.
2. Point Robinson Lighthouse
Point Robinson Lighthouse is one of my favorites because of its location. Vashon Island sits in the Puget Sound and is served by car ferry routes with easy access to Seattle, Tacoma, Port Orchard, and the Olympic Peninsula. You can stay on Vashon Island and access everything the area offers while enjoying accommodations on an island. It is a great base to spend a week and take day trips to Olympic and Mount Rainier National Parks, visit Seattle and Tacoma, and spend time exploring the island. Vashon Island is an eclectic mix of hippies who moved to the island in the 60s and Microsoft millionaires. There are coffee shops, restaurants, unique stores, beaches, and plenty of green space. It is truly a unique destination.
There are two Keepers Cottages available for rent. Quarters A is a three-bedroom, two-bath home which accommodates six and has a full kitchen, dining room, and living room. Quarters B is a two-bedroom, one-bath cottage and is restored to its original 1919 condition. Both houses are fenced and have porches with waterfront views. Keep an eye out as occasionally orca whales swim by. There is also a nice sandy beach strewn with driftwood.
Pro Tip: Vashon Island also rents out the Belle Baldwin House. This historical gem sits in a wooded area overlooking Fern Cove. It is a truly special destination that not too many people know about.
3. Browns Point Lighthouse
The lighthouse and keeper's cottage are located in Browns Point Lighthouse Park, a partnership with Metro Parks Tacoma and the Points Northeast Historical Society. Browns Point overlooks the Puget Sound and is a vibrant Tacoma neighborhood. It is not far from downtown Tacoma which has both a museum and theater district. The park is a small point and has a beach with views of the Puget Sound and the Olympic Peninsula, so you have both water and mountain views.
The 1903 cottage has three bedrooms, is filled with period furniture, and is on the National Historic Register. Tours are offered during the summer, so guests must be out of the cottage from 1 to 4 p.m. This stay comes with responsibilities as Honorary Lightkeepers. Duties include raising and lowering the flag each day, logging in weather, and recording shipping traffic. You will also have to wash the linens and prep the cottage for the next visitors.
4. North Head Lighthouse
North Head Lighthouse is in Cape Disappointment State Park near where the Columbia River flows into the Pacific Ocean. This stretch of coastline near Ilwaco, Washington, is known as the graveyard of the Pacific due to the estimated 2,000 shipwrecks in the area. At least 200 were claimed by the treacherous currents near the mouth of the Columbia River. The Lewis and Clark Interpretive Center is located nearby. This is where Lewis and Clark saw the Pacific Ocean for the first time during their epic journey.
There are three keepers' houses located at Cape Disappointment, and these are the largest accommodations of any of the lighthouses profiled in this article. These two-story homes have three bedrooms and the bathroom is located off the kitchen. Hardwood throughout gives vintage charm to these Victorian-style homes. The houses are conveniently located near the six small towns along this beachfront area.
Pro Tip: Head into Ilwaco to have the Seafood Nosh Board at the Waterline Pub located inside the Helm Hotel. This is one of the best seafood plates I have ever eaten. Fresh Pacific Northwest seafood comes right off the boats in the marina. It is truly a sight to behold and is more than enough to share.
5. Point Wilson Lighthouse
The Point Wilson Lighthouse is located in Fort Worden Historical State Park near Port Townsend, Washington. Unlike any other state park in the area, it is co-managed with the Fort Worden Public Development Authority, which runs the lodging, restaurants, and other businesses. It is a center of lifelong learning and offers many unique experiences for visitors. It is also where An Officer and a Gentleman (Richard Gere at his peak!) was filmed, and unlike many movie sites, you will recognize many buildings and features from the movie.
You can stay on the lighthouse property in a four-bedroom, two-bath home with the beach right outside the door, but the keeper's duplex is currently being renovated. I prefer to stay at the other lodging on Fort Worden, which has various options from small cottages to large mansions. One that keeps with our lighthouse theme is the two-story Alexanders Castle with one bedroom and one-and-a-half baths with water views. It looks like a lighthouse and is a cute option for couples.
Washington has such a wide variety of options when it comes to lighthouses. Staying at one is a great option year-round, where summer offers warm sunny weather, and the winter brings in storm watching off the coast. Epic waves surging sky-high against the rocky coast are a sight to see. If you can't get your fill of lighthouses, check out the United States Lighthouse Society, a nonprofit organization dedicated to preserving the maritime legacy of American lighthouses. Their website has a section where you can search lighthouses you can stay at by state. The site also has information on how to tour remote lighthouses. They offer a variety of sea and land tour options.
Related Articles: