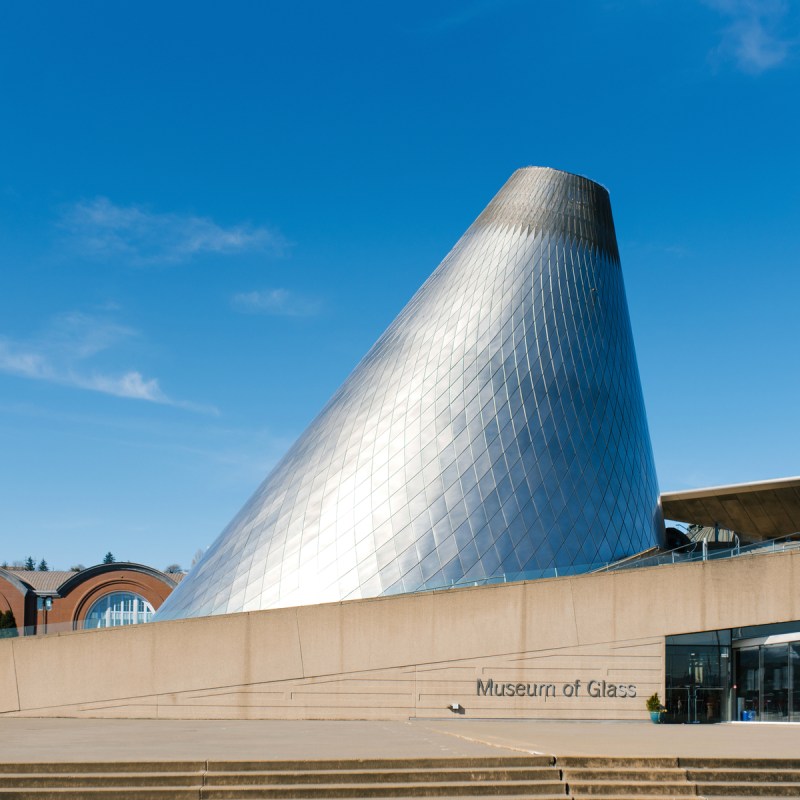 Chihuly art. Otters. Classic cars. While Seattle may receive the bulk of visitors, Tacoma is a wonderful alternative or break from the Emerald City. From its waterfront, with logging dock remnants, botanical features, and a memorial to its past, to vintage architecture downtown, Tacoma offers visitors impressive attractions you won't find anywhere else. Located about an hour south of Seattle, Tacoma also offers a more relaxing, laid-back attitude without the rush and crowds you'll find at Seattle locations.
I've been to Washington nearly a dozen times since my youngest daughter moved there a few years ago. I enjoy exploring the Pacific Northwest and find something new during every visit. Tacoma is an excellent city to explore unique attractions. Here are a few examples of the places to explore when visiting Tacoma.
1. Museum Of Glass
As the hometown of famed blown-glass artist Dale Chihuly, it seems natural that Tacoma would have a museum dedicated to the art form. Located downtown, the Museum of Glass features a different look at blown glass. Rather than having a Chihuly art garden like the glass museum in Seattle, the Museum of Glass in Tacoma features the works of other artists. The museum's in-house artists work in a studio that's open to the public, so you can sit in a theater, watching as they create magical pieces. While the museum itself isn't overloaded with Dale Chihuly art, you know it has to honor its native son. A Chihuly-inspired display is located at the outdoor water fountain. You'll also catch more than 100 pieces of his work on an 80-foot-long wall along a pedestrian bridge that connects the Museum of Glass to other downtown attractions.
2. Tacoma Art Museum
With more than 5,000 pieces on hand, the Tacoma Art Museum emphasizes the history of the Pacific Northwest. Acknowledging area Native Americans, such as the Puyallup tribe, it showcases Indigenous paintings, jewelry, sculptures, and pottery. Extending its coverage to other PNW artists, you'll find an impressive collection, from classic pieces to contemporary art, including pop culture. Classical paintings, including European works dating back to the 19th century, highlight the museum's legacy collection. The museum also includes Japanese art and American modernism exhibits. As Dale Chihuly's hometown, the Tacoma Art Museum recognizes the artist with a gallery of his works.
3. W.W. Seymour Botanical Conservancy
Featuring seasonal flowers and plants, the W.W. Seymour Botanical Conservancy is a highlight of visiting downtown's Wright Park. Featuring flowers, such as tulips and amaryllis, and plants, including poinsettias, as well as its permanent collection of orchids, plants, and trees, the conservancy is free to the public. Following your visit to the Seymour Conservancy, you'll want to explore Wright Park. A gift from the Tacoma Land Company in 1886, Wright Park — an arboretum featuring about 600 trees – covers 27 acres. There are walking paths, ponds, and sculptures located throughout the park. Relax on a bench or at a picnic table while watching ducks and geese swim in the ponds under the shade of tall trees.
4. LeMay, America's Car Museum
You realize you're in for an interesting ride as you approach the auto grill-styled entrance to LeMay, America's Car Museum. With 300 cars on display, the museum actually has more than 3,000 cars in its collection, all of them a gift from Harold LeMay, who passed away in 2000. Other vehicles are on loan from other collections. Laid out using a variety of backdrops, you'll find yourself walking among classic cars near a service station or as part of a road race. From Model T Fords to solar-powered vehicles, you'll explore America's development over the decades. You'll find Hollywood represented with vehicles that either appeared in movies, such as Fred Flintstone's car as well as a DeLorean and an Aston Martin that you may find in a James Bond movie. The LeMay America's Car Museum also features vintage gasoline pumps and other classic artifacts.
5. Point Defiance Park
With five major attractions, it's easy to spend an entire day at Point Defiance Park. With tree-lined walking paths as well as open views from the peninsula and a pedestrian bridge that connects you to the Tacoma waterfront, you'll discover so much beauty in the park. From the zoo and aquarium to Fort Nisqually Living History Museum, Point Defiance Park is a must-visit when in Tacoma.
Point Defiance Zoo And Aquarium
The most popular attraction at the park, Point Defiance Zoo and Aquarium features animals from around the world, including some of the most endangered species. The red wolf nearly went extinct in the 1970s, but thanks to a breeding program led by the zoo, the endangered group has seen its numbers grow. With the arctic fox, ox musk, elephants, and tigers, the Point Defiance Zoo and Aquarium features animals from nearly every continent. Among its most popular attractions are the sea otters, who swim outdoors near the Pacific Sea Aquarium. You'll find dozens of people seemingly entranced by the cute critters. Ocean fans will enjoy seeing seals, walruses, and sea lions among the two aquarium buildings, which also includes the South Pacific Aquarium, home to sharks and penguins.
Flower Gardens
With eight gardens, it's easy to get lost smelling the flowers, with beautiful views and delightful fragrances. The Dahlia Garden includes colorful flowers grown from seeds provided by growers from the United States, Canada, England, Australia, and New Zealand. The Fuchsia Garden features 125 varieties popular with people and hummingbirds. The Iris Garden includes more than 200 varieties of attractive flowers. More than 1,500 rose bushes provide a colorful array across the acreage making up the Rose Garden. The Rhododendron Garden is located in an old forest.
The Japanese Garden features a pond surrounded by Asian lanterns and includes a footbridge as well as a tea house. The Herb Garden and Northwest Native Garden feature plants common to the Pacific Northwest.
The Five Mile Drive And Trails
Enjoy a leisurely cruise along the Five Mile Drive loop, which offers views of Puget Sound and Gig Harbor among scenic stops. As you drive through the area, look out for wildlife, such as deer, coyotes, and raccoons. Some raccoons will stand roadside, waiting for people to stop and feed them because people do just that, despite warnings against it. You'll also find nearly 15 miles of hiking trails through the woods along the loop.
Owen Beach
Located early on the Five Mile Drive, Owen Beach takes you to the sound. People kayak and swim in the water, play in the sand and rocks on the beach, and sun themselves here on nice days. You can explore the beach, which runs about a mile long. The beach also offers unique views of Puget Sound, including Vashon Island.
Fort Nisqually Living History Museum
Established in 1833, the Hudson Bay Company used Fort Nisqually to manage its trade program with Indigenous tribes, fur traders, and others in the Pacific Northwest. The Fort Nisqually Living History Museum has reenactors perform daily tasks related to the time period, including broom making and blacksmithing. Self-guided tours take you through authentic buildings at the fort, including guard posts, barracks, and the commander's home.
6. Northwest Trek
See bison and mountain goats up-close as well as rarely seen animals native to the Pacific Northwest at Northwest Trek. Located in Eatonville, about an hour southeast of the city, Northwest Trek, which is part of the Tacoma Metro Parks system, features walking tours that include views of bobcats, mountain lions, otters, and porcupines, as well as black and brown bears. You can also enjoy a tram tour that takes you along a paved path, offering close-up views of bison, elk, and mountain goats. If you want to get really, really close to the animals, reserve a Keeper's Tour, with a maximum of five people in a jeep that takes you off-road and next to the bison, elk, goats, and even moose.
7. Shop Like A Tacoman
To find souvenirs, treats, or home decor items produced in the region, head to Pacific Northwest Shop. The family-owned business has provided locals and visitors with fun items, such as Native American dream catchers, Mount Saint Helens ash ornaments, regional candy, and huckleberry coffee, for more than 40 years. If you're a fan of antique or retro items, you'll enjoy visiting Sanford and Son Antiques. With 20 shops on three floors, the downtown antique shop features tons of antiques and vintage wares, such as vinyl albums, clothes, furniture, and home decor.
For more PNW inspiration, read up on how to visit six lovely volcanoes in the Cascades, eight amazing day trips from Seattle, and (bonus!) seven more fantastic day trips from Seattle.