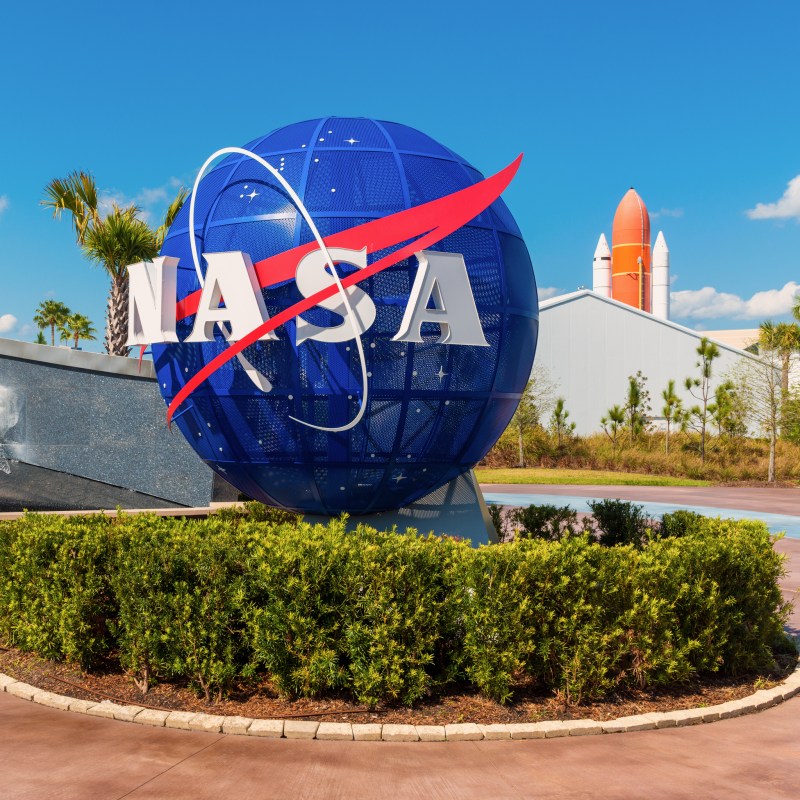 Mankind's greatest adventure has been our voyages into outer space. The world has been mesmerized with images of the fragile blue ball we call home from hundreds of miles away. We have been transfixed with our heroics on the moon and thrilled as we watched rockets thunder into the sky.
Across the country, that history is celebrated at the 13 NASA space and science centers. It doesn't matter if you're a space geek or a casual observer, the centers offer something for everyone — fascinating exhibits, educational guided tours, immersive IMAX movies, rides, and shuttle simulators that will test your piloting skills. Many places even have snack bars and restaurants.
Here are only a few of the out-of-this-world, can't-miss experiences waiting for you at NASA visitor centers.
All NASA visitor centers have variable hours (and some are temporarily closed) due to COVID-19. Visit their website for updates on their hours of operation.
1. Kennedy Space Center Visitor Complex
Cape Canaveral, Florida
When most people think about our space program, they remember images of rockets roaring into a beautiful blue Florida sky. This is the place — the Kennedy Space Center on Merritt Island, Florida.
Out of all of the NASA visitor's centers, Kennedy has the most to offer — IMAX theaters showing not only space films but documentaries and feature movies as well; guided tours of launch facilities at Cape Canaveral (also known as Cape Kennedy); Astronaut Encounters where you can have lunch with our astronauts, feel the sensation of being launched aboard a space shuttle, and take a tour of the actual space shuttle, Atlantis, with former launch director Mike Leinbach; for the youngsters, the two-story Planet Play playground, and so much more.
However, the big attraction and experience at Kennedy is that you can get the best seats to see an actual launch. Missions (both manned and unmanned) launch almost every week. Very soon, you can have front row seats to see the largest rocket ever built — the Space Launch System (SLS) — take to the sky as we get ready to return to the moon. Visit the center's Launch Schedule website for the latest schedule and ticket prices.
There are a variety of ticket packages available. Visit the KSC website for details. Keep in mind that launches draw a crowd, so get your tickets early. The center is open 7 days a week, 10 a.m. to 4 p.m. Remember, though, that Kennedy is a working spaceport, so some attractions (like bus tours) may be closed during launches.
2. Space Center
Houston, Texas
Next to the Kennedy Space Center, Space Center Houston is the second most popular NASA visitor center. Once a rocket is launched from Florida, control of the flight is switched here to the Johnson Spaceflight Center (you know, "Houston, we've had a problem").
As with all centers, the Houston center has plenty of historic artifacts, including the iconic Christopher C. Kraft Mission Control Center, where mission controllers worked to land a man on the moon, but the big draw here is being able to watch astronauts train. A special tram ride takes you to the Space Vehicle Mockup Facility, where astronauts train on the latest spacecraft, including the International Space Station and the new Orion spacecraft, that will one day head to the moon and Mars.
Being an active space training facility and mission control center, the visitor center is open 7 days a week from 10 a.m. to 5 p.m., closed Thanksgiving and Christmas. The center has extended hours for the Christmas Galaxy Lights display that runs from 6 p.m. to 10 p.m. Thanksgiving through New Year's weekend.
No matter when you visit, it's best to purchase your tickets online to avoid crowds.
3. U.S. Space And Rocket Center
Huntsville, Alabama
They call it the "Rocket City" — Huntsville, Alabama. It was here that Dr. Wernher von Braun and his team developed the Redstone rocket that put our first astronaut — Alan Shepard — into space, as well as the Saturn V that landed men on the moon. The U.S. Space and Rocket Center celebrates this history with thousands of historical artifacts.
But it's not all about history. There are plenty of interactive activities for the explorer in you, like the Adult or Family Astronaut Training programs where you get to do a little astronaut training, take a 5-minute ride on the HyperShip motion-based simulator, experience the force of gravity on the G-Force Accelerator, take a spin on the stomach-churning Multi-Axis Trainer, and more.
For those who want something a little more down-to-earth, bus tours of the Redstone Arsenal, where our space journey began, are also available.
You will also see one of the few remaining and intact Saturn V rockets. In fact, you can't miss it. It can be seen for miles as you drive along I-565 heading to the center.
And since Huntsville became the burgeoning city it is today due to the German rocket scientists, it's only fitting that there is a German Biergarten serving up live music and beer spring through fall.
The center is open Monday — Friday 10 a.m. to 4 pm., Saturday 10 to 5, and Sunday 11 to 5. Tickets can be purchased online or at the entrance.
4. Infinity Science Center
Pearlington, Mississippi
A little-known NASA facility located just off I-10 in Pearlington, Mississippi, is the Infinity Science Center at the Stennis Space Center.
Stennis is the site where NASA tests all of their rocket engines. In fact, the largest engines ever built for the Saturn V moon rocket and the new Space Launch System (SLS) are fired up here, and if you're lucky, you may get to see the show.
Being small in size, Stennis tends to be less crowded but still makes for a full day of exploration. The center has movies and documentaries playing throughout the day in their 3D Immersive Theater, the actual first stage of a Saturn V moon rocket, an Apollo 11 Virtual Reality Simulator, rooms of historical artifacts, guided bus tours of engine test stands, a snack bar, and more.
Infinity is open Monday through Saturday from 9 a.m. to 4 p.m., closed on major holidays. Current ticket prices can be found online.
5. Jet Propulsion Laboratory
Pasadena, California
Talk about being far out — it doesn't get any farther than at the Jet Propulsion Laboratory (JPL) in Pasadena, California. This is where all of the unmanned satellites that zip through the galaxy — and beyond — are tracked like the Voyagers launched in the 1970s. These satellites are still doing research billions of miles outside our own solar system, and the Mars rovers are trekking across the Martian landscape.
All tours begin with a multimedia presentation, Journey to the Planets and Beyond, then take you to see flight operations and spacecraft assembly.
Tours are available from 7 a.m. to 4:45 p.m. Monday through Friday, closed on weekends. Tours are free, but reservations are required. Contact JPL at (818) 352-1234. Valid identification such as a driver's license is required for entry.
6. Wallops Flight Facility
Wallops Island, Virginia
Looking for more rocket launches? Then head over to Wallops Island, Virginia, and the NASA Wallops Flight Facility. Grab a seat in the bleachers to feel the thunder of large-scale launch vehicles like the Antares or sit on the center's observation deck for the thrill of a sounding rocket launch.
The visitor center also has many exhibits documenting the history of flight from the Wright Brothers to the Space Station.
Wallops Island is open from 10 a.m. to 4 p.m. daily, July through August, Tuesday through Saturday, September through June, closed major holidays. Admission is free.
7. Virginia Air And Space Museum
Hampton, Virginia
The history of aviation is on full display at the Virginia Air and Space Museum in Hampton, Virginia.
The museum features over 30 historic aircraft and spacecraft, including the Apollo 12 capsule and the first Orion capsule, IMAX movies, and a killer simulator — the MaxFlight, a fully interactive, 360-degree simulator complete with authentic pitch and roll (up and down, side to side) just like an actual airplane. And different planes such as vintage WWII fighters and jets turn the experience into a roller coaster.
Hours are Wednesday through Saturday, 10 a.m. to 5 p.m., Sunday noon to 5 p.m., closed all major holidays. Beat the crowd by purchasing your tickets online.
8. Space Shuttles
Then there are those science and aviation-based museums that, while not an official NASA visitor center, still have some pretty amazing NASA connections — actual flight flown space shuttles.
Docked along the banks of the Hudson River in lower Manhattan, the aircraft carrier U.S.S. Intrepid is incredible on its own, but add to the experience the space shuttle Enterprise that was used for initial testing of the shuttle's landing capabilities.
The Smithsonian Air and Space Museum's annex, Udvar-Hazy Center in Chantilly, Virginia, plays host to the workhorse of the shuttle fleet, Discovery, which logged in 149 million miles over 39 flights.
And the space shuttle Endeavor has found a permanent home at the California Science Center in Los Angeles.
Related Articles: