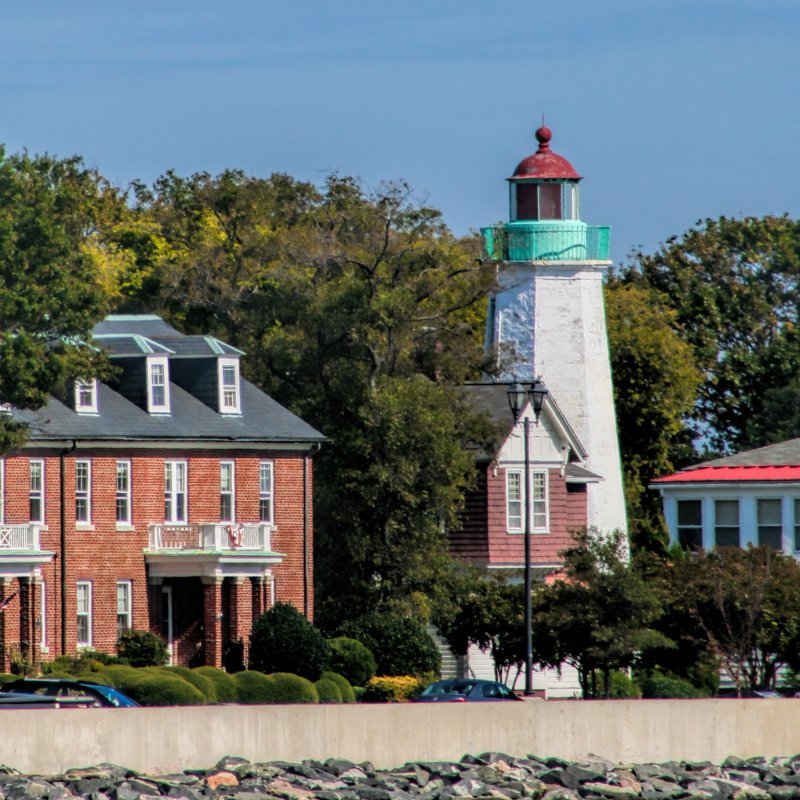 Hampton, Virginia, with its lively waterfront downtown area, live music, air and space museum, activities on the bay, and delicious seafood, is located on the Virginia Peninsula in the Hampton Roads region of southeastern Virginia. You'll find the Chesapeake Bay to the north and east and the Hampton Roads Harbor to the south, so it's no surprise that Hampton offers plenty of water activities and beaches.
Last spring, I spent two weeks traveling Virginia by train. My first stop was Hampton, where the city of Hampton hosted my visit.
Here are eight reasons to put this city on your bucket list.
1. It's Steeped In History
The city of Hampton was founded in 1610 and is a true city of firsts. It was America's first English-speaking settlement, the first place in the United States to offer free public education, and the location where NASA's first astronauts trained.
The Hampton History Museum traces the long history of the city, from its English roots to its Native American connection to its role in the U.S. space program. After your visit, step out the back door of the museum to see Saint John's Episcopal Church, the oldest English-founded parish in the U.S.
You can also visit Hampton University, opened in 1868 under General Samuel Chapman Armstrong, which educated freedmen and later Native Americans. Now one of the top private universities in the nation, it's home to the Hampton University Museum and the Emancipation Oak.
The museum is the oldest museum dedicated to African-American culture and one of the oldest museums in the state of Virginia. It features traditional African, Native American, Native Hawaiian, Pacific Islander, and Asian art; there are more than 9,000 objects. The museum's fine arts collection houses the largest existing collection of works by artists John T. Biggers, Elizabeth Catlett, Jacob Lawrence, Richmond Barthe, and Samella Lewis.
Near the entrance to the campus you'll find the Emancipation Oak, which, in 1863, was the site of the first Southern reading of the Emancipation Proclamation, which accelerated the demand for African-American education.
2. It's Home To The Virginia Air & Space Center
The Virginia Air & Space Center is the official visitor center of the NASA Langley Research Center. Visitors can explore more than 100 hands-on exhibits, including the Be An Astronaut exhibit, with its space mission simulations, and the Inflatable Lunar Habitat exhibit, where you can imagine life in a futuristic space colony. Also at the center are suspended, full-size aircraft and a 3-D IMAX theater.
3. Its Old Fort Is Free To Visit
Fort Monroe — named for James Monroe, the fifth president of the United States — took 15 years to build, starting in 1819. It was an active fort until 2011, when it was decommissioned after 188 years and opened to the public. Now it's a vibrant public area that's free to visit, with an abundance of history, walking paths with stunning views, restaurants, fishing opportunities, and even its own Segway tour.
Head to the Casemate Museum at Fort Monroe for a look at life in the 1600s. Originally called Fort Algernoune, it was built in 1609 and served as a lookout point and defensive system for the Jamestown Settlement and the Hampton Roads Harbor. Fort Monroe was constructed from 1819 to 1834 and served as a Union bastion in the Confederate South during the Civil War. The museum houses the cell in which the Confederate president, Jefferson Davis, was imprisoned. It's also home to the Old Point Comfort Lighthouse. The museum is self-guided and free to enter. For a fee you can arrange a guided tour.
After visiting the museum, take a Segway tour of Fort Monroe with Patriot Tours and Provisions. During the hour-long tour, you'll ride through the inner fort and down to the waterfront as your guide points out sites of historic significance. If Segways aren't your preferred method of transportation, Patriot Tours and Provisions also rents bicycles, kayaks, and paddleboards, plus a selection of kites and beach supplies.
I was a little nervous trying a Segway for the first time, but the lessons I received beforehand and the assistance of the guide put me at ease. It was an exhilarating way to view the beautiful setting of the fort. Be sure to put on sunscreen before heading out.
4. Its Phoebus Neighborhood Is Charming
In Hampton, you can experience the charming neighborhood of Phoebus, known for its architecture, art, shopping, and unique dining options.
The owners of Mango Mangeaux, a vibrant mango-themed restaurant, started out making their own preserves to sell at farmers markets. Their preserves were featured on ABC's Shark Tank. While they didn't partner with a Shark, the Sharks loved the mango preserves, and they received 15,000 orders in 48 hours, equalling nearly 100,000 jars of preserves. Now the owners sell their preserves at their French, Creole, and neo-soul bistro in Phoebus.
Hampton's premier farm-to-table restaurant, The Point, serves seafood and Southern favorites. The locally sourced foods are made from scratch in-house. My favorite is the fried chicken. If you like sweet and savory foods, try Rosemary's Chicken & Waffles, or for a traditional chicken dinner, try the Chicken-Fried Goodness with buttermilk-fried chicken breast, mashed potatoes, sausage gravy, and collard greens.
Phoebus is a National Historic District with 400 years of history. Stop by Benders Books and Cards, a comic book and collectibles shop; Robert's Antiques, which has been selling quality antiques since 1969; and the American Theatre adjoining the Charles Taylor Visual Arts Center.
5. You Can Take A Tour Of The Harbor And Chesapeake Bay
At the Hampton Maritime Center, you can check in for a cruise on the Miss Hampton II. This double-decker boat offers daily narrated cruises of the Hampton Roads Harbor and Chesapeake Bay. On the tour, you'll see fishing boats and commercial cargo ships, plus sites like Blackbeard's Point, the Old Point Comfort Lighthouse, and the world's largest naval installation, the Naval Station Norfolk.
6. It's Got A Vibrant Downtown Area
Take a ride on the Hampton Carousel, one of only 70 antique wooden merry-go-rounds still operating in the U.S. The carousel, open year-round, is completely restored and safe from the elements inside a protected pavilion.
Head to Queens Way downtown for lunch or dinner at Brown Chicken Brown Cow, a hip spot for grass-fed and finished burgers and barbecue. Order one of the premium floats made from local antibiotic- and hormone-free milk; you can get them either "wholesome" — with strawberry or chocolate milk, root beer, or soda — or "boozy" — with a hard soda or mixed up as a Mudslide, Creamsicle, or Cinnamon Toast. There's live music on Wednesday, Friday, and Saturday nights.
Another great spot is The Grey Goose. Start with Southern pulled-pork nachos, and then move on to hearty comfort dishes like Yankee pot roast or fried Rappahannock River catfish. The restaurant is known for its baked goods and popular dinner shows.
If you visit during the summer months, you can enjoy the Downtown Hampton Block Party, Hampton's signature summer Saturday-night event series.
7. You Can Sample Fresh Seafood
Considering Hampton's location, it's no surprise that the coastal city's seafood restaurants don't disappoint.
Deadrise at Old Point Comfort Marina serves up fresh catches with unrivaled views. Dinner at sunset on the deck is simply divine.
At Graham & Rollins, a family-owned company since 1942, you can buy a fresh catch at the market or step next door to the restaurant. Enjoy she-crab soup for a starter, and then choose your type of fish, crab, or shellfish served with hush puppies and two sides.
8. There Are Festivals All Year Long
Hampton hosts festivals all year long. The Hampton Jazz Festival in June and the Coastal Virginia Bluegrass & Brew Festival in January draw big crowds, but there's nothing quite as unique and fun as the Blackbeard Pirate Festival, when Hampton is overtaken by pirates. Pirate reenactors in full costume take you back in time to the busy port of times past. Blackbeard himself is there, as well as other legends of 1718 Hampton.