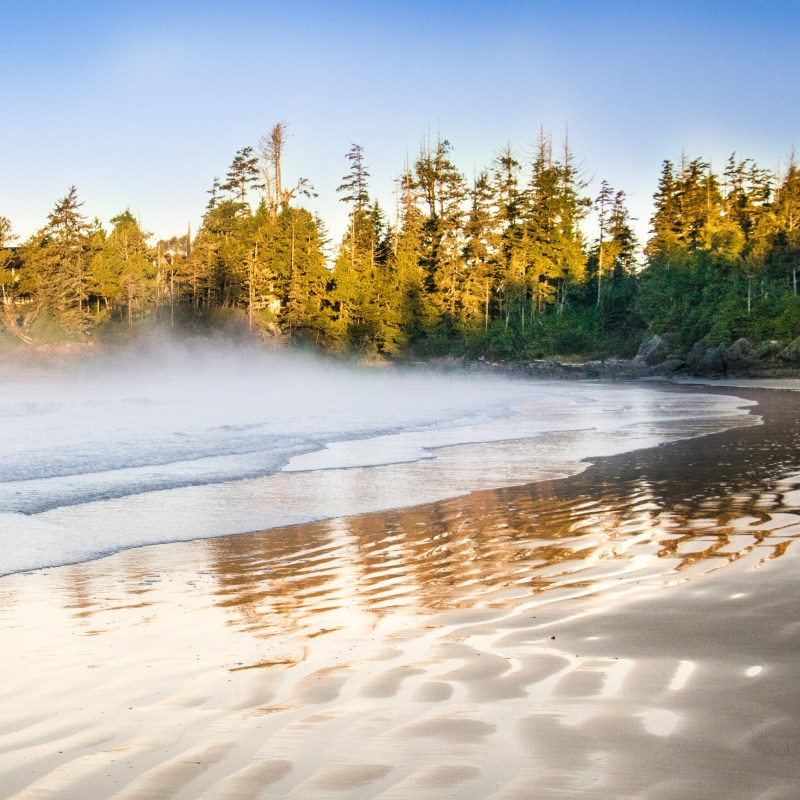 Canada is mostly known for its robin's egg blue lakes, Rockies, fascinating wildlife, and cold temperatures contrasted by warm-hearted people. The coastal areas of Canada are gorgeous, too, but garner less attention.
Let's focus in on some of the most beautiful and charming islands in Canada. Soon enough, you'll see why visiting one (or all!) of them should be on your Canadian bucket list.
Salt Spring Island
Located east of Vancouver Island and west of British Columbia, 70-square-mile Salt Spring Island is a must-visit island escape.
Ganges, the adorable main town on the island, is worth a stroll. While there, shop around for trinkets and souvenirs, sip on a cocktail, and meander down to the harbor for soothing views of the water.
If you're drawn to the water, you can explore Salt Spring Island by paddleboard, kayak, charter boat, and more. On land, the island offers hiking trails and golfing.
Since Salt Spring Island is far south, the temperatures are mild and agreeable. Here is our full itinerary for a perfect weekend on the island!
Avalon Peninsula
The Avalon Peninsula in Newfoundland is fascinating. During spring and summer, icebergs from the Canadian Arctic and Greenland embark on a slow and steady journey all the way south to the Avalon Peninsula. The icebergs' route follows what is called Iceberg Alley. Here is our list of the perfect places to stop and explore on Iceberg Alley to see the spectacle for yourself.
Visitors also enjoy the peninsula's lighthouses, historic sites, ecological reserves like Cape Saint Mary's, and cultural experiences, such as in Ferryland, known for its deep-rooted and widely celebrated Irish traditions and culture.
Thousand Islands
Skip the dressing; visit the place! If you want to see quaint islands in Canada, Thousands Islands is the place to see a cluster of them in one concentrated area. Even better, Thousand Islands is on Lake Ontario, so it's a swift boat ride away from New York.
Since many of the islands are tiny, you can explore several islands by kayak and even camp on-site in Thousand Islands National Park.
If you happen to visit from the New York side, you have your pick of two impressive castles. Boldt Castle is a magnificent 120-room, six-story castle fortified with a drawbridge. Singer Castle on Dark Island has an iconic red roof and supposed secret passageways.
Cape Breton Island
Cape Breton in Nova Scotia melds history, rugged terrain, and culture into one island. Road-trippers will love the Cabot Trail — a 185-mile drive believed to be the most beautiful in Canada.
Cape Breton Highlands National Park greets visitors with a healthy dose of wildlife, trails, and fresh, crisp air. History sites and museums inform visitors of the land's rich history, and for a dip in the local culture, you must attend a Scottish-Gaelic live event with music and dance. That's just scratching the surface, though. Here are some of our best experiences on magical Cape Breton island.
Prince Edward Island
Prince Edward Island is Canada's smallest province, but don't let its size fool you. It's blessed with delicious seafood, quaint towns, relaxing beaches, and everything in between!
One way to explore the island is by epic road trip (recommended itinerary here).
Lucy Maud Montgomery's delightful Anne of Green Gables series is set in Prince Edward Island. Montgomery depicts the terrain quite beautifully, and if you like the series, you're sure to appreciate its setting.
Vancouver Island
Last but certainly not least, we have Vancouver Island — arguably one of the most beautiful places in Canada.
Vancouver Island is something to behold year-round. In the winter months, hit the slopes or a spa, explore caves, and go storm watching in Tofino. In warmer months, backcountry hike on the West Coast Trail in Pacific Rim National Park Reserve, kayak with orcas, spot whales on a charter boat, go kiteboarding, and breathe in the fragrance of flowers at the lovely Butchart Gardens.
Vancouver Island has it all, so no matter your interests, priorities, or budget, you are destined for a dreamy vacay there.
Be sure to check out our comprehensive list of the best experiences on Vancouver Island, as well as our dream weekend there!