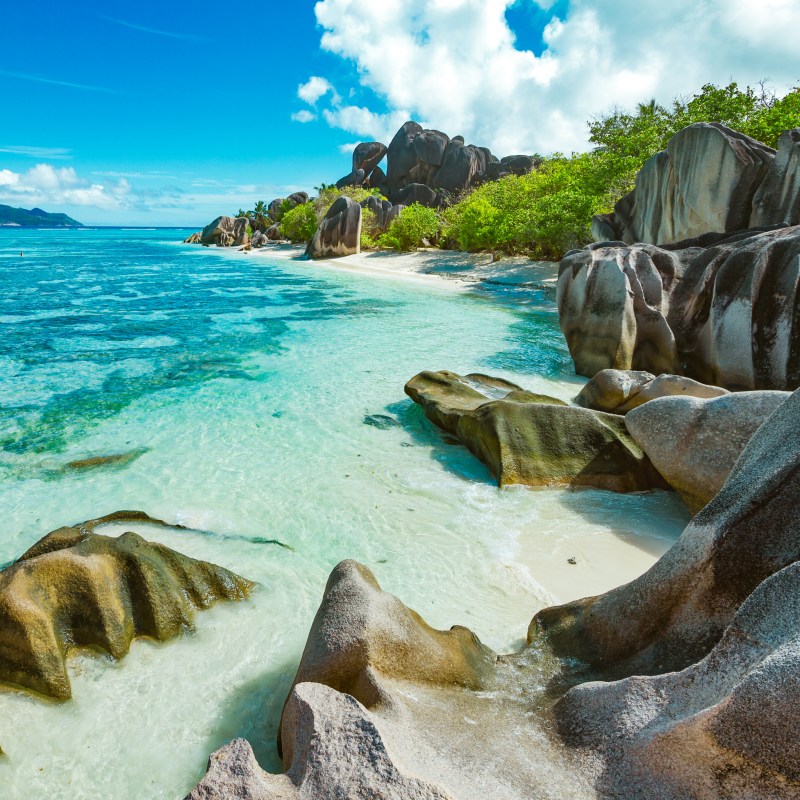 One of the most-loved stamps in my passport is the cheeky one from the Seychelles depicting the famous coco-de-mer coconut found there. You know the one that looks like a nicely rounded rear end? It makes me smile every time and takes me straight back to the serene islands in the Indian Ocean.
The Seychelles archipelago, some 1,500 miles off the west African coast, is made up of the main island Mahe with its capital Victoria, the two smaller islands of La Digue and Praslin, and more than 100 even smaller islands, some of which have been transformed into some of the world's most exclusive private resorts.
What I really love about the Seychelles is the incredible flora and fauna, with so many gorgeous birds and coral atoll islands, where the water is shallow from the beaches, protected by a coral reef, and perfect for snorkeling. Most of the islands are formed from granite, so you have sandy beaches, lovely waves, and deep water perfect for water sports and playing in the breaking surf of clear water.
For animal lovers, this is paradise, with ancient tortoises native to the islands, a vast assortment of colorful marine life, lizards and geckos wanting to share your breakfast, and some 190 different bird species recorded in and around the islands. The most impressive is the Frigate birds who can spend an entire week up in the air, and my favorites: The pure-white Fairy Terns whom you usually see in pairs, looking simply stunning.
Whether you arrive for a relaxing, pampered honeymoon or a more adventurous trip, the Seychelles offer so much and are without a doubt some of — or let me just say it straight out — the most beautiful islands in the world.
Here are some tips and tricks to bear in mind before you hop on that plane.
How To Get Here
There are no direct flights from the U.S., but you can easily connect through London or Middle Eastern hubs such as Qatar or the UAE. International flights fly into Mahe airport, a lovely, tiny airport, from where you can catch local flights on Air Seychelles to connect you to the island of your choice.
Why You Should Visit
These islands' natural beauty is like a vacation brochure cliche: Smooth granite rocks hem the white beaches, and the crystal-clear water, together with the lush greenery and the thriving wildlife, is something everybody should experience once in their lives. The cuisine is spicy and fresh, the local culture fascinating, and there are plenty of activities, mostly water sports, to keep you busy if you need a break from relaxing on the sun lounge.
Best Time To Visit
The temperature does not vary hugely throughout the year, with temperatures above 80 degrees Fahrenheit every month. However, the southern hemisphere summer between November and January tends to have the most precipitation and humidity, while the winter is slightly cooler. To get the most comfortable temperature and the least rain, visit in spring or fall, roughly October and November, or April and May.
How Long To Visit
The Seychelles, together with other Indian Ocean Islands, are not easy to get to, and to get the most for the time and money spent reaching your destination, you should stay for a week or two, if possible. You can easily spend more time if you are planning on boat trips and island-hopping, but in general, most people visit the main island to look around and then choose one island to settle and relax in a beach resort.
Best Things To Do
The Vallee De Mai, Praslin Island
The Vallee de Mai is one of two UNESCO World Heritage Sites in the Seychelles and is famous for the clusters of some 4,000 coco-de-mer trees and five other endemic palm tree species found here. It is also a haven for birds such as the endemic Seychelles bulbul, and best appreciated by going on one of three trails, the Cedar Trail, Central Trail, or the Circular Trail, either self-guided or with a local guide picked up from the visitor center.
Victoria, Mahe
One of the smallest capitals in the world, tiny Victoria boasts a population of 26,000, more than a quarter of the Seychelle's total population of less than 100,000. The capital is filled with colorful colonial houses and a botanical garden. It has one famous landmark: a little clocktower standing in a crossroads that is well worth visiting. Victoria is also home to the island's main market, the Sir Selwyn Selwyn-Clarke Market, a daily feast for the senses (closed Sundays) that sells fresh fruit and fish.
The Aldabra Atoll
The other UNESCO World Heritage Site, this is one of the world's largest raised coral atolls comprising four islands. It is home to the world's largest population of giant tortoises, and when you go underwater, you will spot the marine equivalent: turtles. Alas, this atoll is some 750 miles southwest of the main island, explaining some of its unspoiled beauty, as it takes dedication and time to visit. There is no airstrip or helipad, nor a boat mooring or a hotel, so if you want to visit, you will need to do so on a local cruise, sleeping on the boat.
St Anne Marine National Park (From Mahe)
This marine park is perfect for snorkeling among the colorful reef fish, spotting turtles, or simply lazing on the boat or one of the many sandbanks, enjoying the surroundings. Daily excursions leave from Mahe, making for a lovely day out.
Copolia Trail, Mahe
This moderate trail on the main island is a slow and steady but easily manageable ascent up to 760 feet above the capital with 360-degree views at the top across the island and beyond. Surrounding you are birds and greenery, but few people. Nearby is the Mission Lodge, ruins of a former school for slave children, and the gazebo where Queen Elizabeth II had tea on her visit to the Seychelles in 1972.
Best Restaurants To Try
The Seychelles are known for their Creole cuisine, the fresh fish, often grilled on a barbecue of coconut husks, some spicy and some smoother coconut curries, and anything with bananas. There are some fine dining restaurants, but as is often true for small, out-of-the-way nations, you can find the best meals in basic, inconspicuous restaurants by the side of the street or on the beach.
Bravo Restaurant, Mahe
Located in Mahe, Bravo Restaurant is an unassuming restaurant with picnic benches by the marina that serves great grilled fish, coconut curries, and their local take on burgers.
Sir Selwyn Selwyn-Clarke Market, Mahe
For fresh fruit for your boat trips or snacks in the hotel, you can't find any better than the offerings at this market. Bananas, mangos, breadfruit, and more are cheap and fresh.
Bonbon Plume, Praslin Island
Right on the beach of Anse Lazlo, Bonbon Plume under a palm-fronted roof is a bit touristy, but the location is fabulous and invites you to stay until late into the night. The fresh seafood being grilled on site is their specialty.
Best Places To Stay
The accommodation available in the Seychelles ranges from super luxury to luxury to normal and budget. It really all depends on your budget and the occasion. But sometimes the occasion is simply being in the Seychelles, so why not?
Fregat Island Private
A private island reached by helicopter or small plane from Mahe, Fregate Island Private is a nature reserve where humans take second place to nature. Sixteen villas nestle in the greenery, each offering a large living room villa, a bedroom villa, indoor and outdoor bathrooms, a small pool, all connected by private boardwalks, and any meals you wish delivered right to your front door. Each villa comes with a golf buggy to get around, and each beach has an 'occupied' sign and a phone to call up for cocktails or snacks brought down to you. Not cheap, but also not the priciest, and so worth it.
Au Font De Mer, Mahe
Au Font De Mer is one of several self-catering options available on the main island and has good ratings. Also, look at the Airbnb options; you can get apartments and beach villas at reasonable prices.
Hilton Seychelles Northolme Resort And Spa, Mahe
For a mid-range hotel chain, you could do a lot worse than the Hilton on Mahe island. With its private beach, private pools in their villas, restaurants overlooking the ocean and clean, and modern styling, this is a good choice.
Pro Tips
You will not need a visa to enter the Seychelles, and you will get your lovely stamp upon arrival. It is recommended that all your routine vaccinations are up to date, but you do not need any specific vaccinations, nor any malaria prophylaxis.
The language is Seychellois Creole, which is rooted in French, but English and French are also widely spoken and understood, and all the hotel staff speaks English. The currency is the Seychelles rupee, but prices are often listed in euros and dollars, both of which are accepted in larger stores and hotels, but not necessarily in street stalls or by market vendors.
It might be worth mentioning that there really is plenty of wildlife in the Seychelles, even in the luxury resorts. When I stayed on Fregate Island, a couple had to be helicoptered out after one night because the bride could not cope with the lizards that shared their villa. That said, Fregate is a nature reserve where all creatures are encouraged to enjoy themselves, but if you are squeamish, it may be better to stay on the main island in a hotel where lizards and geckos are kept firmly outside.
Related articles: