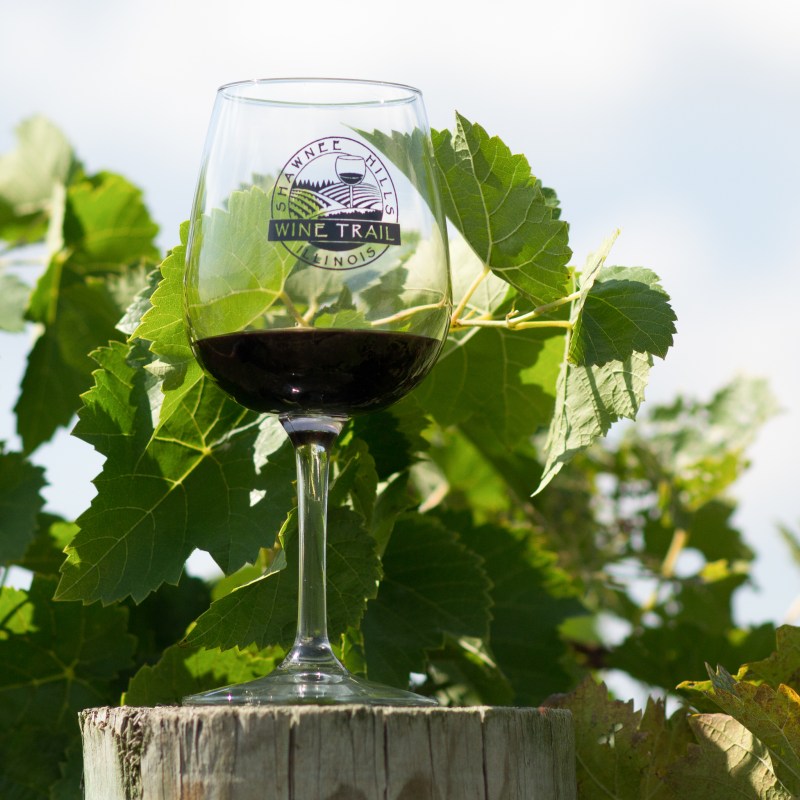 Tucked into the very southern reaches of Illinois is an area that's attracted wine aficionados for more than 25 years: the Shawnee Hills Wine Trail. The 40-mile trail winds through the state's first American Viticultural Area and includes stunning scenery near the Shawnee National Forest. With nearly 11 individual wineries dotting the trail, there's certainly a lot to love about visiting!
Here are a few things to keep in mind to make sure you have the perfect day exploring and experiencing this charming slice of Midwestern wine country!
Plan In Advance
Located just to the south of Carbondale, Illinois, the Shawnee Hills Wine Trail is well-marked and follows highways 127 and 51 through the national forest as it connects the wineries. It's simply not possible to visit all 11 of them in a single day, so make sure to do your research and plan your route and stops in advance. Four to six visits are certainly doable and will make for a varied, enjoyable day on the trail. Another thing to keep in mind as you sketch out your adventure is that many of the wineries hold special events, especially in the summer months. These can range from special tastings to concerts and festivals and are well worth checking out!
Enjoy The Drive
Aside from the wine, one of the terrific things about exploring the trail is its incredible scenic beauty. Shawnee National Forest is blessed with gently rolling hills, sandstone bluffs, and of course, lush acres of vineyards. There are also several lakes along the trail as well as scenic pull-offs worth exploring, including the Little Grand Canyon, which treats visitors to sweeping views of the Mississippi and Big Muddy Rivers, and the Pomona Natural Bridge, a 90-foot long sandstone bridge carved over the millennia by water. As in many situations, the journey is half the fun, so be sure to take in the region's natural beauty while you're stopping from point to point.
Try A Wide Variety Of Wine
Each of the wineries along the trail has a different vibe and feel, featuring a variety of wine styles, wine-making techniques, and even fruits used. Grapes grown in the terroir along the trail include Norton and Chambourcin, which yield dry red wine, and Traminette, a floral white off-dry wine that can have spicy notes. Blackberry, blueberry, and peach wines are also on offer at several wineries, and many also feature wines made with grapes imported from other areas of the country. Bottom line: Many of the wineries you'll visit are award-winning makers, and you're bound to find a new favorite during your trip on the trail. When you do, don't be afraid to purchase extra to take home!
Eat, Hydrate, And Pace Yourself
As you sip, sample, and savor the terrific locally produced vino during your day in Shawnee Hills, it's important to make sure you're also snacking, drinking plenty of water, and pacing yourself appropriately. Fortunately, many of the wineries have on-site cafes or restaurants, so grabbing a bite is quite convenient. Alternatively, you can also pack a picnic to ensure you're keeping food in your system. Another good pro-tip to keep in mind — spit buckets are there for a reason. You shouldn't feel the need to polish off wine during a tasting if it doesn't please your palate, and you can certainly taste a wine well without quaffing an entire pour. Bottom line: Take care so you don't ruin a perfect day on the trail by over-imbibing.
Consider A Tour
If you'd prefer to leave the driving to someone else — no worries! A couple of tour operators routinely offer service and day-trips to and from wineries along the trail. These companies will work with you beforehand to customize a trip based on your wine preferences and tastes. This is a great option for groups who want to make several stops safely, comfortably, and responsibly.
Make It An Overnight
While it's easy to spend a perfect day on the Shawnee Hills Wine Trail, it's also a snap to spend the night or weekend! A handful of the wineries offer on-site accommodations, but you'll want to book them well in advance of your trip. There are also many inns and bed and breakfasts along the trail and in the general area, lodges, resorts, and cabins. The Wine Trail's website lists plenty of options, and there are additional offerings available on homeshare sites.
Pro Tip
If you want to further extend your time in southern Illinois, consider boosting your outdoor time with some hiking. There are some terrific spots near the wine trail to get in some exercise, enjoy nature and disconnect a bit. Check out seven of our favorite hikes here.
Related articles: