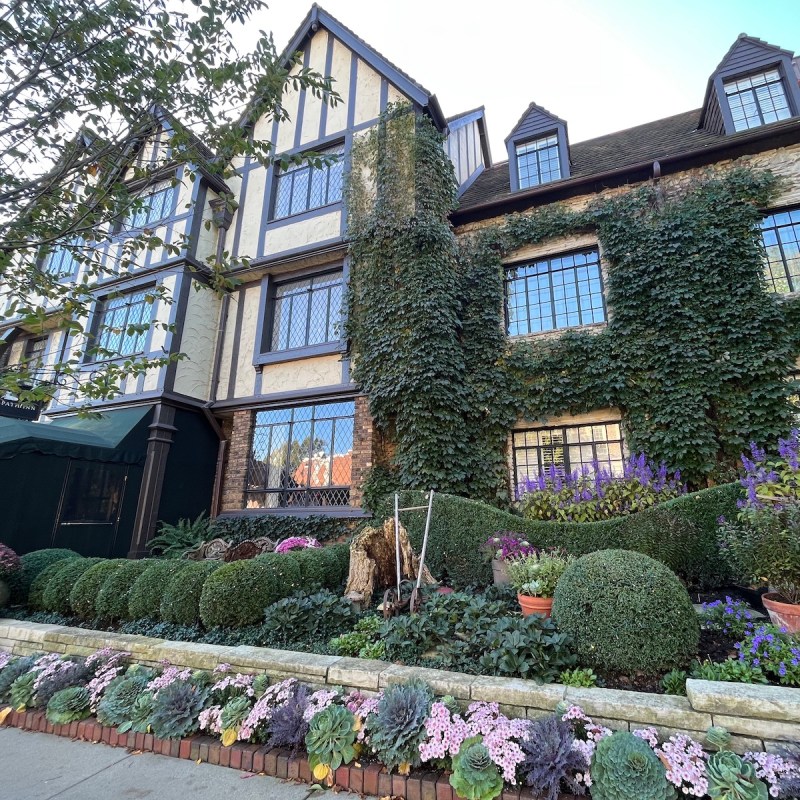 I absolutely adore the United Kingdom. There's just something about the rolling gardens, timbered homes, high teas, and timeless tweeds that is especially enchanting, making it one of my favorite places in the world to visit.
That quaint country aesthetic is perfectly recreated at the historic Deer Path Inn. Located 30 miles north of Chicago in the shoreside suburb of Lake Forest, Illinois, this special spot — which routinely makes national best-of destination lists — provides guests a cozy yet posh British experience; no passport required.
Here's what makes the property truly shine and why you might want to check it out for your next getaway.
History In The Heart Of Town
The inn, built in 1929, is on the National Register of Historic Places and situated right in the middle of Lake Forest's downtown. The small city, established in the 1800s as a summer getaway for the wealthy Chicago elite, is an absolute gem. Situated on Lake Michigan — with large swoon-worthy homes, a charming square, expansive greenspaces, and the Lake Forest College campus — it's well-worth exploring.
The inn fits right in with the community's upscale vibe. Designed to resemble a 15th-century English manor house, it has just 57 rooms and suites, and the open spaces have an inviting, intimate feel. In the 90+ years since it opened, the inn's hosted countless weddings, celebrations, and other special events.
After an extensive year-long renovation that included a complete rehab of the interior spaces and a reimagining of the gardens and courtyard, the Deer Path Inn reopened in 2016 to the delight of locals and visitors alike. It retains its old-world charm, while exuding upscale comfort.
A Warm, Welcoming Atmosphere
Deer Path Inn hosted me and my sister and we road-tripped up from Missouri where we live. From the moment we pulled up to the inn, we felt instantly welcomed. A valet opened our car doors, our luggage was whisked away, and we stepped through the heavy wooden front doors held open for us by two attendants. The quaint lobby and adjacent Hearth Room featured dark wood, leather furniture, and two crackling fireplaces. We instantly exhaled and the tenseness of the 5-hour car ride began to melt right away.
A quick tour of the property revealed warm, welcoming spaces, including the downstairs bar, the White Hart Pub, and the lovely outdoor courtyard. The entire inn had an upscale country vibe, leaving us to feel that we'd really been transported to England.
We were shown to our room on the third floor and delighted to see how expansive it was. There was a front sitting area, a nicely stocked bar with British snacks, an enormous walk-in closet, and a marble-tiled bathroom. The room, like the rest of the inn, was comfortable and luxe, but not at all fussy — the perfect balance!
Accoladed Food And Beverage Service
While British cuisine can sometimes get a bad rap, the Deer Path Inn gives it a definite boost. To be sure, there are the traditional favorites, like fish and chips and cottage pie. But the menu in both The Bar and the main dining room, The English Room, also included more refined plates, including duck, filet mignon, and a couple of great fish options like Dover sole. There is also sushi service, an interesting twist on pub grub I certainly wasn't expecting!
High tea in The English Room was a decadent, delicious treat. A tea master helped us navigate the extensive menu with dozens of options, we chose our blends, and within minutes, we were enjoying relaxing cups of tea and a spot of sparkling wine, with a lovely assortment of finger sandwiches, quiches, pastries, and scones. It was all served with jam and clotted cream of course. The experience gave off definite Downton Abbey vibes!
Of course, great meals can often be elevated with the perfect wine or cocktail, and that's where Deer Park's food and beverage service really shines, thanks to Jorge Centeno and his staff.
Centeno, a cocktail wizard who helms the inn's beverage program, personally creates seasonal specialty drinks at The Bar. Leveraging more than 2 decades of experience, he's run the program since the inn reopened in 2016. In that time, he's amassed an eyebrow-raising bottle list including rare and coveted tequilas, bourbons, gins, and wines.
We had the chance to take a mixology class with Jorge during our time at Deer Path and I highly recommend it; you'll have to call well in advance to inquire about the experience. Admittedly, it wasn't so much a class as Jorge talking us through his process and mixing us creative cocktails with ingredients sourced locally — many from his own garden. We were served seven different drinks in all, each works of art. While they were all incredible, I let Jorge know there was no way I'd be able to finish all of them without serious consequences. Thankfully, he gave me a pass. We ended our time with him in the inn's cellar, where some truly extraordinary bottles are stored for connoisseurs.
A Cozy, Community Feel
British inns are well-known for their hospitality, warmth, and community feel. Pub is short for "public house" after all — and the Deer Path Inn pulls off the English pub vibe effortlessly. During our weekend there, chilly fall weather had set in. Friday evening, the communal areas were packed with friends and neighbors, waiting for their tables at The Bar and The English room. It became apparent that the inn is definitely a local hang and it was lovely to witness. Everyone was in good cheer, happy to be there, and dressed casually and comfortably. The staff offered extended bar service to accommodate the overflowing crowd, who helped themselves to the inn's signature freshly baked chocolate chip cookies while sipping their drinks.
Speaking of service, of course it contributes greatly to a resort experience. The Deer Path's staff were incredible. Everyone we encountered was cheery and helpful, without the stuffiness or curtness sometimes seen at an upscale resort or hotel. From our restaurant servers to the front desk manager and valets, our needs were attended to in an efficient, friendly fashion. Even the inn's general manager — a Brit who's exceedingly good at this job — helped run drinks on that busy Friday night.
All in all, our stay at the Deer Path Inn was a wonderful Midwestern respite that reminded me so much of my travels to the UK. I just wish we could have stayed longer! The inn's a snap to reach via car. For a greener option, consider taking the train. Chicago's Metra line runs right up to Lake Forest's town center.