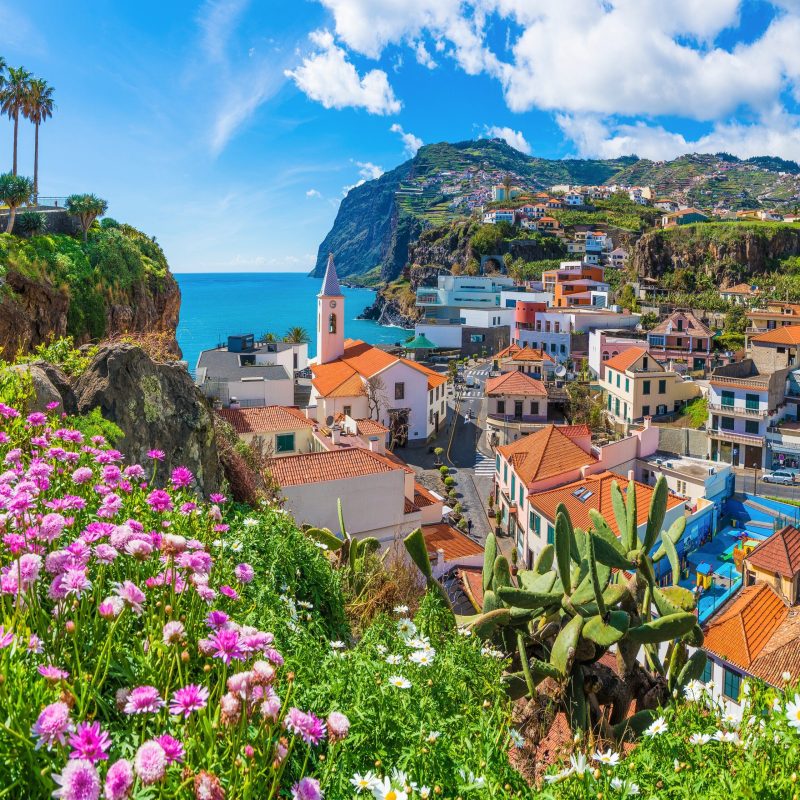 Our quest to find quaint towns and islands doesn't stop in the U.S., as our writers have some fantastic suggestions on charming and unique international islands to add to your 2021 travel plans. These islands offer the perfect escape from the hustle and bustle of the mainland, and any one of them would be a fantastic day trip or weekend getaway to tack onto an international adventure. A quieter pace, fewer crowds, well-preserved history, and gorgeous scenery are just a few of the things we love about the islands on our list. Take a look at our top recommendations for quaint international islands to visit in 2021, and start your planning today!
Isla Mujeres, Mexico
Just 20 minutes off the coast of Cancun you'll find this island paradise surrounded by clear turquoise waters and blindingly white sand beaches. Isla Mujeres is tiny, just 4 miles long and less than a half-mile wide, so it's easy to explore by foot or by bike. Don't let its tiny footprint fool you though, here you'll find Playa Norte, known as one of the most beautiful beaches in the world, along with rich Mayan culture, delicious local cuisine, and plenty of opportunities for snorkeling in the colorful reefs. Check out our full list of fantastic experiences on Isla Mujeres here.
Madeira, Portugal
A true hidden gem, Madeira is a 90-minute flight off the coast of Lisbon and feels like stepping into an entirely different world. Madeira is extremely walkable, but there are other unique options to try, including wicker sledge cars and gondolas to lift you up and down the hills. While on the island wander through Old Town Funchal, the central hub of the island for shopping and dining, and be sure to sample the fortified Madeira wine the island is known for. For more Madeira inspiration, check out all the reasons why Madeira is Portugal's best kept secret here.
Salt Spring Island, British Columbia
The rugged, natural landscape of Salt Spring Island is the perfect backdrop for a relaxing weekend getaway. With ferry service from nearby British Columbia and Vancouver Island, Salt Spring Island is a must-visit destination. Depending on the time you visit, you may be able to schedule a whale watching tour, and it's worth trying to schedule your trip during peak whale watching season. No matter when you visit, you'll be greeted by fresh pine air and the view of ferries and sailboats on the water, and have the opportunity to explore tidepools looking for treasures. Check out all of our recommendations for how to spend the perfect weekend on Salt Spring Island.
Christmas Island, Australia
A visit to far-flung Christmas Island is guaranteed to be one of the most unique travel experiences you can have. The island was uninhabited for thousands of years and changed hands many times during its history, creating the perfect backdrop for rich history and even richer biodiversity. Similar to the Galapagos Islands, there are species here you won't find anywhere else in the world, and you'll find countless chances to take in colorful fish while snorkeling, seabirds during a birdwatching session, and, if you're really lucky and time your visit just right, the annual red crab migration. If you need even more convincing, check out our full list of all the fantastic reasons to visit memorable Christmas Island.
Cape Breton Island, Nova Scotia
Gorgeous highlands, mountains, lakes, and ocean views will greet you during your trip to Cape Breton Island, as will the unique mix of cultures — the island is home to people of Scottish, British, Irish, Acadian, and Mi'kmaq heritage and is one of the largest Gaelic-speaking regions in the world. Take in the unspoiled scenery during a drive or hike along the 185-mile long Cabot Trail where you may spot eagles, moose, and bears. For a truly local experience, dine at a church or community dinner, where visitors are always welcome. Check out all of the fantastic things you can experience on Cape Breton Island here.
Paxos, Greece
When most people think of Greek islands, Mykonos, Santorini, and others tend to come to mind, but don't overlook quaint Paxos, where you'll find fewer crowds and lots to explore. Paxos is actually easier to get to than the more popular Greek islands, just a short boat ride from the major airport in Corfu. Once you arrive, you'll find that Paxos is chock full of charming villages, quiet beaches, and enticing dining options for you to sample. We have many more recommendations on where to eat, stay, and play on this beautiful Greek island.
Nevis
Tucked into the West Indies region of the Caribbean, on Nevis you'll find a relaxing, slower pace to life. The island does not allow large cruise ships to port and limits the number of visitors, so you'll get a more authentic experience than elsewhere in the Caribbean. To get to Nevis you'll have to fly into neighboring Saint Kitts and then take a water taxi or ferry, but we promise the visit is worth the effort. The island is a natural paradise, with sparkling waters and sandy shorelines, and it's also a seafood lover's dream, with endless amazing restaurants to experience. Here are our top recommendations on what to eat and where to stay during your trip.
Sri Lanka
Traveling to Sri Lanka is an unforgettable adventure thanks to the island's lush green tea plantations, national parks filled with elephants, eight UNESCO World Heritage Sites, and other amazing experiences you won't be able to get anywhere else. You can book a jeep safari to see amazing wildlife up close and personal, or explore the ancient city of Polonnaruwa with its massive carved Buddha statues. Keep in mind that you'll need to apply for a 30-day tourist visa before visiting, and we also recommend checking local travel advisories before booking your trip. Ready for your Sri Lankan adventure? Consider our list of the best things to see and do in magical Sri Lanka.
Zanzibar, Tanzania
Situated off the coast of East Africa, Zanzibar (which is actually an archipelago of four islands) offers a unique blend of African and Arabian cultures that you'll experience in the food and architecture around the island. Known for its heady spices, the spice plantations and local markets are a feast for the senses. Head inland for a guided tour of the Jozani Forest, home of the rare red colobus monkeys that can only be found on Zanzibar. When you're ready to relax, hit one of the many pristine white-sand beaches lined with gorgeous turquoise waters. For all you need to know, check out our list of what to do and where to stay while visiting Zanzibar.