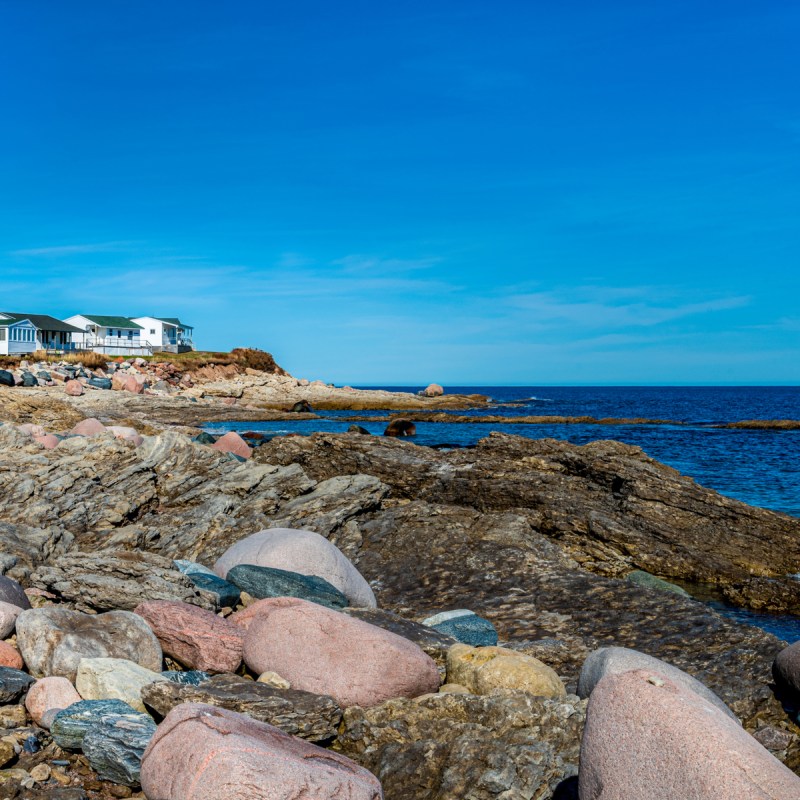 Whether you're a maritime history enthusiast, a photographer seeking those iconic shots, or a foodie looking for luxurious lobster, Nova Scotia's South Shore will check all the boxes. And you'll want an incredible place to stay while you explore. The Prince George Hotel in Halifax, White Point Beach Resort in Hunts Point, and Oceanstone Seaside Resort in Indian Harbour each provide unique experiences while enjoying Nova Scotia's South Shore. We want to share what makes these three distinctive properties worth a stay.
Disclaimer: My visit to Nova Scotia's South Shore was a sponsored press trip by Visit Nova Scotia. The opinions are mine based on my experience.
1. The Prince George Hotel, Halifax
Halifax, Nova Scotia's capital, has welcomed visitors for more than 265 years. It's a city rich in maritime history, nature, and culture. Halifax International Airport is the entry point if you want to fly in and explore Nova Scotia's South Shore.
Lodging
Located in downtown Halifax, the Prince George Hotel beds are incredibly comfortable with pillow-top mattresses and duvets. If you need to get some work done, the rooms have large desks outfitted with ergonomically designed chairs, and they include complimentary high-speed Wi-Fi access. In the evenings, you can unwind with your favorite show on the 43-inch LCD flat-screen television. Wake up slowly reading the complimentary newspaper while drinking that first cup of coffee without leaving your room using the Keurig Coffeemaker and complimentary coffee. One nice touch is the ability to choose when you would like housekeeping by using the door tag.
Best Experiences
Maritime history buffs will learn details about the Titanic at the Titanic Burial Ground in Fairview Lawn Cemetery. Then learn more at the Maritime Museum of the Atlantic. Nature lovers need to explore Halifax Public Gardens and Point Pleasant Park. Those seeking a cultural experience will enjoy the Canadian Museum of Immigration at Pier 21 and the Halifax Waterfront. To discover more Halifax experiences, check out How To Spend A Day In Halifax, Nova Scotia.
Dining
Gio, located on-site at the Prince George Hotel, features upscale food and service. The seasonal menu always has a beautiful presentation. Casual dining restaurants line the Hydrostone neighborhood's Young Street border, called Hydrostone Market. You'll find everything from sushi to gourmet pizza. For Asian fare, try Hamachi Kita, where they serve sushi and arguably Halifax's best tempura. If you're craving Italian food, Salvatore's Pizzaiolo Trattoria offers thin-crust gourmet pizza valued for its simplicity. The original comes flavored with garlic-infused olive oil, Sal's traditional pizza sauce, then covered in mozzarella cheese mixed with grated Parmesan and herbs.
2. White Point Beach Resort, Hunts Point
From Halifax, drive along the Lighthouse Route, Route 3, to see the area's quintessential fishing villages on your way to White Point Beach Resort. While they're known for their amazing views, we like this resort because they offer various activities to keep everyone in your party busy. You never need to leave the property. While it's a year-round destination, they offer many special events in February related to the South Shore Lobster Crawl, like the Lobster Roll Cook-off and the Lobster 101 course. Summertime is my favorite time to enjoy beach activities.
Lodging
White Point Beach Resort features various accommodations, including traditional hotel-style guest rooms that include mini-fridges and microwaves. The resort has cottage and vacation home configurations too. Each cottage is unique, but all keep the 1928-rustic charm. The vacation rentals, located within White Point Estates, have a minimum one-week stay. We stayed at the Ocean Lodge, adjacent to the Main Lodge, perfect for family reunions or groups. The eight-bedroom lodge offers both double and queen beds, each room with its own bathroom. The large living room is the perfect place to assemble as a group and has a stunning floor-to-ceiling beach stone fireplace. You'll also enjoy sitting on the porch and enjoying the ocean view.
Best Experiences
White Point Beach Resort offers several water-based adventures. One is a unique package aboard a lobster fishing boat on Blueberry Bay, leaving from a dock in West Berlin. You can experience what it's like to be a lobster fisher in winter and become a crew member aboard a 37-foot lobster fishing boat.
If you'd like to get in the water, White Point Beach Resort rents surfing equipment and provides lessons year-round. While I witnessed some surfers in February, I'd suggest that surfing is more enjoyable in the summer.
The resort has wild bunnies throughout the property, so look for bunny food bags in the lobby. It's fun to shake the bag and see them appear out of nowhere.
Take a break and get a massage or facial at the resort's Ocean Spa.
Leave the resort and explore Cape Sable Island, Nova Scotia's southernmost point, connected to the mainland via a causeway. The island is still an active fishing village and a bird watcher's paradise. The beaches here are a nesting area for the endangered Piping Plovers. The site is also home to herds of wild sheep.
Dining
White Point Beach Resort offers two on-site dining options, Elliot's Dining Room and Founder's Lounge. Each features the Atlantic Ocean's stunning views. Elliot's serves upscale meals featuring local ingredients like pork chops with apple compote, while the lounge offers a full bar and more casual meals like burgers and tacos.
In addition to the on-site dining options, one of my favorite dining spots is Capt. Kat's Lobster Shack, located in the heart of Canada's Lobster Capital, Barrington Passage, about 120 miles south of the resort. You'll find some of the most delicious lobster in Sou'west Nova Scotia there. Three signature dishes here are the creamed lobster, lobster nachos, and the lobster fondue. Creamed lobster is a self-indulgent southwest Nova Scotia favorite, with heavy cream, butter, and a dash of vinegar served on toast or mash potatoes.
Pro Tip: Nova Scotia's South Shore Lobster Crawl celebrates lobster the entire month of February when the cold-water lobster is incredibly succulent, making this the perfect time to visit.
3. Oceanstone Seaside Resort, Indian Harbour
Oceanstone Seaside Resort is an award-winning destination for weddings, but it's also an incredible seaside luxury retreat. It's a 5-minute drive to Peggy's Cove and about an hour from Halifax.
Lodging
Oceanstone Seaside Resort offers various accommodations, including guest rooms, suites, and cottages, reflecting modern conveniences and preserving the original charm. Each cottage has a cute name, like Grey Owl and Crow's Nest, with a living area that includes a couch and wood-burning stove. They equip the cottages with firewood and everything you need to get away from it all. The decks offer stunning ocean views to enjoy your morning coffee. Enjoy breakfast in the main lodge.
Best Experiences
Golfers will enjoy the 18-hole, par 72 course Granite Springs Golf Club overlooking Shad Bay. The resort, located on the Coastal Heritage Trail — Our Museum Without Walls, is the perfect opportunity to walk along the trail and discover history in a natural setting through the various interpretive sites. For a more laid-back vacation, the main building offers board and card games and books to relax and pass the time. The evening is perfect for an oceanside bonfire and making s'mores for dessert.
Dining
Rhubarb Restaurant is right adjacent to Oceanstone Seaside Resort overlooking the Atlantic Ocean. Their atmosphere is casual with dishes that will appeal to foodies and families. They pride themselves in using seasonal ingredients that highlight favorites like a lobster roll or fish and chips.
Another option is to head down to Ryer Lobsters to grab some fresh, local lobster and take it back to your cottage at Oceanstone and make your group a lobster boil. They also have fresh mussels and oysters on offer.
Pro Tip: Take a few hours and explore nearby Peggy's Cove. While Nova Scotia's craggy coastline features over 160 lighthouses, Peggy's Point Lighthouse, balanced on granite boulders, is the most photographed.
To find out about Nova Scotia's North Shore roads, check out 9 Fantastic Experiences On Nova Scotia's Beautiful Seaside Highway, or Things To Do In Cheticamp, Nova Scotia. To discover more about Nova Scotia, read Nova Scotia Spots To Visit (That Aren't Halifax Or Peggy's Cove).