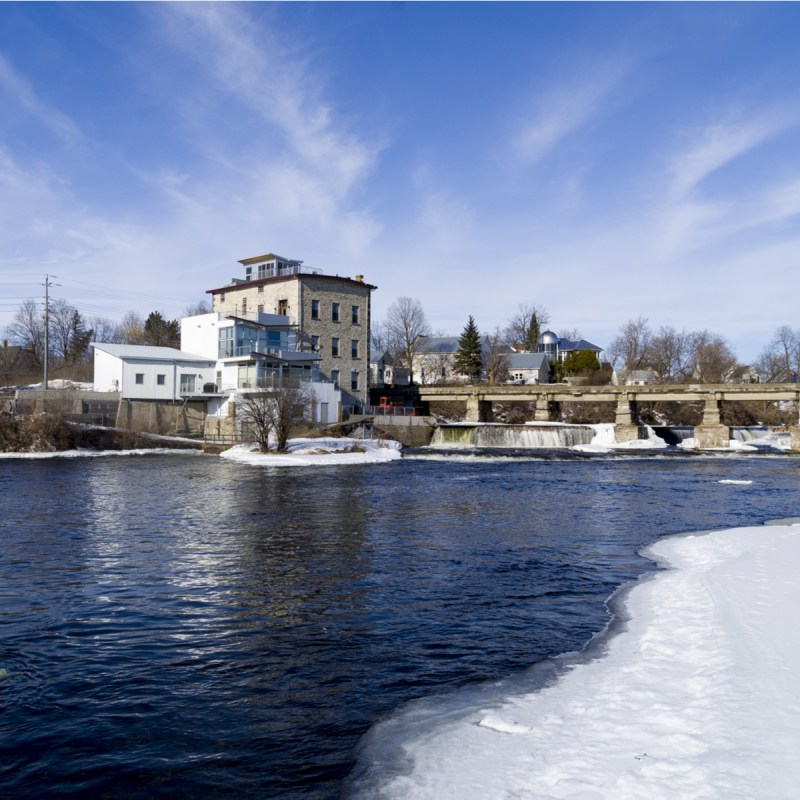 We all know that the corporate event planner forced to come home to save the family bakery will eventually fall in love with her former sweetheart-turned-farmer. That's the magic of a Hallmark Christmas movie. They're filled with feel-good montages, some cheesy love scenes, and — my personal favorite — enchanting scenery that's picture-perfect for the dreamy storyline. It almost looks too good to be true, but it most certainly is not. Most people have no idea that many of the most popular made-for-TV festive movies film in a real-life tiny Canadian town that eagerly welcomes visitors.
I live next door to the community of Almonte, Ontario, and I can attest to the fact that it is indeed an adorable holiday destination. Filled with inviting small bookstores, tempting bakeries, and cozy shops with 100-year-old floorboards, Almonte's the perfect place if you need a drop-dead beautiful backdrop for a slightly corny yuletide film. Best of all, visiting is easy. Whether you want to live your own real-life Hallmark moment in winter or desire a sweet small-town summer escape, Almonte delights all year round.
This community of about 5,000 people is less than 40 minutes from downtown Ottawa, Canada's capital city. About 2.5 hours from Montreal and 4 hours from Toronto, there are multiple airports within a short drive of this destination. However, you will need a car to get in and around Almonte, as it's underserved by public transit networks.
(Speaking of Ottawa, there's an excellent chance many of the urban scenes needed for these seasonally minded films were shot in downtown Ottawa. If you have a sharp eye, you might just spot bilingual signs on city buses and bus stops in the background of certain shots. If you're keen on tracking down specific locations, there's a handy map that tracks them all.)
But while Ottawa and several other communities have appeared in Hallmark, Lifetime, and other production companies' holiday films, no spot has merry magic quite like Almonte. Whenever or however you decide to visit Almonte, you'll want to have these special spots on your list.
1. Mill Street
It's impossible to explore Almonte without spending lots of time on Mill Street. And if you're a made-for-TV movie mega fan, you've likely seen Almonte's Mill Street multiple times on the small screen. Mill Street runs through the heart of the community and hosts sweet shops, restaurants, cafes, galleries, and more. As such, it appears in all films shot in the region, including Christmas Festival Of Ice. Some cozy, Hallmark-worthy spots to check out include Mill Street Books, 8008 Lingerie, Textile Traditions (a crafter's dream!) Wee Bee Children's Shop, and Cheerfully Made (which highlights local makers and creators).
2. Mississippi Valley Textile Museum
Not many movies can brag about shooting in a museum as unique as the Mississippi Valley Textile Museum, but that's exactly where Hallmark's Unlocking Christmas and A Cheerful Christmas staged several key scenes. This funky space pays tribute to the history of the wool industry in the area and its impact on social, cultural, and industrial development. The museum also offers cool exhibits on fiber art and research materials for those studying industrial textiles.
3. Almonte Old Town Hall
The handsome Almonte Old Town Hall dates to 1885, but it's constantly finding new fans thanks to multiple appearances in Hallmark movies. The building's position next to the Mississippi River (the Canadian one, not the American one!) makes it especially picturesque. There's a short, easy pedestrian pathway that starts next to the town hall and leads you on a walk along the river. Exploring the old town hall and the river path is one of the nicest ways to spend 30 minutes or so in Almonte.
In the words of Brian MacGowan, a local actor, video producer, and editor who's appeared in Hallmark productions: "As a town itself, [Almonte] is beautiful and quaint, like it really could be 'any town' U.S.A., which is why it's used so much. My favorite filming location was the old town hall beside the river for filming A Christmas Scavenger Hunt with Tom Arnold. Walking around outside by the river down the paths is one of the most idyllic places in the world."
4. L.G. Lee & Sons
It feels like an old-timey hardware store (little of the 1910 exterior has been updated), but L.G. Lee & Sons has only been around since 2015 and is a division of Lee Valley Tools. This old-fashioned shop stocks wares like finely crafted garden tools, clever puzzles, and European kitchen supplies (and maybe a husband, if you're a character in a holiday film). If you're the kind of person that loves the elegance in a well-made hinge, umbrella, or hatchet, this is your store — and the characters of Unlocking Christmas agree.
5. North Market
The North Market cafe had a starring role in Lifetime's Christmas Around The Corner. For this Megan Follows-directed film (who Canadian TV fans will know for playing the title role in Anne of Green Gables), the cafe was transformed into the fictional Fortenbury Books. Naturally, it also transformed some hearts, pushing true love along the way like only a Christmas movie can. Non-movie stars can pop in here for breakfast tacos with four pepper sauce; lentil salad with cauliflower, turnip, and swiss chard; and egg salad sandwiches with fennel and pickled onion.
6. Canadian Pacific Train Station
Last year marked this retired Carleton Place train station's centennial. That's no small feat, considering that it's the sole survivor of the seven Canadian Pacific Rail stations built from stone in the Ottawa Valley between 1897 and 1922.
Lifetime fans love it for its appearance in Christmas Around The Corner, while architecture fans appreciate what Canada's Historic Places registry describes as "sophisticated massing and a fine sense of horizontal layering. The station's deep-set windows and doors, and wide overhanging roofs give it a strong three-dimensional quality. The interior continues the fine sense of proportion, finish, and detail, within a simple, elegant layout."
7. Cafe Postino
This family-run Italian eatery appears in The Rooftop Christmas Tree and Christmas Scavenger Hunt. With a homey, romantic vibe, it easily sets the scene for potential love matches. Since 2011, Cafe Postino has been serving up seafood, veal, pizza, and red-sauce pasta in a space that was a post office in a former life.
8. Superior Restaurant
This snug little space is where you go in Almonte for old-fashioned club sandwiches and bacon cheeseburgers — or to sort out true love, as seen in Unlocking Christmas and Christmas Festival of Ice.
9. Carleton Place Town Hall
Just a few minutes down the road from Almonte, the community of Carleton Place's historic town hall played the role of the courthouse in Christmas Around The Corner and The Rooftop Christmas Tree (a non-Hallmark production). A spectacular example of Richardsonian Romanesque architecture, the building dates to 1895 and offers just the right combination of stateliness and intimidation to make it a passable court of law in movies — with a few modifications. During filming, not only did the crew have to swap out the Canadian flag, they also had to remove the photo of Canada's head of state, Queen Elizabeth II, to make the building pass for an American site.
10. Baker Bob's
It comes as no surprise that this beloved local bakery in the heart of Almonte was featured in Christmas Around The Corner. Its red and white awning advertises that they offer "bread, coffee, pastry, chocolate, candy, cookies, smiles and more." Who could resist a welcome like that? Baker Bob's is my favorite cozy shop in the area.
11. Church Street And John Street
Film fanatics believe that the pretty, gingerbread-style cottage across from the Almonte Presbyterian Church is the property referenced by Pat Mills, director of The Christmas Setup, when he talked about finding the perfect film backdrop in an interview with The New York Times. Considering that John Street, which connects directly to Church Street, is one of the confirmed film sites, this sounds like a pretty safe guess. These two streets are perfect for strolling and imagining what it would be like to reconnect with an old crush!
12. Cedar Hill Christmas Tree Farm
Technically 30 minutes away in Pakenham, the Cedar Hill Christmas Tree Farm makes an appearance in multiple Hallmark, Lifetime, and other studios' holiday movies. If you're in the region before Christmas and in need of a tree, you can enjoy sledding, wagon rides, a bonfire, and hot chocolate here while you ponder the perfect pick. Alas, they cannot guarantee that you'll reunite with a long-lost love or have an epiphany about what really matters in life while you're there.
Related Reading: