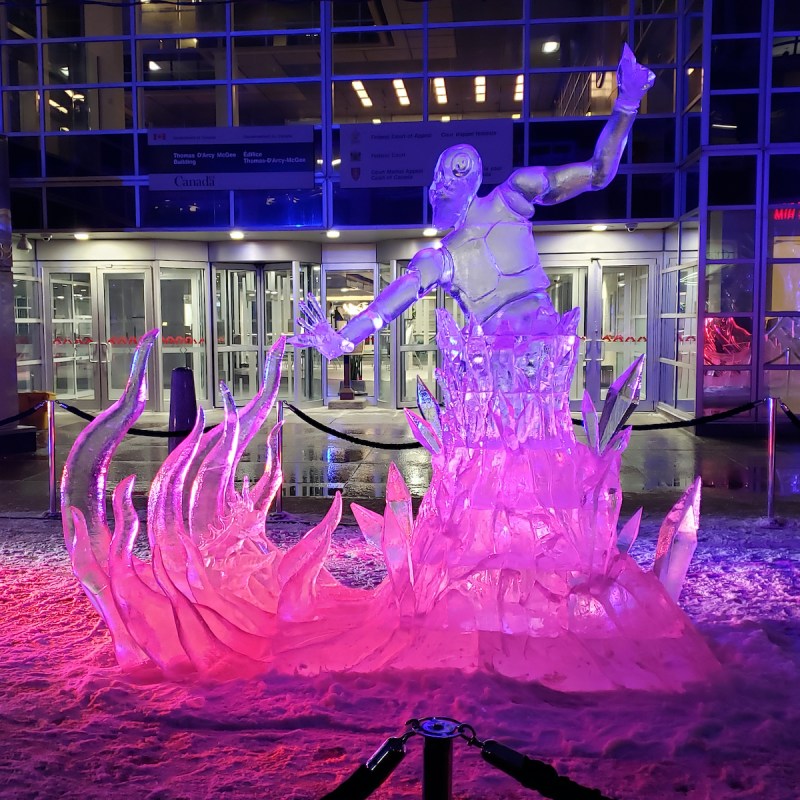 If there's one country that's associated with winter, it's Canada. It doesn't matter that our country enjoys all four seasons and multiple climate zones. When people think of Canada, it's snow and ice that come to mind, not spring flowers or sunny days! And you know, that's okay by us. We are a hearty people, and we're proud of our winter heritage. If you are lucky enough to visit Canada in the winter, here are some activities you should seek out.
1. Skate Your Heart Out
If there's a Canadian community without a skating rink, I haven't found it. Even tiny hamlets have a homemade outdoor rink that's maintained by volunteers. Going for a skate is as Canadian an experience as it gets and most municipal recreation centers rent out equipment. If you happen to be in my hometown of Ottawa, a visit to the frozen Rideau Canal is a must. Come winter, this outdoor waterway becomes the world's largest skating rink. Vendors set up beside the ice sell tasty treats like Beavertails, a sweet, deep-fried pastry.
Pro Tip: Don't worry if you don't know how to skate (I'm horrible at it!) This video will help you out with a few basic techniques.
2. Have Fun Ice Fishing
As I have discovered firsthand, ice fishing involves very little ice. Sure, you're set up in a portable hut over a frozen river or lake but you're surprisingly warm and cozy, not icy in the least. And the fishing essentially takes care of itself. True, skill and experience are needed if you hope to reel in a generous catch. But amateurs can happily let their line dangle and hope for the best — a strategy that paid off well for me, as I nabbed a fish during my very first excursion. Thrilling!
Pro Tip: Ice fishing takes place across the country, from coast to coast to coast. Here are some of the most popular destinations.
3. Party At Quebec City's Carnaval
Carnaval de Québec, Quebec City's annual winter carnival, is one of the world's oldest and largest winter festivals. Taking place in early February (yep, it's cold), activities are led by Bonhomme, the city's jaunty mascot. Visitors can expect everything from a masquerade ball to ice canoe to snow sculpture competitions.
Pro Tip: Accommodations in Old Quebec City book up fast. Be sure to read the fine print when it comes to parking availability. In nearly all cases, it means that you'll be leaving your car at an underground municipal parking lot. You can find a good roundup of hotel options here.
4. Wonder At Winter During Winterlude
Winterlude is Ottawa's annual winter festival, taking place over three weekends in February. As you might imagine, skating on the Rideau Canal takes center stage during the festivities but that's just the tip of this wintery iceberg. A world-class ice sculpting competition, musical concerts, and art experiences are a big part of celebrations. Athletic visitors will want to check out the city's winter "triathlon," which consists of a skate along the Rideau Canal, a run beside the canal, and a cross-country ski in Mooney's Bay Park.
Pro tip: When researching your accommodation options, check out the Westin hotel. In past years, it operated a skate rental program and guided skate down the Rideau Canal.
5. Celebrate The Snow Show That Is Bon Soo
Since 1964, Bon Soo has been the annual winter festival in Sault Ste. Marie (affectionately nicknamed "the Soo"). This spirited event includes a polar bear swim, "bumslides," indoor concerts and shows, family dances, chess tournaments, snowmobile rides, pancake breakfasts, and much more.
Pro Tip: Sault Ste. Marie is home to some of the best food in Canada. The city is famous for "Sault Italian" food, the legacy of Italian immigrants in the 1940s. This is the place to eat pasta laden with red sauce.
6. Revel In The Beauty Of The Northern Lights
It's possible to see the northern lights all year round and throughout the country but your odds of enjoying a strong viewing is best in the winter and up north. Long, dark nights and clear, cold weather make for strong viewing conditions, as do small communities where there's little chance of light pollution. With approximately 240 viewing nights a year, the Northwest Territories is the best place in Canada to catch the show (maybe in the entire world!)
Pro Tip: Want to better understand what you're seeing? This article describes exactly what the Northern Lights are.
7. Soar With The Dog Sleds
Under the command of a skilled musher, dog sleds seem to just soar above the snow. You can catch a slice of the action by coming onboard as a passenger. Dog sled teams across Canada welcome visitors to join them for a ride when the dogs head out for exercise. It's an exhilarating way to explore part of the wilderness that would otherwise be all but inaccessible.
Pro Tip: Sometimes, you'll fall off the sled and that's okay! This article tells you what to do when it inevitably happens.
8. Soak In Some Hot Steam
No matter how much you love winter, the time inevitably comes when you want to thaw out just a bit. One of the many natural hot springs or Nordic-style spas across the country is a lovely way to soak in some hot steam. Some luxurious spots to check out are the Temple Gardens Spa in Moose Jaw, Saskatchewan, Le Nordique in Chelsea, Quebec, and the Canadian Rockies Hot Springs located in Banff, Jasper, and Kootenay, Alberta.
Pro Tip: We all know there are rules to follow at a spa but did you know there is etiquette that applies to natural hot springs as well? This is what you should know about before you go.
9. Sleep In An Ice Hotel
Valcartier, Quebec's Hotel de Glace is the only ice hotel in North America and one of only a handful in the world. Yes, every aspect of your stay is coated and clad in ice. There's a chic ice bar, an ice and snow chapel (weddings are popular), and even an ice "mattress" where your ultra-warm sleeping bags are set up for the night.
Pro Tip: I haven't stayed at the Hotel de Glace yet but my friend Lauren has and you'll find her helpful and honest review here (including tips on using the bathroom. Thanks Lauren!)
10. Drink In An Ice Bar
What's better than being in a winter wonderful? Drinking in one, of course! Don't despair if you can't make it to Hotel de Glace, as ice bars pop up across Canada during wintertime, often as part of winter festival activities. Some cool spots (see what I did there?) in recent years include the Bodega Ice Bar in Regina (a seasonal offering from the La Bodega restaurant, which directs profits to charity), the CHILL Ice House in Toronto, and Montreal's Cyr Restaurant.
Pro Tip: Want to drink Canadian spirits when you're tossing back your glass made from Canadian ice? You can find more about all the country's diverse distilleries here.
11. Help With The Icewine Harvest
If you're in and around Niagara Falls or western Nova Scotia at just the right time of year, you may well be positioned to help out with the annual icewine harvest. Icewine is a tricky business. Assuming the grapes have survived the elements and the greedy birds until the winter, conditions need to be just right for the harvest to take place. When that day arrives, it's all hands on deck! Volunteers and winery friends work through the night, picking grapes by hand and then celebrating their efforts with hot, hearty foods. Yep, it's manual labor. And it might just be the most memorable thing you do all year.
Pro Tip: If you just want to drink icewine (I'm with you!), here's a rundown of what exactly makes this boozy beverage just so special.
12. Play (Or Watch) Pond Hockey
There is perhaps no greater honor than being asked to play in a game of community pond hockey. Even if you're not particularly skilled in sporty activities, consider giving it a try. It's guaranteed to be a lot of fun! Alternatively, grab a hot chocolate and watch a game. Plaster Rock, New Brunswick, is home to the annual World Pond Hockey Championships. It's celebrating its 20th season in 2023.
Pro Tip: One of the most important pieces of Canadian literature is a children's story called The Hockey Sweater. It immortalizes Canadian pond hockey!
13. Visit A Maple Sugar Shack
If there's one quintessential part of every Canadian winter, it's celebrating the end! Canadians might be pretty good sports about winter weather but we do love the arrival of spring. One of the best ways to mark the end of one season and welcome another is by visiting a maple sugar shack. When the weather warms up just a tad, the sap starts flowing through maple trees once more, ready to be tapped and transformed into delicious syrup, sugar, candies, and more.
Pro Tip: Be sure to try homemade maple taffy, created by pouring syrup onto clean, white snow and rolling the creation around a lollipop stick. Divine!
Winter doesn't slow down the activities in Canada, obviously. Consider: