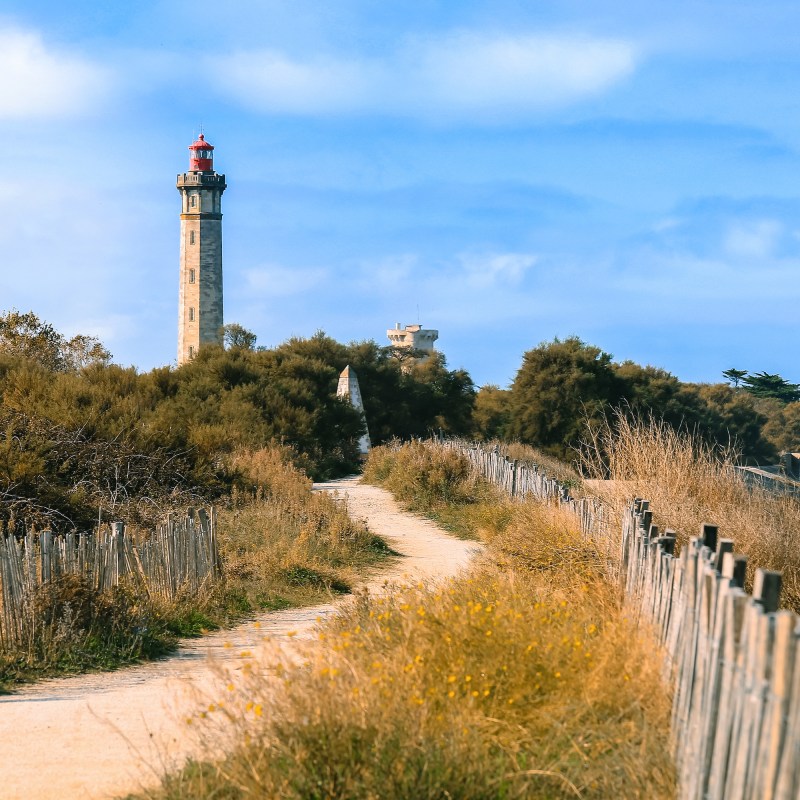 The French love their island escapes and speak of their treasured islands with a great deal of pride. Being a curious traveler with a love of everything French, I decided to investigate a few islands close to mainland France where sandy coves, quaint towns, bicycle trails, and fresh oysters might satisfy my soul. Each of these islands delivers a truly unique French experience.
1. Ile Aux Moines, Brittany
Ile aux Moines, or the Island of the Monks, is the largest of the 42 islands in the Gulf of Morbihan in southern Brittany. The island was a gift from the king of Brittany to the monks of the nearby abbey in Redon in 854. Chances are you won't see any monks when visiting, however, since monks never did inhabit the island.
What do locals and visitors alike love about Ile aux Moines? The boat ride to get there is like traveling through a portal to another time. Arrive and surrender to the rhythm of island life, which includes beach time, exploring ancient standing stones, hiking coastal paths, cycling the island, and soaking up the local culture in the town, Le Bourg.
How To Get To Ile Aux Moines
To get to Ile aux Moines, you'll need to take a 5-minute boat trip on a passenger ferry departing from the Quay Port Blanc in Baden. You'll need to bring your belongings onto the boat. Only bring what you can carry, and contact your accommodation beforehand to arrange how best to get there from the quay.
By Car: There is a parking lot in Port Blanc, close to the ferry.
By Train and Bus to Port Blanc: Take the train to Vannes, and then take Bus 23 to Port Blanc. Check the bus schedule carefully.
Things To Do On Ile Aux Moines
Rent A Bicycle
Ile aux Moines is just over 4 miles long, and there are marked bicycle trails along the roads. There is hardly a vehicle to be seen on the island, which makes cycling a joy. Cycle past the Breton-style homes peeking out from behind stone walls draped in immense hydrangeas. Marvel at the sea, the tiny churches, and the hidden harbors. Bicycle rental shops line the quay at the ferry arrival point, and your accommodation may also provide bikes.
Visit The Megalithic Monuments
The Dolmen of Pen Hap is a megalithic tomb made of enormous boulders that have been around for 5,500 to 6,000 years. Hike or cycle to view this ancient arrangement of boulders on a hill, and take in the marvelous views of the Gulf of Morbihan.
Another megalithic monument on the island that's well worth visiting is the Cromlech de Kergonan. These 24 standing stones in the shape of a horseshoe are mysterious, and there are many theories as to their ancient purpose. The most popular is that they were an astronomical landmark connected to the seasons.
Best Restaurants On Ile Aux Moines
Le Bourg bustles with cafes and restaurants. Start your day with croissants from the Boulangerie les Douceurs du Golfe. La Chaumiere is the perfect restaurant for lunch or dinner. Enjoy a pot of mussels or a Breton galette.
Pro Tip: If you are arriving later in the day, it is best to come prepared with your own dinner. There are a few grocery stores, but they run on island time with limited hours, and the restaurants close at 7 p.m.
Best Hotels On Ile Aux Moines
Residence de la Voile d'Or is the perfect place to home base while on Ile aux Moines. Bike rentals and a swimming pool add to the ambience.
Pro Tip: When booking an accommodation on Ile aux Moines, verify that the hotel is actually on the island.
2. Ile De Re, Nouvelle Aquitaine
A short drive over the bridge from La Rochelle in the Charente Maritime region of France lies charming Ile de Re. The island is dotted with 10 picturesque villages where hollyhocks frame shuttered homes, ancient bell towers rise above pine trees, and bicycles are propped up here and there. In short, it is the epitome of French island life.
Detailed tips for planning a trip to La Rochelle and Ile de Re can be found here.
Things To Do On Ile De Re
Rent A Bicycle
With 85 miles of mostly flat cycling paths, Ile de Re is easily explored on a bike. Rentals are available in the many village bike shops. Bike from one town to another past vineyards, the ruins of Chateliers Abbey, and salt marshes. Stop for ice cream at La Martiniere and relax on Saint Clement des Baleines, one of the island's beautiful sandy beaches.
Visit The Harbor Of La Flotte
La Flotte, often named one of the most beautiful villages in France, is indeed picturesque. Wooden shutters in muted seaside colors line cobbled streets, sailboats lean left and right at low tide, and locals scour the ocean floor for clams, mussels, and cockles. Sit at a restaurant on the quay, order a local wine and some fresh oysters, and breathe in the ocean air. Surrender to the nonchalant spirit of the island.
Best Restaurants On Ile De Re
At the Harbor of La Flotte, find a table at A la Plancha facing the sea. The experience of savoring a plate of oysters here is unforgettable. Or try L'Ecailler with its lovely terrace and gastronomic delights.
Best Hotels On Ile De Re
Villa Clarisse in Saint Martin de Re offers a luxurious experience in an historic home with easy access to everything in town.
In the village of La Flotte, the Hotel Le Richelieu offers lovely rooms that overlook the sea.
Pro Tip: Try to visit during the off-season. Ile de Re is a very popular summer destination, so if you're traveling then, you'll need to book your hotel well in advance.
3. Ile De Noirmoutier, Pays De La Loire
Ile de Noirmoutier in the Vendee department, with its holm oak forests, salt marshes, and sandy beaches, is the perfect place to embrace a relaxed pace of life. Wander the main town, Noirmoutier en l'Ile, along winding streets to see its 12th-century castle. Dine at one of the many restaurants, and then head out into the wildness of Ile de Noirmoutier.
How To Get To Ile De Noirmoutier
By Car: There is a bridge that connects Ile de Noirmoutier to the mainland, or you could take the Passage du Gois, a 2.5-mile submersible causeway. It is essential that you are aware of the tides before crossing this causeway at low tide. It is worth going to the Passage du Gois to watch as the tide rises or recedes.
By Train: Take the train to Nantes, and then take Bus 13 to Noirmoutier en l'Ile.
Things To Do On Ile De Noirmoutier
Rent A Bicycle
There are 51.5 miles of bike paths on Ile de Noirmoutier, including dedicated routes that will take you past salt marshes, sand dunes, and oyster farms. Connect with the natural beauty of Ile de Noirmoutier and discover secret spots as you bike. There are many places to rent bicycles, and bike trail guides are available at the tourist office in Noirmoutier en l'Ile.
Relax On L'Anse Rouge
There are plenty of beaches on Ile de Noirmoutier, but this small beach lined with beach cabins, rocky outcrops, and gnarly trees is the perfect place to pass a summer's day.
Visit The Salt Marshes
Salt marshes cover one-third of Ile de Noirmoutier, and salt producers, following ancestral methods, harvest the 100 percent natural salt by hand. Visit a salt farm with a producer and stop by the salt shacks amidst the salt marshes to purchase some of this "white gold."
Best Restaurants On Ile De Noirmoutier
Noirmoutier en l'Ile is a lively town with many restaurants to choose from. Le Winch faces the harbor and has a wide selection of dishes on the menu. Also highly recommended by a local is Le P'tit Noirmout.
Pro Tip: There are many oyster farms on Ile de Noirmoutier. Stop by one of the oyster shacks, such as La Godaille, to dive into a plate full of fresh oysters.
Best Hotels On Ile De Noirmoutier
Experience a bit of history when you book an upscale, individually styled room at Le General d'Elbee. The pool and spa are deluxe, and it's the perfect base from which to explore Ile de Noirmoutier.
Blanc Marine offers rooms in a guesthouse with a heated pool. It's just a short walk from the beaches and downtown.
4. Mont Saint Michel, Normandy
Mont Saint Michel is a stunning landmark just off the coast of Normandy of which the French speak with glowing pride. The island rises from the sea with a glorious church perched atop — it's truly like something from a fairy tale. The remarkable tides, grazing sheep on the nearby salt marshes, medieval village, and abbey make this an unforgettable island to visit.
Tips for planning your visit to Mont Saint Michel can be found here. Give yourself plenty of time to savor this breathtaking UNESCO World Heritage site. And if you are organizing a trip through other parts of Normandy, these towns are worth adding to your itinerary.
Things To Do On Mont Saint Michel
Visit The Abbey Of Mont Saint Michel
Be prepared for a bit of a climb! Wander through the medieval town, along the ramparts, and up staircases toward the abbey. As you stop to catch your breath, gaze at the sweeping views over the bay.
Why was a church built here? As the story goes, Saint Michael himself asked the bishop of the nearby town of Avranches to build a church in his honor on a pinnacle of rock. The bishop could not ignore the request, and thus the construction of the church began in 708.
The Abbey of Mont Saint Michel has been a pilgrimage site for centuries, drawing visitors from far and wide. Visit the church and the cloisters and marvel at how this abbey is constructed on a pinnacle of rock. It is truly a marvel.
Walk The Ocean Floor
At Mont Saint Michel, where the bay itself is a UNESCO World Heritage site, the tides are the highest and most powerful in Europe. The tide comes back in at an incredibly fast rate. Therefore, I highly recommend walking the ocean floor with a professional guide. You'll learn more about Mont Saint Michel, the fragile ecosystem of the bay, and French history. Best of all, Mont Saint Michel is never out of sight on this walk!
Best Restaurants On Mont Saint Michel
You simply must stop at La Mere Poulard. The Poulard family started preparing meals for pilgrims in 1888, and more than a century later, they still serve their famous puff omelet.
With lovely panoramic views, the Restaurant du Guesclin offers several set menus with regional flavors and specialties.
Best Hotels On Mont Saint Michel
The advantage of staying on Mont Saint Michel is that you can enjoy the magnificent island in the evening after the crowds leave and in the early morning before they arrive.
La Vieille Auberge, in a gorgeous stone building, offers rooms with views over the bay. It's the perfect location from which to explore Mont Saint Michel.
Pro Tip: Mont Saint Michel welcomes about 2.5 million visitors a year, and in the summer, the island is very crowded. Try to plan your visit for the off-season.