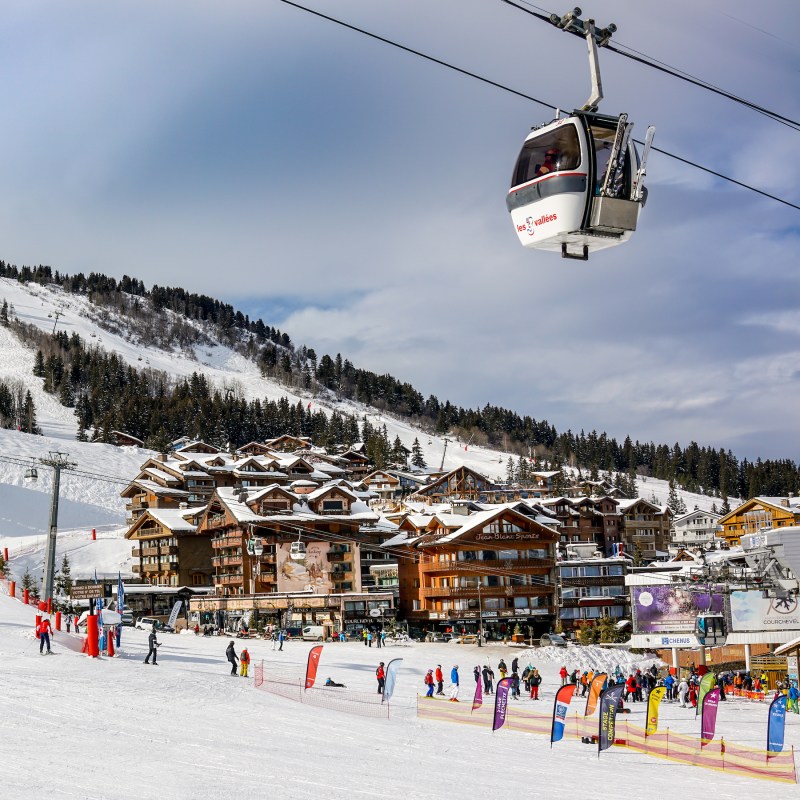 France has many of the best ski mountains, trails, and resorts in the world, especially in the Alps mountain range. The Alps have long been where Olympic skiers train, and they're also where numerous gold medals have been won. The Pyrenees in southwestern France are another popular mountain range for winter sports.
There's a wide range of ski resorts in France, from small villages with modest chalets to family resorts, Alpine villages, and the glitz and glamour of luxury ski resorts with five-star hotels and Michelin-star restaurants.
We have compiled a list of the best ski resorts in France, from budget-friendly to ultra-luxurious.
1. Courchevel
Known as the most luxurious ski resort in France, Courchevel is part of Les Trois Vallees (Three Valleys), the largest alpine domain in the world. Courchevel has close to 100 miles of alpine runs and 60 ski lifts. For more experienced skiers, there's 10 summits that are 8,200 feet high, plus off trail skiing and tree skiing conditions are excellent. The five nearby villages also cater to beginner and intermediate skiers.
For the ultimate in luxury, you can rent a 10,000-square-foot private villa, Chalet Elixir. The chalet has six bedrooms and sleeps 10 to 14 people, and amenities include an indoor swimming pool, massage room, sauna and steam bath, wine cellar, screening room, gym, fireplace, and wine cellar. You may be so spoiled, you won't make it to the ski lifts.
Le Bouc Blanc, a restaurant located at the top of a 6,500-foot-high mountain, has an outdoor terrace with breathtaking views, and serves traditional regional cuisine including potatoes au gratin.
Named after a K-2 climber from 1856, Le Montgomerie is a two-star Michelin restaurant with Chef Pieter Riedijk at the helm. The opulent modern interior has a fireplace, and the views are as breathtaking as the food.
2. Avoriaz 1800
Avoriaz 1800 is one of the 12 villages located in the Portes du Soleil, a cross-border ski area between Switzerland and France. A family-friendly ski resort, Avoriaz 1800 is car free, so it's especially safe for families, children, and grandchildren. Children under five ski for free, and a reasonably priced pass is available for kids five to 15 years old. There are three beginner zones and a range of slopes from green zones to black zones.
Kids are king in Avoriaz, and the village features Lil'Stash, a snow park for little beginners, the Children's Village where children three to 16 years old learn how to ski with fun activities and games, and a childcare facility for kids aged 6 months to five years old to play in while you ski.
3. Gourette
Although they don't have quite the scale and height of the Alps, the Pyrenees mountains near the Spanish border still offer excellent skiing conditions and trails.
Gourette was the first ski resort assembled in the Pyrenees and has mountains with altitudes as high as 14,000 feet. The slopes face south, so there's plenty of sunshine when you are skiing. There is a good variety of slopes for all levels of skiers, including long, daring runs, and substantial beginner trails and slopes. There are also toboggans, snowshoe rentals, and other snow activities.
4. Megeve
The other glamorous ski resort in France is Megeve, which is an hour away from Geneva, Switzerland. The former farming village was uncovered for its fantastic skiing conditions by the aristocratic Rothschild family in the 1920s, and other wealthy families followed them. Because Megeve is located near Mont Blanc, the tallest mountain in the Alps, the skiing is some of the best in all of Europe. Mont d'arbois, Rochebrune, and Le Jaillet are the three main skiing areas, with 88 lifts and over 200 miles of ski trails. There's also extensive cross-country skiing, with 25 miles of marked trails.
Megeve is a serious foodie destination and hosts its fair share of Michelin-star restaurants, including the two-star La Dame de Pic – Le 1920 and the one-star Prima. You can always count on the Four Seasons for their unparalleled comfort and luxury, and the Four Seasons Megeve offers opulent rooms and suites, a two-star Michelin restaurant, and the most extensive spa in the area, which includes a heated indoor pool. The hotel is a stone's throw away from Mont d'Arbois, which has the best slopes in Megeve.
5. Les Deux Alpes
One of the attractions of the ski area Les Deux Alpes is that it's geared to advanced beginner and intermediate skiers with easier trails on the mountain tops. Les Deux Alpes has one of the largest ski glaciers in Europe, which makes skiing available all year round. Ski camps are set up in the summer for all levels of skiers. There's a snow park on the glacier, Les Deux Alpes Freestyle Land, which has facilities for snowboarding. Half-day ski passes start at 35€ per person, and seniors are given a small discount.
Other winter activities in Les Deux Alpes include tobogganing, ice gliding, dog sledding, paragliding, and electric snow bicycling.
6. Chamonix
One of the more beautiful of the French ski resorts, Chamonix hosted the first Winter Olympics in 1924. Chamonix is located at Mont Blanc, which makes it the serious skier's dream destination. Four glaciers along with its high altitude give Chamonix some of the best ski conditions in Europe, filled with steep ski runs and great off-trail skiing. Several smaller ski villages make up the general Chamonix area, and the north end of the valley in the Domaine de Balme in La Tour offers gentle slopes for beginners.
Brévent-Flégère Ski Area is highly recommended for its sunny, south-facing slopes with gorgeous panoramas. It has 33 ski slopes, the most in all of Chamonix.
Take your skis off and enjoy the magnificent scenery by taking gondola rides up and down Le Brevent on Telepherique de l'Aiguille du Midi, which is in the town center.
Since Chamonix is one of the oldest ski resorts in the world, discovered by two Englishmen in 1741, the ancient Baroque architecture in the old village prevails.
There are many genuine auberges (inns) to stay at in Chamonix. L'Auberge de Manoir is a former alpine farmhouse that's been renovated into a luxury chalet. The family-run hotel has junior suites and superior rooms with views of Mont Blanc.
Le Vert restaurant offers moderately priced casual food and snacks, and on Fridays their specialty is fish and chips. Make sure to make a reservation.
A warm, gooey fondue after skiing can be found at La Fer a Cheval, a cozy bistro with local dishes and alpine decor.
7. Font-Romeu
Font-Romeu is located in the Parc Naturel Regional des Pyrenees Catalanes, a national park in the Pyrenees mountains near the border of Spain. Lots of sun shines on Font-Romeu, plus it's surrounded by pristine pine forests. Font-Romeu is known to have good conditions and easy slopes for beginners. There's also a snow park for freestyle skiing and snowboarding.
Other snow activities in Font-Romeu are ice diving, hot spring canoeing, mountain climbing, and snowmobiling.
8. Tignes-Val d'Isere
A frozen, aqua blue colored lake and the majestic Grande Motte glacier at 12,000 feet high make the Tignes-Val d'Isere area a standout ski destination. The Tignes Dam, at the edge of Chevril Lake, is the highest in France.
The ski season at Tignes-Val d'Isere starts in October, earlier than most ski resorts in France, so you can take advantage of the blue, red, and black runs before the crowds arrive. A seven-minute funicular and then a cable car takes you to the magnificent slopes and scenery. For beginners and intermediate skiers, there are two "easy parks," which make it easy to get used to freestyle skiing. Age is rewarded on the ski trails of Tignes-Val d'Isere, where ski passes are free if you are 74 or older.
To learn about specific accommodations, go to the Tignes website.
Les 3 Caves is a unique dining, smoking, and drinking experience. The wine cave has over 200 vintage wines, plus food. The cheese cave serves 120 types of cheeses chosen by one of the best cheese purveyors in France, Pierre Gay, and if you are a cigar aficionado, the cigar cave is for you.
La Chaumiere restaurant has a rustic, natural wood-paneled interior and mountain views, serving a versatile menu of Savoyard and Italian cuisine.
At one time, the region was called Espace Killy, named after Jean-Claude Killy, who was born and raised there, won three Olympic medals, and was a world champion skier in 1967 and 1968.
Pro Tip
All of these ski resorts also make great summer destinations with seasonal activities such as hiking, swimming, canoeing, and cycling.
Related Reading: